We use affiliate links. If you buy something through the links on this page, we may earn a commission at no cost to you. Learn more.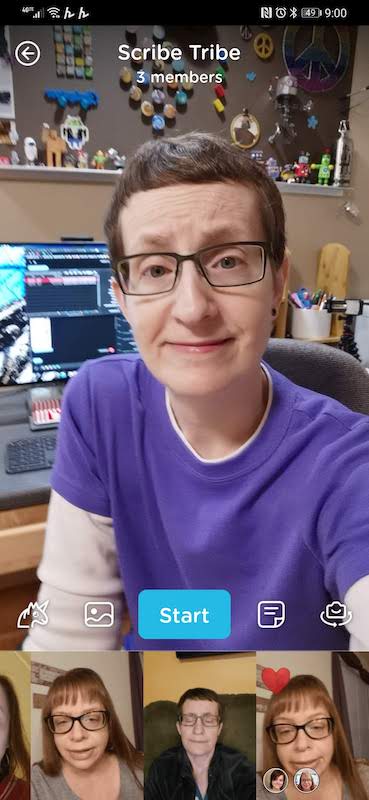 ARTICLE – This is week 6 of working from home for my day job at Cummins, Inc. and I've told several people that social distancing and sheltering in place hasn't really been an issue for me because as an introvert, I've been training for this for years 😉
Seriously though, even though I don't mind being alone during the day, that doesn't mean I don't want to talk to people. Just before the world locked down, my sister Amy introduced me to Marco Polo. No, not the Italian explorer. Admittedly, when she was first mentioned sending a Marco Polo to her boyfriend and her daughter and my niece Jessica, I thought she was just using some slang term that I didn't know for sending them a text message. But then I realized that she was talking about an app on her phone.
What is it?
Marco Polo is a free app for iOS and Android that functions as a vertical format video walkie talkie. And when I say free, that also means there are no annoying ads cluttering the screen.
Why I love it
You might wonder why anyone would want to use this app instead of an app like FaceTime, Zoom, Skype, and other video streaming/conferencing apps. I think the best thing about Marco Polo is that it's NOT a real-time video streaming/conferencing app. With Marco Polo, you send the video and when the person or persons on the other end see it, they can respond to it right then, or wait and respond when they have time because there's no pressure to hold a real-time face-to-face conversation. And it's also a lot faster than typing in a text message.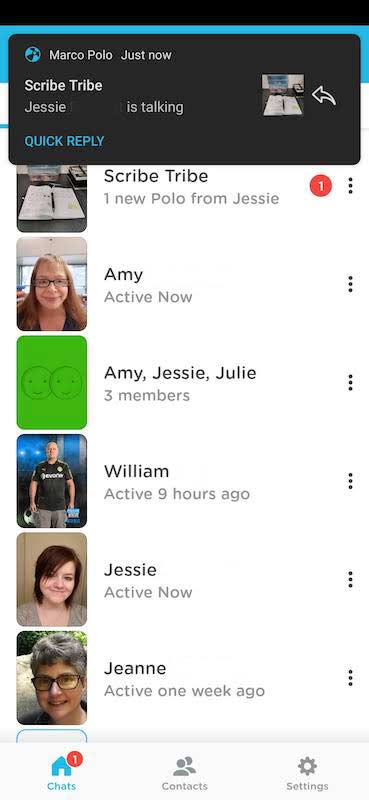 With this app, you can talk to someone one on one or you can make groups of friends. For example, before the world went nuts, my sister, my niece, Jeanne (spouse), and I started a journal club. We got together twice in person to geek out over all things stationery (notebooks, journals, washi tape, stickers, stencils, pens, etc). But with the shelter in place order, we couldn't do another real mtg, so we started a journal club group on Marco Polo where we can share things there and it's been a LOT of fun.
Marco Polo is super basic when it comes to features. It has some camera filters, a voice changer, the ability to doodle over the video, and you can send a picture or text-based video. But, I am not into filters, so I just use the basic video feature where you press the start button to start the video and the stop button to end it. You can't get much simpler than that.
Another thing I like about Marco Polo is that whoever you're talking to will immediately get a notification that they are receiving a Marco Polo and they can start watching it in almost real-time as the sending person is recording it.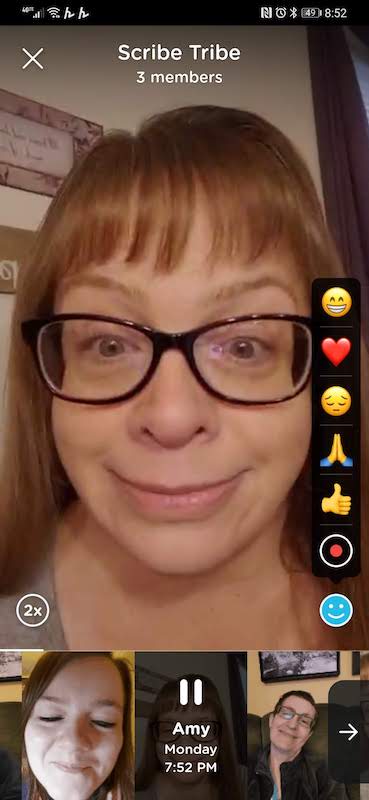 While you're watching the video, you can send a very small selection of emojis like a thumbs up, smiley face, heart, sad face, and praying hands. If the sending person is watching the screen, they will see the emoji float across it as they are talking.
Last but not least, the videos that you create with Marco Polo do not disappear after a few minutes, they stick around in a scrollable filmstrip at the bottom of the screen so that you can go back and watch them again, bookmark them, forward them to another person on the app, and even save them to your device to keep forever.
For the first 24 hours, Polos are stored on your device. After 24 hours, they are moved to the Marco Polo cloud and if you don't opt to become a subscriber ($9.99/mo.) they will be archived at some point. I don't subscribe, and can't remember exactly when I started using Marco Polo, but I can still see the videos that I recorded from the middle of February and it's now towards the end of April as I'm writing this.
You can visit marcopolo.me for more info and you can check Google Play for the Android version of the app and the App Store for the iOS version. Let me know if you try it and what you think!