We use affiliate links. If you buy something through the links on this page, we may earn a commission at no cost to you. Learn more.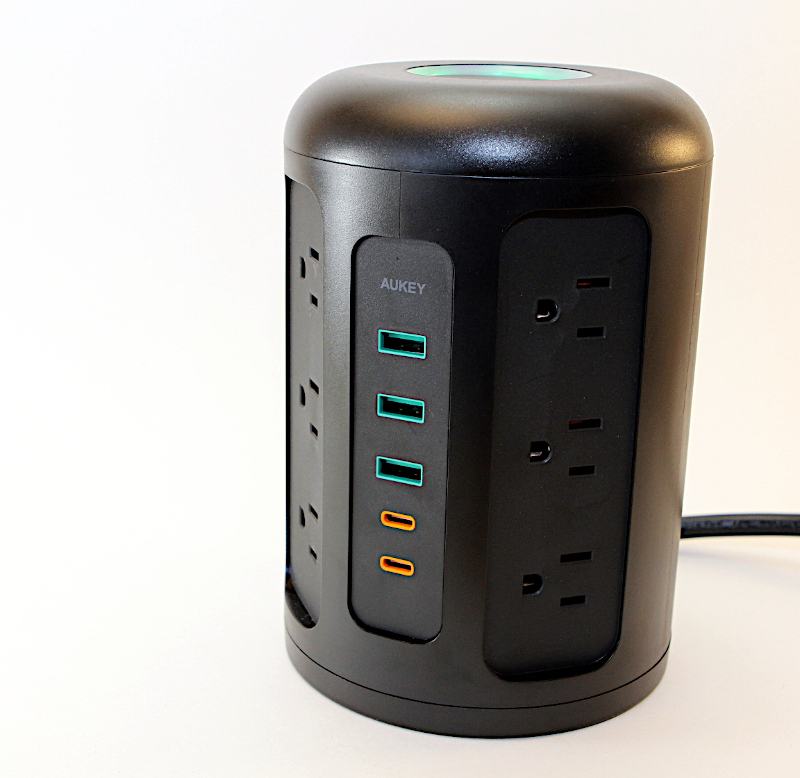 REVIEW – Recently I was looking at the mess of cords and cables below the desk in my home office and decided that it was time to do some organization.  Part of the problem was that I have a lot of things that need power, and I was plugging in my gadgets anywhere I could run a wire.  I realized that some consolidation would help, which is why I am testing the PowerHub XL.
What is it?
The PowerHub XL (model number PA-S24) from AUKEY is a power strip tower with twelve outlets and five USB ports.  It provides a single place to plug in a lot of computer equipment and gadgets (or anything else that needs power).
What's in the box?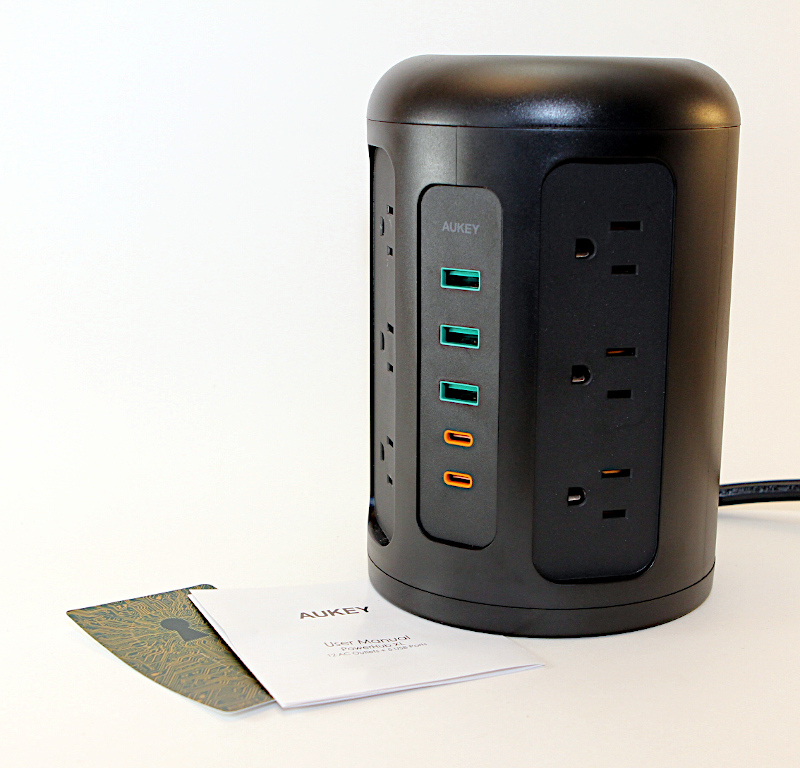 The power strip tower
A user manual with three small pages of English instructions
A sticker
Hardware specs
Twelve AC outlets
Three USB-A ports
Two USB-C ports
4.9-foot power cable
6.75" H x 4.5" W x 4.5" D
Design and features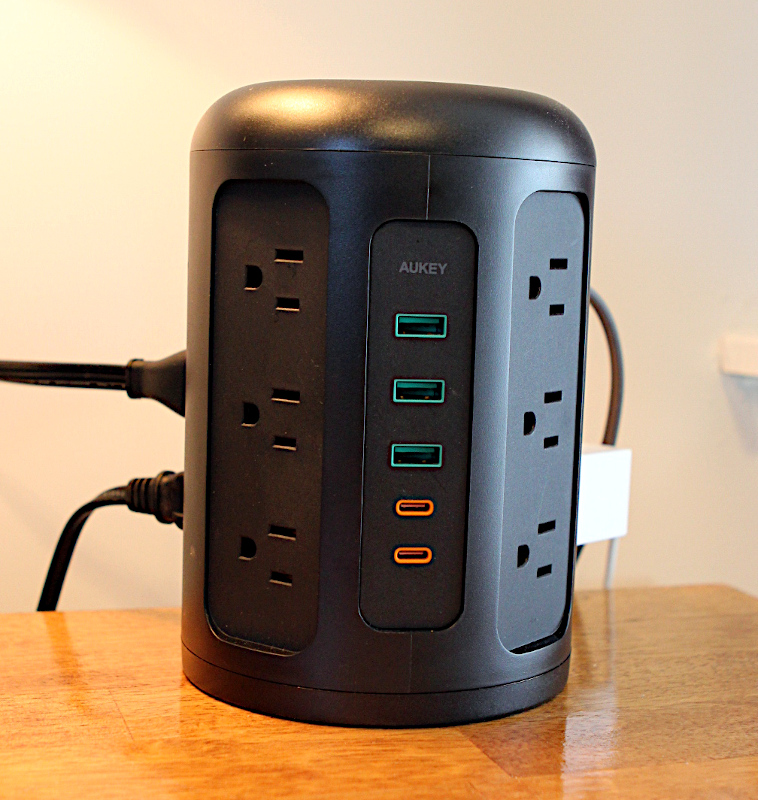 The PowerHub has a fairly standard design for a power strip tower.  There are three outlets on each of the four cardinal points of the smooth, cylindrical body.  They are spaced fairly far apart, allowing for DC converters to be plugged in without blocking other outlets.  There are five USB ports are on the front, and the power cable comes out the back.  The entire tower is matte black plastic and will look fine in any office setting.
Installation and setup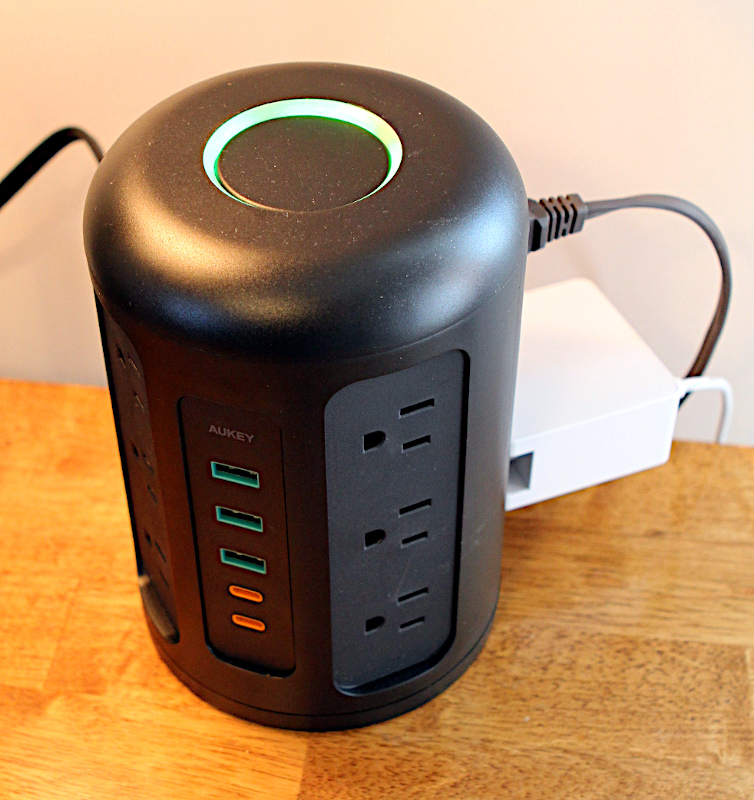 The PowerHub was protectively packaged in a small cardboard box.  Installation was simple:  remove from the box, plug into the wall, and then turn it on.  The circular on/off button is on the top of the tower, and when pressed it activates a green ring of light that surrounds the button.  This light is a rather distinctive feature, but it's also very bright, as bright as a nightlight, and the extra light pollution might not be welcome in some rooms.
Performance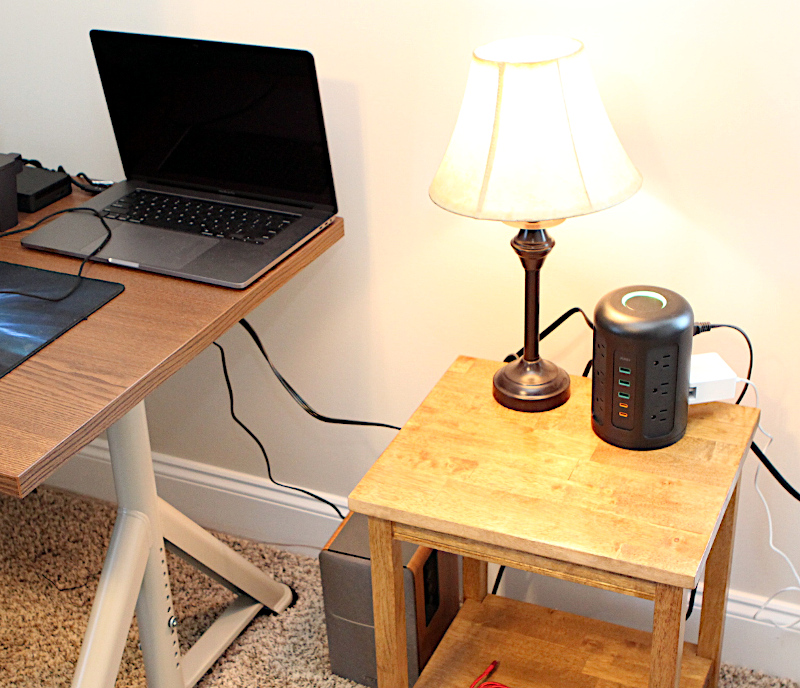 I'm using the PowerHub to power a Dell WD19 dock (that in turn powers my 16" MacBookPro), a small lamp with a crooked lampshade, my Soundcore Wakey alarm clock, and my Edifier powered bookshelf speakers.  It handles all of these without any problems and never gets warm to the touch.  The outlets are firm but unlike some towers—I am thinking about the BESTEK power strip in my bedroom—they are not so stiff that I feel like I need a hammer to insert the plugs.  It sits on top of a small table next to my desk, though I'll probably move it down to the lower shelf eventually.  It's a power strip, and it does its job without any fuss.
There was one thing that surprised me.  Earlier this week a technician was working in the neighborhood and accidentally cut off power to our houses.  When he restored it, I found that I didn't have power for some of my devices.  It took me a bit to realize that the PowerHub shuts off when it loses power but does not turn back on when the power comes back.  I'm not sure if that's a feature or a bug, but either way, it caught me off guard.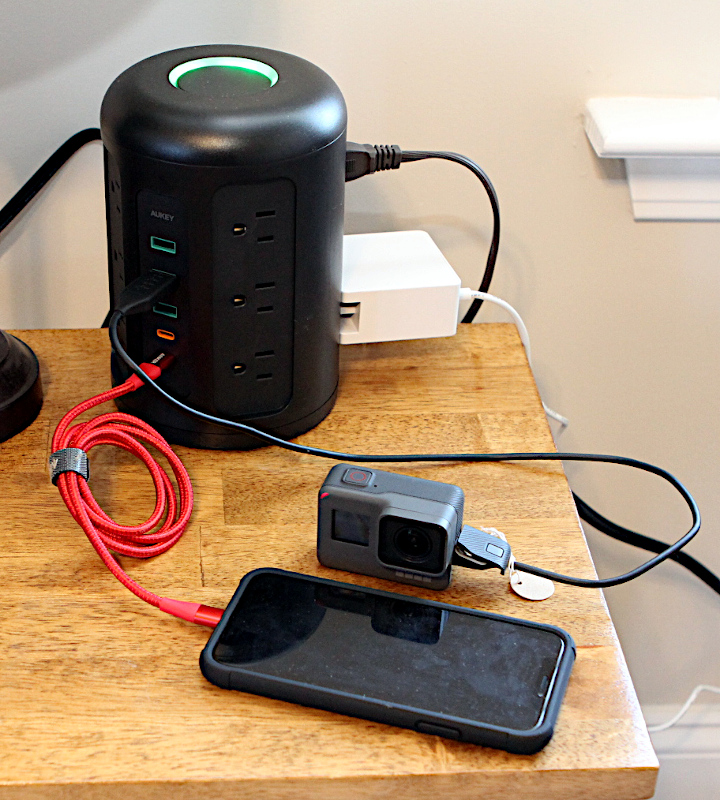 With five USB ports on the front, the PowerHub is a convenient place to charge several gadgets at once, like my iPhone and my GoPro.  It's nice to have one central place in my office where I go to charge everything.
Extra Features
If there's a downside to the PowerHub, it's that it short on extra features.  Although PowerHub has a pair of USB-C ports, the manual notes that they do not support the Power Delivery specification.  That means that it won't charge as quickly as a dedicated charger that supports this standard, like this Anker PowerPort.  AUKEY's tower has not been certified by UL or any other testing organization.  It's just a simple power strip with a lot of outlets and ports.
What I like
Smooth, rounded design
Lots of outlets and ports
What I'd change
Final thoughts
AUKEY's PowerHub XL is a nice-looking, nicely-designed power strip in a tower shape.  With twelve outlets and five ports, it has plenty of room to charge several pieces of computer equipment and electronic gadgets.  This would be a welcome addition in any room or office where you need to charge a lot of things at once.
Price: $42.49
Where to buy:  Amazon
Source: The sample for this review was provided by AUKEY.