We use affiliate links. If you buy something through the links on this page, we may earn a commission at no cost to you. Learn more.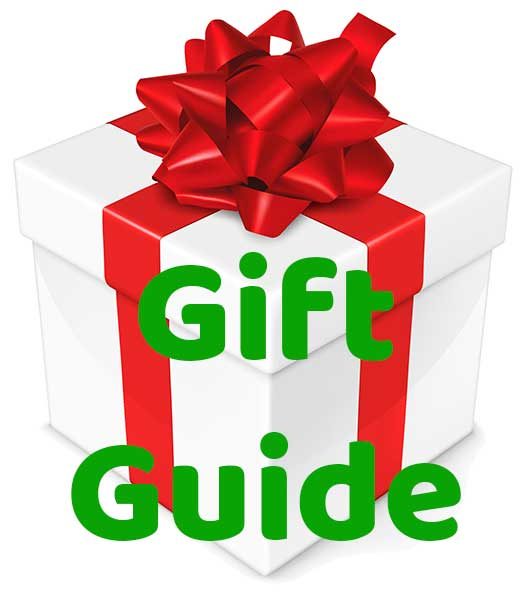 You know the type… they always seem to have a little pocketknife, pen, tool or cloth for every situation, jumping in at the right time to help you open a package or clean up a little mess. Jacob and Janet have teamed up to create this list with the hopes that something will catch your eye for that special someone, or yourself. 
Recycled Firefighter – Nomex Handkerchief
This fire resistant and absorbent Nomex handkerchief comes in several handsome colors and is a great pocket companion for all your other EDC things. It's 11×11" and looks to be one of the top reviewed items on their site.
Price: $24 • Recycled Firefighter
Taylor Stitch – Raw Brass Keyhook
Cast from raw brass, this minimalistic keyhook looks great and will only look better with age as it develops a natural patina. It will last basically forever and goes with just about everything.
Price: $32 • Taylor Stitch
Standard Goods – Good and Well Co. Cologne Balm
Sometimes you need a little scent boost to feel refreshed in the middle of the day and these little cologne balms are perfect for a quick dab of olfactory goodness. They come in natural scents like sandalwood and black spruce needle.
Price: $20 • Standard Goods
Quiet Carry – Q2 Titanium Key Organizer
The Q2 consolidates 4-8 keys within a titanium housing and also incorporates a locking blade with your choice of blade type – multitool, bottle opener with a knife blade or clip point blade. Note from Julie: I reviewed their Bandit keychain knife and recommend it as well made useful little knife.
Price: $68 • Quiet Carry
Draplin Design Co – DDC Stuff Sheath
There are lots of us who carry around a little notebook to jot down ideas in, like a little Field Notes pad or Moleskine Cahier, only to have them mangled by a denim back pocket. So Draplin Design created a leather sheath for wrangling your small notebook, receipts, note scraps, tickets and whatever else you might have bouncing around inside your bag or pockets.
Price: $39.99 • Draplin Design Co.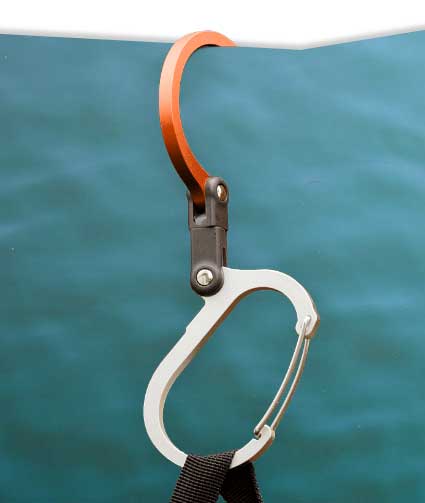 HEROCLIP
Carabiners are useful, but the HEROCLIP takes an ordinary carabiner and adds a hook so you can hang your gear. Whether it's from a tree limb while camping, or a over the top of the restroom stall door to keep your bag off the nasty floor, the HEROCLIP has your back. And when you're done hanging your gear, the hook rotates and folds down.
Price: $19.95
Read our news post: HEROCLIP is a new twist on carabiners
Where you can buy one: HEROCLIP and Amazon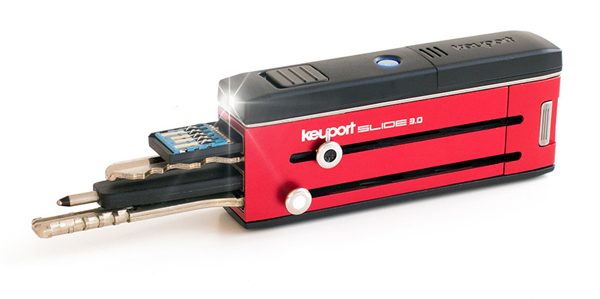 Keyport Slide 3.0 key organizer
The Gadgeteer has reviewed every iteration of the Keyport Slide, and we recently reviewed the Slide 3.0, the newest version.  It's available with four or six ports to hold a combination of key slides and tools like USB flash drives and pens.  The normal slide plates can be replaced with one with a flashlight, a knife blade, or one with both a flashlight and a TrackR locator.
Price: $39 for the four slot; $49 for the 6 slot
Read our review: Keyport Slide 3.0 and Pivot key organizers review
Where you can buy one: Keyport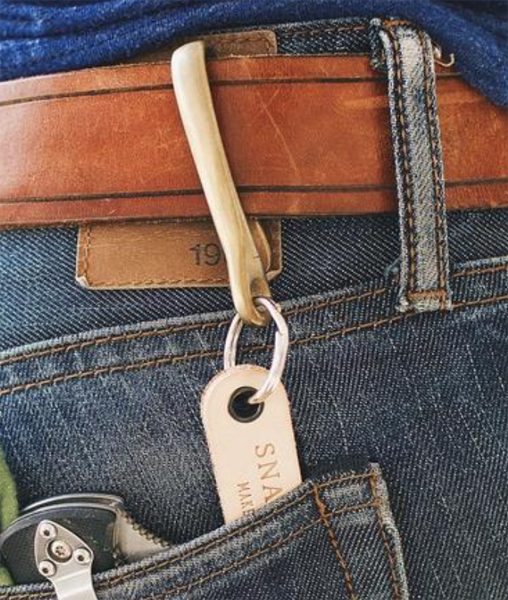 Snake Hook
When you carry light without a gear bag, you may want something to make sure your keys don't fall out of your pocket. The Snake Hook attaches to your belt to secure your keychain.  The Snake Hook keychain hook (also known as a pelican hook, key loop, or belt hook by some) is made of solid brass in the USA.  It measures 2-5/8″ long x 3/8″ wide x 5/8" deep.
Price: $24
Where you can buy one: Snake Bite Co.

True Utility FIXR Multi-tool (20 tools in 1)
The True Utility FIXR multi-tool is like having a toolbox in your pocket.  This little powerhouse is packed with twenty tools: various screwdrivers, wrenches, box cutter, pry bar, bottle opener, nail cleaner, bicycle spoke wrench, ruler, cutting blade, wire stripper, and more.  It's 3.3″ X 1″ X 0.35″, so it won't take up much room in your bag or pocket.
Price: $12.13
Read our review: True Utility FIXR multi-tool review
Where you can buy one: Amazon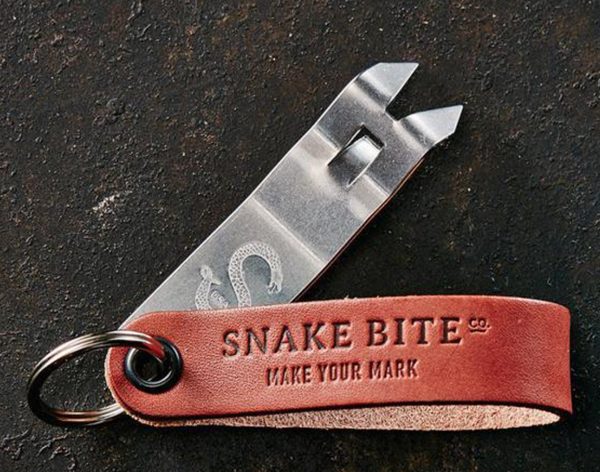 Snake Bite Church Key Bottle Opener
Most bottle/can openers I've seen have one rounded end for popping off bottle caps and one sharp, pointy end for punching holes in cans.  These days, most beverage cans come with pop-tops, so many can openers now only have the rounded end for bottle caps.  The Snake Bite opener has only a pointed end – actually an end with two points.  The two points allow it to fit over a bottle cap, so you can still open a bottled beverage with it.  And they will, of course, allow you to punch two triangular holes in a can.  Why do you need the holes when you have a pop-top?  The holes vent the can, resulting in a less foamy, less bubbly pour.
The Snake Bite Church Key is made of 302 stainless steel.  It's covered by a 6-oz vegetable-tanned leather sheath that's held together with a military-grade kydex holster rivet and hard-drawn nickel-plated steel split ring.  It's available in a variety of leather colors and special editions.
Price: $25
Where you can buy one:Snake Bite Co.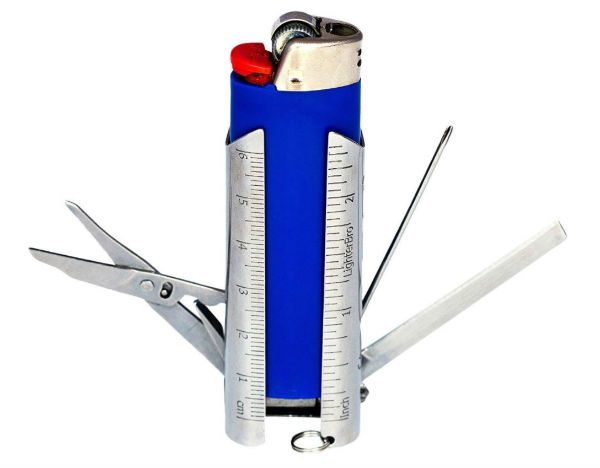 LighterBro multitool sleeve for BIC lighter
LighterBro multitool sleeves turn a standard or a mini BIC lighter into a multi-functional pocket tool.  Depending on the model, you'll add tools like knife blades, scissors, screwdrivers, awls, rulers, and more.  The sleeves are made of Japanese steel for strength, and they are available in a variety of colors and toolsets.  You'll need to supply your own BIC lighter.
Price: $10-20, depending on size, color, and toolset
Read our news post: LighterBro turns a BIC lighter into a multi-tool
Where you can buy one: LighterBro

Titanium Innovations IlluminaTi CA1-TI Flashlight
This little keychain flashlight has a titanium body for strength and a CREE XP-G G2 LED bulb and OP reflector for brightness and endurance.  It's rated IPX-7 for water-resistance.  It uses a common AAA battery (Li, NiMh, or alkaline; alkaline is included).  By twisting the barrel, you turn the light on through a low, medium, or high setting.
Price: $49.95
Read our news post: Titanium Innovations IlluminaTi Flashlight
Where you can buy one: BatteryJunction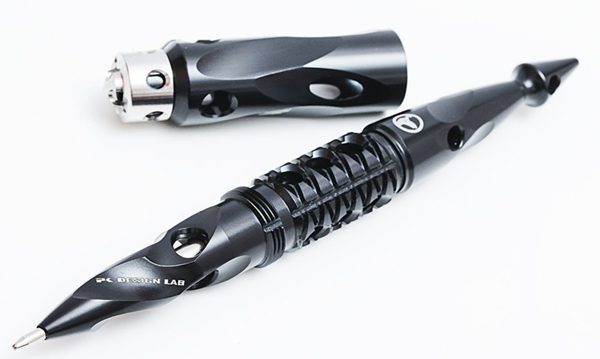 PK-TPE-BK Tactical Pen & Writing Instrument
This pen might literally be mightier than the sword, in every sense of the word.  It's made of CNC machine milled high-grade aerospace aluminum, measures 5.75″ long, and weighs 1.6 ounces.  It has a threaded cap that can post on the lethal-looking end when you are using the included Fisher Space Pen refill for writing.  Screw the cap over the pen when you are using the pointy end for "taking names".
Price: $169.95
Read our post: This PK Design Labs tactical pen is made of nightmares
Where you can buy one: PK Design Labs or Amazon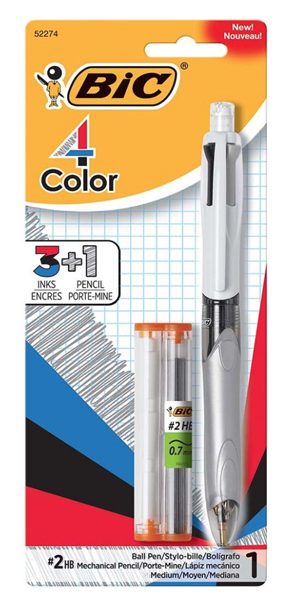 BIC 4-color 3+1 Ball Pen and Pencil
You've probably seen those BIC pens with the blue and white barrels and the four different colors of ink: red, blue, green, and black.  This version has a silver and white barrel, and it has replaced the green ink with a 0.7mm mechanical pencil.  There's a push button on the top of the pen that advances the lead, and there's a white pencil eraser under the clear cap on the push button.
Price: $5.48
Where you can buy one: Amazon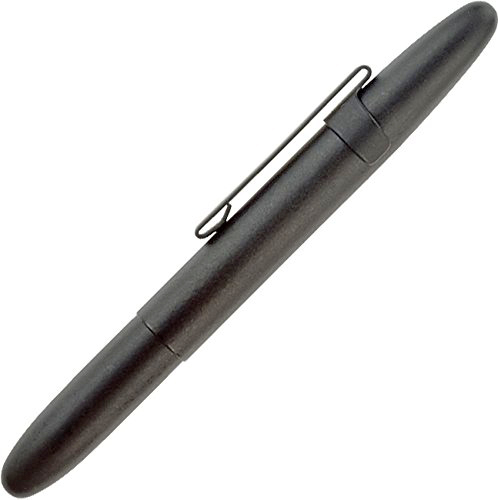 Fisher Space Pen
Fisher Space Pens were created for astronauts to use in the rigors of space.  They'll write through water or oil spots on paper; write at any angle, even upside-down; even write in zero gravity – so they should be able to handle anything you experience in your day.  The pens come in various sizes, including the very compact Bullet version shown above.  They come in various colors and in different designs, so you can find a pen that suits your needs.
Price: $17,89 for matte black bullet, shown above.  Prices vary for other models.
Read our post: Did you know that there's a Fisher Space pen for your backpack?
Where you can buy one: Amazon or Fisher Space Pen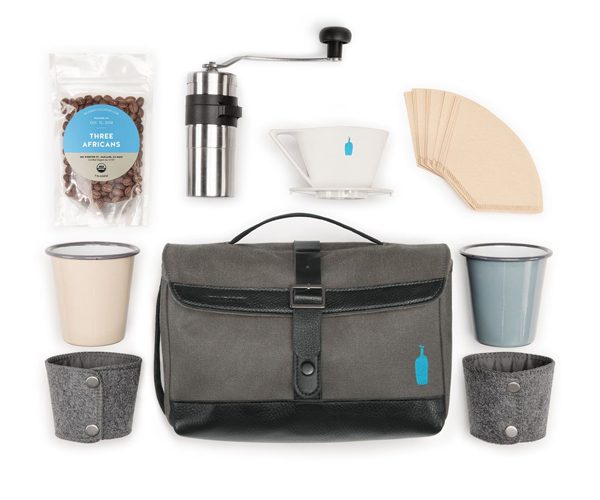 Timbuk2 Blue Bottle Coffee Travel Kit
This won't fit in your pocket, but it might prove a vital piece of equipment for the coffee addict.  Timbuk2 has stowed a Porlex mini hand grinder (burr), Blue Bottle travel dripper, two porcelain-covered steel Falcon enamelware tumblers, and two Timbuk2 Zarf cup covers into their own perfectly-sized travel bag.  The kit comes with some filters and some beans to get you started.
Price: $125
Read our news post: Brew your coffee your way with this Timbuk2 travel kit
Where you can buy one: Timbuk2 Designs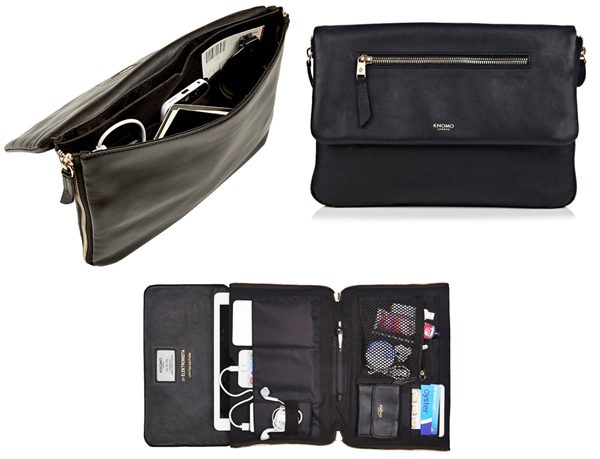 Knomo Elektronista Crossbody / Clutch Bag
The Elektronista is made by Knomo and designed in conjunction with Danish blogger and broadcaster, Christiane Vejlø.  We first told you about it back in 2015, and it's still available today.  It may seem like just a feminine gear bag, but it's actually a portable charging station for your mobile devices.  It's big enough to hold a 10″ tablet inside, plus there are lots of pockets and pouches to keep your phone and smaller gear neatly organized.  A detachable strap allows you to wear it crossbody or carry it as a clutch with the strap removed.  It also comes complete with a 5000mAh battery and micro USB charging cable; you'll need to provide your own Apple cable, if needed.  The Elektronista is available in either leather or a splash-resistant material.
Price: $269 for leather; $199 for fabric, with some colors on sale at $99
Read our news post: Here's the ultimate charging clutch for the gadget-loving woman
Where you can buy one: Knomo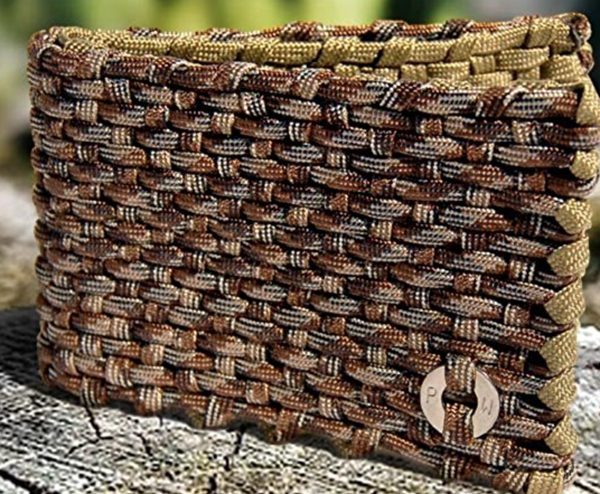 ParaWallet paracord wallet
This bi-fold style wallet may not be as sleek as some wallets, but it could save you in extreme circumstances.  It's made of 50+ feet of 550 lb 7-strand paracord that can be unraveled and used to help you feed yourself or get yourself out of sticky circumstances.  It also has a ferrocerium fire starter rod, a stainless steel emblem, and tinder (hidden inside tag) so you can start a fire.
Price: $65
Read our news post: You can catch a fish and start a fire to cook it with this wallet
Where you can buy one: Amazon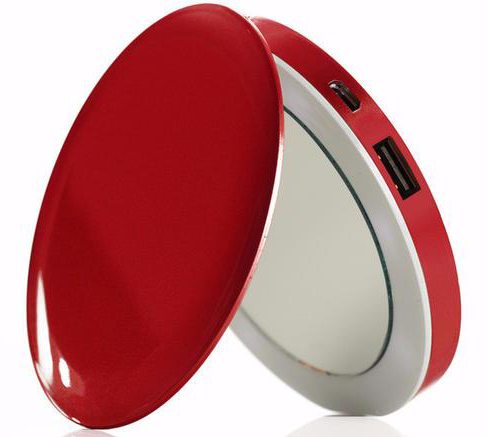 Pearl Compact Mirror and USB Battery Pack
Multifunctional items are the key to traveling light, and the Pearl compact Mirror and USB Battery Pack has three functions in a small package.  It's about the same size as a mirrored compact, and inside you'll find both a regular and a magnifying mirror so you can check your hair before heading to that meeting.  But it also packs a 3000mAh battery inside that can be used to recharge your mobile device or to power the ring of LEDs around one of the mirrors.  The LEDs help you see yourself better in the mirror, and they can even function as a flashlight in a pinch.
Price: $20-30, depending on color
Read our review: Pearl Compact Mirror and USB Battery Pack review
Where you can buy one: Amazon