We use affiliate links. If you buy something through the links on this page, we may earn a commission at no cost to you. Learn more.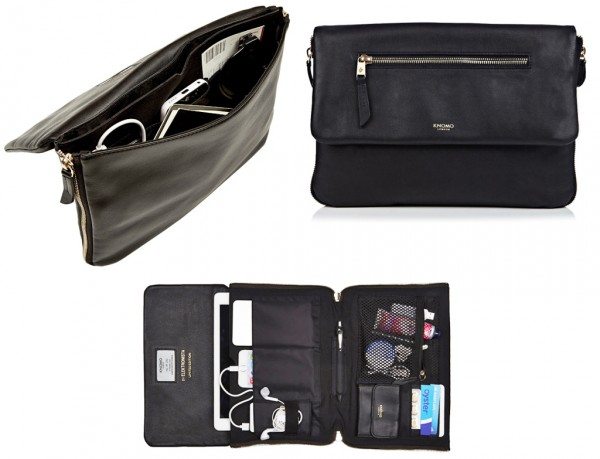 You carry a tablet, phone, cables, chargers, backup battery, and EDC things like a wallet and keys.  You don't want to use a huge gear bag to carry your things, and you want a stylish handbag instead of something more utilitarian.  If these things describe you, The Elektronista Digital Clutch Bag might be what you're looking for.  The Elektronista is made of soft, smooth-grained, lightly-tumbled full grain leather; it has a grosgrain lining and gold-toned hardware.  It measures about 8.1″ X 11.2″ X 0.8″.  It looks like a moderately-sized, stylish handbag, and it is, but it's so much more.
The Elektronista was designed by KNOMO and Danish blogger and broadcaster, Christiane Vejlø.  When you open this bag, you discover the true beauty of this beautiful purse – it's organization.  There are pockets and compartments inside that can hold up to a 10″ tablet and your phone.  It even has a 3000mAh battery, with a micro-USB charging cable, inside that can charge your devices as you carry them.  (You'll need to provide your own Apple cable, if needed.)  There are slots to hold your cards, a change pocket for coins and folded currency, and still more room for keys, makeup, or other daily items.
The limited edition Elektronista has a unique identifier on the KNOMO label inside the bag.  KNOMO can use this unique ID to return your bag to you should you lose it.  The Elektronista is €289.00, or about $329 US.