We use affiliate links. If you buy something through the links on this page, we may earn a commission at no cost to you. Learn more.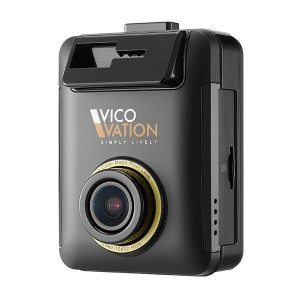 I'm a little obsessed with trying to find the best dashcam for my car. I'm relatively new to this type of gadget and have only reviewed two different units in the past year (see related links below). The latest dashcam that I've been testing is the VicoVation Vico-Marcus 4 dashcam. This one caught my eye because it can be used with an optional GPS mouse that will show location and speed info in the video. Let's see how well it works.
Note: Images can be clicked to view a larger size.
Hardware specs
Image Processor: Ambarella A7 inside
Sensor: 4 Mega Pixel CMOS
Lens: F/2.0, 6G Mega Pixel Lens
View Angle: 160º (diagonal)
Resolution: 2560 x 1080 @ 30 fps, 2304 x 1296 @ 30 fps, HDR 1920 x 1080 @ 30 fps, 1920 x 1080 @ 30 fps, 1280 x 720 @ 60 fps, 1280 x 720 @ 30 fps
LCD Display: 2.0 inch
G-Sensor: 3 Axis G-Sensor built-in
Power: USB Cigar Charger (Input: 12V~24V, Output: 5V/1A)
Operation Temp.: 0°C ~ 75°C
Dimension: 72mm(L)x53mm(W)x33mm(H)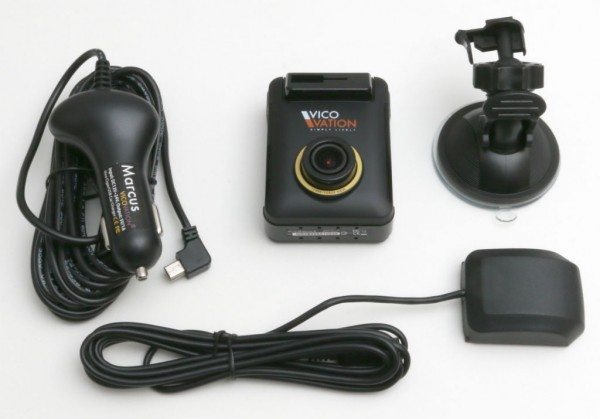 Included in the package
Vico 4 Meter Car Charger
Suction Bracket
Installation Guide
Warranty Card
*Pictured above not included with the dashcam is the GPS Mouse. This is an optional accessory.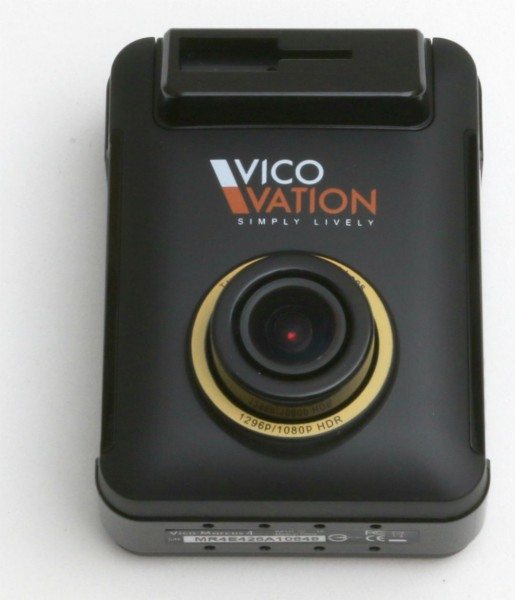 The physical design of the Vico-Marcus 4 dashcam is nicely done. The camera is compact and is not overly noticeable when installed in your vehicle. The front of the camera has the logo and lens along with the slot for the windshield mounting hardware.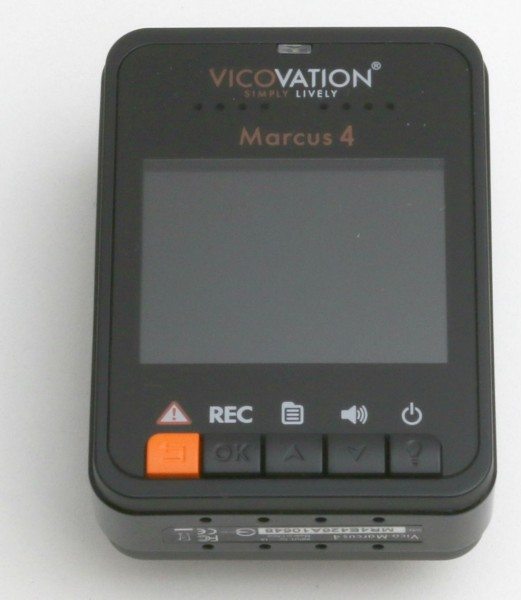 On the back is the color LCD display with a row of control buttons below it. The buttons let you interact with the menus and manually control recording and playback.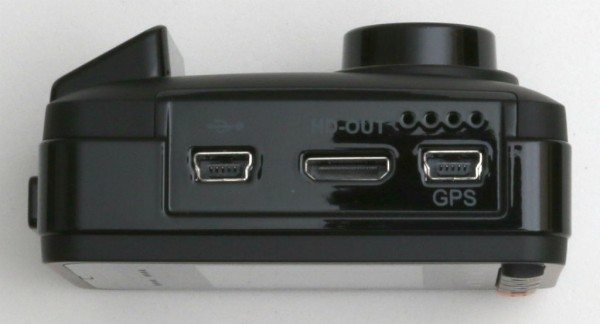 The connections are on the right side of the camera and include a mini USB connection for power, a full sized HDMI out connection and a mini USB connection for the optional GPS mouse accessory.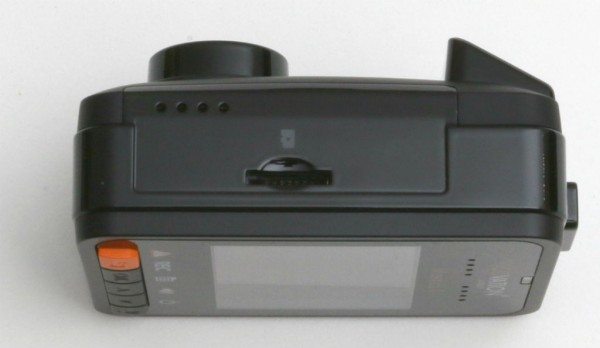 The opposite side of the camera has a micro SD card slot. Be aware that you have to supply your own card to store the videos.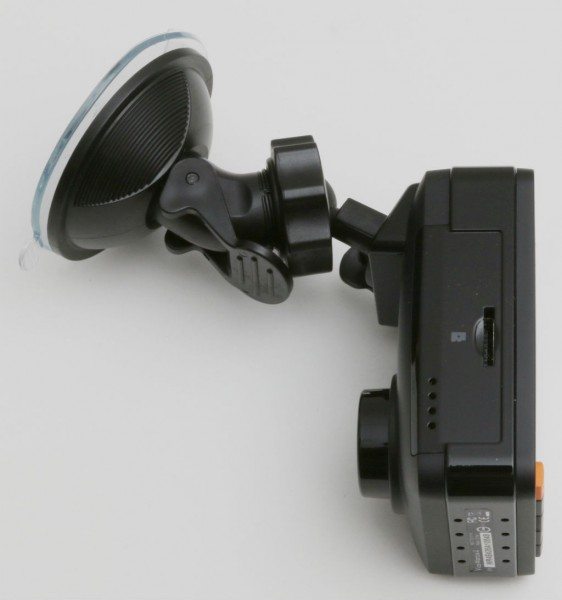 Included with the Vico-Marcus 4 dashcam is a suction cup mount for your windshield. The camera connects securely to the mount and can be easily adjusted for the best position on the window.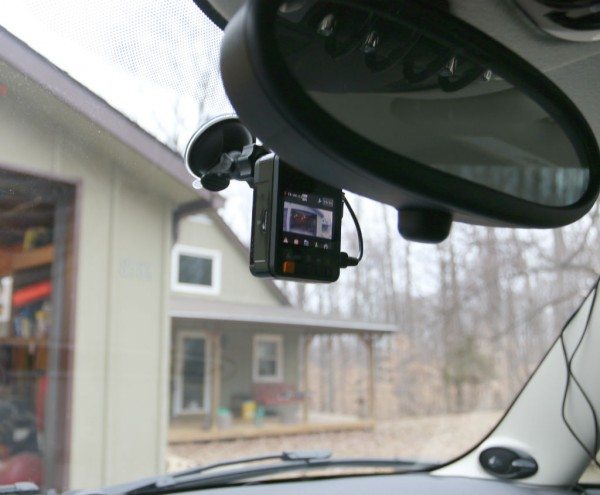 After attaching the camera to the windshield you'll need to connect the included mini USB 12V power adapter. The adapter is designed to turn on the camera as soon as you start your vehicle and begin recording. I found that the Vico-Marcus 4 dashcam takes about 15-20 seconds to start up, so that means you may lose the beginning of your drive. Other cameras that I've reviewed start much faster. I think this is mainly due to the fact that the Vico-Marcus does not have a built in battery. So instead of remaining on standby until you start your car, it's completely powered off and must boot up each time power is applied.
The camera's interface is easy to navigate using the control buttons below the display, but it does have quite a few settings that can be customized. You can also view the recorded videos through the camera's LCD display, but I don't really recommend it. It's much easier to pop out the micro SD card and view them through your laptop or desktop computer since the videos are saved in .MOV format.
There are a lot of settings for the optional GPS mouse accessory. With the GPS mouse connected, features like GPS Tracking/LDWS (Lane Departure Warning System)/FCWS (Forward Collision Warning System), Over speed, Current Speed and GPS Location Overlay are supported. One disappointment is that the over speed feature that beeps when you're driving faster than the speed limit, only has options to set the speeds to metric units instead of MPH. I also found that the LDWS feature would beep when I was driving down the middle of a two lane highway in the center of my lane.
Here's a compilation video showing day time and night time driving. I'm sorry that I wasn't able to get any sample recordings during a bright sunny day. Since it's winter here in southern Indiana, seeing the sun is a rare occurrence. These videos are straight out of the dashcam which was set to record at 2560 × 1080. I spliced several clips together using iMovie on my mace and exported to Youtube using the 1080p 1920 x 1080 setting.
I found the video quality to be pretty similar to the other cameras that I've tested so far. Audio quality is also pretty similar too. Each clip is five minutes long, with no way to customize the length. I did notice that sometimes the camera would only record a one minute video. I am not sure why this happens, but it seems to happen usually as the first video that is captured when the camera boots up. From then on, the videos are five minutes long.
Would I recommend buying the VicoVation Vico-Marcus 4 dashcam? While I think this camera does decent job capturing video / audio, the fact that it doesn't have a built in battery, takes awhile to boot up, the speed rating doesn't do MPH and the LDWS feature seems to just alert for no reason, makes me want to look elsewhere for a dashcam. This is also a pretty expensive camera when you compare the price to others we've reviewed. My quest for the best dashcam continues.
Source: The sample for this review was provided by Vicovation. Please visit their site for more info or Amazon to order.

Product Information
Price:
$259.99
Manufacturer:
Vicovation
Retailer:
Amazon
Pros:

HDMI out
Optional GPS mouse to overlay location and speed on video

Cons:

No battery
Units in Metric
Slow startup
Sometimes only records a 1 minute video