We use affiliate links. If you buy something through the links on this page, we may earn a commission at no cost to you. Learn more.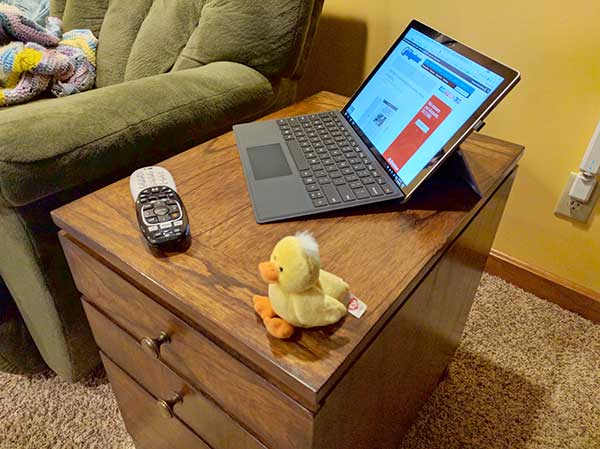 I've been using a Microsoft Surface Pro 4 for almost a week now and I've enjoyed it significantly more than I thought I would. The size and weight make this convertible laptop perfect for everyday and travel use. I'm even seriously considering switching from MacOS to Windows 10 if you can believe that! Having said, that, will I ditch my one-year-old 13″ MacBook Pro for the SP4? Keep reading to find out.

Since Monday, I have only used my MacBook Pro for a few minutes to edit some review pics that I had stored on the MacBook's hard drive. Other than that, I've spent every night using the SP4 at a desk or on my lap while I'm living the good life reclining in my double LazyBoy recliner with my better half while we watch TV.
Using the Microsoft Surface Pro 4 on my lap
I have mainly been using the SP4 on my lap with the kickstand open and the Type Cover attached. I like to use my laptop on my lap a LOT, so I have been aware of the comfort level due to the straight edges of the computer and the kick stand sitting on my thighs. Using the SP4 like this is not as comfortable as using a regular clamshell style laptop on my lap. I can deal with it, but I prefer the feel of a normal laptop on my lap.
Using the Microsoft Surface Pro 4 on a desk
Using the SP4 on a desktop has not been an issue. It feels just as comfortable as a normal laptop… at least to me.
I haven't had any issues with the keyboard. I can touch type on it as well as I can other laptop keyboards. The Touch Type cover's keyboard is very nice. The key layout is perfect, the key size is perfect and the feel is very good. When I use the SP4 on a desk with the Type Cover attached, I have noticed a very slight flex or bounce due to the fact that the keyboard does not lay flat against the desk surface. This is not a big deal for me because it's barely noticeable.
As for the touchpad, once I learned how to right click properly, it's been fine. It pretty small, but it works fine for scrolling and moving the cursor around the display.
Using the Microsoft Surface Pro 4 as a tablet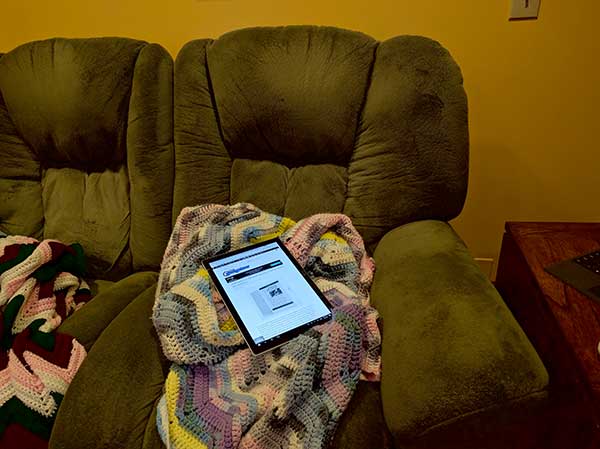 I thought I'd use the SP4 as a tablet more than I'd use it as a laptop. I was wrong. I actually had to force myself to use it as a tablet. This isn't because I hated using the SP4 as a tablet, it is because I use Gmail and work on reviews more than I do anything else. So I am constantly typing. Using the onscreen keyboard works well enough, but it is very slow for me compared to typing with both of my hands on a physical keyboard where I'm able to type about 50-60 words a minute. It was suggested that I try the onscreen split keyboard, which did end up being better but not nearly as good as a real keyboard.
When I did use the SP4 as a tablet, I found that surfing sites like Pintrest and Facebook in tablet mode was enjoyable, as was playing games like Solitare. Using Windows 10 in tablet mode on the SP4 was not a problem like I thought it might be. I was able to touch and tap every onscreen button that I needed to activate without any issues.
As for using the stylus, I thought I'd use it all the time, but just like the tablet mode, I had to force myself to use it. The stylus included with the SP4 is really nice and provides pen on paper feel. I'm not an artist and I prefer to take notes with a keyboard, so I just didn't find a reason to use the stylus unless I just made myself do it.
The three main issues that I have with the Microsoft Surface Pro 4
During the last week of exclusively using the SP4, I only ran into three issues.
The first issue is comfort due to the kickstand on my lap. Using the SP4 on my lap is doable, but it's slightly awkward and just doesn't feel as natural as a laptop.
The second issue is that the Surface Pro 4 only has one USB port which means that I have to remove a USB dongle for my wireless mouse when I need to tether my Canon 70D to take review pics, use a flash drive, etc.
The third and least annoying issue is that the SP4 does not have a SD card slot. It has a micro SD card slot. That means I can't use all my existing SD cards unless I use a USB card reader. Not a huge issue since I don't use cards that often anymore because I tether my camera to the computer now, but something to be aware of if you're thinking of buying this computer.
I can also add a four issue which isn't really an issue, but more of a wish. I wish the SP4 had a USB Type-C port for charging. I bet the Microsoft Surface Pro 5 due out next year will have one…
What's the verdict?
The Microsoft Surface Pro 4 is a great little computer and I have really enjoyed using it for the past week. I think that the weight and size are ideal as it only weighs 2 lb 7 oz. with the Type Cover attached. Carrying it around the house is a breeze, so I know that it would be great for travel too. But then I compared my 13 inch Dell XPS to the SP4 and found that it is only slightly heavier at 2 lb 12.8 oz. The Dell also has two USB ports and a full-sized SD card slot. Since I don't think I'll use the SP4 as a tablet or use the stylus, I don't think the difference of 6 oz justifies keeping it, so I've decided to return it. If I didn't already have the Dell XPS, I'd keep it the SP4. I also do not have any trips planned until the spring of 2017, so I'll put that $1000  back in my checking account and wait till then to consider another upgrade. Maybe it will be an SP5.
Although I may not be keeping the SP4, this experiment did help me decide one important thing. I will NOT buy another Apple MacBook. Apple computers cost way too much and they don't innovate anymore. No, I don't think a touch bar counts as an innovation or removing all the ports.
I'm even seriously considering selling my current MacBook Pro and switching to Windows 10 now. Does anyone want to buy my 1-year-old 13″ MBP which is in perfect condition? 🙂