We use affiliate links. If you buy something through the links on this page, we may earn a commission at no cost to you. Learn more.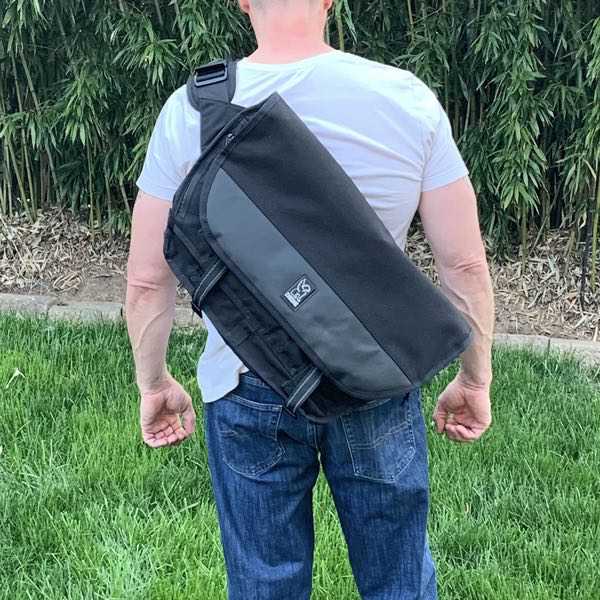 REVIEW – Look at this chonky boi! I'm testing the Buran III from Chrome Industries, the next evolution in their iconic messenger designed to carry your tech in addition to all the things. It's a good one. To the review!
What is it?
It's a messenger bag designed for carrying your tech… and just about everything else with a 24 liter capacity.
Hardware specs
12.25″ high, 21.25″ wide, 7″ deep
24 liter capacity
2.77 pounds
1050D Nylon exterior, 500D TPE tarp lining
Fits laptop up to 17″
Design and features
Chrome has been an icon in the carry industry since 1995 with a reputation for building rugged messengers bags and packs for hard city use, on or off the bike. The Buran III is the latest evolution of their messenger designed to handle all of your tech during the daily commute. But it will handle a lot more as we'll see shortly.
The Buran III rocks a super clean "classic" messenger profile, uncluttered by extra straps and/or bangles. My test model is black-on-black, but breaks things up with a bit of patterned shiny fabric on the bottom half of the flap. You'll also get Chrome's iconic medieval logo on that flap. That logo may be my favorite in the carry business. It just speaks to me.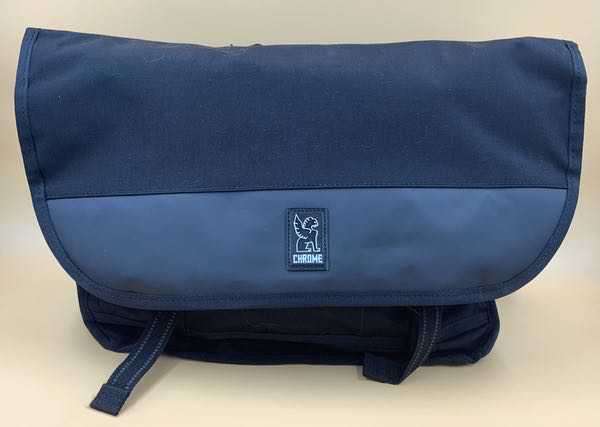 I also love the "stone grey" earth tone colorway that they offer on bag, which you can see at the link at the bottom of the article. It's a big bag with a 24 liter capacity, but that clean look gives it a streamlined feel despite the prodigious size.
One of my favorite things about the Buran III is the wedge-shaped geometry that enables it to actually stand on its own when you put it down. Most messengers can't manage that, and it's kind of a big deal if you're living out of your bag.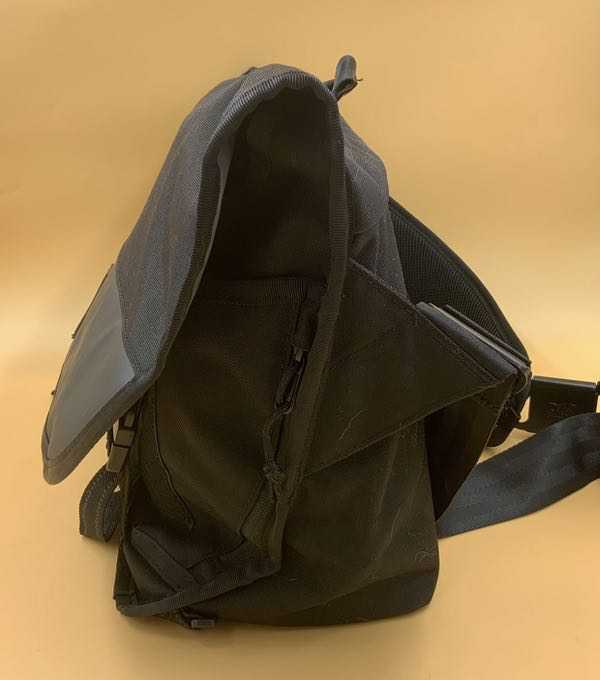 The layout of this bag is all about zen-like balance. You can switch the shoulder strap to work over either shoulder, which is great… but you won't suffer from misplaced pockets when you switch it up. You'll find a pair of vertical zip pockets, for example, on either side under the flap. These pockets will swallow a wallet or phone and then some without requiring you to open up your bag.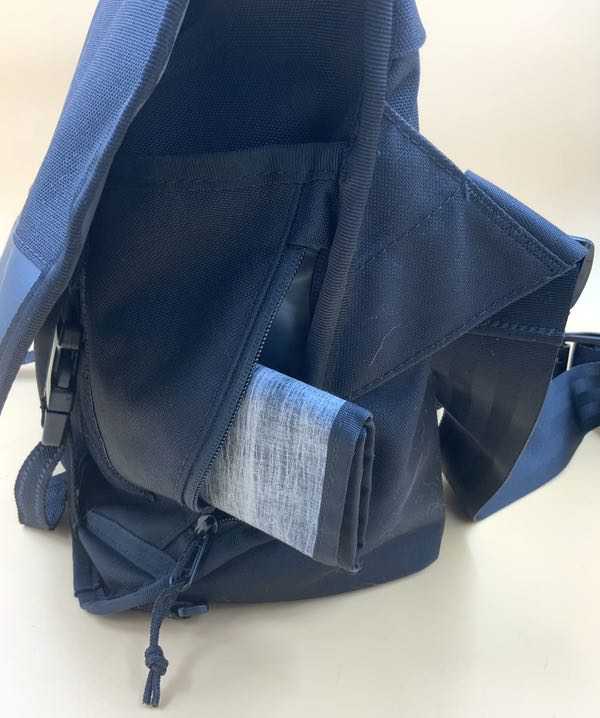 A bomb-proof 1050D nylon exterior is paired with a 500D TPE tarp lining for durability and water resistance. The sides have little extra flaps of fabric that keep the wet stuff out when the flap is in place. The build quality, stitching, and attention to detail is exactly what you would expect from Chrome. It's just excellent.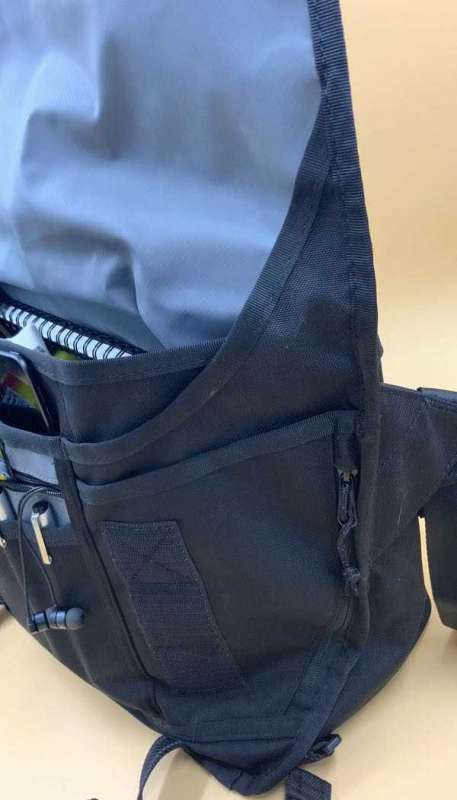 Cracking the lid reveals a horizontal strip of velcro on the underside of the lid for a quick seal against those vertical strips on the interior of the bag. Check out how the liner is grey to help you find your stuff when you get into the bag. The velcro is strong but not terrible; you could probably add a silencer if it bugs you.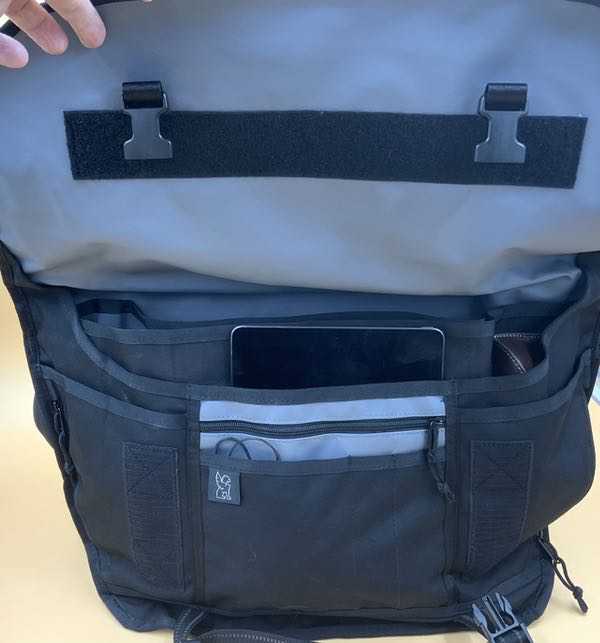 You'll find a pair of heavy-duty plastic clips under the flap to lock things up tight. These straps are also adjustable so you can cinch things down if you're packed light or open it up for larger loadouts.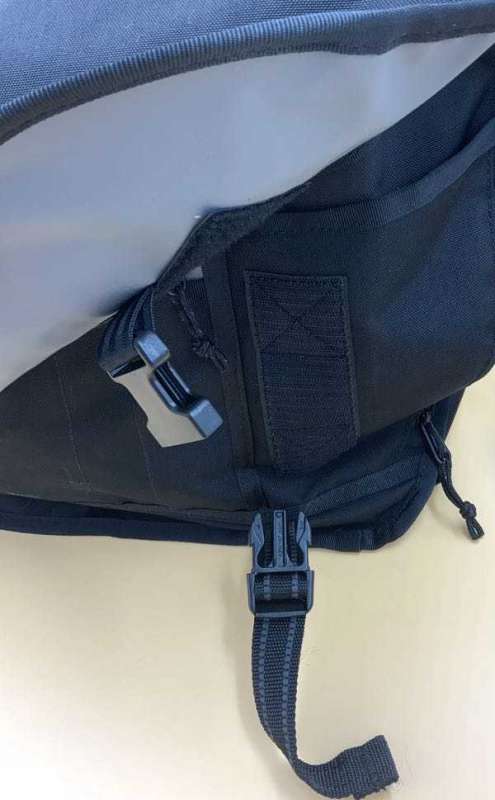 We don't discriminate against left or right-handers with the excellent organizer panel. You'll find two vertical drop pockets behind those zip pockets big enough to hold a sunglass case, a hydration bottle, or a small umbrella.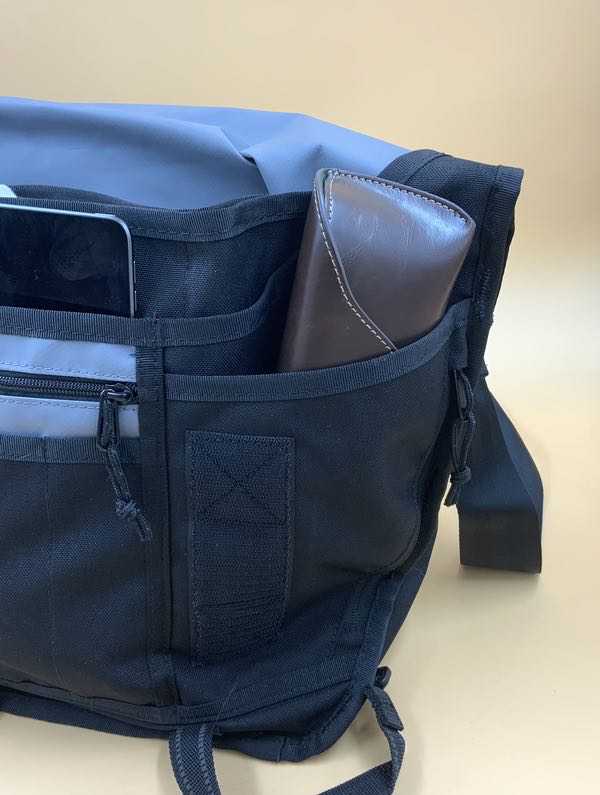 And you can get a really, really big hydration bottle in there. It's important to note that stuffing these pockets kills your space in the other vertical pockets on that side, but you have the same configuration on both sides so that you're not limited in your packing choices.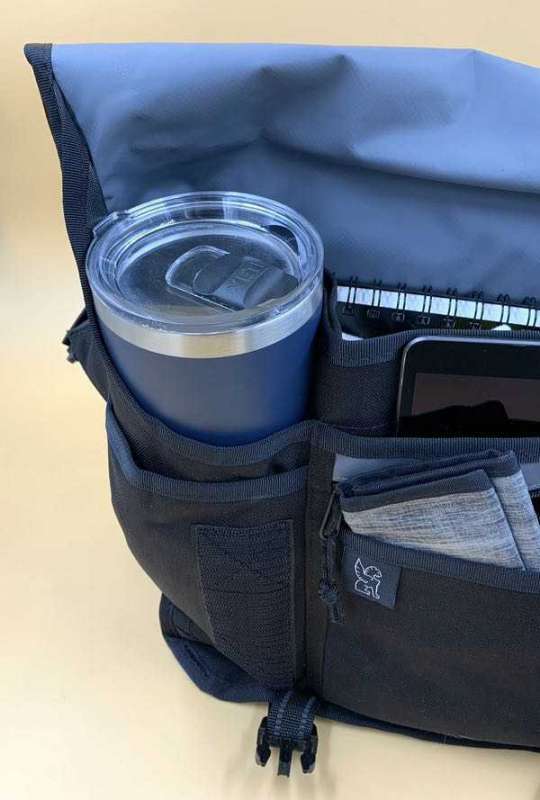 The center stack pockets start with a drop pocket and two pen/pencil slots, backed by a deep zippered pocket, backed by an even deeper drop pocket that will comfortably fit a standard sized iPad. That's a total of 11 pockets & slots for your accessories, bits, and baubles. This nicely executed arrangement keeps all your gear on the front of the bag, leaving plenty of room in the main compartment.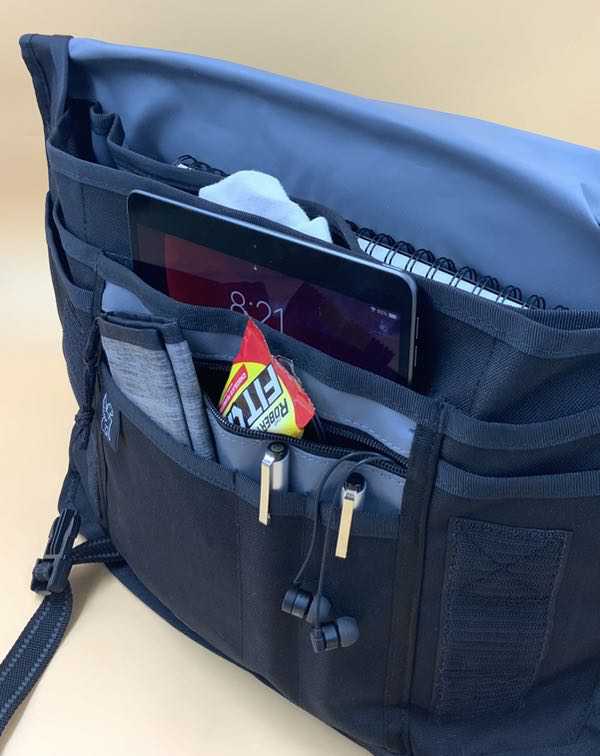 And that main compartment hides an additional twist. There's a divider secured by a strip of velcro that gives you an area to separate your wet stuff if needed. You can also use this separate area to sort out other goodies (like notebooks or accessories) from the main compartment.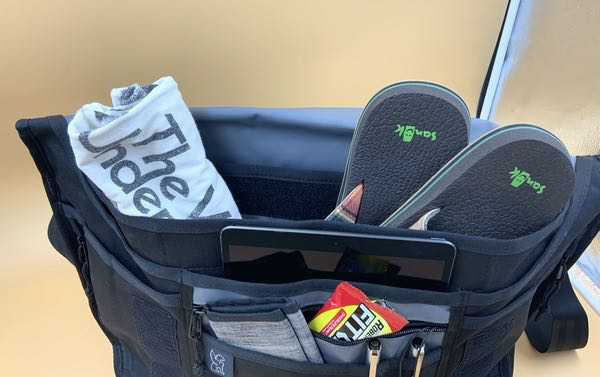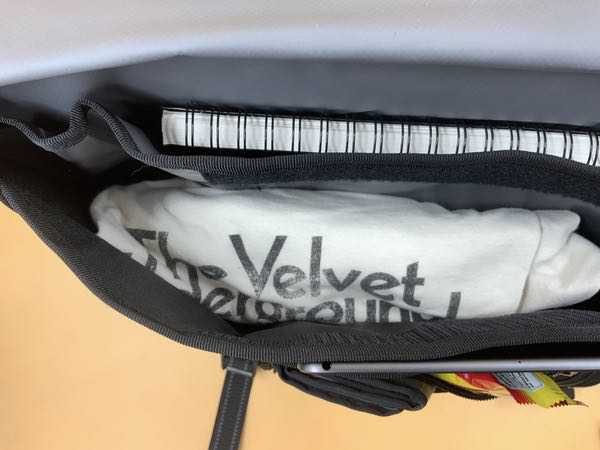 And if you don't need it, that divider doesn't impede the cavernous main space. I've got books, flip flops & a t-shirt in there and I'm just scratching the surface. I could easily get groceries in there or a six pack (maybe two or three) if needed.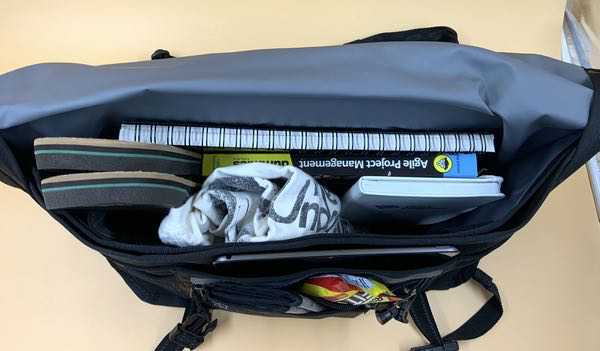 Your laptop rides in its own padded compartment on the back of the bag. Double zips make for easy access, with a protective flap over the zips to keep things dry. You'll easily get a 15″ MacBook Pro in there and Chrome states that a 17″ will also fit. I don't think thicker laptops will work, but I can easily fit my 13″ MacBook and 12.9″ iPad Pro (with the Apple Keyboard) in there with no problem.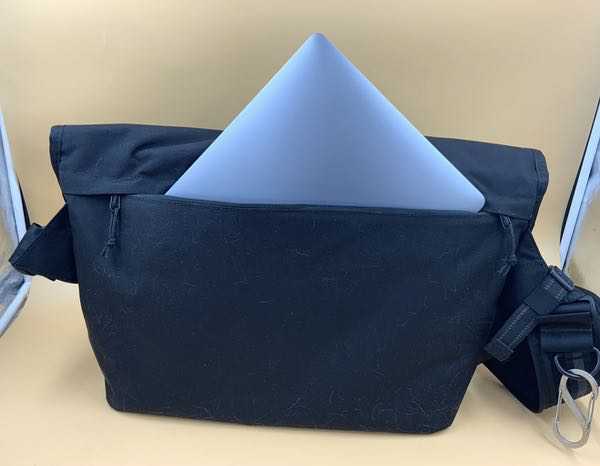 Let's talk about the carry harness on this rig. You'll get a small grab loop at the top which comes in handy, but the real magic can be found in Chrome's iconic strap system.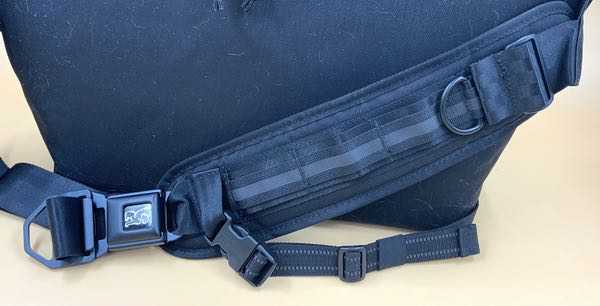 You'll find a big wide pad to distribute the weight, along with some attachment loops for gear. A stabilizer strap is included. And yes, that's a quick-release seatbelt buckle. We'll get to that in a moment.
One last note: the divider includes a pair of vertical velcro strips made for attaching accessories like a laptop sleeve. I did not get a sample in my test kit to check out.
Performance
Versatility is the key feature of the Chrome Buran III, with one of the best layouts I've seen. Your laptop, accessories, and general stuff each have a well-organized place to play with simple access. I really like the addition of that "wet stuff" divider that adds additional options. Add the fact that you have a messenger that will stand on its own next to your desk or table at the coffee shop, and you've got one of the most adaptable messengers I've ever played with.
The carry harness is excellent. Like "my back and shoulders want to marry you" excellent. Here I have it slung over one shoulder. That wide pad is magic, distributing the weight perfectly.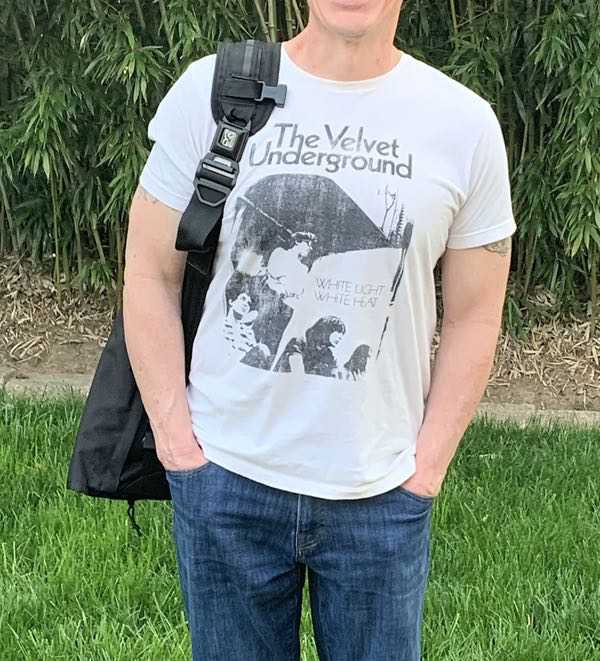 You may be wondering why the seat belt buckle is in this design. Check this out when I want to switch from one shoulder to cross body carry. I pop the buckle first…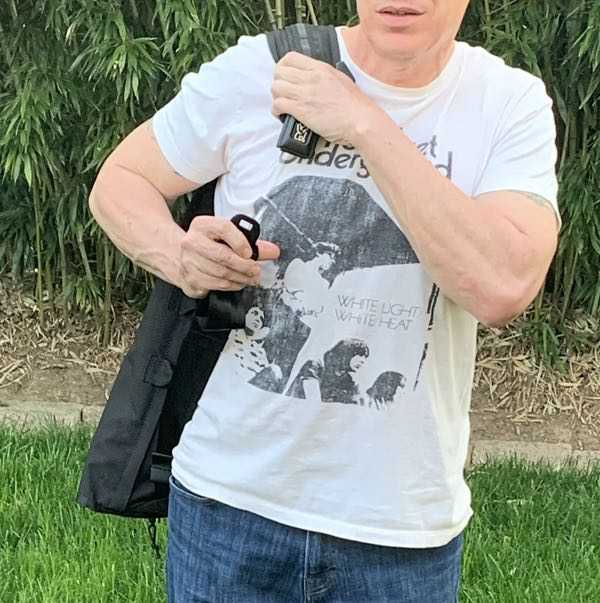 Then I swing the strap over my shoulder and pop it back in. No strangling myself! And if you're wearing a jacket you won't find the strap getting tangled in fabric and hoods while you switch things up.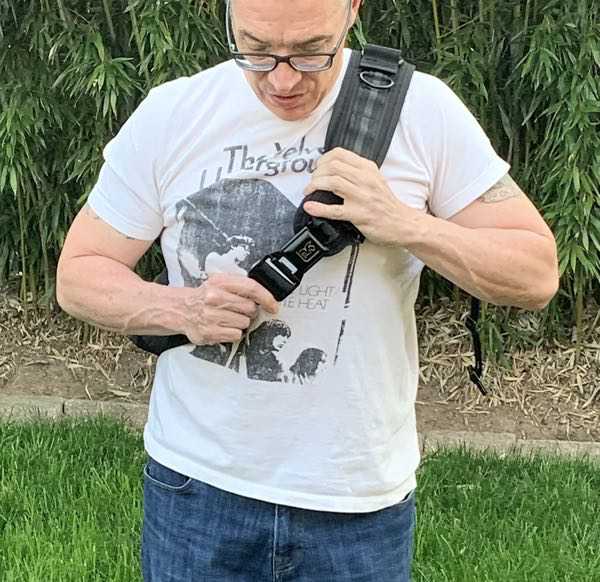 Once you're in position, you pull up on a metal loop (which doubles as a bottle opener if you're thirsty) and pull down on the adjustment strap to tighten things up. All of your extra bits are tethered to the strap so you don't have dangling stuff anywhere. This is good. Dangly bits are bad.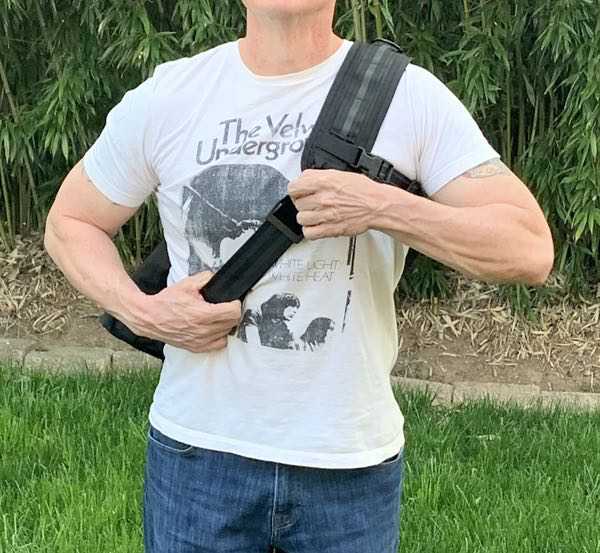 The whole rigging is rock solid and burly as hell (in a good way). The stabilizer strap is just as good, and can be removed if you don't need it.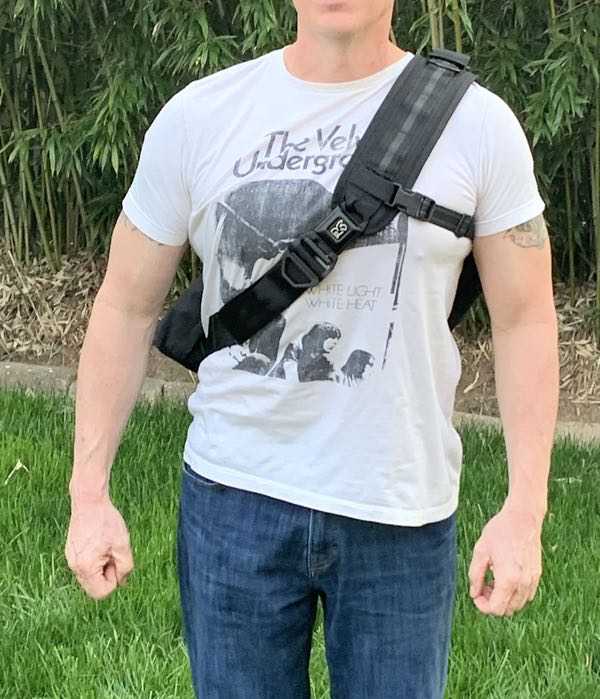 It's a little detail, but see how the shoulder pad attaches to the bag? I've tested similar rigs on other messengers and have seen the pad slide around or get twisted up (or both). No Bueno. Here the Chrome pad stays exactly where it needs to.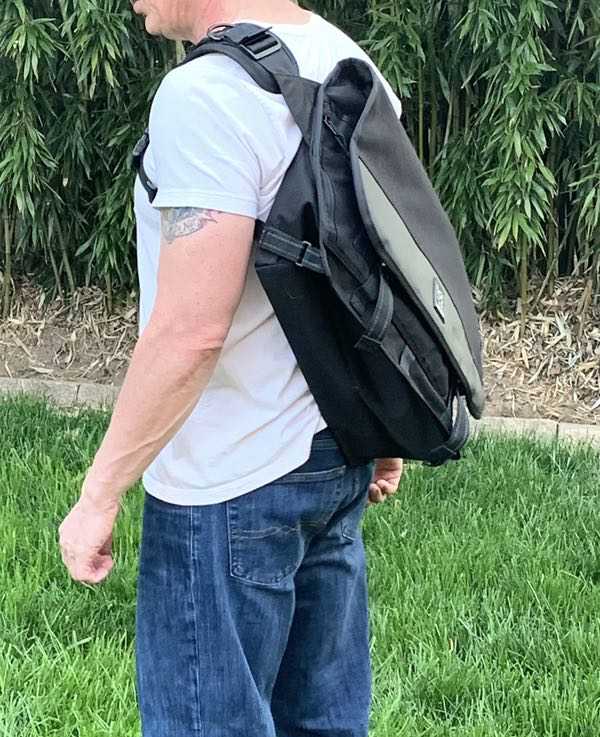 He's a chonky boi, but he is REALLY comfortable for all day carry. I'm 5'10" and 185 pounds for reference.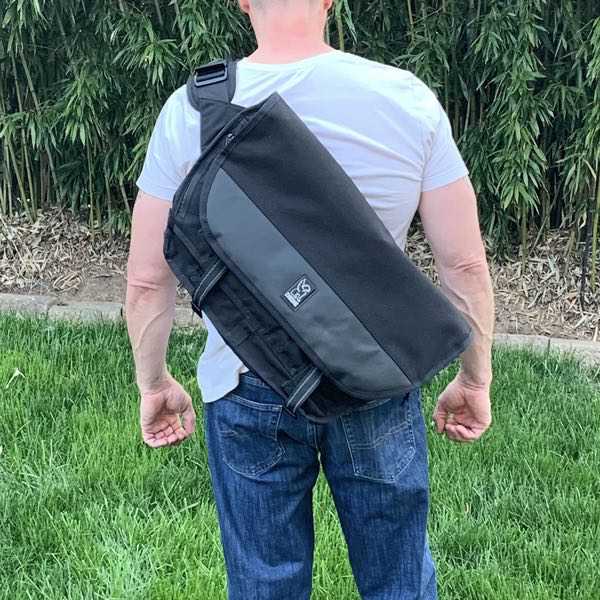 If there is one knock on the bag, you might see some bits of hair in some of my pics. That's my pooch. Cordura tends to attract dog hair. That's a tradeoff that I can live with for the durability.
What I like
Amazing build quality and construction throughout
Durable and supremely weather resistant
Simple, balanced layout that works for multiple use cases
Excellent geometry that carries well and stands on its own when put down
Really comfortable to carry
What needs to be improved
May attract dog hair
Vertical front pockets will expand for bigger items, but that does cannibalize the space in the other pockets on that side
Final thoughts
I have been collecting and reviewing bags for years, and I realized that this is my first Chrome bag. This makes me sad, because I've been missing out! The Buran III is a supremely versatile and well-made multitasker that just took the top spot among my favorite messenger bags. It's just that good. I'll be interested to check out their smaller messengers at some point, but this is a winner if you're looking to combine big capacity with your tech.
Price: $160.00
Where to buy: Get it at the Chrome web site!
Source: The sample of this product was provided by Chrome Industries.