We use affiliate links. If you buy something through the links on this page, we may earn a commission at no cost to you. Learn more.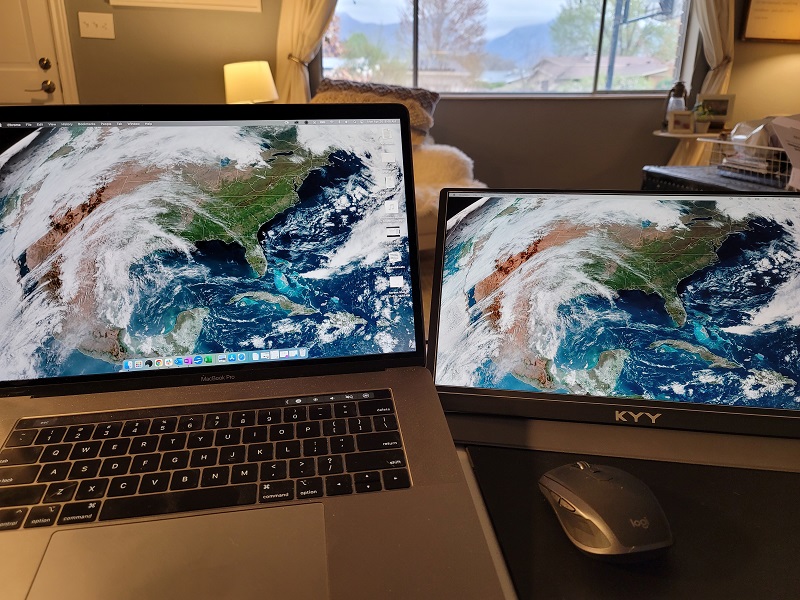 REVIEW – I've been using the Mobile Pixels DUEX Plus dual monitor screen since I reviewed it, but the small size does detract from the convenience of being attached to the laptop.  When the offer came up to review the KYY 15.6 inch USB-C monitor, I jumped at the chance.  I was hoping that the larger screen size would make the secondary screen more useful for work.  What I didn't expect (at this price point) was the picture quality and brightness that the KYY delivered.  There were some small issues I ran into in my test period though, which I will cover in my full review below.
What is it?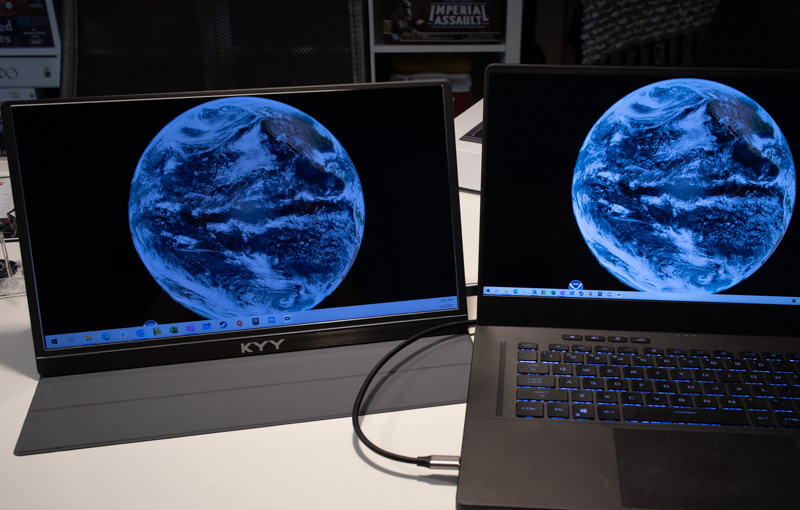 The KYY 15.6 inch USB-C monitor is a portable USB-C monitor designed to function either as a secondary screen for a laptop, or as a primary screen for a device like a game console (or even a phone or tablet).  It boasts a 300-nit brightness rating and "HDR display technology" (though this seems to be more marketing smoke than actual HDR-capable from what I can tell).  The 15.6 inch screen is the same size as most common "15 inch" laptops, at a decent full-HD 1080P resolution.  This results in a good size and shape for most office work and entertainment.
What's in the box?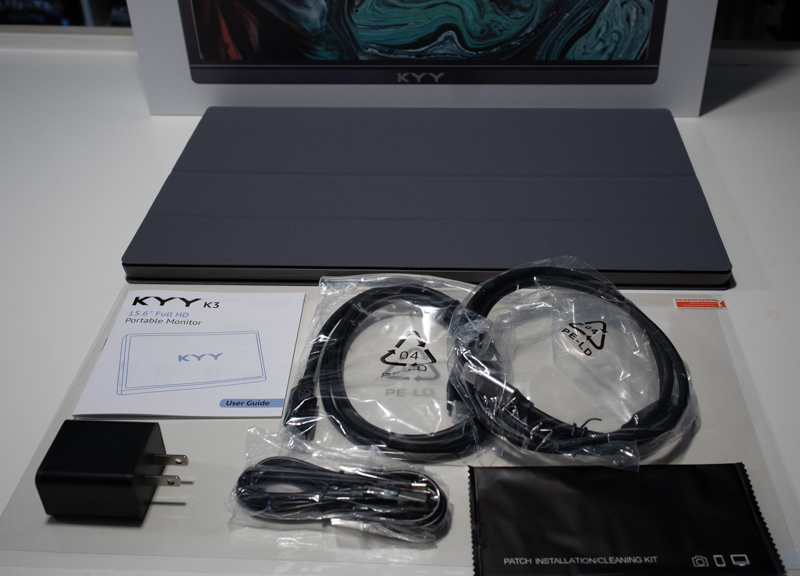 Included in the box is the KYY 15.6 inch USB-C monitor,  an AC power supply, manual, cleaning cloth, magnetic case/stand, 2 USB-C to C cables, and a mini-HDMI to HDMI cable.
Hardware specs
Display resolution native: 1920 x 1080 (Full HD)
Aspect Ratio: 16 to 9
Screen size: 15.6 inches (diagonal)
Display type: LCD
Dimensions: 14.48 x 8.85 x 0.35 inches
Weight: 1.70 lbs
Refresh rate: 60 hertz
Viewing angles: 178 degrees
Brightness: up to 300cd/m² Brightness
Design and features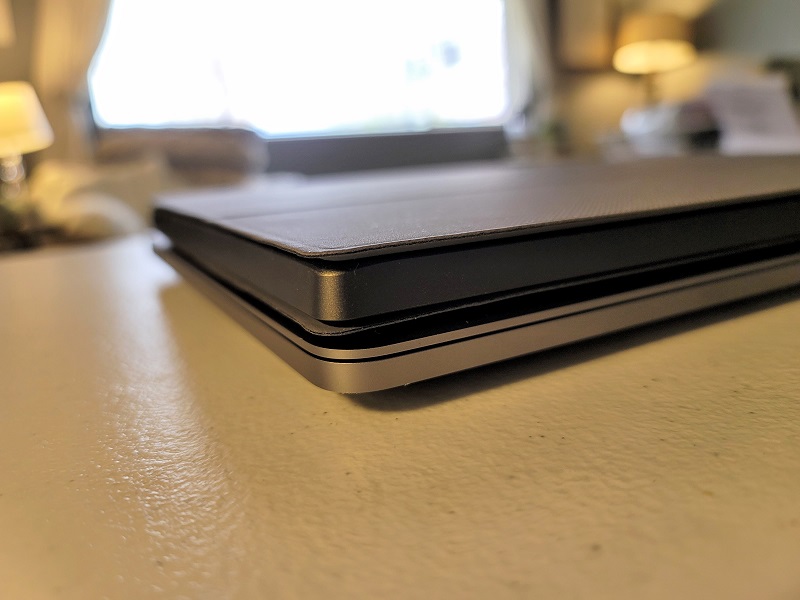 The KYY 15.6 inch USB-C monitor feels like a large tablet when you first handle it.  It's fairly thin (see it sitting on top of a 2019 Macbook Pro in the picture above) and weighs less than half of what most 15 inch laptops weigh.  The magnetic case/cover feels and functions very much like the ubiquitous iPad smart covers.  It is easily removed, and allows for two viewing angles by resting the display in one of two grooves.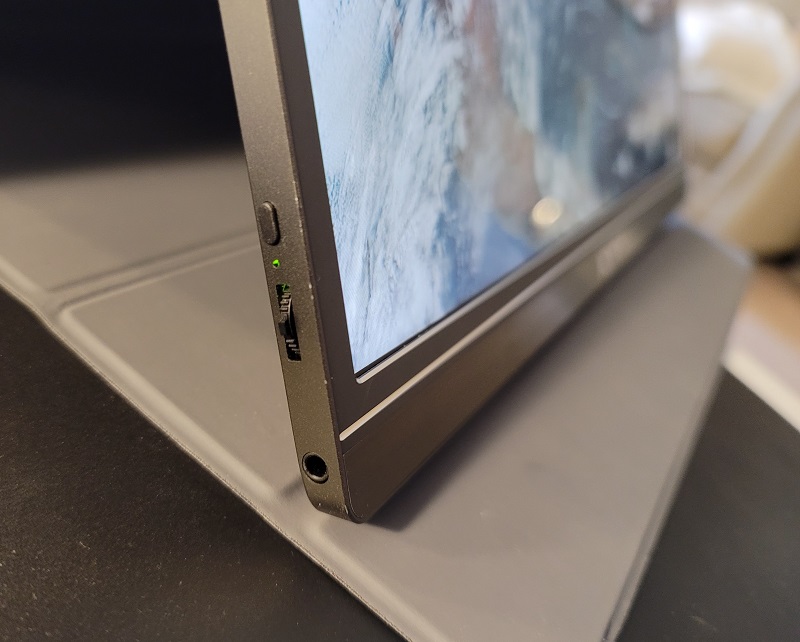 On the left side, we have a headphones jack and two buttons: a rocker/pushable menu button, and a power button that doubles as menu-exit/back.  I found the menu button to be fairly difficult to press in correctly, but once in the menu, the rocker for up/down worked great.  I often had to try 2 or 3 times, even weeks into the review period.  It seemed like it has a very narrow sweet spot that counts as a "press", while pushing it from slightly the wrong angle is ignored.
You can see the two grooves in the case in the image above – this allows for the monitor to rest at two different angles.  I found these two angles to be pretty useful in nearly all of the sitting and standing positions I used.  However, since the menu rocker sticks out one side, and all the power and display connectors are on the other side, there's no practical way to set the monitor in Portrait orientation.  Not only does the included case not support it, but the monitor itself is also configured in a way to prevent it from working as neither of the "sides" can be rested flat.  This is probably the biggest drawback for me with this monitor – I occasionally have to deal with contracts and other documents that are MUCH more easily viewed in Portrait orientation, so I like a secondary monitor that can be easily rotated as needed.  If they'd moved the monitor controls and audio jacks to the right hand side, a small design change to the case could have allowed for much more flexibility in this department.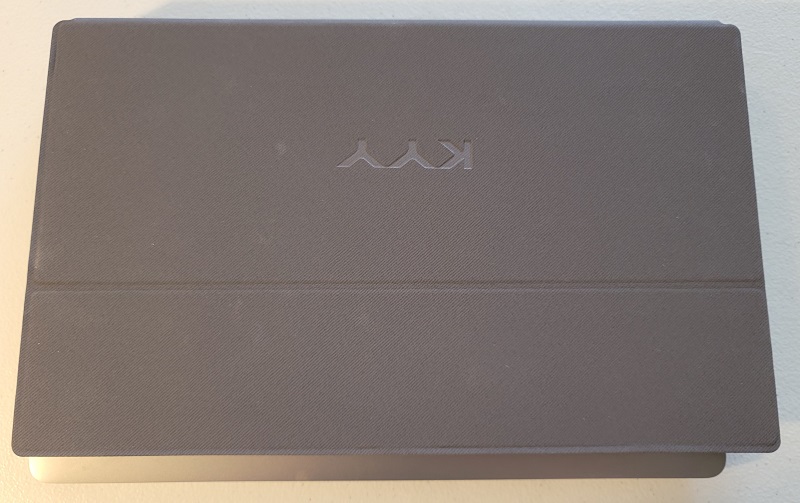 This shot is the KYY 15.6 inch USB-C monitor resting on top of the 2019 Macbook Pro, aligned at the top left corner. As you can see, it's slightly wider and slightly shorter due to its aspect ratio.  It was easy to add to all of my various laptop transport bags, and while I could feel the 1.7 pounds, it wasn't significantly heavier. Once travel begins again for me after this pandemic, this will definitely be coming with me.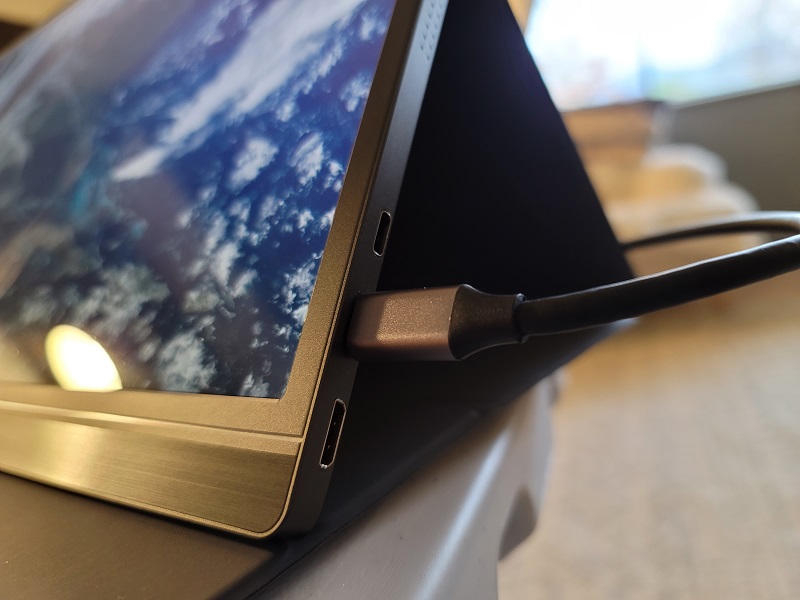 The right hand side has two USB-C ports, and a mini-HDMI port.  I'm glad they included a mini-HDMI to standard HDMI cable, this is a fairly uncommon input but with the included cable you have a standard HDMI connection ready to use. I mostly used the USB-C connection while testing, but I did try out the HDMI port as well and it worked just as well as any other I've used. The two USB-C ports do allow for USB Power Delivery (PD) – so you can run a single power cable to the monitor, then a second USB-C to USB-C cable from the other port to the laptop and it will charge the laptop this way.
Installation and setup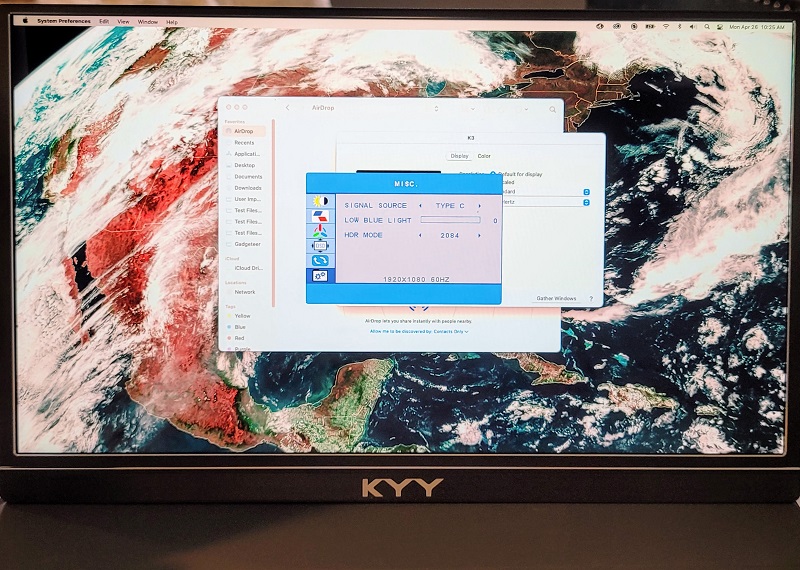 Installation and setup for the KYY 15.6 inch USB-C monitor was truly plug-and-play for all the devices I tested with it:  Windows 10, MacOS, Android (Samsung Dex), and game console (Nvidia Shield).  All devices detected the correct resolution and displayed without any issues at all.  All device types sent sound output to the monitor except for the Android (Samsung Dex). I didn't have to install any drivers or change settings on any device.
The HDR mode did nothing on any device, except look like a washed-out mess.  HDR ratings start at 400 nits from what I've seen, so this monitor falls short of the minimum brightness required for HDR certification. I'm fairly certain that they're trying to do a "simulated HDR", but as you can see in the image above, it just looks brighter by blowing out the image. The rest of the menu allows for a fairly standard range of adjustments to brightness/contrast/color/sharpness, including blue-reducing "night mode" features.
Besides the HDR silliness (which luckily only happens if you specifically turn it on in the menu), I found a few other quibbles.  I was using the monitor attached to (and powered by) the laptop, and was annoyed that every time the laptop went into sleep mode, the KYY 15.6 inch USB-C monitor would default to 50% brightness.  This was fixed by changing the cable position to route my laptop power cable to the monitor, and then connect the monitor to the laptop which resulted in the KYY monitor retaining my preferred brightness setting.  The other thing that was a bit annoying to me was that I couldn't easily switch to a Portrait orientation.
The speakers aren't the worst I've ever heard, but they are definitely not the best either.  Most laptops will have better/louder speakers, but if you're connecting a device without speakers then it's nice that they included some.
What I like
Good display quality and brightness
Solid build quality
Plug and Play
HDMI + USB-C and Power Delivery options for inputs
What I'd change
Portrait mode is impossible with the included case
Remove fake HDR mode
Better menu controls
Final thoughts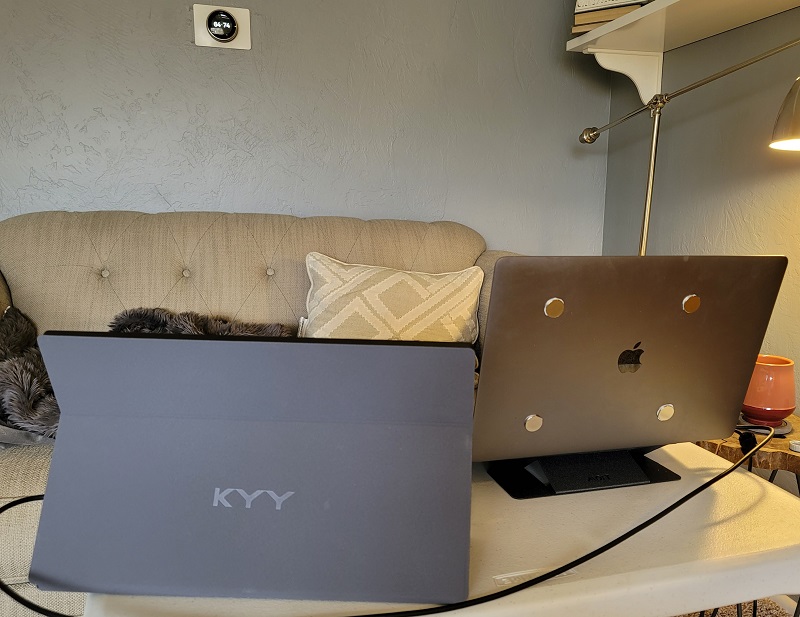 After a few weeks of daily use, I've grown to rely on the KYY 15.6 inch USB-C monitor as part of my daily routine.  I work most of my day at my desk in the basement, but love to be able to switch it up in the living room with a view of the mountains for variety (albeit with less ideal ergonomics).  The KYY monitor has been great as a secondary screen while I work here, and I can tell it'll be good for travel in the future.  The brightness is more than enough nearly any indoor room.  Overall, this is a great secondary portable monitor with good performance and a solid build.
Price: $179 ($159 with coupon at time of writing)
Where to buy: Amazon
Source: The sample for this review was provided by KYY