We use affiliate links. If you buy something through the links on this page, we may earn a commission at no cost to you. Learn more.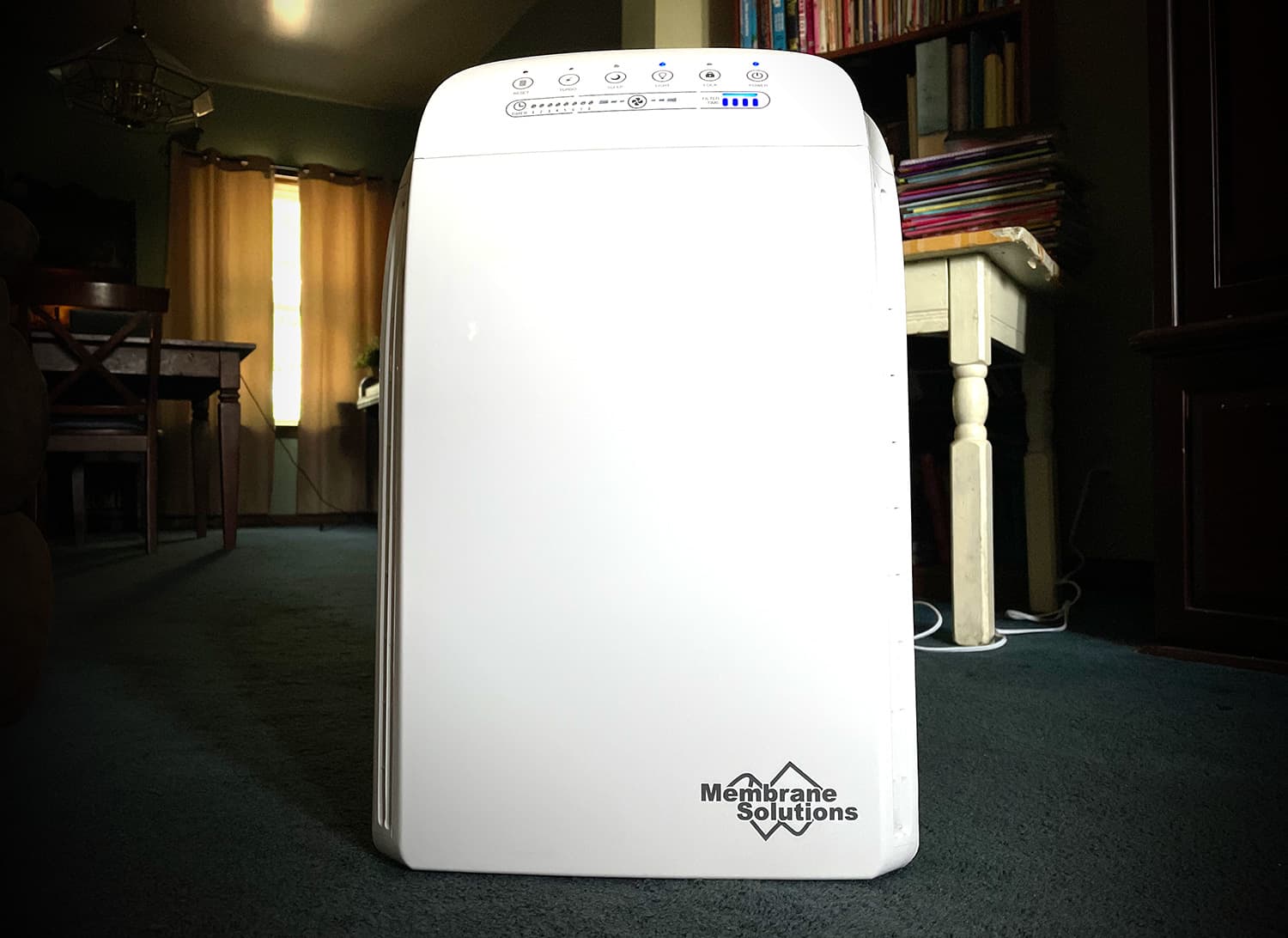 REVIEW – Spring is in full bloom, and between the pollen, dust, and shedding pets, your sinuses might be ready to call it quits. It could be time to invest in an air purifier, like the MSA3 from Membrane Solutions.
What is it?
The MSA3 Air Purifier from Membrane Solutions is a HEPA filter, ozone-free air cleaner designed for large rooms between 400–800 square feet. It also utilizes active carbon to help reduce odors in the air.
What's in the box?
1 x MSA3 Air Purifier unit
1 x The operator manual
1 x Filter element (pre-installed inside the air purifier)
Hardware specs
Rated Voltage: AC 120 V / 60 HZ
Rated Power: 44 Watts
Clean Air Delivery Rate (CADR): 112 CFM (190 m³/h)
Clean Area in 30 Minutes: 420 ft²
Noise Level: 25 – 47 dB
Dimensions: 13.1 x 7.7 x 21.5 In
Weight: 13.7 Ib
Filter Service Life: 6–8 months (depending on usage)
Filter Element Type: 3-in-1 True HEPA PP electrostatic electret melt-blown filter
Filtration Performance: Filters out 99.97% of particles as small as 0.3 microns and air pollution PM 2.5
Multiple run settings like Sleep Mode, Sleep Timer, Child Lock and Turbo Mode
3 fan speeds
25–47 dB operating noise
Energy cost: $12 to $15 per year.
100% Ozone Free Air Cleaner. Certified to ETL, FCC, CE, RoHS.
90-Days Return & 2-Year 100% Customer Satisfaction
Design and features
The MSA3 air purifier is essentially a smooth, white plastic box built around a HEPA filter that draws air in from the sides, passes it through the filter, and expels it from the top. The design is clean and minimalistic.
If there were ever a household device that embodies the concept of "set it and forget it," an air purifier is it. There is very little in terms of functionality, other than powering the device on or off, or selecting a fan speed.
There is a surprising amount of thoughtfulness applied to how you can interact with the controls. For instance, a Turbo Mode button which sets the fan to the highest setting — which is actually about as loud as a low setting on a box fan. There's also a Sleep Mode button that sets the fan speed to low and turns off all the lights except for one.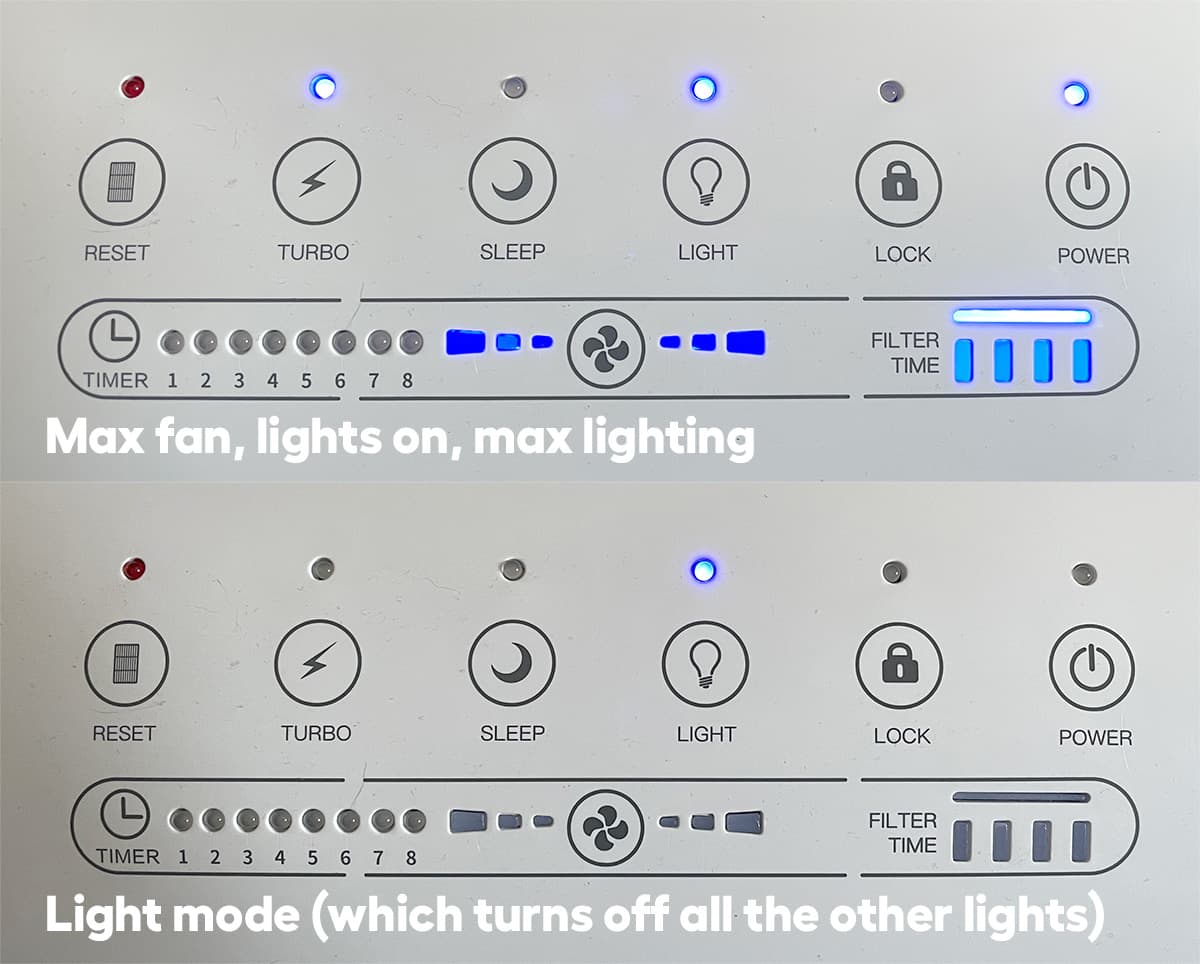 And, there's a Light button, that turns off all the lights except for the light above the Light button itself, which exists for when you want the fan on high but not in sleep mode. And hey, there's a timer, too, which let's you set up to 8 hours of runtime before turning off automatically.
It feels like there was an entire subcommittee meeting just to see how many functions could be designed into this thing.
By the way, there's no way to turn off all the lights, though, unless the unit is off altogether. So let's work on a way to fix that, all you electronics makers out there. I like a dark room when I sleep!
They did include a lock button, at least. Since the controls are touch sensitive, a curious toddler could easily start tapping all the buttons. I mean, the worst they could do is turn the thing on and off and mess with the fan speed. All the same, I feel like any appliance should have a kid-proof button on it.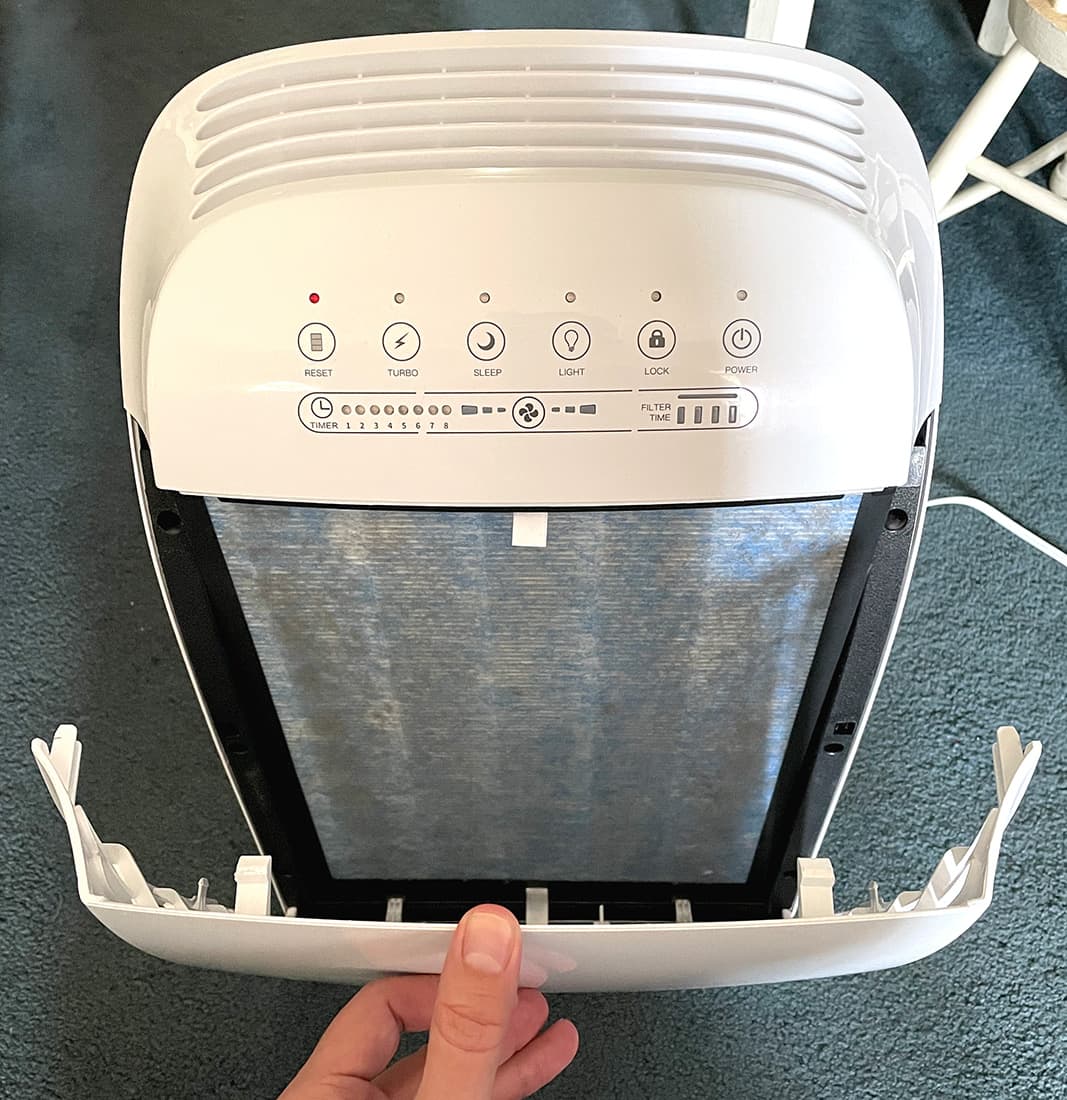 Overabundance of buttons aside, the functionality is good, so far. That's what really counts. After 30 days, I found that the dust around my house seems to have calmed down. My wife has seasonal allergies, and we've had the windows open quite a bit lately, with the nice weather we've been having.
That's introduced a lot of pollen and dust into our house, and the warm weather has triggered some shedding with our two cats as well. I asked her how it was going lately, after leaving the MSA3 running in our living room almost non-stop, and she said it helped a lot. Less sneezing. Seemingly less dust floating around, and you can see for yourself how much airborne matter the filter absorbed.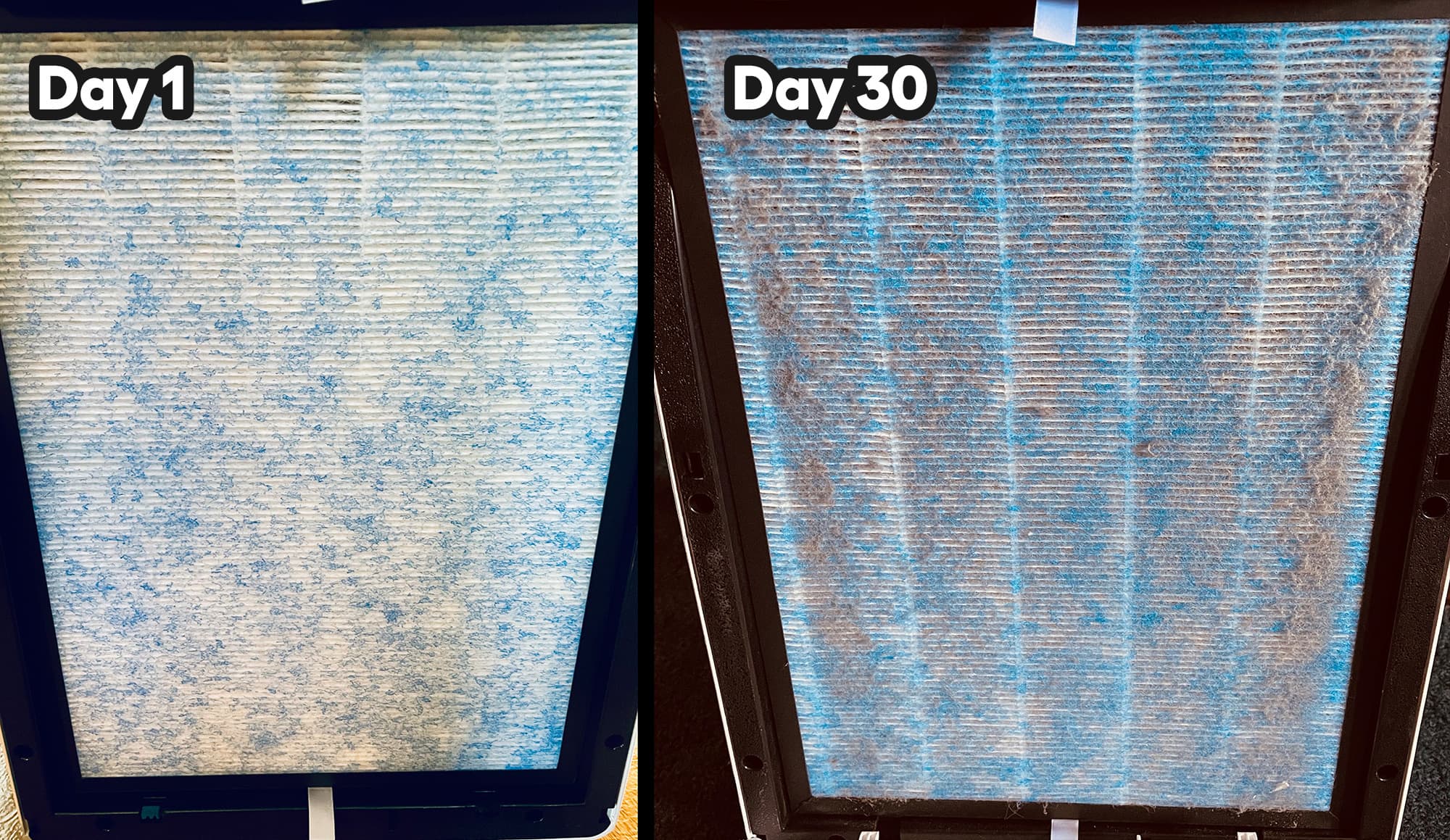 Speaking of which, the HEPA filter is rated to around 2,000 hours of runtime, which would probably last the typical user for about a year. Running it non-stop would last you about 6 months. Replacement filters will run you about $40.
One final thing to mention is the odor reduction properties of the filter. There's active carbon in the filter that helps neutralize smells in the air. My next-door neighbor smokes outside sometimes and it wafts in through the window if the wind is blowing right, and the MSA3 killed that lingering odor in the room quicker than before. I'm curious to see if it works as well the next time I accidentally burn some toast or cook some bacon.
What I like
Super quiet
Dead-simple operation
Really cuts down on dust and allergens as long as the room isn't too big
What I'd change
Very minor, but there are some redundancies in the modes
Final thoughts
Despite some less-than-useful features, the Membrane Solutions MSA3 air purifier succeeds in fading into the background of your life and quietly filtering out the stuff that is less-than-healthy for your respiratory system. The filtration system is high quality and super simple to use, and from what I can tell, really pulls a lot of dust out of the air.
Price: $109.49 (replacement filters are $39.99)
Where to buy: You can purchase the MSA3 Air Purifier and replacement filters from Amazon.
Source: The sample of this product was provided by Membrane Solutions.