We use affiliate links. If you buy something through the links on this page, we may earn a commission at no cost to you. Learn more.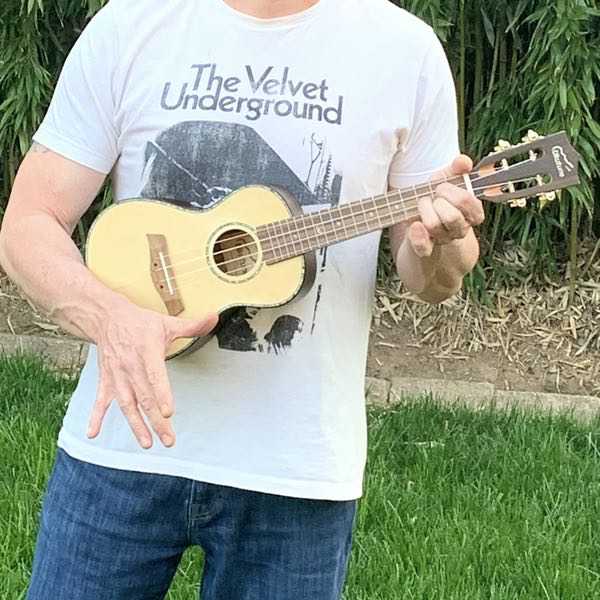 REVIEW – Meet the new addition to my Uke family: the Ukutunes UKE1 Concert Ukulele! It's a surprisingly sweet player that has some nice sound to go with those good looks. To the review!
What is it?
It's a concert-sized ukulele.
What's in the box?
You'll get the ukulele, a basic carrying case, and an extra set of strings.
Hardware specs
23″ concert size
Striped ebony headstock
Solid spruce soundboard
Striped ebony body
Walnut fretboard & bridge (18 frets)
Ox bone saddle
Sealed chrome geared tuners
Aquila Nylgut strings (second set included with your order)
Design and features
The Ukutune UKE1 Concert Ukulele is a handsome fellow with a lot of nice finishing details. Look at the pretty precious!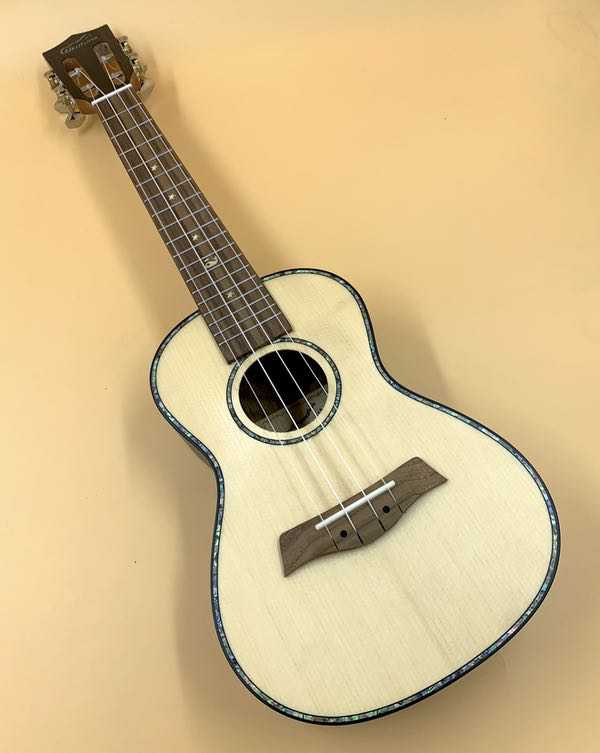 You've got a solid spruce soundboard contrasted by a striped ebony body & headstock which I think is pressed wood. Closeup of the headstock below: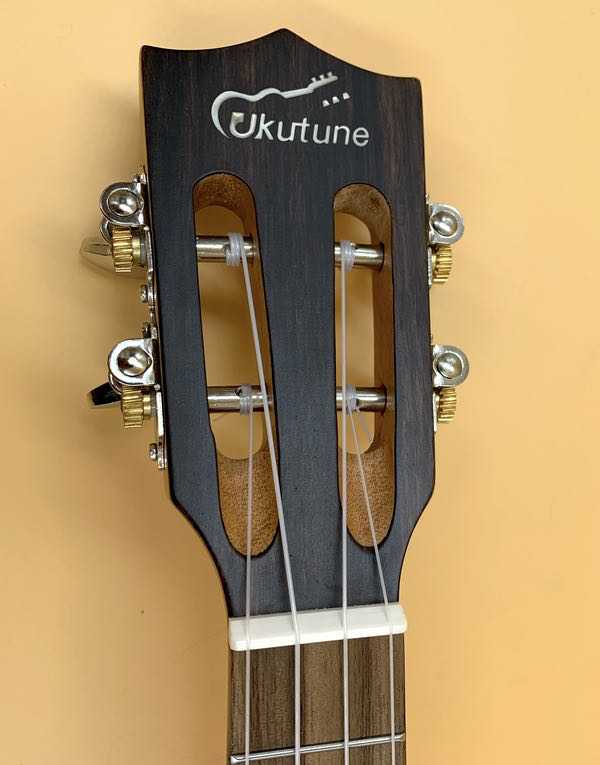 Check out the closeup of the abalone inlay around the edge of the body and the soundhole. I dunno if it's natural, but it looks great as an accent to the design.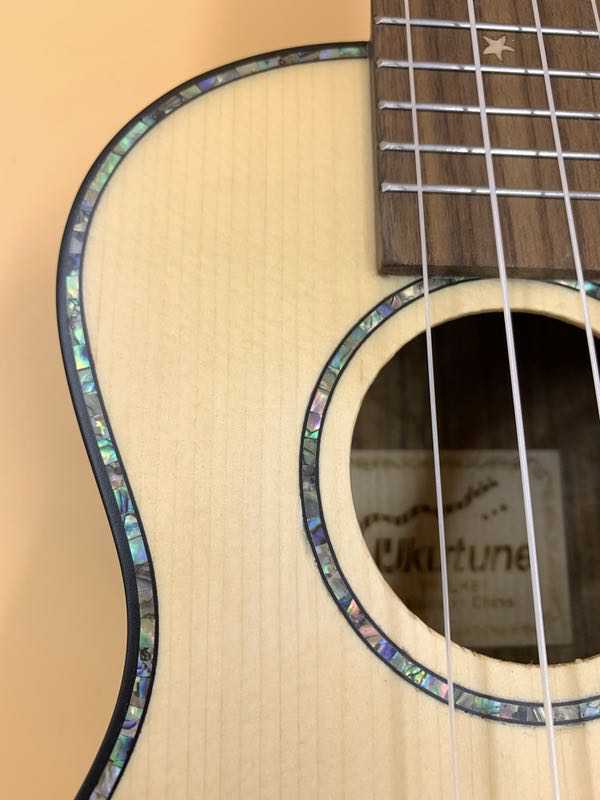 Your bridge is walnut with an ox bone saddle, shaped just a bit like a whale tail…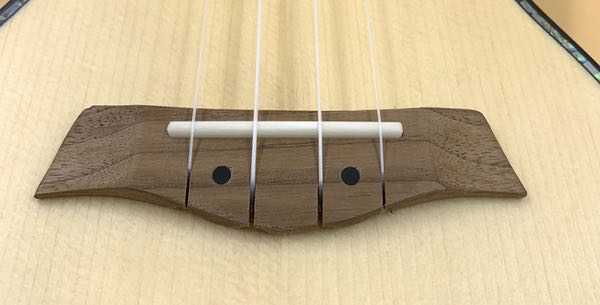 … which matches the little whale inlaid on the fretboard along with the star fret markers. This may be a might cutesy for my taste, but I'm not mad at it.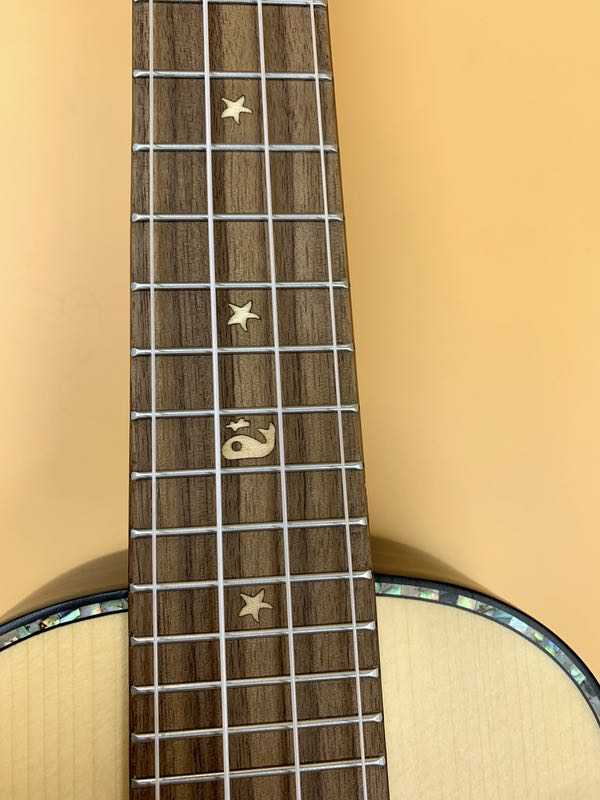 The frets setup is tight. No issues with burrs or bad placement that I can find.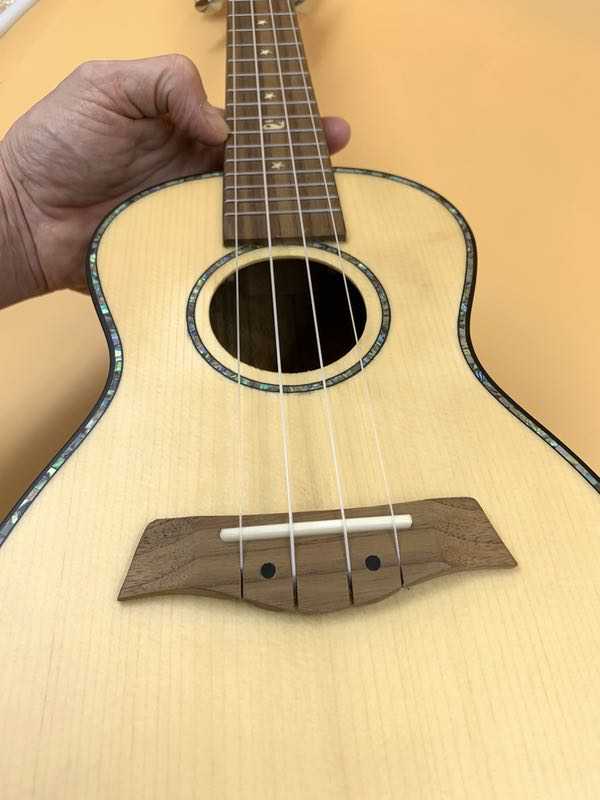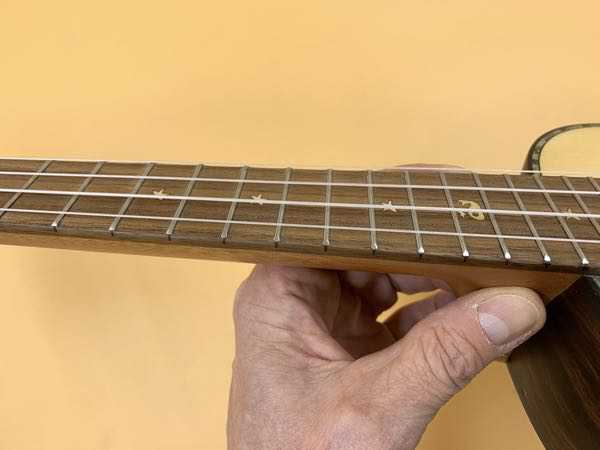 The action could use to be a little lower for serious playing if that's your thing, but that can be easily adjusted. I saw no issues with getting clean tones while playing.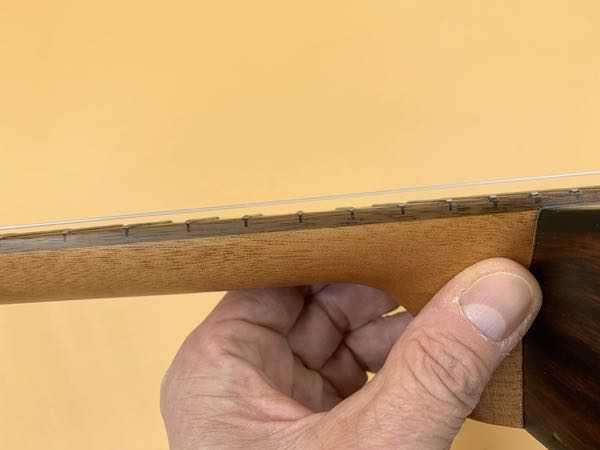 Fit and finish throughout are excellent. The edges & seams are all clean and I don't see any blobs of glue or rough edges. I found a wee bit of a rough patch in the body finish in one spot, but that was about it.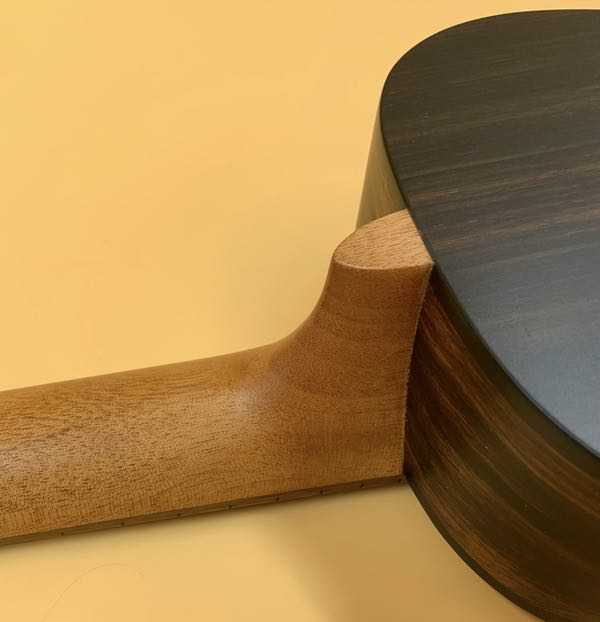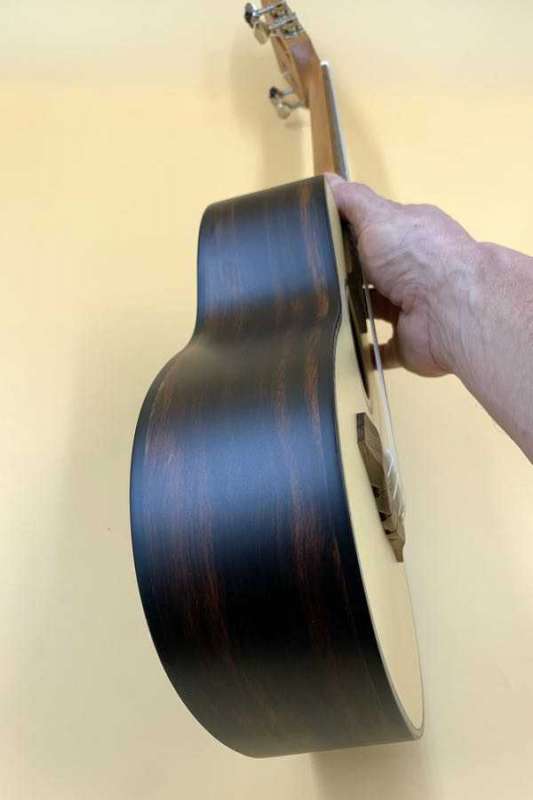 Geared tuners are mounted on the sides of the headstock. They're great for precise control, and the instrument keeps it's tuning nicely once you've broken in the strings.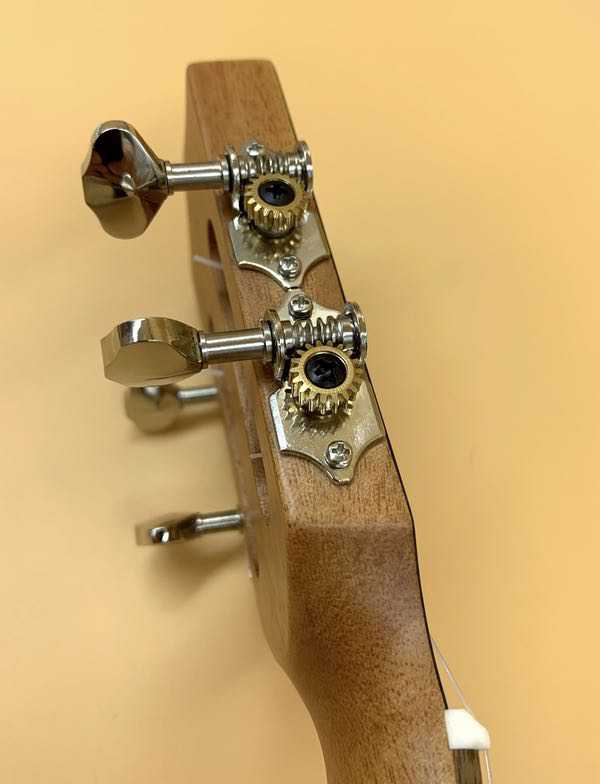 As an added bonus you'll get a gig bag and an extra set of strings. The gig bag is a basic lightly padded affair, but it's a welcome addition at this price.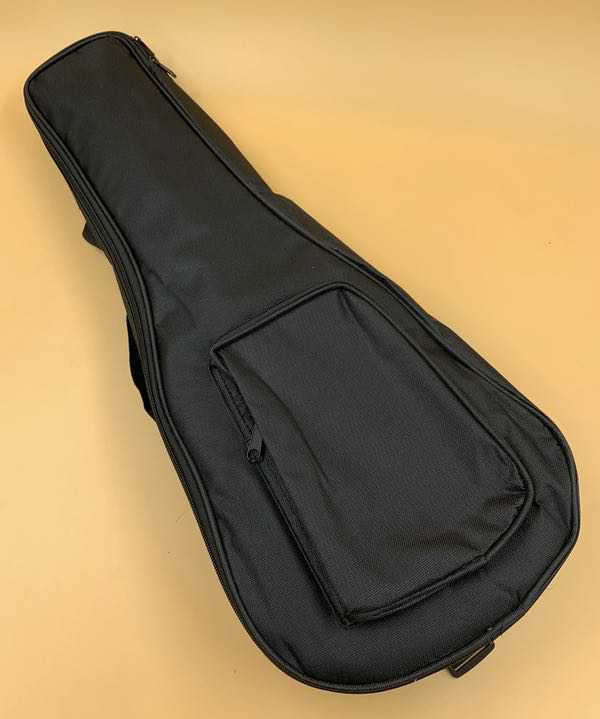 Performance
So that's all well and good… but how does it play?
Let's start with the handling. The lightweight body makes it really comfortable to manage even without a strap. The shallow rounded neck makes for very comfortable hand positioning. It's got nice balance and just feels good to play for long periods.
This sound quality is really nice for an ukulele at this price point. There are a lot of bright notes with warm undertones that build a surprisingly well-rounded sound. It's even got a bit of a sustain on the back end that I wasn't expecting.
Here's a sample of some fingerpicking. I think the included Aquila strings do a lot for the tone quality.
Here's a sample of some strumming. Pardon any gaffes in my playing. 🙂
Nice, right? I'm pleasantly surprised with the sound quality. Couple that with a nicely finished design and comfortable handling, and you've got a winner!
What I like
Beautiful finishing
Lightweight and easy to handle
Great sound quality
What needs to be improved
Final thoughts
The Ukutune UKE1 Concert Ukulele fits the bill for intermediate players who don't want to break the bank on their next instrument, or for those looking for an upgrade pick from that cheap starter uke. It looks great, has nice sound, and is very comfortable for longer playing sessions. The included gig bag & second set of Aquila strings are nice bonuses you don't always see at this price point. There's a lot to like here as a solid, playable instrument to kick around.
Price: $149.98 is the retail price, but I'm seeing it on sale for $119.99 as of this writing.
Where to buy: Go to the product page on Ukutune's web site.
Source: The sample of this product was provided by Ukutune.