We use affiliate links. If you buy something through the links on this page, we may earn a commission at no cost to you. Learn more.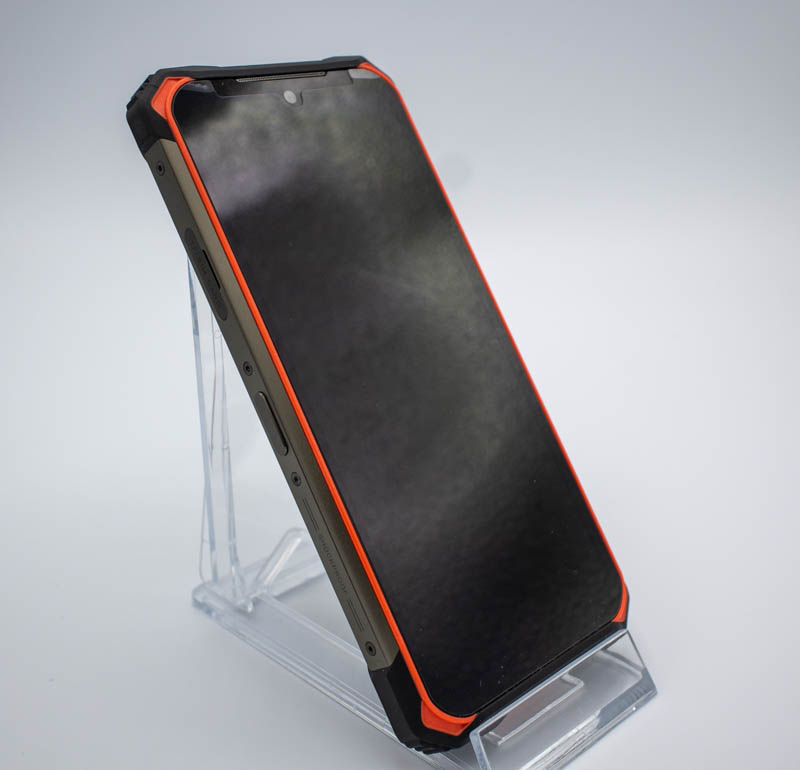 REVIEW – Are you in the market for a phone that lasts two or even three days without recharging? Do you also find yourself in an environment where you're splashed or immersed in liquids frequently? Do you mind carrying something the size and weight of a baby hippopotamus in your pocket? Should I stop with the question schtick and get to the review? The Doogee S86 smartphone is a rugged Android smartphone with one of the largest batteries I've seen offered in a mobile phone. It seems perfect on paper for someone who values rugged water/dust/shock ratings with a marathon battery life and doesn't value carry comfort. I used the phone as my daily driver and tested it over several weeks, and even though my usual device is one of the largest "mainstream" phones (a Samsung Galaxy Note 20 Ultra), this Doogee S86 was significantly heavier and bulkier in pockets and hands.
What is it?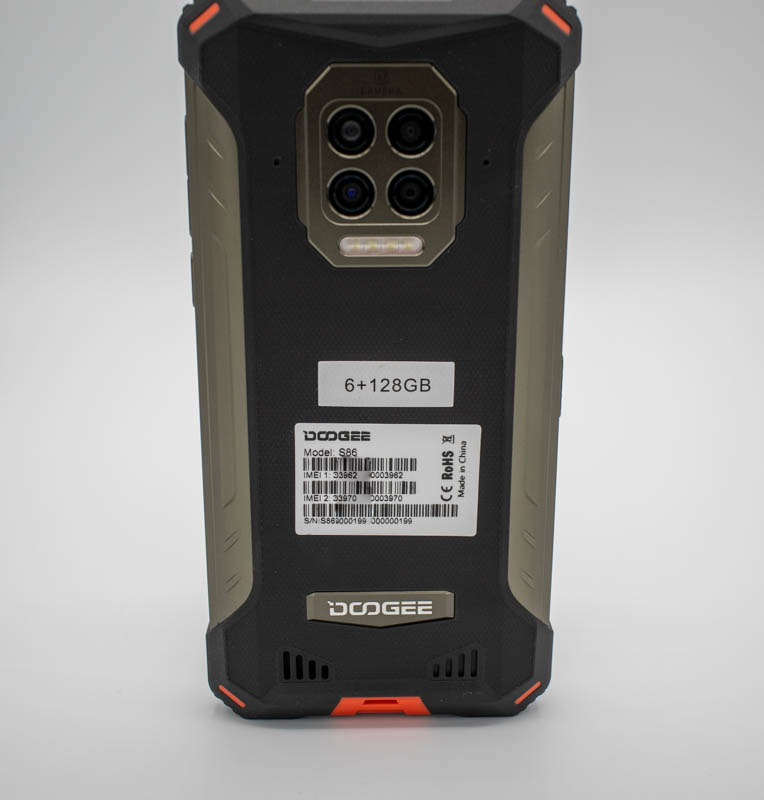 The Doogee S86 is a rugged (water/shock/dust resistant) Android smartphone with a massive battery.  Compared to many of the smartphones on the market geared towards outdoors-people and industrial workers, it has a surprisingly decent spec-sheet. Did I mention it's large? I can't find the words or pictures to convey this enough – imagine holding 2 (or even 3) phones back to back, and you're starting to get the idea.
What's in the box?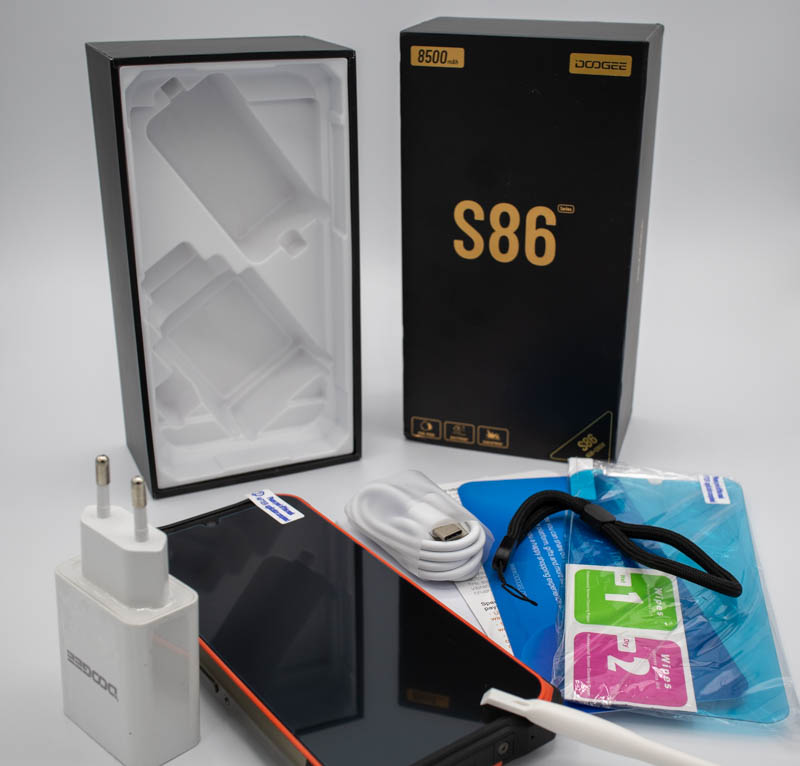 Included in the box is the Doogee S86 smartphone, screen protector, manuals, USB-C charging cable, a pry-tool for the SIM card slot, lanyard, and a non-US AC wall adaptor.
Specifications
Operating System: Android 10
CPU: Helio P60 Octa-core 2.0Ghz 12nm
SIM: Dual Nano SIM
Display: 6.1″ Corning Gorilla Glass HD+ WaterDrop Screen
RAM: 6 GB
Storage: 128 GB
Cameras: 8 MP Front, 16 MP main back + 8MP Ultrawide + Macro
Battery: 8500 mAh "Super Battery"
NFC: Yes, supports Google Pay in the United States
2G Network (GSM): B2/B3/B5/B8
3G Bands (WCDMA): B1/2/4/5/8
4G Bands (FDD-LTE): B1/2/3/4/5/7/8/12/13/17/18/19/20/25/26/28A/28B/66/B38/40
Dimensions: 6.48″ (164.6 mm) height x 3.2″ (81.2 mm) width x 0.66″ (16.8 mm) thick
Design and features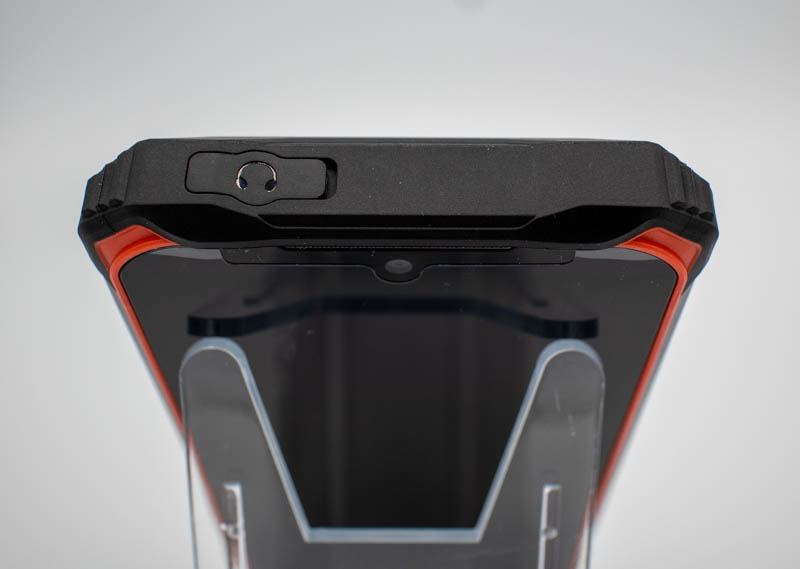 The Doogee S86 smartphone basically has a rugged phone cover built onto the device itself. The ports have sealable flaps that keep water and dust out, while the rubber/metal/plastic case keeps everything safe from drops and impacts.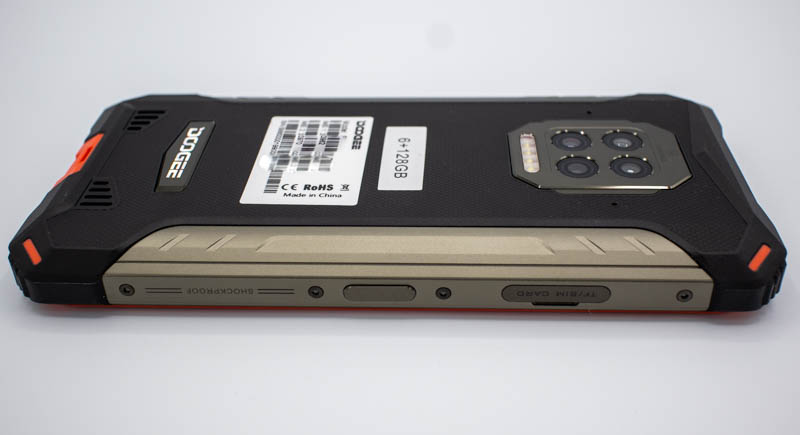 On the left side of the phone is a multi-function button and the dual-sim card tray. The multi-function button can be easily mapped in Android Settings, and can invoke 3 different apps or functions (short press, double press, and long press). I disabled the short press as I found myself accidentally hitting it all the time, but mapping the back LED lights as a flashlight function to double press and then another app to the long press was surprisingly useful!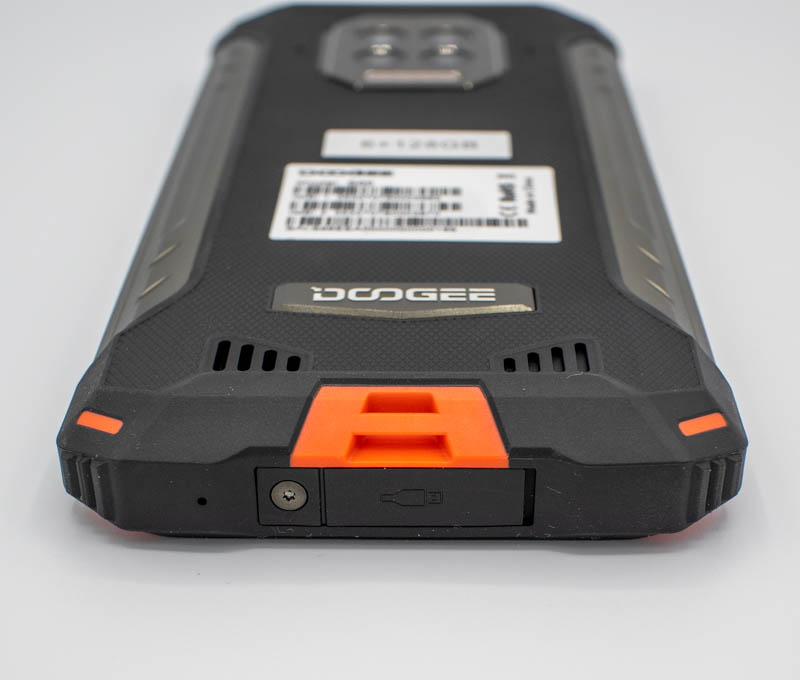 On the bottom is the charging port, speakers, and lanyard connector. I'm not a fan of phones on lanyards, but if that's something you'd like, it's here. Charging from a low battery took quite a while (which is to be expected since the battery is gigantic and it didn't seem to indicate any fast-charging with multiple fast-chargers).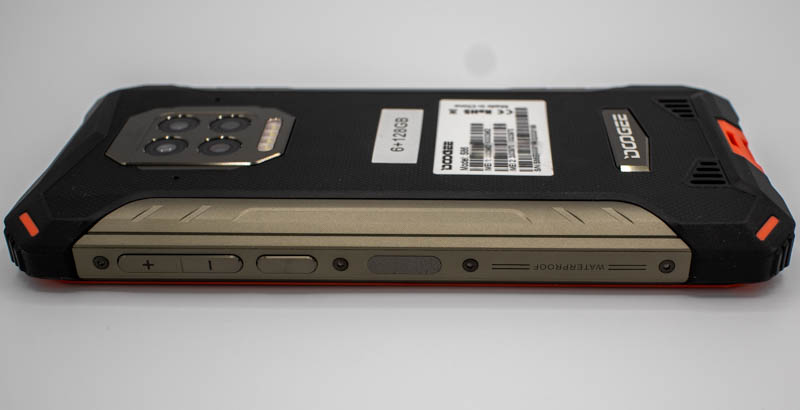 The right side of the phone has the power button and volume up/down buttons.  The sides of the phone are a metal alloy including the buttons. They felt solid and high-quality, there are nice build elements here, though the design is going to be subjective (I received mixed responses from various people).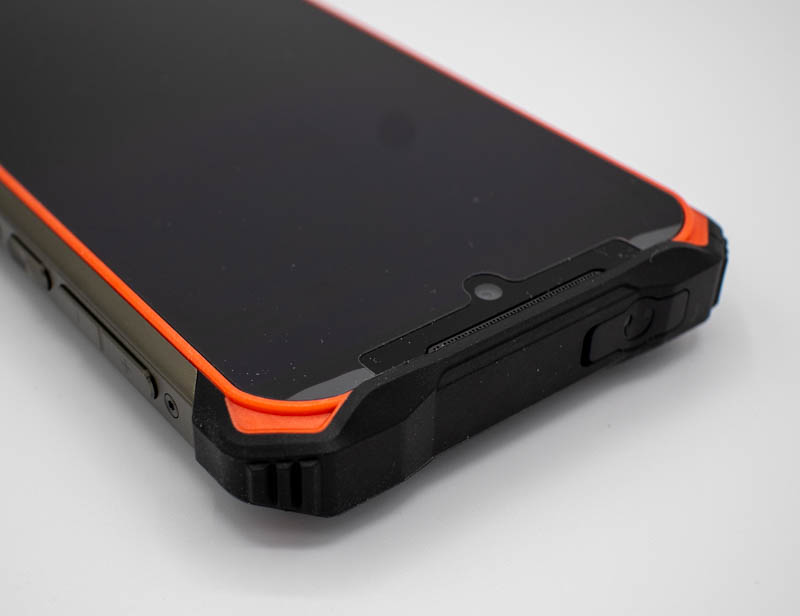 My review unit came with one screen protector pre-installed (but with air bubbles at the top which I'm sure will gather dust quickly – though they didn't seem to get much during the review period).  There was a second included screen protector in the box. There's a waterdrop-style selfie camera on the front, and the screen is a FHD+ (meaning 1080P by some 2000+ pixel number height).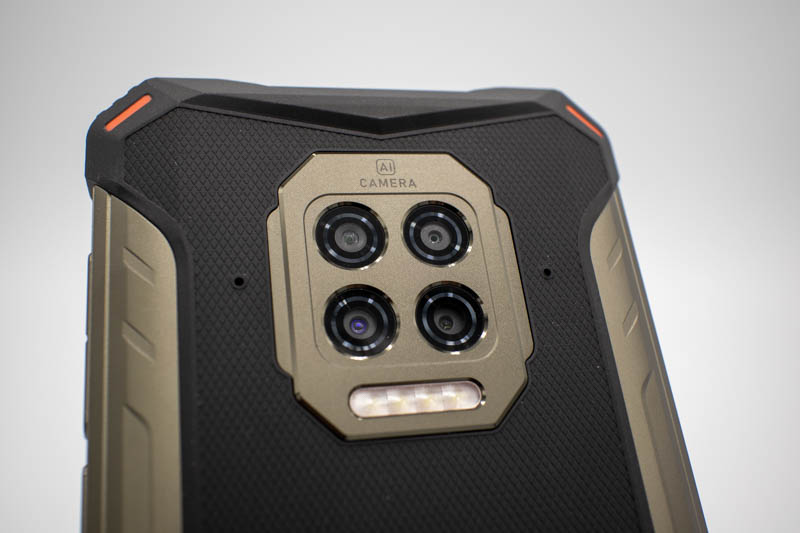 The camera cluster is interesting – the specs sheet lists a 16 megapixel main shooter, 8 megapixel ultrawide, and an unspecified megapixel macro camera.  I'm not sure what the 4th camera is here, but the end result in the camera app is an easy pinch to zoom in or out experience.  I'll address camera quality later, but the short version is that it's not consistently great.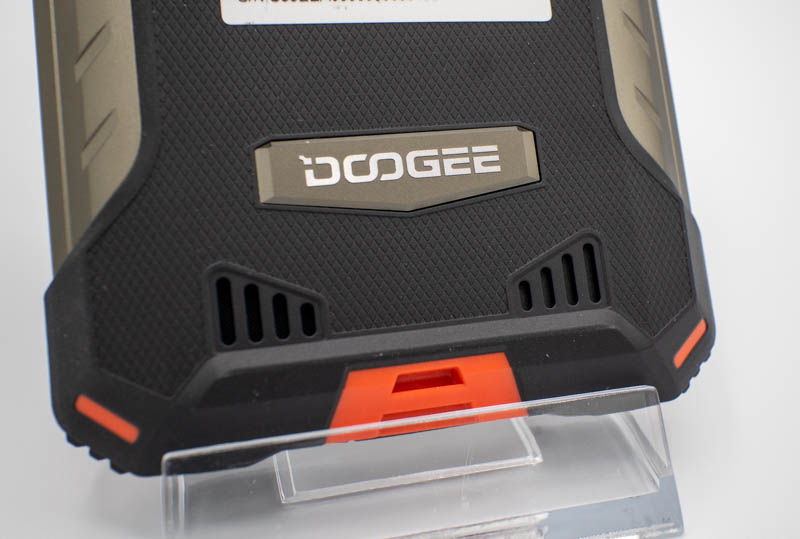 The speakers are backward-facing, but are decently loud.  Doogee advertises an "up to 100 dB" rating, but they didn't seem to get anywhere near that loud in my testing (though I don't have a decibel tester on hand).  They were about as loud as the loudest laptop speakers I've heard (MacBook Pro and Alienware 17), so they can fill a quiet room easily or be heard in a noisy environment. At full volume, they don't sound blown out, but of course, there's no bass – just a lot of noise.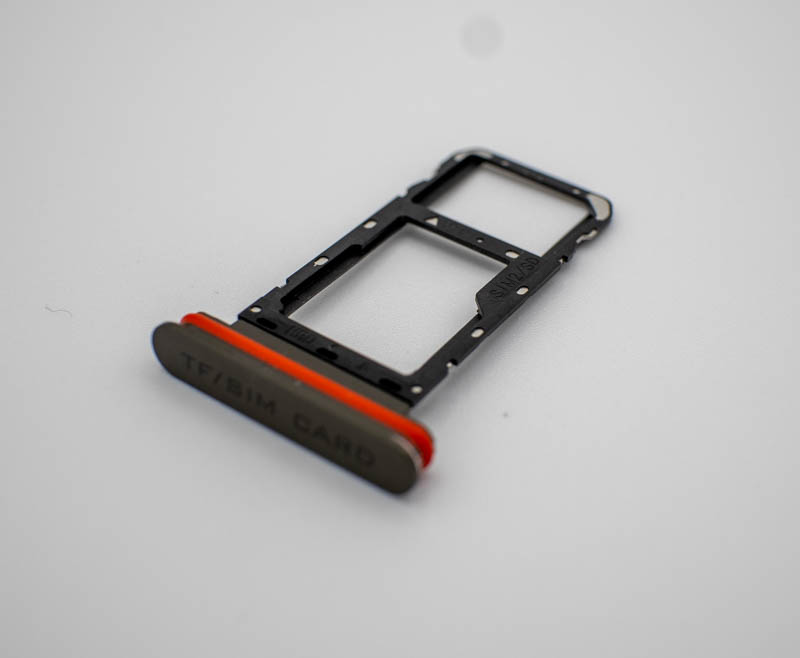 The SIM card tray fits my SIM card as well as a micro-SD card, and it also supports dual-SIM which would be nice for traveling or supporting both a work and personal phone number on the same device. I tested the Doogee S86 on T-Mobile, and it automatically set up the mobile network and gave me 4G LTE speeds equivalent to any other 4G LTE device I've used around my home. I'm not an expert on all the mobile bands and types, but all worked well for me. Some other off-brand phones have required specific settings or tweaks to use correctly, but this one just automatically worked.
Installation and setup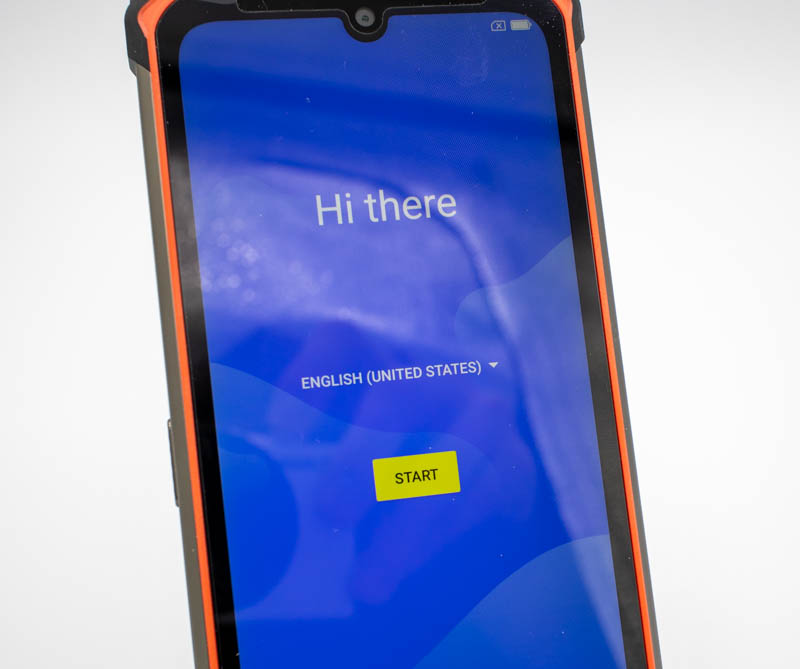 Installation and setup were very straightforward, Doogee didn't seem to add anything to the basic Android setup experience. You log in with or create a Google account, then you're pretty much good to go.  Once the phone was set up, there was very few bloatware or non-system applications. The Doogee S86 is running on Android 10 (which is one generation behind the latest as of the time of this review), and I didn't see any promised schedule for updates to Android 11, which could limit the longevity of the device.
Performance
Having read reviews of other Android phones for years, I've noticed a trend of most "rugged" mobile phones suffering from old and/or slow processors and other internals. I wasn't expecting blistering performance, especially compared to my nearly-top-of-the-line daily driver, but I was pleasantly surprised by both the speed and multi-tasking capabilities of the Doogee S86. I'm not familiar with the Helio mobile processor series, but apparently, 8 cores at up to 2.0 Ghz coupled with 6 Gigabytes of RAM does a good job of any and all apps and games I threw at it. Opening and switching between many applications never felt slow or laggy, and even the latest performance-intensive games worked great (tested with Call of Duty and Chameleon, both were smooth and worked well).
Camera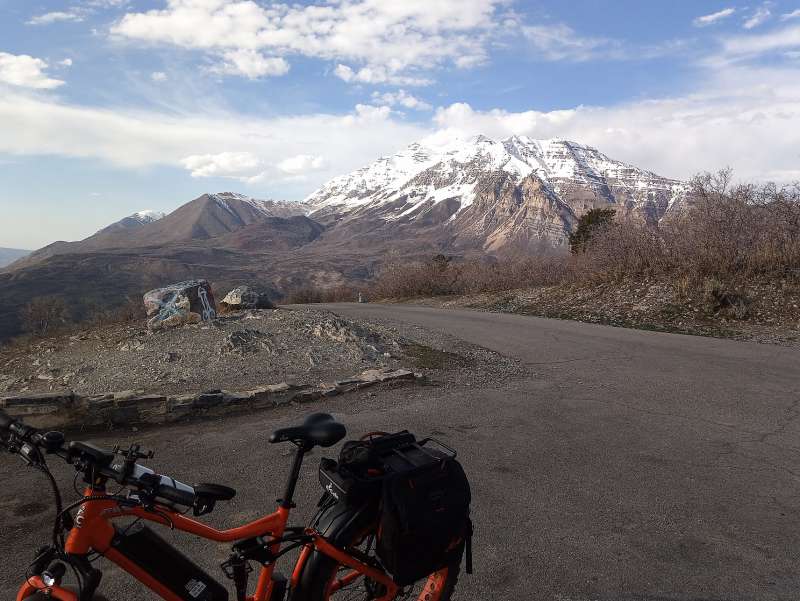 The camera was, in a word, inconsistent.  It was capable of producing pretty decent shots in good conditions, like the one above.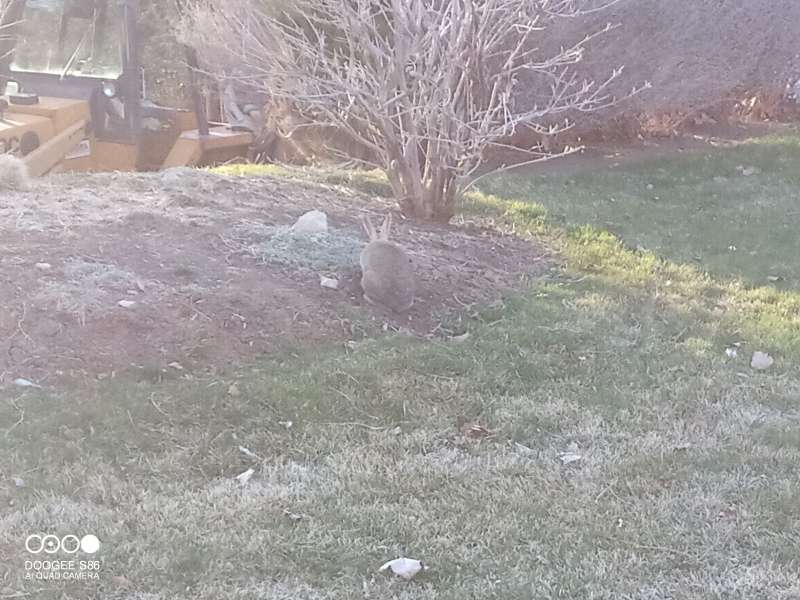 But in lower light or zoom conditions it sometimes gave me very blurry or washed-out images like the one above.  I tried out the AI-assisted mode (which was used on the above shot), and it didn't seem to help much.  Panorama photos came out extremely low quality, easily the worst I've seen in a decade.  I'm pretty sure that was a software bug since individual shots of the same scene came out fine, so maybe they'll patch that someday.  I think the Google Pixel approach of having a single good-quality lens would be the better approach on a budget phone like this.  It would have resulted in much more consistent photos, and I think most people would prefer good all-around photo quality over multi-camera inconsistent quality.
Battery Life
One of the main reasons you might pick this phone is the gargantuan battery.  I knew it would do well, but it shocked me how long it lasted, even with heavy use. When I set it up (always a battery drain due to lots of network traffic, CPU use, and read/writes to the phone's storage), it had only dropped a few percentage points.  After that, it felt like every time I checked the phone it was not changing at all.  I ended day 1 at 70%, used the phone normally (actually probably a bit more than normal since I was testing things out of curiosity in addition to my daily normal doom-scrolling), and ended day 2 at just over 50%.  I ran a non-stop streaming video test from a full charge, and 5 straight hours at 50% brightness and volume took it from 100% to 75%, with estimated-remaining-time-until-dead showing 15 hours left, so it was on track for 20 hours of video playback.  After much testing, I believe Doogee's estimated battery life ratings: 16 hours gaming, 23 hours music, 15 hours video.  "Vampire drain" overnight was 1-2% throughout the review period.   If you're looking for a long-lasting phone, this might just be it.  The icing on the cake is that it doesn't feel sluggish or slow, which is a criticism I've seen on most other large-battery phones in recent years.
What I like
Incredible battery life
Robust weatherproofing
Minimal "bloatware"
Performance for the price is great
What I'd change
Wireless charging and eliminate headphone port to even better seal the device
Size is over my generous limit for comfortable every day carry
Better camera
Final thoughts
If the Doogee S86 smartphone was not so heavy and large, I'd be tempted to switch away from my $1000+ Samsung Note 20 Ultra daily driver.  The performance and screen are good enough, speakers loud, and going days between charging (or being able to take it on outdoor adventures without stressing about bringing enough backup chargers) is great.  This device may be a perfect fit for people that need a long-lasting and rugged smartphone, but I'd highly recommend holding and walking around with 2 normal phones at once to be sure you're ok with that size and weight.
Price: $199
Where to buy: Aliexpress
Source: The sample for this review was provided by Doogee