The Gadgeteer is supported by readers like you! If you buy something through links on our site, we may earn an affiliate commission at no cost to you. Thank you! Learn more.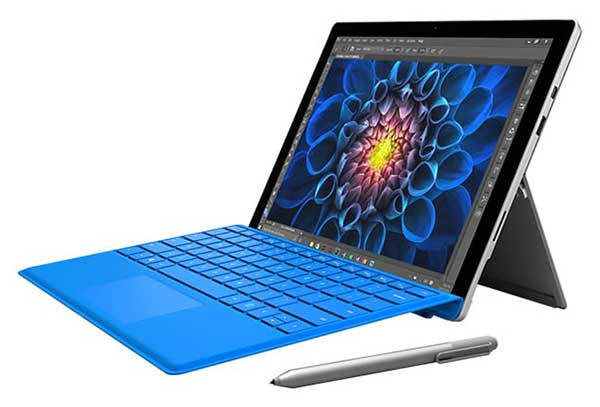 A few weeks ago I complained about the weight and bulk of the gear that I take with me when I travel. On my last trip to Florida, I took a 13″ laptop, 10″ tablet, my phone, various cords and AC adapters. Combine that gear with the weight of the bag that holds all of it and it was not fun lugging it through the airport from gate to gate. I in my gadget diary post I talked about how I wished I could make a tablet (iOS or Android) do everything I need while I'm away from home. When I got back home I ordered a 12.9″ iPad Pro with hopes that it would become my next travel buddy. No luck, I returned it to Apple. 
Each time I post about my travel gear experiences, I have a few people suggest that I should try a Microsoft Surface Pro 4. I finally listened and ordered one on Thanksgiving day to take advantage of a $429 discount on the SP4 256GB/i5 8GB RAM with the Type Cover.  I received it this past Saturday and immediately noticed how slow it was browsing the web. I thought it might be defective but then I googled "surface pro 4 slow wifi" and found that this is a known issue with some WiFi routers. It appeared that the SP4 didn't get along with my Amplifi router. I tried the registry edit that is supposed to fix the problem, but it didn't help, so I switched back to my TP-Link Archer C7 router which did help but not enough to make me want to use the SP4. So ignored it all day Sunday.
On Monday I took the SP4 with me to my day job in order to take advantage of the faster broadband so I could install any needed OS updates. The updates seem to have fixed all the issues because when I took the SP4 back home that night, it worked like a champ.
I also installed the Chrome browser, Photoshop and a few other tools to duplicate some of the tools I use on my MacBook Pro. I installed tools like AutoHotkey which lets me use macros to insert frequently typed text, Irfanview for batch renaming and resizing of images and Wondershare Filmora for editing video clips. And with that, I was ready to use the SP4 exclusively (at home) for the next couple of days to determine if I'll keep it or return it.
I spent Monday night using the Microsoft Surface Pro 4 on a desk, on my lap sitting on a couch, while reclining in my LazyBoy recliner and as a tablet with the Type Cover keyboard detached. Here are a few of my first impressions.
Nice hardware that is light weight while still feeling like a quality device and not a cheap toy.
Actually feels "ok" using it on my lap with the keyboard attached. The kickstand, not sure what Microsoft calls it, is really pretty cool. It opens and stays open at the exact angle I choose, so it feels stable perched on my thighs.
I need to look up how to do a right mouse click when using the touchpad
I'm a touchpad snob and tend to compare every touchpad that I try with the one on my MacBook Pro. Although the SP4's touchpad is a little on the small side, it does work well enough that I don't hate it. But I'm not exactly in love with it either.
Tablet mode works well too. In the past, I've complained that Windows 10 isn't finger friendly, but the SP4's display is large enough that I didn't have that much trouble tapping small onscreen buttons in the browser.
Using the onscreen keyboard while in tablet mode is doable, but it takes up most of the screen.
The Type Cover is very nice. I enjoyed touch typing on it and noticed almost no flex when using it on a desk or on my lap. The keys are nicely spaced and provide great tactile feedback. They even have a backlight which surprised me.
That's all for now. I will post another update after I have a chance to put it through my normal work flow for a couple days. So far I like it a lot more than I thought I would, but I don't know if it's that much of an update over my Dell XPS 13″, so it remains to be seen if I end up keeping it.