We use affiliate links. If you buy something through the links on this page, we may earn a commission at no cost to you. Learn more.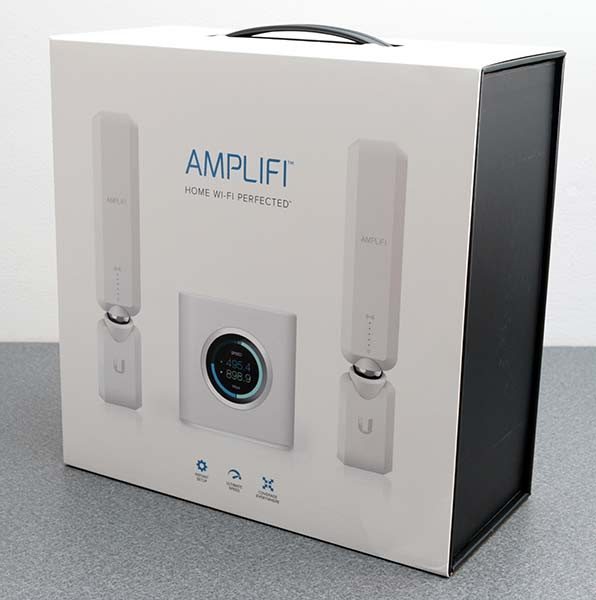 If you're reading this, there's a very good chance that you're doing so through a WiFi connection to a router. A router is a box with an antenna (or antennas) that connects to  broadband. Most people hide their router under a desk or in a closet because they aren't exactly the type of device that you want to stare at all the time. The AmpliFi WiFi router changes all that. This is a wireless router that you will want to look at not only because it looks cool, but it shows info that is actually useful. Let's take a look.
What is it?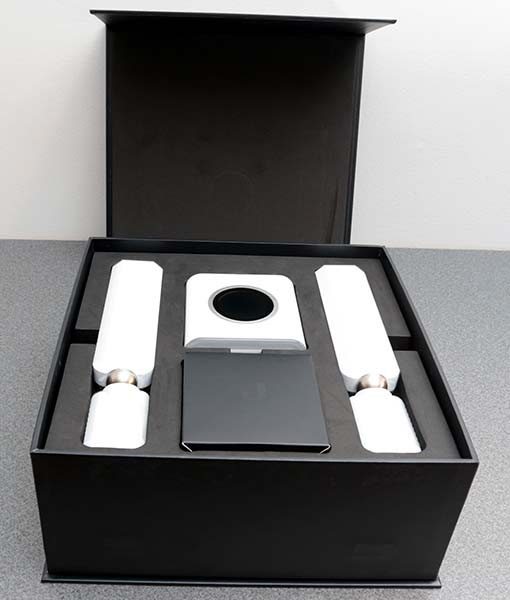 AmpliFi is a WiFi 802.11AC router that connects to your cable modem or another broadband modem where the internet connection comes into your home or business. Routers are usually boring devices with a bunch of LEDs on the front that blink to show the status of your internet traffic. AmpliFi is a small white box with a touchscreen LCD display that provides human readable info instead of blinking LEDs that mean nothing to most people.
AmpliFi also differs from traditional wireless routers because it comes with two mesh points that boost the WiFi signal to provide whole home wireless connectivity.
AmpliFi sells three systems that are configured for different sized installations. They sent me their low-end system that covers a 10,000 sq foot area and supports 802.11AC. Their LD and HD systems can cover 20,000 sq ft and supports 802.11b/g/a/n/ac at higher speeds.
What's in the package?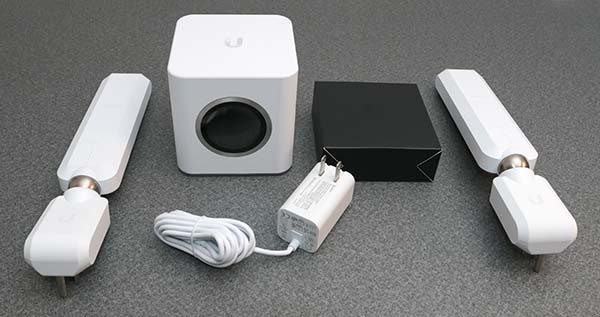 AmpliFi router base station
2 wireless super mesh points
Ethernet cable
AC adapter
Quick start guide
Design and features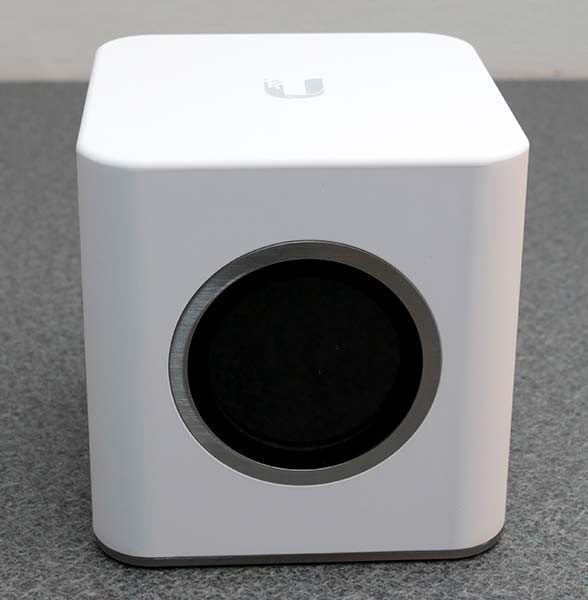 The AmpliFi router base station is a white 4×4 inch cube with a soft rubbery "skin" and a round LCD touch screen color display on the front.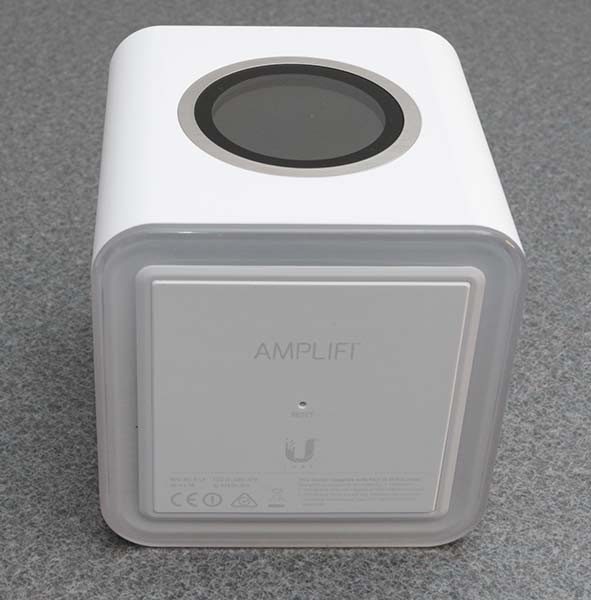 The bottom of the base station has a rubber pad that keeps it from sliding around on your desk. In the center is a reset switch. The even base glows, which is not useful, but looks pretty cool.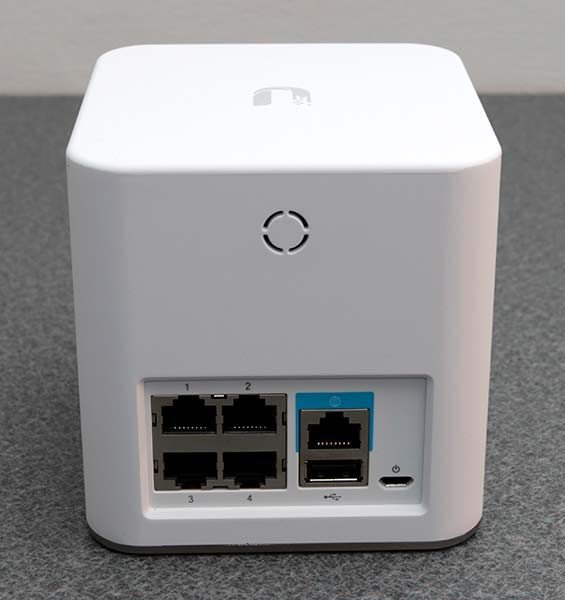 On the back of the router, you'll find four Ethernet ports, one Internet port that is used to connect to your broadband modem, a micro USB power port and a USB port that doesn't do anything (bummer).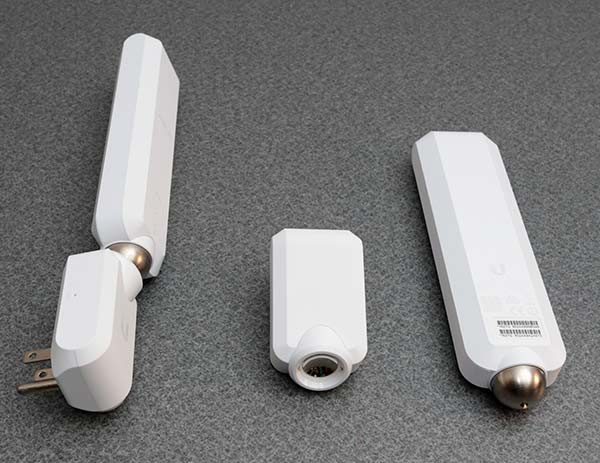 The two wireless super mesh points that are included with the AmpliFi are used to create a mesh network in your home / office so that it will be covered with WiFi. The mesh points have two parts. One part plugs into a wall outlet and then another part is the antenna, which connects to the first part with magnets and can rotate / pivot.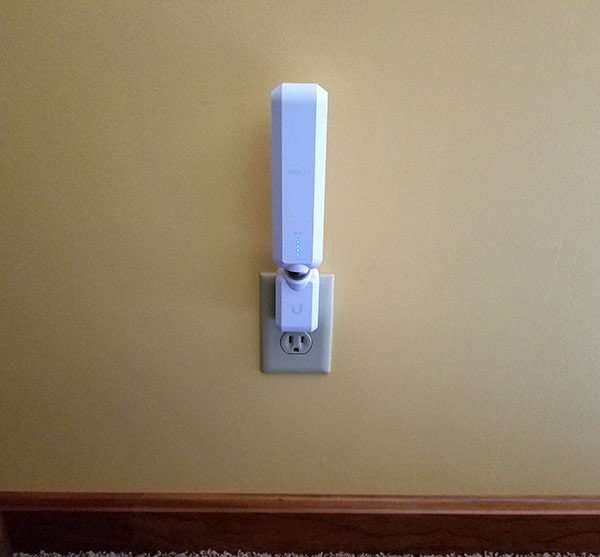 The antenna has blue LEDs that light up to show the signal strength to the base station.
Installation and setup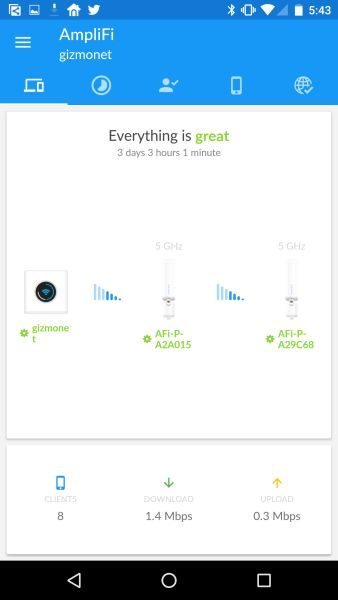 Setting up and installing the AmpliFi is really easy. You just install the iOS or Android app on a mobile device and follow the prompts. Basically, all you do is power off your current router, plug in the AmpliFi and then follow the steps to name the WiFi network and set a password and plugin the mesh points.
Once everything is up and running the app will shows a main status screen with signal and speed info.
The app also shows throughput and usage info which is pretty handy if you happen to have a traffic cap. Be aware that AmpliFi's usage data gets reset if the power cycles on the router… which is disappointing.
The app can also be used to setup a guest network, show all the devices connected to the WiFi network and gives you the ability to pause usage for each device.
It should be obvious that the app only works when you're on the same network, so you'll not be able to check usage and make changes if you're away from home or the office where the AmpliFi is installed.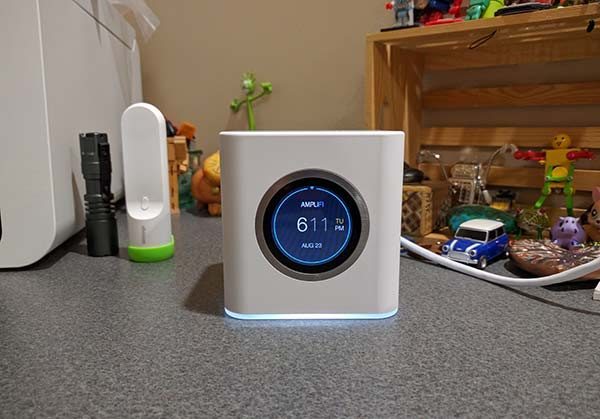 The built-in display can show a digital clock face like you see in the image above.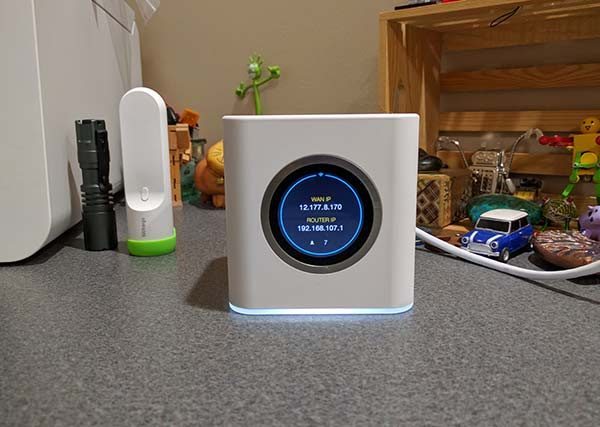 Or you can change the display to show other info just by tapping it. It can show the Wan and router IP addresses…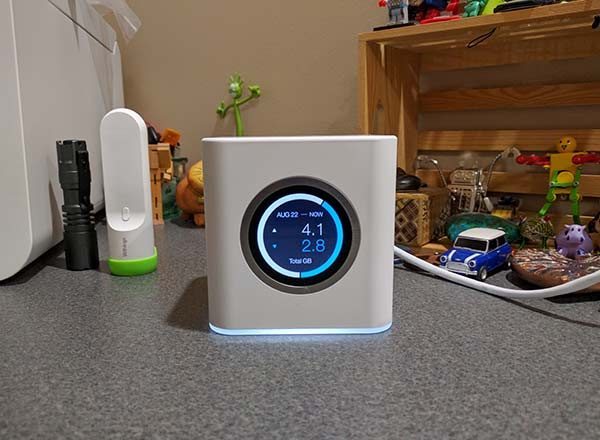 Upload and download usage…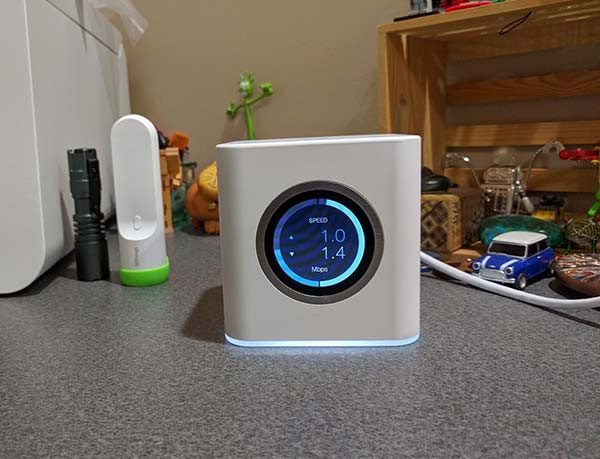 And upload / download speeds.
As you can see in the images, the base has a white LED that glows. You can adjust the intensity of the glowing base or even turn it off. The same goes for the LCD display. There is also a night mode that will turn the display and base off based on the time window that you set.
I'd been using a TP-Link Archer C7 router for about 6 months and it was driving me nuts because I had two network SSIDs setup. One for 2.4Ghz and one for 5Ghz. For some reason, Jeanne's MacBook Pro would stop communicating with the internet and she would have to switch to the other SSID. I didn't notice this with my MacBook. Now that I've been using the AmpliFi, she hasn't complained about this issue as there is just one SSID setup. That doesn't mean that you can't configure two if you want to. You can also configure which network the mesh points use as well as doing other advanced configuration like port forwarding and more.
Final thoughts
I've been using the AmpliFi for about a month now and really like it. I really like being able to easily see the devices on the network and if they are using data real time.  I also like the display that shows a running total of usage at least until power is cycled. It would be fantastic if the usage totals were saved instead of restarting on power up.
The AmpliFi is more expensive than a lot of other routers on the market, but with the AmpliFi, you won't want to hide it under your desk and you'll be able to easy change setting without trying to remember your admin password and IP address for the router's web client.
Update 11/27/16
I haven't had any issues with this router until this weekend… I can't say the issue I'm having is actually a problem with the Amplifi router though. It's more of a problem with the Microsoft Surface Pro 4 when it's connected to the router. I ordered an SP4 on Black Friday and set it up last night. I immediately noticed that WiFi was extremely slow. It takes minutes to bring up a page. It's so slow that it's unusable. I thought that I had a defective SP4, but I googled the problem and apparently it's a known issue with some routers and the SP4. A registry hack is supposed to be able to fix it, but even after doing the hack, WiFi is still frustratingly slow on the SP4. I don't have this problem on all my other computers and tablets connected to the same router.
I switched back to the to router (TP-Link Archer C7) that I was using before switching to the Amplifi and the issue with the SP4 was immediately resolved. Weird…
Source: The sample for this review was provided by AmpliFi. Please visit their site for more info.
Product Information
Price:
$199.00
Manufacturer:
AmpliFi
Pros:

Easy to setup
Nice to look at
Small footprint
App provides lots of info
Mesh points expand signal to cover entire home

Cons: