We use affiliate links. If you buy something through the links on this page, we may earn a commission at no cost to you. Learn more.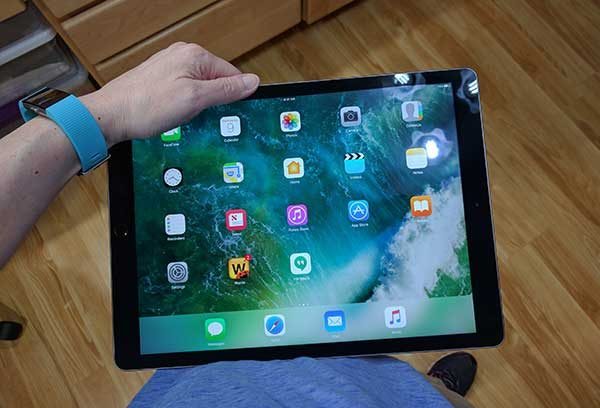 There seems to be a disturbance in the Force because I haven't been able to bond with any new gadgets that I've tried in the last couple of months. First, it was the iPhone 7, which I tried for a few weeks and ultimately returned to Verizon. Next up was the Google Pixel XL which I also returned. Then last week I decided to order an iPad Pro to see if it could become my next travel companion. I received the 12.9 inch iPad Pro last Friday. Guess what? It's already boxed  up to ship back to Apple tomorrow. Am I having a gadget crisis or what? 
I don't think it's an actual crisis as much as the fact that I know what I want, how I want it and I don't want to settle for anything less. When I tried the iPhone 7 back in September, I loved the look and feel of the hardware but didn't love the operating system. So I sent it back. With the Google Pixel XL, I really loved the camera, performance and battery life, but I didn't like the look of the device and more importantly the price. It just wasn't a worthy update to my Nexus 6P which I've been happily using for almost a year.
Now most recently I decided to give the 12.9 inch iPad Pro a shot as I'm looking for my holy grail of travel devices. When I was on vacation last month, I took a laptop, a tablet, my phone, a Roku stick, my notebook, a tiny snapshot printer and cables for each item. It all added together to be a burden on my shoulder when walking through the airport.
I always take a laptop because I need the full Gmail experience with multiple inboxes, labels and stars so that my email stays organized. A messy inbox stresses me out and I don't like being stressed. While I was on vacation I happened to discover that I could get the full desktop Gmail on Jeanne's old iPad 2. That's what led me down the Apple rabbit hole and ultimately caused me to order the iPad Pro. But then once I got it and started playing with it, the same problem that I ran into with the iPhone 7 cropped up. I love the hardware, but I hate iOS. I used to love iOS years ago, but now I don't. At all.
I tend to beat a dead horse trying to make things work the way I want them to, but after several experiments trying to use a tablet with a mobile OS as a computer, I've finally come to the conclusion that while that may work fine for others, they don't work for me. I think that tablets are fantastic for reading ebooks, playing games and quick email work where I just need to read or reply to something. But if I need to do real work like email triage, image editing and image uploading for Gadgeteer post, I have to use a laptop because it is much less frustrating and faster. Less frustrating and faster means less stress which is important to me.
My current full-time home computer is an almost 2-year-old 13″ MacBook Pro because I prefer the Mac OS. I don't like to take the MacBook Pro with me on trips because it's too important to me to risk damage, theft, etc.
My next trip isn't until next spring, so I have plenty of time to decide what device will be coming along on the trip with me. I do know that it will be a laptop that doesn't weigh much more than 2 pounds and it won't be one of the new MacBooks because they cost too freaking much for what they are. My 13″ Dell XPS will probably do the trick as long as I find a smaller bag for it and the rest of my gear. The Tom Bihn Checkpoint Flyer bag is contributing to the problem because it's way bulkier than I need.
I'll continue to update you on devices I try until I find my holy grail travel device… I hope to find it soon!