We use affiliate links. If you buy something through the links on this page, we may earn a commission at no cost to you. Learn more.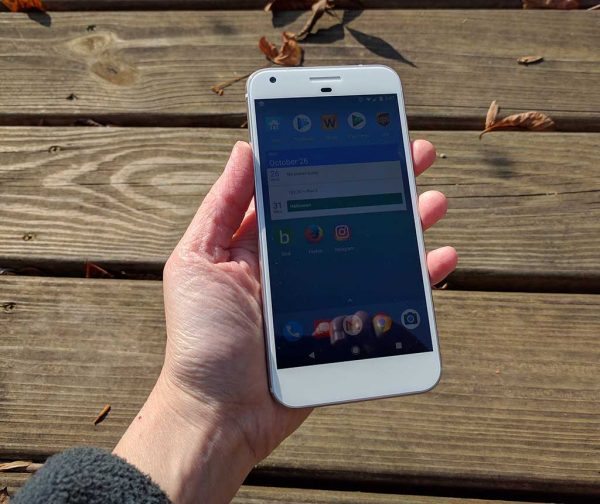 There is no such thing as a perfect smartphone. I know because I've been trying to find one for longer than I care to remember. There's also no such thing as being 100% happy with the phone you have. At least this is true for me. There's always some feature that I wish my current phone had that it doesn't. In a perfect world, phones would be modular so we could pick and choose from a list of features like the OS, the screen size, case style, memory, micro SD card slot, wireless charging, etc. But we can't build phones to suit our own needs, so we weigh features and style against price and choose the one that ticks the most boxes on our list.
I constantly feel the urge to upgrade or switch phones. I'm like a bird that gets distracted by shiny objects. I don't know if this is because I'm the Gadgeteer and am spoiled by getting to try new phones or if it's something deeper in my nature, but when I watched Google's Pixel unveiling event last month, there was no waiting or thinking about it. After the event, I immediately pre-ordered a Pixel XL. Is this phone as close to perfect as it gets? Let's find out. 
What is it?
The Google Pixel XL is the larger variant of the new Nexus Google Android smartphone. It's the first true Google phone that has been designed and marketed by Google instead of Google's previous Nexus devices which were made by HTC, Samsung, LG, Motorola and Huawei. Note that the new Pixels are actually made by HTC, but the Pixel is not a version of one of their existing smartphone designs, it's been newly designed by Google.
The Nexus devices which were introduced back in 2010 were reference devices mainly marketed towards application developers, but it didn't take long for regular Android fans to make them popular because Nexus devices provided a stock Android experience without all the bloatware that typically comes with phones provided by carriers like Verizon, AT&T and others.
Sadly, the Nexus line is no more. The Google Pixel and Pixel XL represent a shift in focus for Google as they go head to head with Apple and the iPhone.
Hardware Specifications
Processor: Qualcomm® Snapdragon™ 821 2.15Ghz + 1.6Ghz, 64Bit Quad-Core processor, Adreno™ 530 GPU
Operating System: Android 7.1, Nougat
Memory ROM: RAM: 4GB LPDDR4, Internal memory 32GB or 128GB
Network: Unlocked and works on most major networks
Display: 5.5″ AMOLED QHD (2560 x 1440) 534ppi display, Corning Gorilla Glass 4
Camera (rear): 12.3 MP, ƒ/2.0 aperture, Digital Image Stabilization
Camera (front): 8 MP, ƒ/2.4 aperture
Bluetooth: 4.2
Wi-Fi: Wi-Fi 802.11 a/b/g/n/ac 2×2 MIMO, dual-band (2.4 GHz, 5.0 GHz)
NFC
Battery: 3450 mAh (non-removable), Fast charging for up to 7 hours of power in 15 minutes of charging
Dimensions: 6.09″(H) x 2.98″(W) x 0.29″(D) inches
Weight: 5.92 oz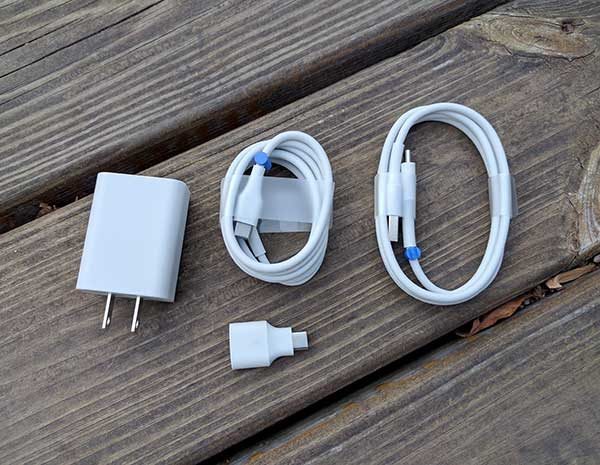 What's in the box?
Pixel XL
USB-C 18W AC adapter with USB-PD
USB-C to USB-C cable
USB-C to USB Standard-A plug cable
SIM tool
OTG Dongle
Quick start guide
Design and features
For those of you who aren't regular readers of The Gadgeteer, you should know that I've been using a Nexus 6P for the last year. That means I'll be making some comparisons to the Pixel XL to the 6P as we go along in this review.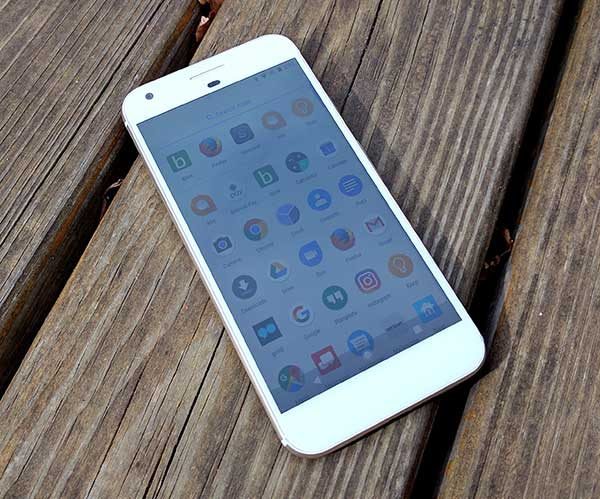 I ordered the 128GB Very Silver version of the Pixel XL. I wanted the Black or the Blue version, but neither were available when I placed my order so I settled on silver. Other than the size of the display, battery capacity and price, the Pixel and Pixel XL are identical to each other. I decided to go with the XL because I am used to a larger sized phone and prefer a big display. I also opted for the 128GB version because I figured I'd go big or go home on this purchase 🙂
First impressions being what they are, my first thought when taking the Pixel XL out of the box was that the front reminded me of a white iPhone minus the home button. The Pixel XL is definitely nothing new as far as style goes. It's a little disappointing to me that Google's first real effort is so bleh looking. I'm not saying it's ugly, but there's really nothing that makes it stand out as a Google device. If someone glances at it, it's almost a sure thing that they will think it's an iPhone.
The glass front of the phone is completely flat, with obvious top and bottom bezels and narrow side bezels. There are no buttons on top, but there is an earpiece above the screen with a proximity sensor below it and the front-facing camera on the left.
Although you can't see it in the image above, there's also a blue notification LED in the left side of the earpiece. By default, the status LED is disabled, which is strange, but you can turn it on in the settings.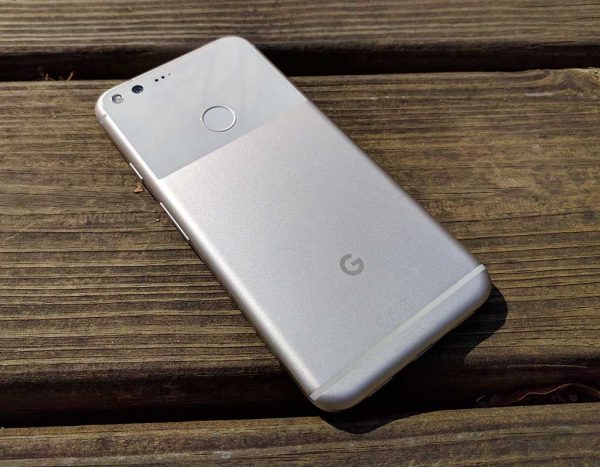 Flip the Pixel over and you'll see the matte finished anodized aluminum back shell with smooth curved edges and a glass section at the top where the fingerprint scanner, camera, dual LED flash, laser autofocus and a microphone are located.
Style-wise I don't really understand the glass section. It actually sticks up slightly from the back of the phone, so the transition from aluminum to glass is not flush when you run your finger over it. It just seems like an odd design choice to me, but Google didn't seek my opinion.

On the left side of the Pixel XL, you'll find the SIM slot.

The power button and volume rocker buttons can be found on the opposite side of the phone. The power button has ridges that make it easy to find with your thumb and the volume buttons stick up enough to find with your finger without needing to look at the phone. Both buttons have great tactile feedback.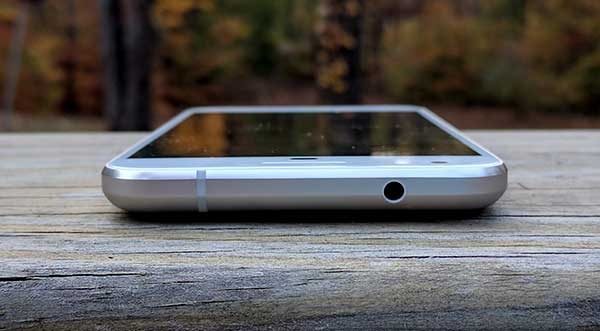 On the top edge of the Pixel XL, you'll find the 3.5mm headphone jack. I guess Google thinks wired headphones shouldn't die quite yet.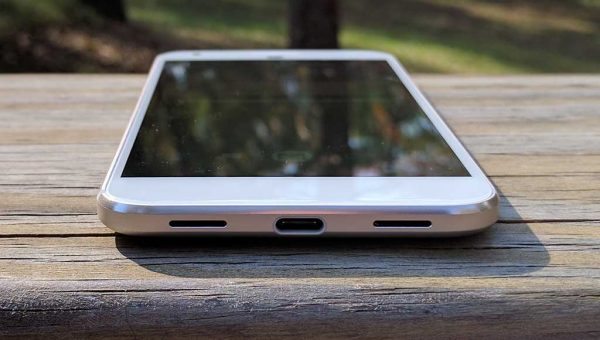 Along the bottom edge are two speakers and a USB Type-C charging port.
In hand, the Pixel XL feels thick even though it's about the same thickness as the Nexus 6P that I've been using for the past 12 months. It feels heavier too but not enough to complain about. The phone feels good in hand, is solid and doesn't whimper when I perform my Gadgeteer squeeze and shake test on it. It doesn't flex, rattle or roll.
Display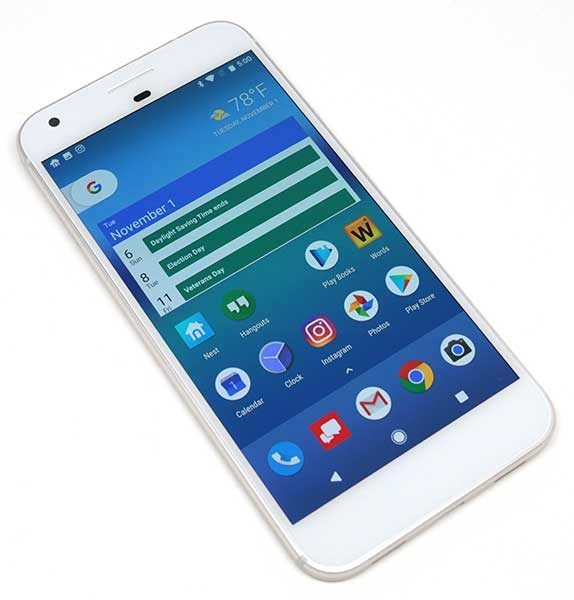 The Pixel XL's display is very nice. When I compared it at full brightness to my Nexus 6P also at full brightness, I seriously couldn't tell a difference between the two displays when looking at the home screen and app drawer. I could tell a difference when looking at images in the photo app but that's mainly because images snapped with Pixel XL are somewhat more saturated than the Nexus 6P due to HDR. I have zero complaints about the display because everything looks crisp, bright and vibrant with excellent viewing angles.
Audio quality
The fact that Google decided to have downward firing speakers on the Pixel is a real bummer. Coming from the dual front firing speakers on the Nexus 6P, the placement of the speakers on the Pixel just seems like an afterthought. That said, the speakers are loud and clear as long as you don't cover them with the palm of your hand.
Camera
Hands down, the Pixel XL's camera is what I like most about this phone. I'm not sure you can take a bad picture or a video with the Pixel. Here are a few sample shots:
The shots above are right out of the phone. The only thing I did was rename them. The images are sharp, clear and have great color saturation. I think that picture of Max my cat looks awesome!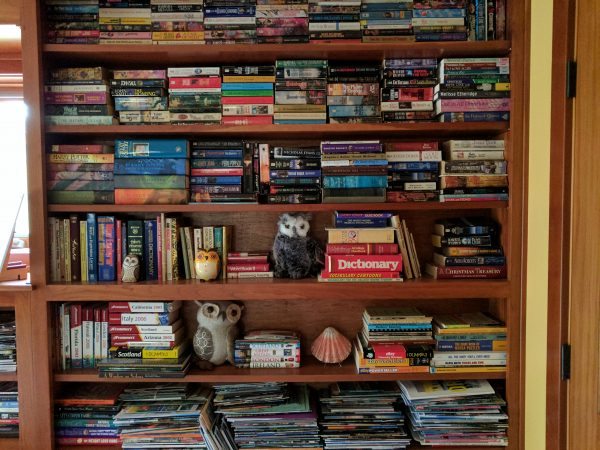 It does a fantastic job in low light too. You can't tell from the image above, but it was taken with no lights on in the room at about 4pm on a dreary day.
You'll notice the lens flare issue in that short video demo. Google is aware of the issue and we'll probably see a fix in the next update. The flare issues can be forgiven because the video that this phone captures is so smooth. The Pixel's camera does not have optical image stabilization, it has digital image stabilization. That means it's software that smooths out shaky hands, and bumps that make your video look bad. Check out the video above where I make the camera shake on purpose but the video smooths out my crazy camera shakes (at least to an extent).
Speaking of shaking, you can enable two gestures for the camera. One lets you immediately wake up the phone and launch the camera app by double-pressing the power button. The other gesture switches to the front facing camera when you twist the phone back and forth so you can take a selfie.
I think that the software behind our smartphone cameras will be the defining factor in how good our cameras will be going forward, more so than the actual camera hardware itself.
Also, don't forget that starting with the Pixel, you can backup your images and videos at full resolution to your Google Drive account.
Fingerprint scanner
I've been test driving the Pixel XL for a couple weeks now and have had VERY good luck with the fingerprint scanner. If you've read some of my other phone reviews, you'll know that I have a love / hate (mostly hate) relationship with fingerprint scanners because they often stop working for me. So far the Pixel's scanner works 9 times out of 10 which is crazy good when it comes to scanning my fingertips!
The fingerprint scanner isn't just for security, you can enable a gesture so that you can swipe down on the scanner to lower the notification screen which is a really useful feature that I hope comes to the Nexus 6P.
Software and user interface
I'm not going to do an in-depth walk through of Android version 7.1, you can find other reviews that go into every feature this version of the OS has to offer. I'm just going to touch on a few of the more obvious new features.
I've been using Android v7.0 (Nougat) on my Nexus 6P for a month or so, but the Pixel runs on v7.1 which has extra features that we may never see on a non-Pixel device which is very annoying and disappointing.
The first thing you will notice is a new Google G tab in the upper left corner of the home screen. When you tap on the G, a Google search page will pop up. If you drag the G to the right, you'll be in the Google Now page with scrolling cards based on info that Google thinks you'll want to know. You can customize the Google Now cards to show the topics you're interested in like news, sports, stocks, weather and more.
Look at that first picture above on the left. See the weather at the top on the right? It's not a widget that can be moved or removed. It's a permanent part of the home screen. Grumble…
A new feature that I love and hope comes to all phones with Android v7.1 is the long press icon commands. This is sort of like Google's version of 3D touch that is offered on the iPhone. Right the feature seems to be limited to Google's stock apps like the Play Store, Clock and others, but it sure is handy. I use it all the time to check for updates on the Play store.
There's no longer an icon to go into the apps drawer. Now there's an up arrow button. See it above the Gmail icon?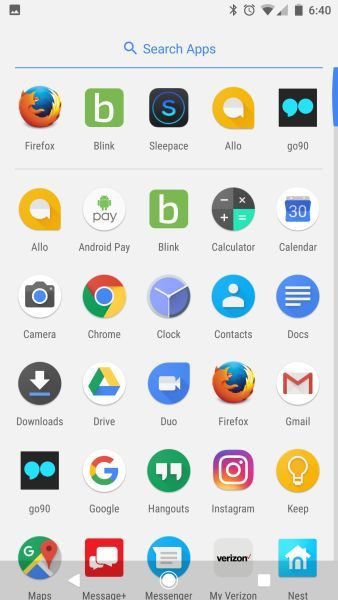 Tapping the arrow takes you to an alphabetical scrolling list of all your apps with your most access apps along the top row and a search bar.
The Pixel also gets the new Google Assistant which is an improved version of Google Now that Android devices have had for a couple years. You still need to say "Ok Google" or long press the onscreen home button to get "her" attention. But with the Pixel you get answers in a human conversation style.
I tried a few tests with the Pixel XL and my Nexus 6P side by side to see how each phone would answer the questions. When I asked the phones to tell me a joke, Google on the Pixel read me a joke, but Google on the 6P gave me search results for jokes.
When I asked for the answer to a math equation, the answer was spoken on the Pixel and 6P, but on the 6P an onscreen calculator shows on the screen that can be used for further calculations.
When I asked Google on the Pixel to read me the news, she pulled up a list of news sites and played the audio of each one in turn which was really cool. On the 6P I just got a page of search results.
But there's some things that the new Google Assistant can't do that Google Now can do, like recognize a song that's playing.
Using the Google Pixel XL for phone calls
I didn't have any complaints from people I talked to while testing the Pixel XL. Conversations on both sides of the call were clear and with ample volume. I also did not have any issues with dropped calls while testing this phone. Signal strength seemed to be no better or worse than other phones that I use and test on the Verizon network.
Overall performance and battery life using the Google Pixel XL for day to day tasks
The Pixel XL's performance is smooth and felt snappier than other smartphones that have I've recently tested. I found that apps launched with no lag, and there are no issues switching back and forth between apps, scrolling, etc. I also didn't have any issues with the Google Pixel XL freezing or crashing.
When it comes to battery life, the Pixel XL lasted noticeably longer than my Nexus 6P and I was able to easily make it through the day or even two days before needing a recharge.
Final thoughts
First the bad.
Let's face it, the Pixel has an uninspired design that doesn't help it stick out from a sea of other phones on the market by looks alone.
The Pixel does not have water resistance like the latest phones from the big boys like Apple and Samsung.
And the worst thing about the Pixel XL is the price. Nexus/Google phones have historically been much more affordable than the Pixel which is the exact same price as Apple's iPhone.
Now the good.
There's no question in my mind that the Google Pixel XL is a great phone. It's fast, the screen is lovely, it has good battery life and the camera is awesome.
When you buy it, you can sync your photos AND videos at full resolution to Google Photos for FREE. It also comes with a promise that it will receive 2 years of OS updates and 3 years of security updates. Going forward, Google will be using a quarterly update cycle, so Pixel devices will receive new features four times a year.
You also get 24/7 customer support right on the phone.
If you've read this far just looking for my final verdict, congrats for making it to the end. So here goes. I really like the Google Pixel XL. A lot. But, I'll be doing a hard reset and shipping it back to Google today. That's right, I will be sticking with my Nexus 6P for awhile longer. Why? I spent $1035.76 (with tax) for the Pixel XL with the $99 2yr protection plan. That's obviously a LOT of money for a phone. The Pixel XL, while very nice, is not worth that hit on my bank account when I already own an equally nice phone like the Nexus 6P. The Pixel XL doesn't have enough pizzaz to make me want to switch. Yes, I'll be sad to see it go, but I'd rather have the money back in my checking account. At least until I see something else worthy of trying.
If you're looking for a new Android Smartphone and price isn't an issue, the Google Pixel XL is the one to buy right now. You won't be disappointed as long as you don't mind that it looks a little boring on the outside.
Source: This phone was not a sample provided by Google or anyone else. I purchased this phone with my own funds, but you can buy one through the Google Play store or Verizon.
Product Information
Price:
$869.00
Manufacturer:
Google
Pros:

Very fast
Great camera
Long battery life
2 years of OS updates, 3 years of security updates

Cons:

Expensive
Not water resistant/water proof
No stereo speakers