We use affiliate links. If you buy something through the links on this page, we may earn a commission at no cost to you. Learn more.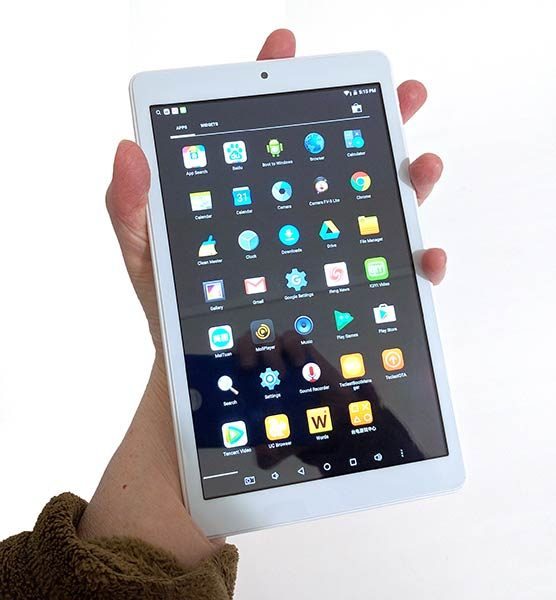 iPads and Android tablets from popular companies like Apple and Samsung can serve as easy to carry entertainment devices and as a light weight alternative to a traditional laptop. The only downside is that most tablets are expensive and they are unable run your favorite desktop applications. The TECLAST X80 Pro tPad tablet from Gearbest is an option for people who have a limited budget and want both a mobile OS and a desktop OS in a small form factor. At only $80, the X80 Pro should be a great buy right? Let's find out.
What is it?
The TECLAST X80 Pro is an 8-inch 32GB tablet that dual boots Android 5.1 and Windows 10 operating systems.
Hardware specs
CPU: Intel Cherry Trail X5-Z8300 Quad Core 1.44GHz 64bit processor
GPU: Intel HD Graphic Gen8 processor
Memory: RAM + ROM: 2GB + 32GB
Display: 8 inch screen: 1920 x 1200 WUXGA IPS screen
Operating systems: Windows 10 and Android 5.1
TF card slot: Up to 32GB (not included)
Camera: Front and rear 2MP
Bluetooth 4.0
micro HDMI output
Battery Capacity(mAh): 3800mAh, Run Time up to 3 hours video playing time
Dimensions: 8.19 x 4.96 x 0.39 inches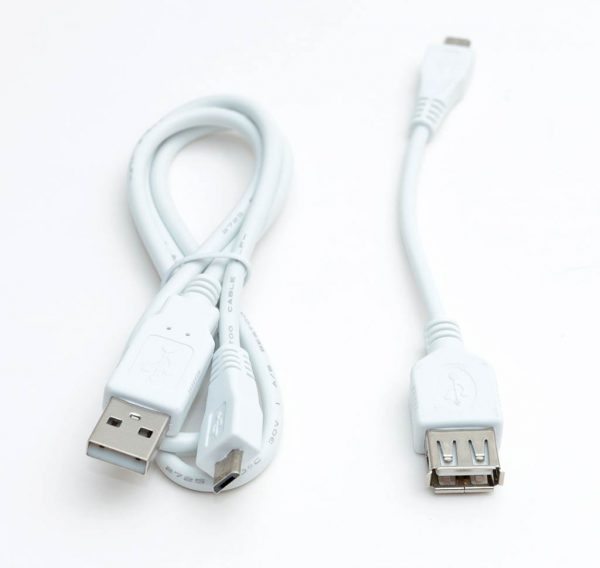 What's in the box?
TECLAST X80 Pro tablet
micro USB charging cable
micro USB to USB female cable
User manual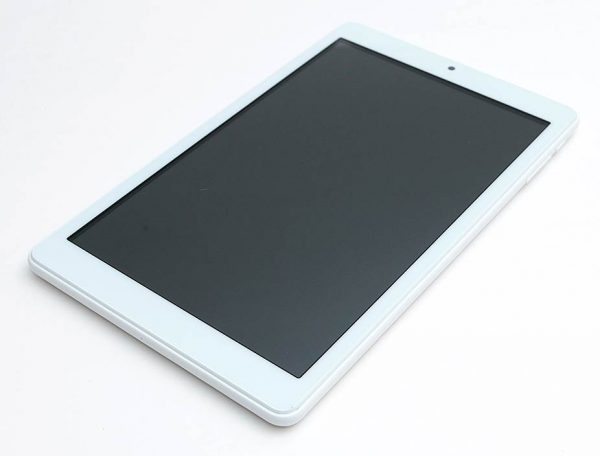 Physical design and features
At first glance you might mistake the TECLAST X80 Pro for an Apple iPad mini. But the X80 Pro is slightly taller and narrower than Apple's smallest tablet.
The X80 Pro has a plain front with front facing 2MP camera above the display.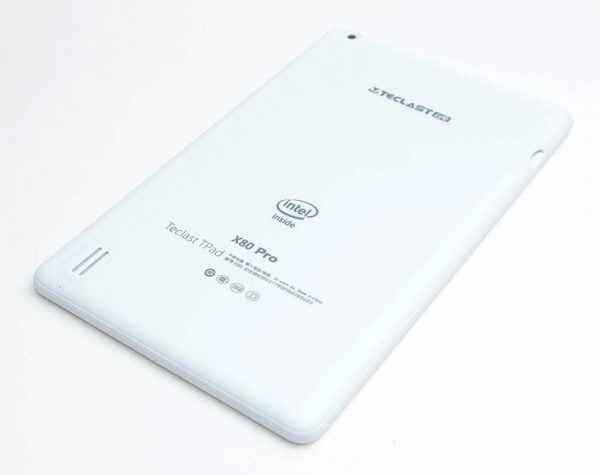 The casing is made of white plastic that has slight texture that provides some grip.
In the top left corner is the back facing 2MP camera and in the bottom left corner is the speaker. The location of the speaker is unfortunate since it is easily blocked which causes the sound to become muffled.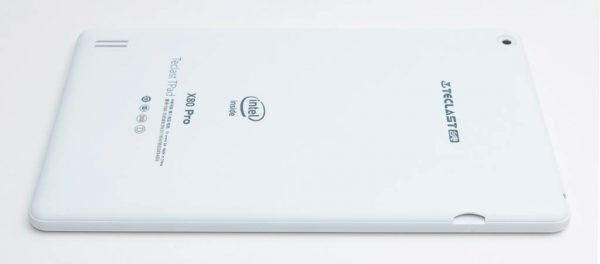 On one side you'll find a micro SD card slot which adds more storage space to the tablet and is accessible from both Android or Windows 10.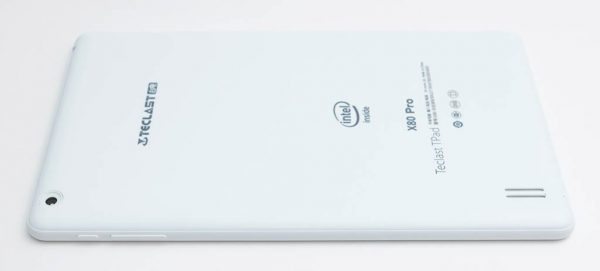 The power button and volume buttons are located on the opposite side of the X80 Pro.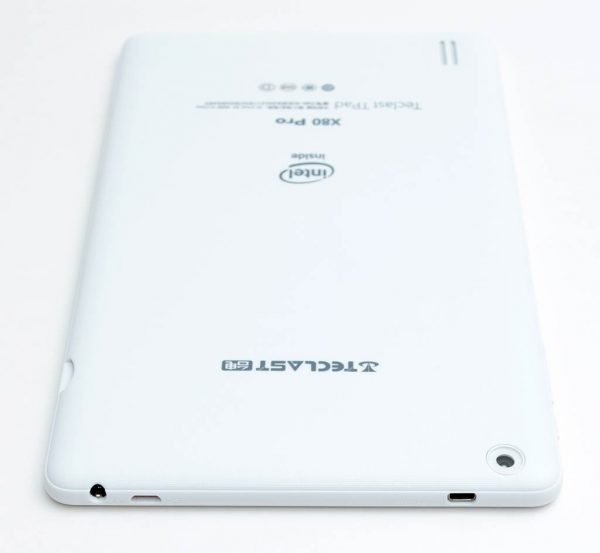 Along the top edge of the tablet, you'll find a 3.5mm headphone jack, a micro USB connector and a micro HDMI connector.
On the bottom edge (not pictured) is a microphone.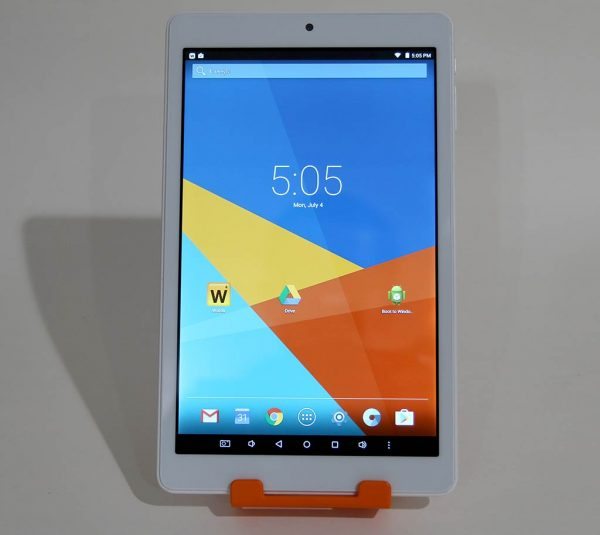 It's an Android tablet
When you first power on the X80 Pro, you're given the option to boot into Android or Windows. I did my first testing with Android and found that it had a comparable look and feel to the Android phone and tablet that I use daily. The only noticeable difference is the menu bar along the bottom edge. It includes quick launch buttons for the camera, volume, and system settings.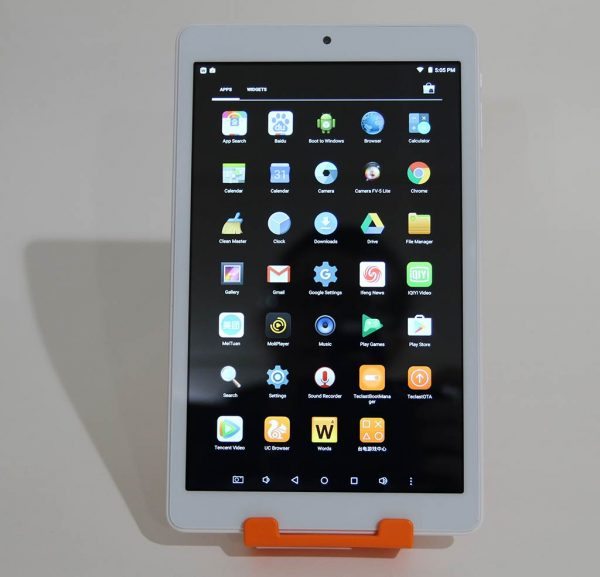 The display is good. It's not retina display good, but it's fine when I have it turned up to full brightness. The screen does seem to be a fingerprint and smudge magnet though…
The tablet comes with several 3rd party apps that have been preinstalled. I uninstalled all of them since they were all in Chinese, which I can't read. You can install new apps using the Google Play app. I had no problem loading Words With Friends and other apps like Chrome, Angry Birds, etc.
As an Android tablet, the X80 Pro works just fine for most tasks like games, reading ebooks, document work, etc. But it feels noticeably slower than my Nexus 6p smartphone and Samsung Galaxy Tab tablet when loading apps, web pages, downloading files and loading video from sites like Youtube and Netflix. When I placed another Android device side by side with the X80 Pro, on the same WiFi network, the X80 Pro loses every time loading video, web pages, apps, etc.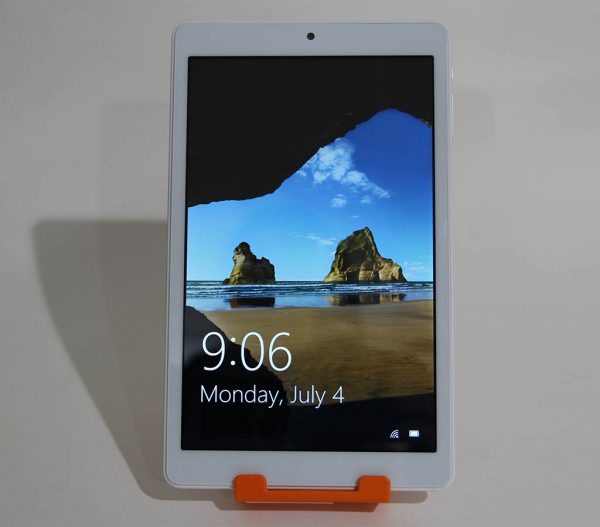 It's also a Windows 10 tablet
Finding an inexpensive Android tablet is not all that difficult, but I've never seen an Android tablet that could also boot Windows 10. The X80 Pro is preinstalled with a genuine copy of Windows 10 Home edition.
One issue that I noticed right away that I've yet to fix is the clock. For some reason, under Windows 10, the clock does not keep the right time no matter if it's set to automatically update from the network or if I set it manually. When I reboot to Android and come back, the time is always wrong. But the Android clock seems to always be correct, so go figure.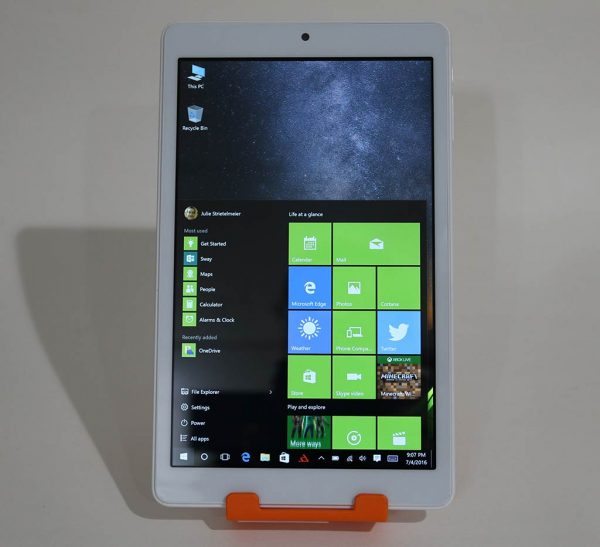 The tablet's small display isn't very finger friendly with Windows 10. I did have some problems activating the very small buttons in the file manager and other areas of the Windows interface. Right clicking on icons and files was hard to do too.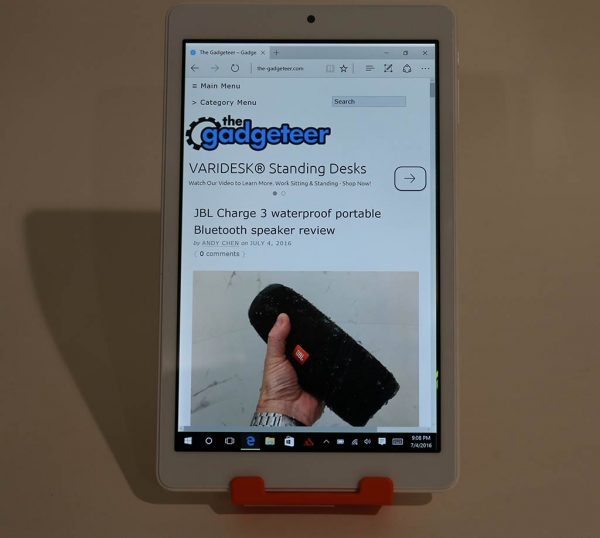 I found that the X80 Pro was easier to use in Windows 10 mode when I connected the included micro to USB female cable and attached a mouse. Then it was a lot easier to left and right click on items. Add a Bluetooth keyboard and you have an ultra-minimalist Windows computer. As long as you realize that you'll have to be patient with the speed of the system it works fine as a light weight laptop alternative.
Camera
I think it's safe to assume that no one would buy this tablet with the intention of using it as a camera. That said, it can take pics and selfies. You just won't be framing any of those pics because they are kind of hazy.
Here are a few samples:
Battery life
A major short coming of the TECLAST X80 Pro is battery life. It doesn't matter if you're using the tablet in Android or Win 10 mode, the battery life is pretty short. You won't get even close to a full day of use out of the tablet before it needs to be recharged. After using the tablet for a week or two, I found that the battery life is around 3-4 hours per charge.
Final thoughts
So battery life is dismal and the TECLAST X80 Pro will not win any speed records loading applications and web pages in either Android or Windows 10 mode. It's also tough to say if you would ever be able to upgrade to a newer version of the Android OS. Updates for Windows 10 does seem to be working just fine, so that's a good thing.
When it's all said and done, it's really tough to complain about a tablet that can dual boot two different operating systems and only costs $79. The X80 Pro is actually a cool little tablet that would make a nice little video player (when loading video off the micro SD card or inserted USB drive) or a gaming device. As long as you understand its limitations, I think the TECLAST X80 Pro dual-boot Android / Windows 10 tablet is worth the price.
Source: The sample for this review was provided by Gearbest. Please visit their site for more info.