We use affiliate links. If you buy something through the links on this page, we may earn a commission at no cost to you. Learn more.

Back in the day if you wanted to share one keyboard and one mouse between two computers, you had to use a clunky switch box that was connected to both devices. Today Bluetooth makes wires and stand alone switch boxes obsolete. But until recently, we've not seen many keyboards that will allow connectivity between computers and mobile devices. The Logitech K780 multi-device keyboard takes this feature a step further by allowing for up to three connections between PCs, Macs, Chrome OS, iOS and Android devices. Let's take a look.

What is it?
The Logitech K780 multi-device keyboard is a full sized keyboard that can connect via Bluetooth or wirelessly using an included USB dongle to up to three devices (Mac, Windows, Chrome OS, iOS and Android).
What's in the box?
Keyboard
2 AAA batteries (pre-installed)
USB receiver
User documentation
Design and features

The K780 is 15.0 in (380 mm) x 6.2 in (158 mm) which means it doesn't fit in the portable keyboard category. This is a desktop keyboard. It's made of black matte plastic with a light grey tray along the back edge (more about that in a bit).
The keyboard has a standard QWERTY layout with nicely spaced round key caps that are very slightly concave. There is a dedicated number row and above that is a row of function keys and media control keys. The three white keys that you see on the top row on the left are used to switch between the three paired devices.
There is also a dedicated number keypad on the right side of the keyboard.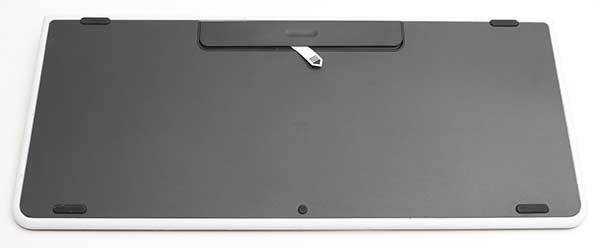 The bottom of the keyboard has rubber feet and a battery compartment at the top.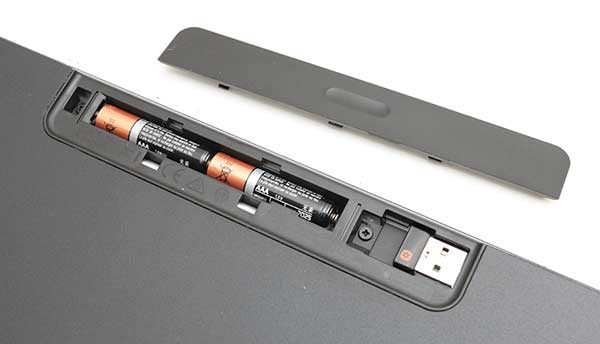 The Logitech K780 keyboard comes with 2 AAA batteries preinstalled. These batteries will power the keyboard for up to 24 months. That's right, you won't have to worry about charging this keyboard for up to 2 years!
Next to the battery compartment is the USB dongle. You can use the dongle to pair the keyboard with a Mac or PC instead of using Bluetooth.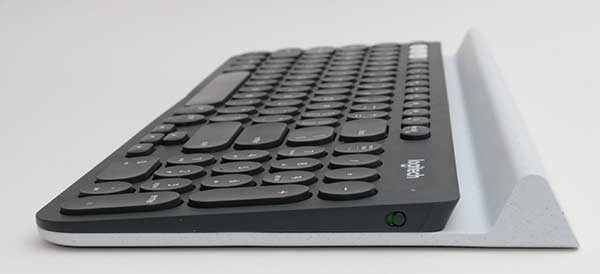 A side view of the K780 shows the built-in device tray for smartphones and tablets. You can also see the power switch which is used to manually turn off the keyboard if it won't be used for an extended period of time.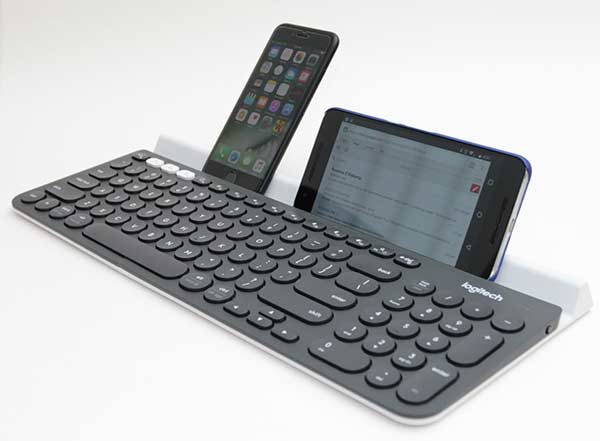 I tested the Logitech K780 with a MacBook Pro, an iPhone 7 and a Nexus 6P. I had no problems pairing with any of these devices. It was just a simple matter of holding down one of the three white buttons on the keyboard to initiate pairing. Then going into the Bluetooth settings on the mobile device to find the Logitech entry. Once I typed in the numeric pairing code, the devices were paired. Switching between them only required a press of the assigned white key on the K780.
Final thoughts
I've had zero issues typing with the Logitech K780 Multi-Device keyboard with my MacBook. The keys are all in the right locations so I didn't have any problems with the layout. The keys themselves are easy to type on. The spacing and travel are very good. Typing does make some noise, but it's not super clacky.
I really like that I can pair the K780 with my phone and just press one button to switch to it so that I can quickly answer a text message by typing it on a physical keyboard instead of the on-screen keyboard on the phone. I'm a much faster touch typist than I am an on-screen typist.
I really don't have any complaints about the Logitech K780 Multi-Device keyboard. It's priced right, works well, has a convenient tray wide enough to hold a few devices and lets me switch quickly between them with the press of a button. If you use multiple devices, you'll enjoy using this keyboard. Now I need a multi-device mouse and I'll be all set!
Update 11/27/16
I liked this keyboard so much that I now have one at work paired to a Dell laptop and at home paired with my MacBook Pro. The Apple wireless keyboard that I've been using at home with my MacBook Pro has been eating batteries like crazy lately, so I switched to the Logitech since I won't have to worry about new batteries for 2 years!
Source: The sample for this review was provided by Logitech. Please visit their site for more info and Amazon to order.