We use affiliate links. If you buy something through the links on this page, we may earn a commission at no cost to you. Learn more.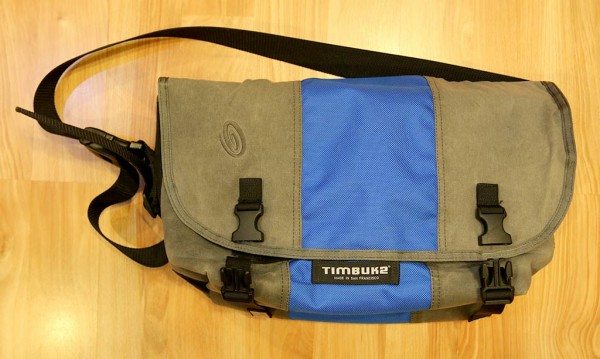 I was brainstorming for article ideas yesterday, when I realized that I haven't posted an EDC update in almost year.  It's time to remedy that situation! This will be part one of my EDC update as I audit what I carry each day and decide if there are items that I can drop and items that need to be added. Let's get started.
Note: Images can be clicked to view a larger size.
First of all, I'm still using the same Timbuk2 Custom Laptop messenger bag to carry all my gear. I've carried this bag for at least three years and it still looks good as new. I've tried other bags but I continue to come back to this one because it doesn't flop over when placed on a desk and can be stuff with everything I need for the day including my lunch, mail, etc. That said, I wouldn't be opposed to getting a new bag if I can find one I like better.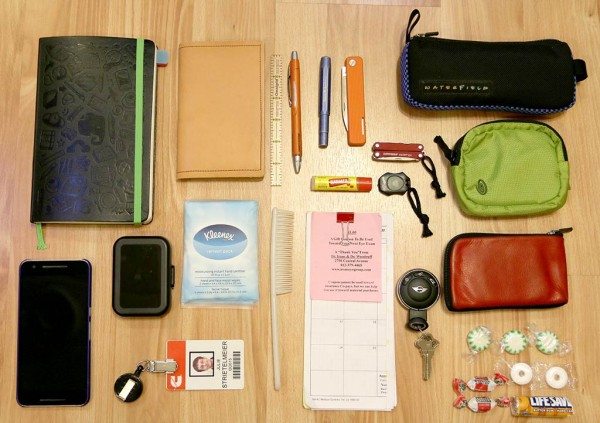 I continue to downsize my EDC (everyday carry) to just the items that I use on a regular basis instead of a bunch of junk that adds weight, bulk and I rarely if ever use.
Moleskine Evernote Smart Notebook – I use this large sized grid notebook as my journal. I started using this notebook in 2013 as my on again / off again journal and have yet to finish it. I don't have many pages left because I made journal writing an everyday habit last summer. I mainly use a very simplified bullet journal system to help me get things done.
Homemade leather notebook – I carry a second notebook with a leather cover that I made myself. Inside are 3 Field Notes notebooks that used to keep Gadgeteer financial info. I don't really use this notebook anymore though and plan to consolidate to just one notebook as soon as I finish the Moleskine.
Clear plastic ruler – I rarely use this so it's probably going to go bye-bye soon.
Uniball Jetstream pen – This is currently my second favorite pen.
Kaweco AL Sport pen – This is my favorite pen. It has a Pilot G2 refill installed, which is my favorite refill.
Papagayo pocket knife – I bought this knife as an impulse purchase but rarely use it.
Leatherman Squirt ES4 – I use the knife in this multi-tool to help me peel the mandarin oranges that I take to work. I also sometimes use the pliers. It's the perfect size. I do wish it had a better Philips and straight screw driver.
Photon X-Light Micro LED flashlight – Excellent little flashlight that is bright and has a nice click on, click off mechanism.
Waterfield Design Finn wallet – I've been carrying a Waterfield Designs wallet for the past 10 years. They are made to last while looking great and I love the zipper that keeps all my stuff from falling out.
DUNU TITAN 1 earbuds – I've been using these earbuds for about a year. I like them but am on the hunt for something better.
Nexus 6P smartphone – I ditched my LG G3 a couple months ago and haven't looked back. The 6P is large but it's fast and I love getting updates as soon as Google releases them.
Carmex Lip balm, Kleenex pack, Comb, candy, MINI Cooper car fob and keys, miscellaneous papers, and Cummins Inc. work badge.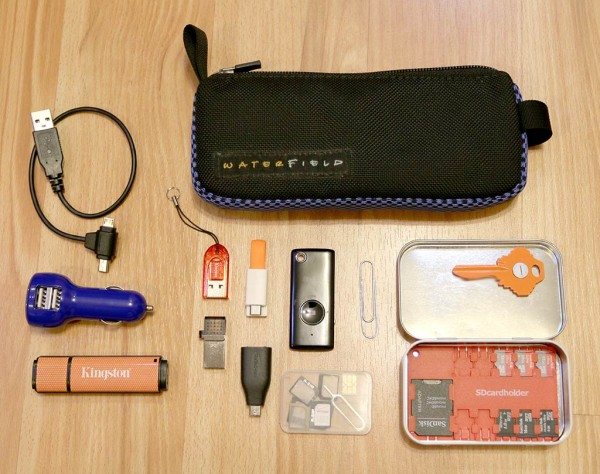 I keep my tech gear in a WaterField small zippered gear pouch that holds the following (including a large Altoids tin):
Short USB cable that has both mini and micro connectors on one end. Since I can't remember the last time I used a mini USB cable, I don't think I really need a dual cable like this one any longer.
Dual USB adapter for the car.
Kingston DataTraveler 32gb USB flash drive – I keep two flash drives in case I loan one out and it doesn't get returned.
Large Altoids tin that holds:
Muku Labs Muku Shuttr remote shutter button for iOS and Android
SDcardholder –  Holds a regular SD card and several microSD cards
Collection of SIM card adapters
Kingston microSD card reader
Plastic SD card holder with SIM adapters and SIM slot removal tool – I really don't need to carry this around with me, so it will probably not survive the update.
OTG adapter – I don't recall using it in the last year and since my Nexus 6P has a USB Type C connector instead of a micro connector, it will probably go bye-bye.
Paperclip
Extra house key with a Magkey magnet attached to it so it sticks to the lid of the tin.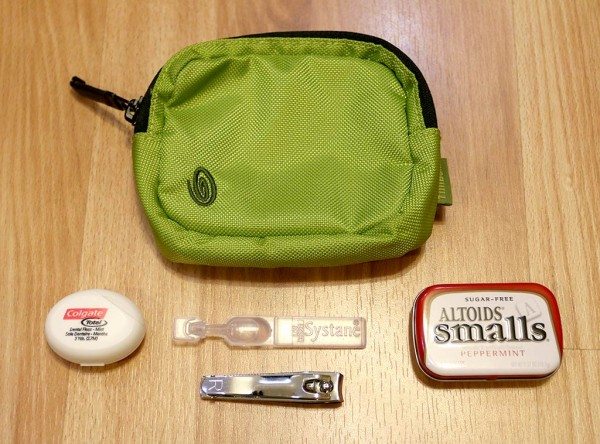 I keep health related items in a zippered Timbuk2 Dimebag pouch.
Dental floss
Eye drops
Nail clippers
Small Altoid tin with ibuprofen.
I am already seeing a few things I can remove from my EDC. As far as things that I would like to add, I would like a better way to hold my tech gear. The large Altoids tin holds the items, but I usually have to remove all of the contents to get to what I want and then have to put everything back in so that the lid still closes. So I'll be looking for a better solution. If anyone has a suggestion, please leave it in the comments below.
I'll be giving some thought to how I want to update my EDC and will follow up with another article as soon as I make some changes.