The Gadgeteer is supported by readers like you! If you buy something through links on our site, we may earn an affiliate commission at no cost to you. Thank you! Learn more.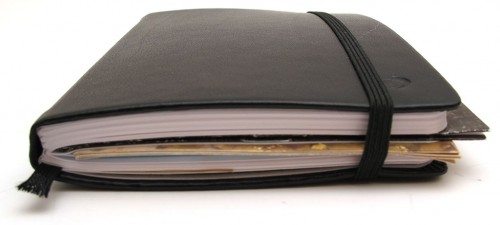 Although I enjoy using electronic gadgets and gizmos, I still love simpler products like journals, pens and pencils just as much. Earlier this week I finished up my latest journal – the 80 page Quo Vadis Habana 4 x 6 inch plain page notebook shown above. I really liked the soft cover and bright white 85-gram paper. Although I have all sorts of new notebooks laying around ready to be used, I have decided to try something a little different with my next one. I'm going to combine the simpleness of a Moleskine with the digital features of Evernote by using one of their specially designed Evernote Smart Notebooks from Moleskine.
Note: Images can be clicked to view a larger size.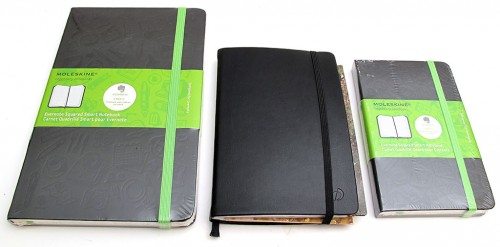 This time instead of going with a pocket sized notebook like I normally would use, I'm upsizing to the larger 5 x 8.25 inch size.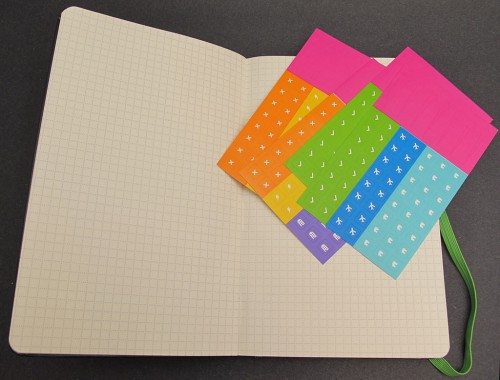 Inside the notebook looks and feels no different than a regular Moleskine notebook. There are 240 acid free cream colored pages with the expected accordion style pocket in the back cover. Inside that pocket you'll find several sheets of small colored stickers. The stickers are called Smart Stickers and are used to tag the lists, drawings, etc. with little icons that will help you find your info in Evernote.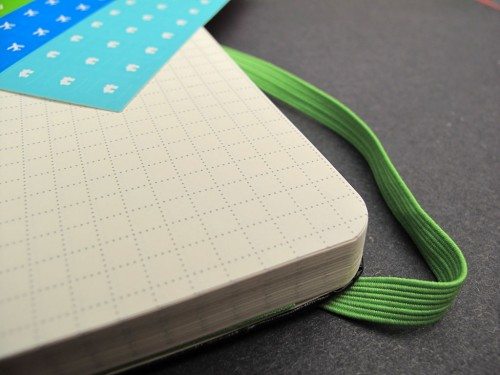 A closer look at the paper reveals that the grid is made up of little dots instead of lines. Evernote Smart Notebooks are also available in lined versions. Of course, the lines are made up of dots as well. These dots are supposed to help Evernote capture your info.
The idea is that you use your notebook/journal as you normally would, but you then use your iOS or Android phone and the Evernote app to snap pictures of the pages. Those pages are then uploaded to your Evernote account where they become searchable – even hand written notes can be searched for keywords. It's a cool way to "back up" your journal while also adding the ability to easily find info when needed.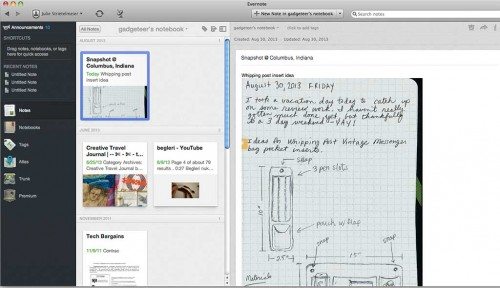 I'm not impressed with the Smart Stickers so far though. I have used the Android Evernote app in page mode to take a picture of a page in the notebook with one of the stickers in left margin. You can see part of it in the image above. I configured the settings so that sticker (yellow lightning bolt) would cause the uploaded page to go into my crafts notebook in my Evernote account. So far I've not gotten it to work because it cuts off half of the sticker when it takes the picture even though I have it completely in the frame… The image just goes into my default notebook.
One thing to be aware of, is that these notebooks are really pricey when you compare them to standard Moleskines. The small size is $24.95 and the large size like I will be using is a whopping $29.95. Each notebook does come with 3 months of Evernote Premium subscription (worth $11.25) which gives you a larger monthly upload allowance, more sharing options, offline use and more.
I'm not completely sold on the idea of this notebook due to the price and the fact that you actually don't need a special notebook to use the Evernote app to upload pages to your account. You can do that with any notebook. We'll see if the Smart Stickers and tagging are worth the price of admission. I've only just started using the notebook today, so I need to use it more before I make up my mind about it. Look for an update in the near future.
In the mean time, is anyone else using an Evernote Smart Notebook? If so, what are your thoughts?
Updates 07/02/15
I continued using the larger 5 x 8.25 inch size Evernote Smart Notebook after I wrote the original article even though I don't like the paper near as much as the paper that is used in  Quo Vadis Habana notebooks. Since I always feel guilty starting a new notebook without finishing the current one, I've stuck with the Evernote Smart Notebook. Maybe that's why I don't write as often as I should and am only 25% through the pages after almost 2 years. The thing is that I never even use the smart feature and don't take pictures of the pages to save them to my Evernote account. I'm in a journalling slump right now and am looking for ways to remedy that situation. I'm really tempted to break my self-imposed rule soon and break open a new notebook to give myself a fresh start. What notebook that will be is yet to be determined. After extended use of the Evernote Smart Notebook, I've not found any real benefit over a non-smart Moleskine notebook of the same size. So my opinion is to save your money and buy something else. If you really want digital backups, you can take a picture with your phone and upload it to Evernote that way.