We use affiliate links. If you buy something through the links on this page, we may earn a commission at no cost to you. Learn more.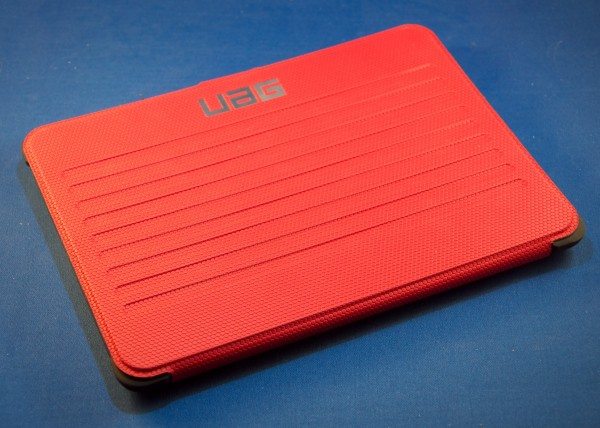 Protecting the slabs of glass we carry around has become a focus of concern for the modern Gadgeteer. We have these devices – tablets, phones, phablets, whatever – and they only want to succumb to gravity and destroy themselves in a crash of broken glass and shattered dreams. So we find cases to protect these devices from the effects of gravity. I've had cases on various devices I've personally carried, and gone for a time without. As much as I love the sleek looks and fine texture of my devices, I can attest to the terror of dropping a phone against something hard and wondering if this is going to cost me an Incident Fee on my AppleCare Plus. The cosmetic issue of a dent or ding isn't that big a deal, except for resale value. Many think it adds a bit of character to a device – showing that it's been "lovingly used." The folks at Urban Armor Gear think differently, and want to help us cover the devices in our digital arsenal. I was sent two products from them to test – one for the iPad and the other for the iPhone. They also make products for Kindle, Galaxy, Notes, and all manner of other smart devices. This review is for the Rogue Folio for iPad.
Note: Photos may be tapped or clicked for a larger image.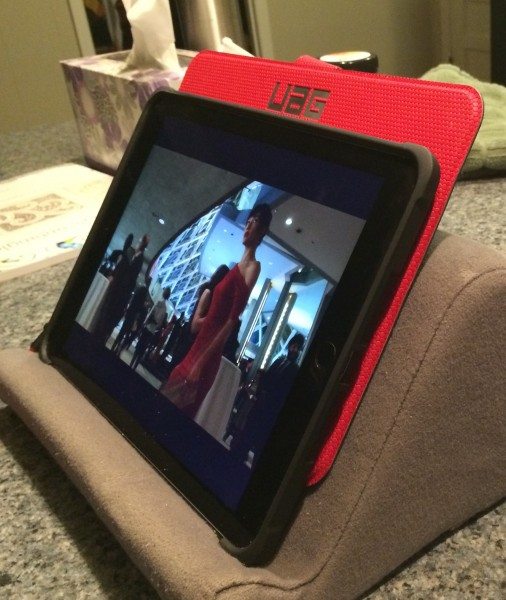 The Rogue Folio for iPad is a two-part case of impact resistant polymer (which holds the iPad firmly on all sides except the screen), bonded to a water resistant material with a pattern excellently named "Frogskin Technology" grip. The unit passes military drop-test standard MIL STD 810G 516.6. This is the Military Standards testing for Environmental impact on gear. At $50, it's well under many similar protective cases, but the protective functionality is far better than many of the "dressy" cases that usually cost in that price range. (*cough* Apple *cough* Smart *cough* Cover *cough*)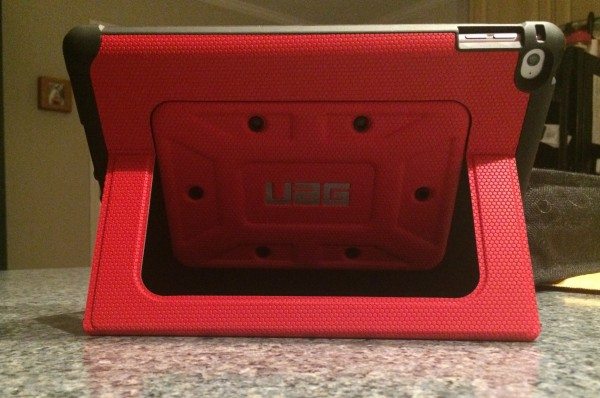 The one I was sent has a black outer ring and back which holds my iPad Air 2 securely, while allowing access to the ports, speakers, and microphone. The camera is circled by a deep slanted opening that is flat black inside, so that the light doesn't reflect or refract. This also allows sound to be focused into the rear mic. The camera is never obscured in any position.
The Frogskin textured covering is available in red or black. I choose red because – hey, why not? Those more business-oriented folks may want a less – um – visible cover for the boardroom or on sales calls. When folded up, this is what shows around most of the outer sides. There is a magnetic flap on the cover which flips around to the back to hold it securely closed, and magnets in the cover which activate the iPad's Lock/Unlock function, if that's turned on in the Settings.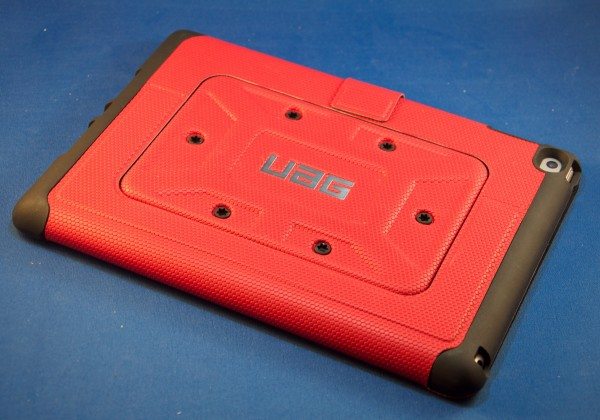 The front cover features a bit of branding (see lede photo), which is the only thing I dislike about the whole case. I may change my name to Ulysses Andrew Guggenheim, in order for the huge "UAG" to be my monogram. Below this are grooves in the lid which not only add a bit of visual interest, but enhance the grippiness of the Frogskin. On the back is another UAG monogram (Ulster Abernathy Green, maybe?), in the center of what looks like an entrance to a safe in a video game. There are 6 Hex-lobed screw heads showing, but I don't think they are functional, other than bonding the honeycombed protector onto the outer case. The outer cover fits nicely into an indented area of the shell, allowing for more protective material on the top and bottom and the corners. There are no snags or uneven places on the unit to make you feel anything other than your iPad is ensconced in safety.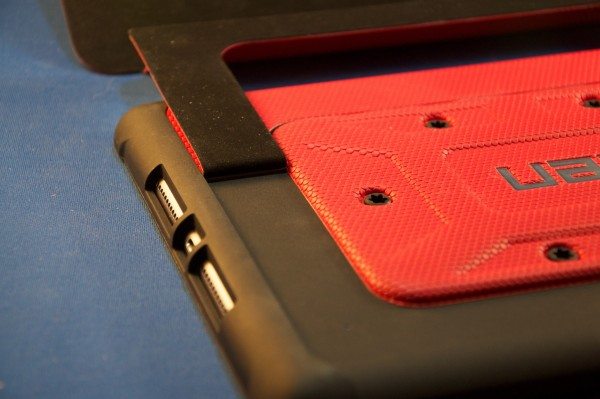 One of the best features to me is that the inside of the cover next to the screen (which is surfaced in a nice fuzzy black microfleece finish) doesn't have to be placed face down on the table when you're using the case as a stand. Many of the others on the market do, and this makes me not want to use them, because I've seen how grimy the middle section of a roll-up type cover can get when it's rolled back and used as a keyboard stand all day. Then it gets unfolded and that gunk goes right on your screen. Yuck. Instead, the Rogue Folio has a hinge on the back, where the outer Frogskin connects, and the inside edge of the case folds out into place on the inner cover. There are two sets of notches there to hold the unit in place at either a 36º angle or a 56º angle.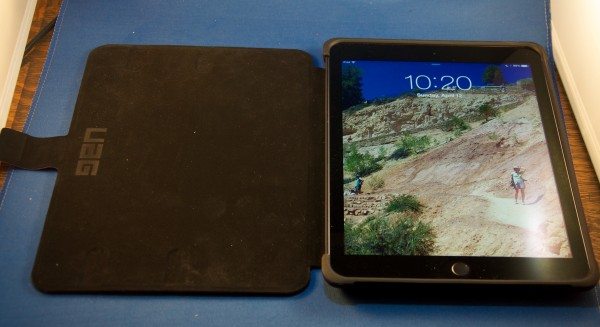 You can lay it flat as well, but there's nothing to keep it boosted up or held there. While it's not magnetically held there, it's fairly stable. I was able to watch two 42 minute episodes of Nikita over Netflix while giving platlets at my local Red Cross. (In case you've not done this, you've got a needle in one arm where they take your blood out, and another needle in the other arm or hand where they pump your blood minus platelets back in. You're not able to do much other than sit there for about two hours! You can't move one arm at all. The other has very limited mobility.) So, with the stand at the lower angle, gingerly balanced on my lap, it stayed in position like a boss.
The Rogue, while only adding 12 oz. weight to the iPad Air 2, brings almost three times the thickness to that skinny little pride of Jony Ive's eye. You'll notice it, and every time you remove the case, you'll again marvel at the thinness of your iPad. But with the case on, you'll feel more secure when slipping it into a bag, or under your arm while you walk over to grab your cappuccino from the barista. And that's worth more than hiding behind the width of a pencil any day.
Source: The sample for this review was provided by Urban Armor Gear. Please visit their site for more info or Amazon to order.
Product Information
Price:
$49.95
Manufacturer:
Urban Armor Gear
Retailer:
Amazon
Requirements:

Case reviewed for iPad Air 2, but available for a variety of current tablets and phones.

Pros:

Protective
Drop tested
Inside cover doesn't touch table in viewing mode

Cons:

Thick
Kinda military looking (could also be a pro, amiright?)
Huge chrome logo on front and back. (A pro if your initials are UAG.)