We use affiliate links. If you buy something through the links on this page, we may earn a commission at no cost to you. Learn more.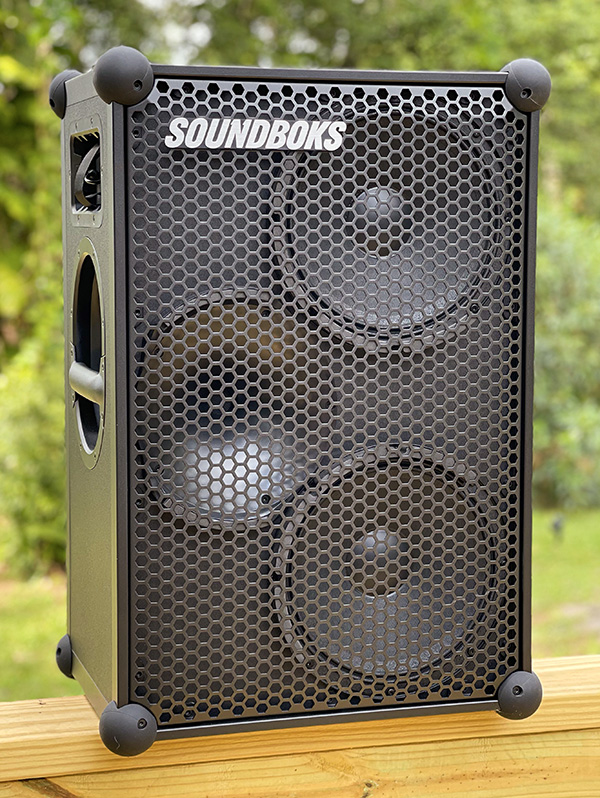 REVIEW – Let's talk physics—or more specifically the physics of sound. Everyone knows from their early science classes that sound waves are measured in decibels (dB). The higher the decibels, the louder the volume. For instance, normal conversation is measured at 60 dB. A lawnmower is about 90 dB, and a rock concert is about 120 dB—both loud enough to damage hearing (85 dB is the damage threshold). What's not commonly known is that for every 10-decibel increase, sound becomes 10 times louder. So a chainsaw at 100 dB is 10 times louder than a lawnmower. That's a huge increase. 
Which brings us to this—the New Soundboks Bluetooth speaker. The Soundboks is a monster speaker that can reach an ear-shattering 126 dB—more than 30 times louder than a lawnmower. It's even louder than a typical rock concert—and way more than loud enough to get any outdoor party going. 

What is it?
The New Soundboks Bluetooth speaker is an upgrade to the older Soundboks 2 speaker. For some reason, Soundboks doesn't call it the "3". It's an extremely large speaker made for playing loud music outdoors. It uses Bluetooth 5, AUX, or Pro panel (for a guitar amp or microphone use). It has a port on the bottom for mounting on an outdoor speaker stand. Although technically portable, it weighs a hefty 34 lbs., but it has a carrying handle for wanna-be weight lifters.
Specs
Amplifier: 72 watts X 3 Class D
Bass DSP
Speakers: 1 in. tweeter; 10 in. woofer X 2
Pulse Reflex Port
Frequency range: 40Hz – 20 kHz
Bluetooth 5.0
AUX in port
SKAA network
Weight: 34 lbs.
Dimensions: 25.6 H × 17 W × 13 D inches
IP65 rated electronics coating
Battery: 12.8V, 7.8Ah lithium iron phosphate
40 hr. battery life at mid-volume
Battery management system

Design and features
The New Soundboks is a beast—in size, power, and cost. It comes with three Class D amplifiers that deliver 72 watts to 3 speakers—two 10 in. woofers and one 1 in. tweeter. A 10 in. woofer is large for any speaker but humongous for a Bluetooth speaker—and there are two of them! There are also two see-thru bass reflex ports for extra thump. A frequency range of 40Hz-20kHz will play just about any sound the human ear is capable of hearing. But hey, play it loud enough and you won't have to worry about what frequency you can or can't hear.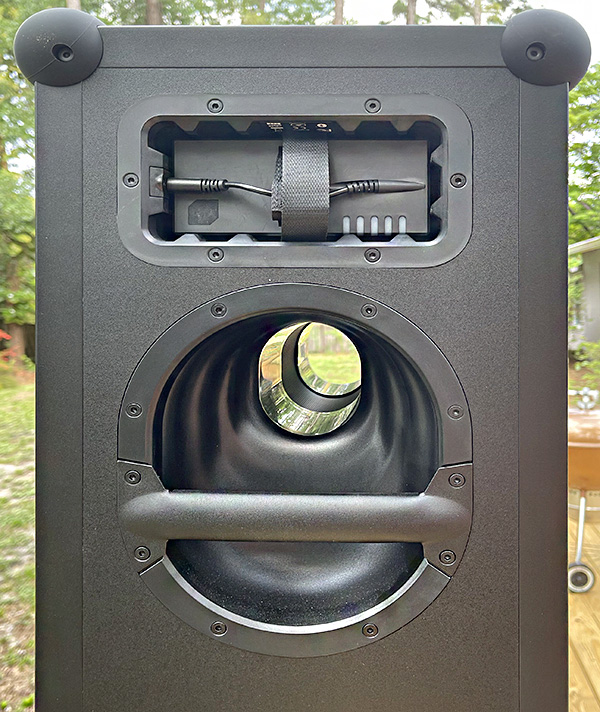 At a cool $1,000, this is a serious purchase for someone who wants to maximize volume over a large area. Did I say this speaker is loud?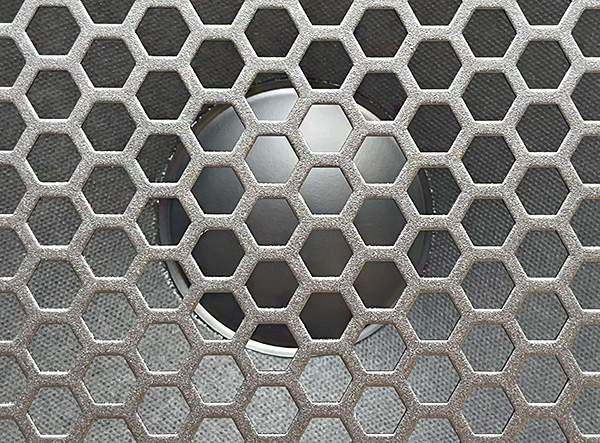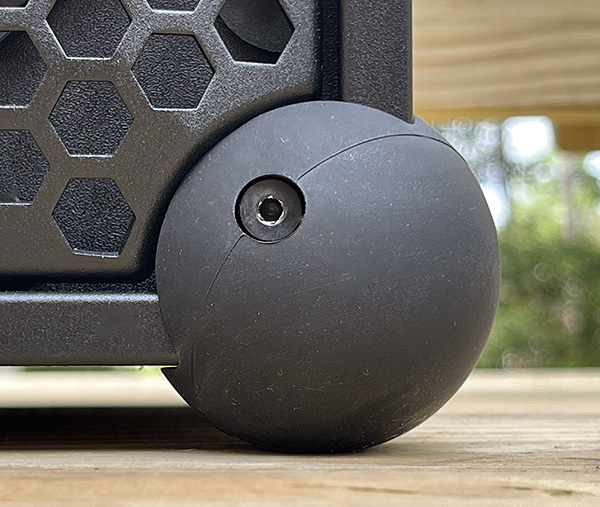 The 26 in. Soundboks speaker is built to take a beating. The cabinet is poplar wood framed in powder-coated aluminum with a steel grill and steel handles (also powder-coated). The corners are protected by silicone balls that allow the speaker to be banged about without denting the corners. Plus, the silicone balls prevent it from touching the ground. This helps to keep it from "walking" as the bass thumps along and also keeps audio from transferring through the floor if indoors in a multi-floor building.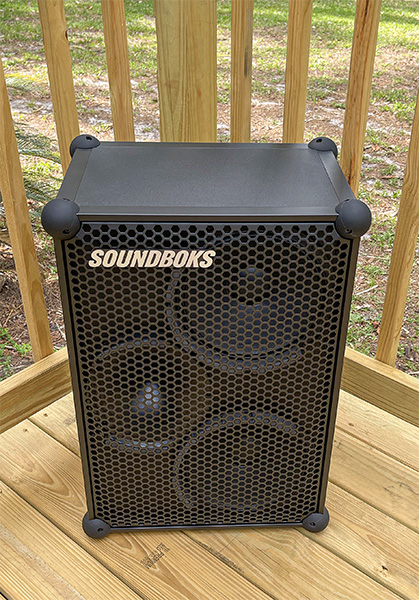 Because of its IP65 electronics coating and water resistance rating, the speaker can be rained or splashed on. Just don't dunk it—it's not an underwater party machine.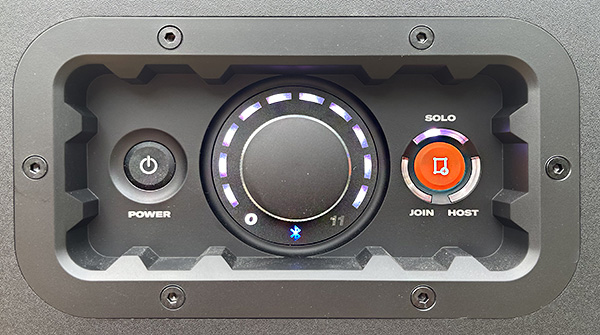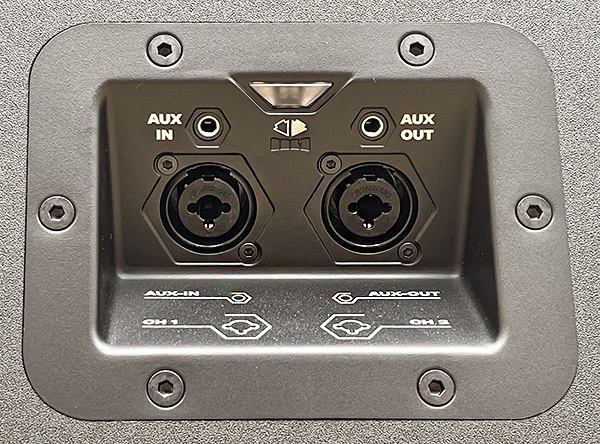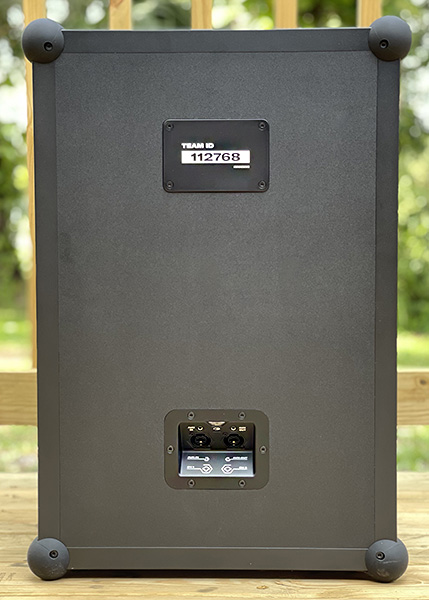 A cool thing about the Soundboks is versatility. Not only is it a speaker, but it also doubles as a PA system or guitar amp. It has two 1/4″ XLR mic/guitar inputs, a mini plug input, and output. And if that's not cool enough it has a built-in SKAA wireless audio standard. By pressing an orange button next to the volume knob, you can wirelessly connect up to 4 additional SoundBoks speakers, making a true wall of sound with 5 speakers (is that 126 dB X 5?). But trust me, you don't need more than one Soundboks speaker to wreak audio havoc.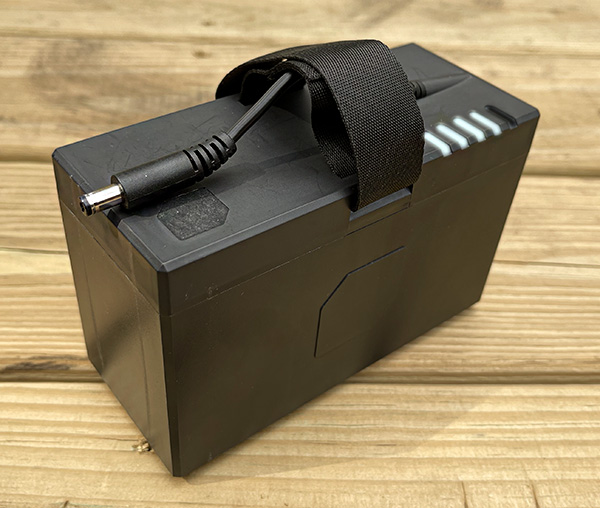 A big speaker needs a big battery and Sounboks provides just that—a heavy, removable battery with 40-hour life between charges at mid-volume. Note that battery life drops significantly as volume is turned up—dropping to 5 hours at max volume—if your ears don't melt by then. It recharges in a short 3.5 hours—above average for a portable battery. Five LED lights indicate how much life is left in the battery. One thing to keep in mind is that the speaker will NOT shut down from non-use—the battery will run down over time. I stupidly forgot this and had a depleted battery when trying to show the speaker off to a friend.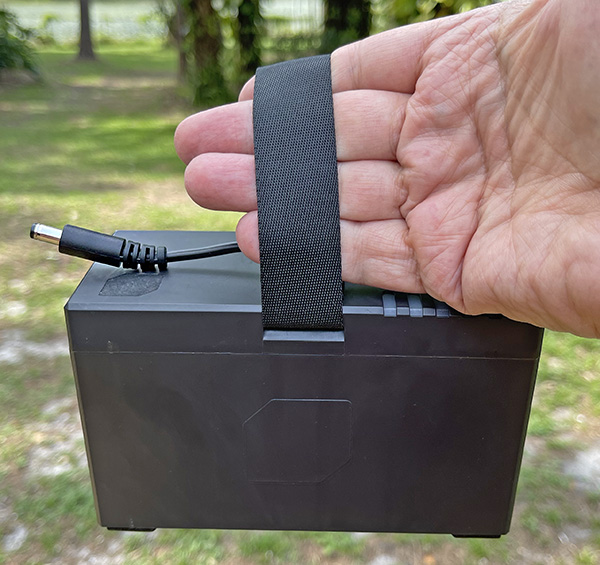 As I said, the battery is replaceable, so by swapping batteries, you can have as much time as you want for music. Since a battery can recharge faster than discharge, you technically should never need more than two—provided you have access to a charging source.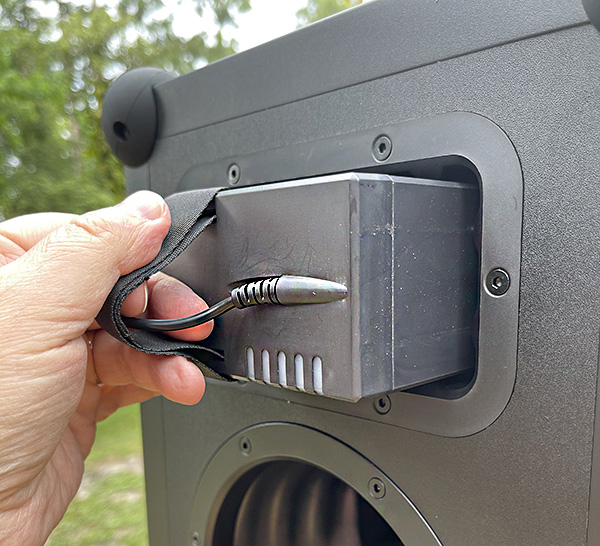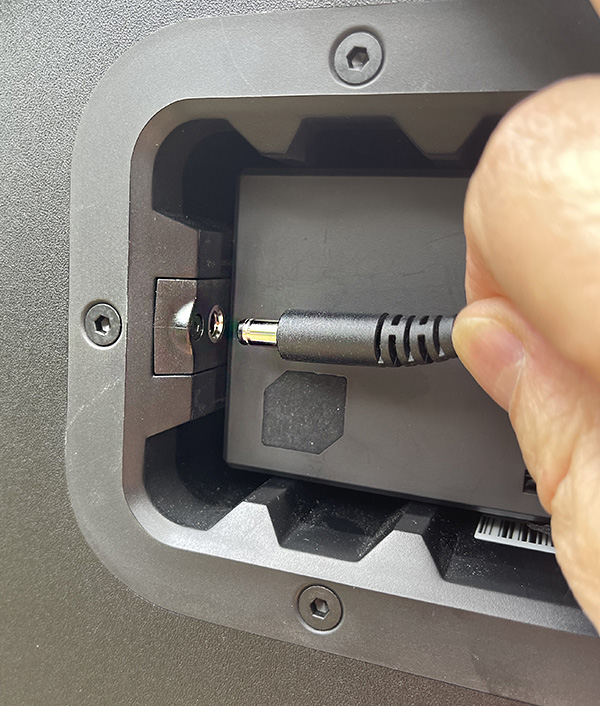 Connecting the battery is easy if a bit awkward. While it easily fits into the slot built into the side of the cabinet, the wired connector is a tight fit and difficult to plug and unplug. It would be more user-friendly if the battery had built-in connectors so a connection could be made by just inserting it into the slot sans wires. Soundboks could take a lesson from battery-powered yard tools and their wire-free connectors.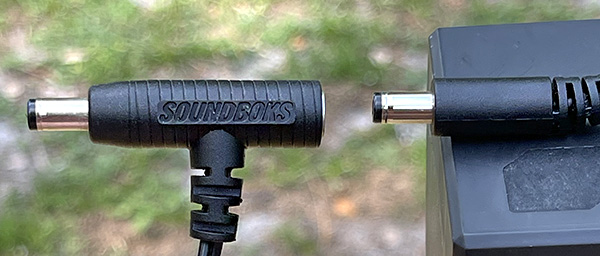 Note that the New Soundboks speaker can be plugged into a standard outlet using the same connector port, so you don't need a battery.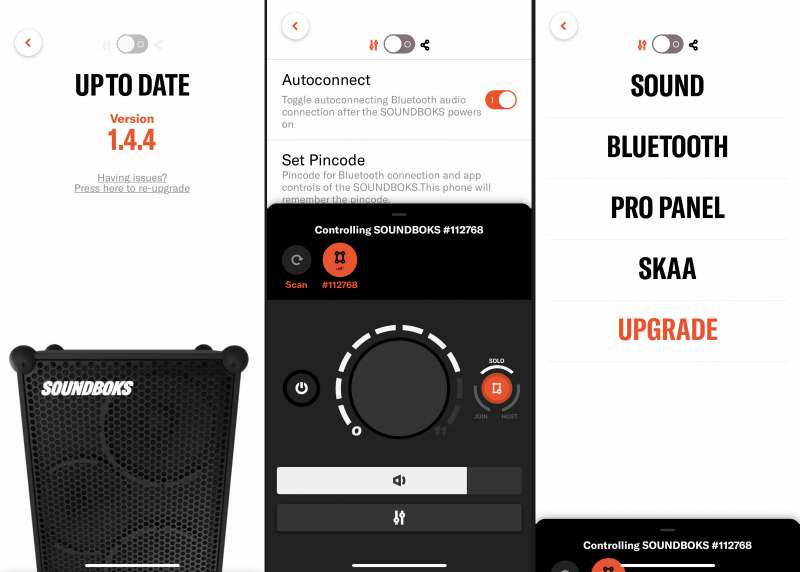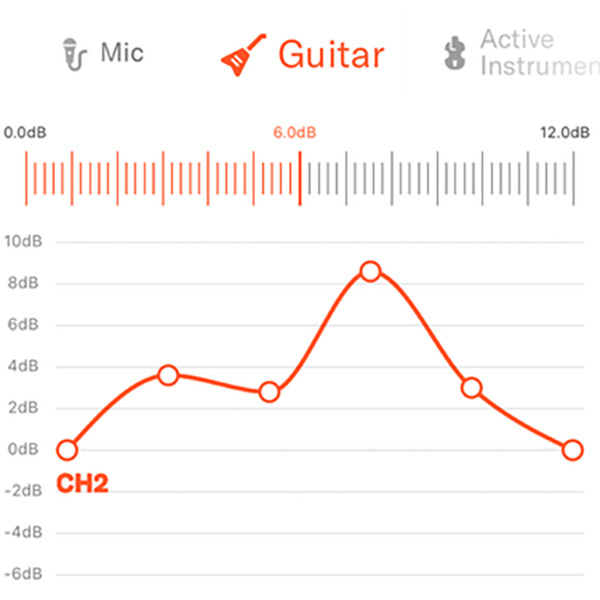 Soundboks provides an app with EQ settings (factory and custom), Pro Panel settings for PA use, SKAA for joining speakers, and firmware upgrades (if needed). I don't understand how the Pro Panel works, but if you do live production, it should be familiar. While many apps made for Bluetooth speakers are not great, the Soundboks app has worked flawlessly so far. 
Within the Soundboks app, there are four audio settings: Bass+, Power, Indoor, and EQ. Let's look at each one: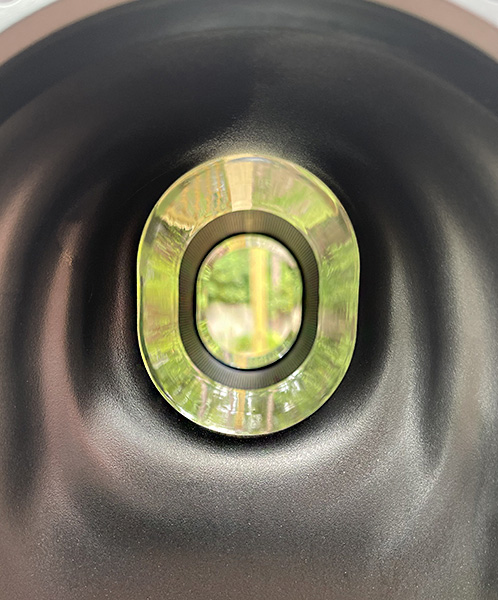 Bass+: One of the downsides of bass is that lower frequencies like to bounce off walls, ceilings, and floors to achieve that bass sound. That's why bass weakens significantly outdoors. Soundboks remedies some of this by using Bass+ bass digital signal processing (DSP) that can accentuate bass without distorting at high volumes. It works quite well—so well, that if the speaker is used indoors with  Bass+ on, it's unbearable. Bass+ is a great way to boost bass—just use it outdoors.
Power: This setting draws less power from the battery but can still play loud. There's noticeably less bass using the power setting, but audio sounds clearer and more lively than Bass+. It's a preference thing.
Indoor: It is what it says. If using the New Soundboks indoors, this is the setting to use if you don't want to mess with EQ. Keep in mind that the New Soundboks speaker is not really made for indoor use (even though it sounds great indoors). There are speakers far better suited for indoor listening in the Soundboks price range. This speaker is for moving the party outdoors.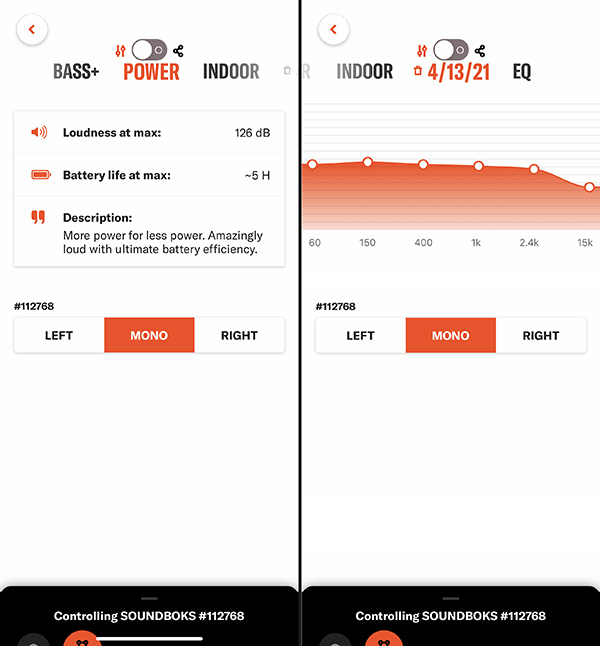 EQ: If the other three settings don't work for you, then EQ allows you to customize the sound your way with a 6-band equalizer. Want more bass? slide the 60 and 150-hertz slider up. Want to lower the treble? slide the 15k slider down. Sharper vocals? Slide the 1k slider up. You can play with it until you achieve the perfect sound—and then save your setting. Keep in mind that what sounds great indoors may not sound so good outdoors—and vice versa. The app lets you save multiple EQ settings for different environments.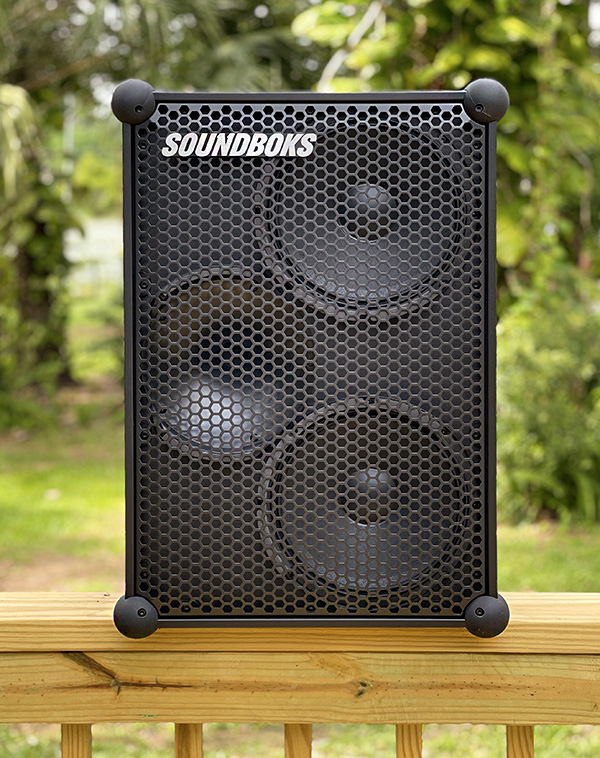 The New Soundboks has Bluetooth 5 giving it a much longer range than Bluetooth 4. I was able to be much more than 100 ft. from the speaker in my backyard and maintain the signal with no dropouts at a loud volume level. 
Note that when using the Soundboks speaker, any connected Bluetooth device must be disconnected before another device can be connected. It's not switched automatically as with some other Bluetooth speakers. I discovered this quirk when I tried to pair the speaker to my MacBook Pro. The signal would quit seconds after pairing, no matter what remedy I tried. I contacted Soundboks and they suggested that I delete (forget device) the Bluetooth connection from my iPhone. That finally did the trick.
Another quirk is that when paired with the MacBook Pro, I can still use the Soundboks app on my iPhone to tweak the sound even though it's playing from the Mac. So, the iOS/Android Soundboks app will still work even if Bluetooth is disconnected.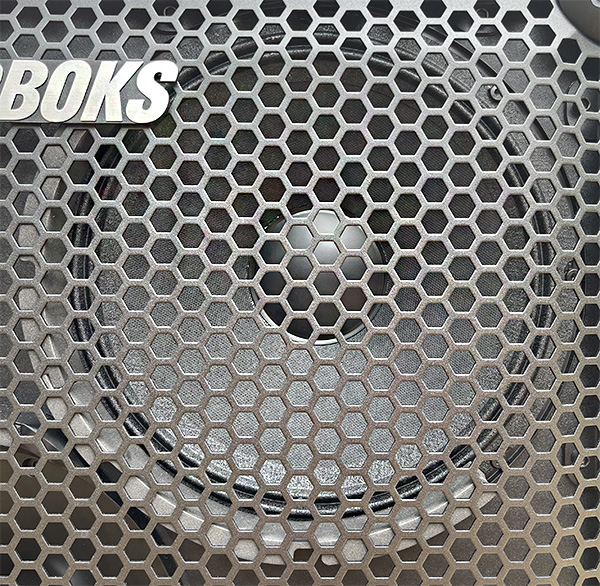 As I said, outdoors is where the New Soundboks shines as a Bluetooth speaker. Music sounds much fuller than you would expect in open spaces. Because the volume knob can be turned to "11" (a funny "Spinal Tap" movie reference), the Soundboks speaker can entertain a large group of people making it hard not to dance. It remains distortion-free, even at high volume. Yes, volume and bass drop off as you move (far) away from the speaker, but audio quality still holds up. This speaker refuses to disappear into the background. It wants—it needs—to be heard.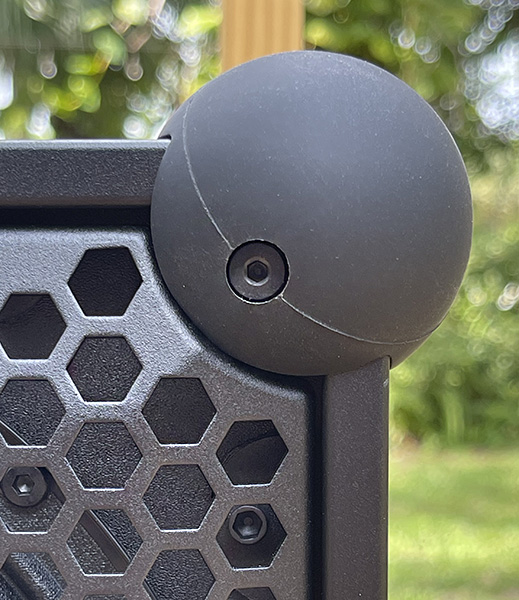 Though it's made for the outdoors, the New Soundboks speaker sounds good to great indoors. Just don't crank up to 11 like you can outdoors—unless you want to fry your eardrums. 

What I like
Build quality
Outdoor audio quality
Extreme high volume outdoors with no distortion
Silicone corner protectors
Water resistance
What I'd change
Expensive
Overkill for indoors

Final Thoughts
I thought the JBL Boombox and Aiwa Exos 9 were loud speakers until I heard this monster. Wanna tick off the neighbors? Buy the New Soundboks speaker and you can deliver 126 decibels of "Turn that down or I'm calling the cops." Nuff said.
Price: $999 US
Where to buy: Amazon
Source: The sample of this product was provided by Soundboks.