We use affiliate links. If you buy something through the links on this page, we may earn a commission at no cost to you. Learn more.

REVIEW – Around here we're big fans of HyperX products.  Earlier this year I reviewed their Pulsefire Haste gaming mouse, and I still use it every day for gaming.  I also reviewed the Cloud Revolver gaming headset, which I gave to my wife, and she uses it every day to teach English online.  Today I'm taking a look at a HyperX keyboard, the Alloy Origins Core, to see if it will find a place in our family alongside these others.
What is it?
The Alloy Origins Core (AOC) is a mechanical gaming keyboard in the tenkeyless design.  It features a rigid body, customizable RGB lighting, and adjustable legs.  The newest iteration, which I am testing, has HyperX's proprietary Blue switches.  The AOC is made by HyperX, which was recently acquired by PC-maker HP.
What's in the box?
Keyboard
USB cable
Quick start guide
Support card
Hardware specs
Mechanical keyboard
Tenkeyless form factor
Detachable, braided USB-C to USB-A cable (70 inches)
HyperX Blue switches (80 million keystroke rating)
RGB backlighting (for each key)
3 onboard memory profiles
100% anti-ghosting and N-key rollover
Windows compatible software
Weight: 2 pounds
Dimensions: 14×5 inches
Design and features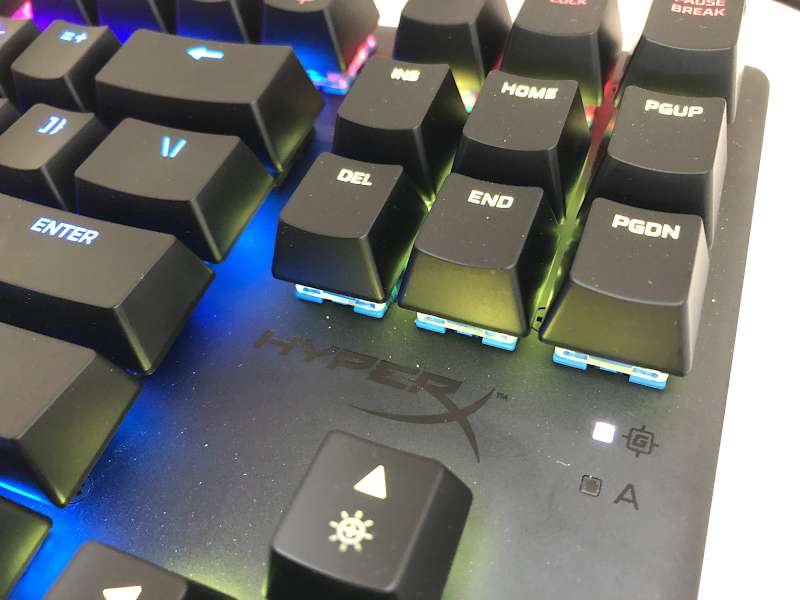 The AOC has a compact design due to the tenkeyless form factor.  The keys and the body have a reserved matte black finish that all-too-clearly reveals the dust that tends to gather on the keyboard, which can be seen clearly in many of the photos in this review.  This problem is rarely noticed, however, as it's overshadowed by the amazing RGB lighting, a virtual buffet of color, that shines through and under every key.  The body is made from aluminum that gives it a hefty, sturdy feel; there's no bend in this keyboard, no matter how hard the keys are pounded.  The overall design is one of condensed, attractive durability.
Installation and setup
I removed the keyboard from the box, plugged the USB-C side of the cable into the back of the keyboard and the USB-A side into my computer, and it was ready to go.  This keyboard couldn't be simpler to setup.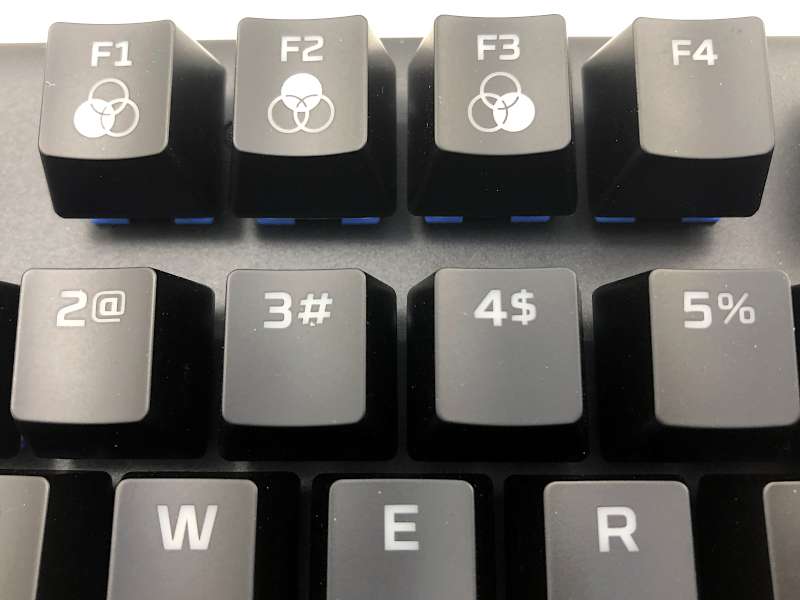 I read through the quick start guide, which explains how to connect the keyboard to my computer and the functions of the special keys.  Two of these functions immediately caught my attention.  One, pressing the FN and Game Mode keys will disable the Windows key; that's a required feature that I immediately enabled.  Two, pressing FN and the up/down arrows increases or decreases the brightness of the keys.  Each key has five levels of brightness, and I set them to the max level.
Performance
My first reaction upon picking up the keyboard was, "Whoa!  This baby is heavy!"  Unlike a cheaper keyboard, the body of the AOC is made from aluminum.  It's solid and rigid, with no sign of bending, even when I grab the ends and twist.  It feels like a quality gadget that will last a long time.
As I've tested this keyboard, I think it has three major features that you'll want to consider before you purchase it:  the form factor, the switches, and the lighting.
First, the AOC has a tenkeyless form factor, which means the numeric keypad has been chopped off the right side.  It's smaller than a full-sized keyboard, but larger than an ultra-compact keyboard.  This is useful for gamers who have limited space on their desk, want to keep their mouse closer to their keyboard, yet still want full-sized arrow keys.  Gamers don't need to enter a lot of numbers–we're not accountants–so the loss of the keypad is rarely problematic.  At 14 inches, it has about 80% of the width of a normal keyboard.  While an ultra-compact is even narrower, I have yet to be happy with a keyboard design that attempts to smush the arrow keys into the space below the right shift key; that inexorably results in an awkward arrangement.  I find the tenkeyless form factor to be a good compromise for saving space on the desk.

Second, the AOC that I've been testing has blue switches.  Gaming keyboards have mechanical switches, because they give such good feedback.  Companies that manufacture the switches often designate the various types of switches with colors, so you've probably heard of red and blue switches; perhaps you've seen a host of other as well, like black, brown, silver, orange, green, and yellow.  Despite this confusing rainbow of colors, all mechanical switches come back to one of these three types:
Linear switch – This type of switch requires you to push the key all the way down in order for it to register. It has a low but consistent amount of resistance and is very smooth.  Linear switches are the fastest switches, so they are best for games where you need to spam the keys, like first-person shooter (FPS) and massively multiplayer online (MMO) games.
Tactile switch – This type of switch has a slightly increased amount of resistance until you press far enough to cross a bump in the middle of travel, which is usually near the point where the keypress registers; this means that you don't have to finish pressing all the way down. Because of this bump, tactile switches give the best feedback, so they are best for games where every click is important, like multiplayer online battle arena (MOBA) or real-time strategy (RTS) games.  It's also the best switch for typing.
Clicky switch – This type is the same as a tactile switch, but it adds an audible click. The bump in the middle of travel is accompanied by a "snap" sound that provides auditory feedback to go along with the physical feedback.  Some gamers love this clicky sound, while others hate it.
If you're a very, very good gamer, one who is in the top 5% of your esport, then you'll want to get a keyboard that matches the type of game that you're playing.  For the vast majority of gamers, myself included, it doesn't really matter too much; we're not fast enough or good enough to take advantage of these differences.  Since we can play well with any type of switch, it mostly comes down to personal preference.  I, for example, prefer tactile switches.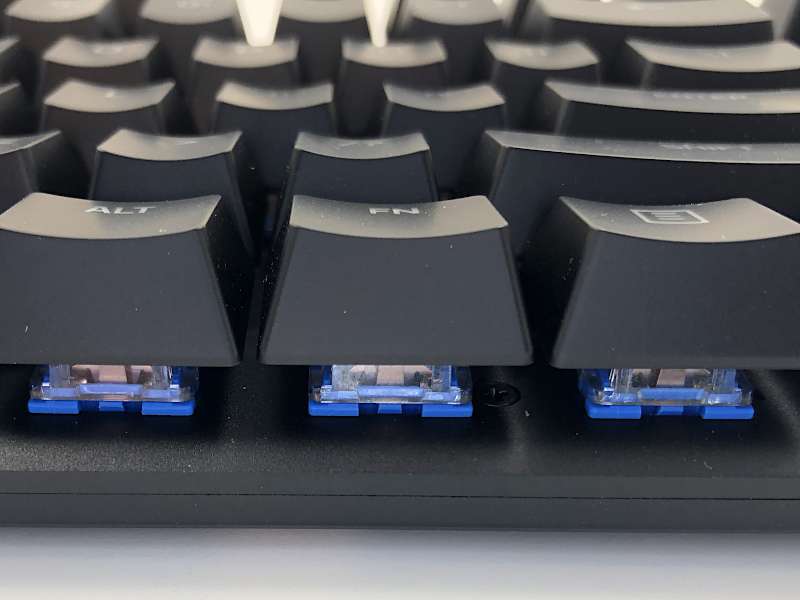 No matter which type of switch you prefer, HyperX has you covered.  The Alloy Origins Core has had options for linear (HyperX Red) or tactile (HyperX Aqua) switches for a while, and now they have a clicky (HyperX Blue) switch as well.  I've been testing this keyboard with the clicky switches for a few weeks, playing games like Dota 2 and Noita, and I really like them.  The bump, which occurs about halfway down, is noticeable but not difficult to press through.  While there certainly is a click, it's not loud and obnoxious like some keyboards.  I think HyperX has hit a home run here.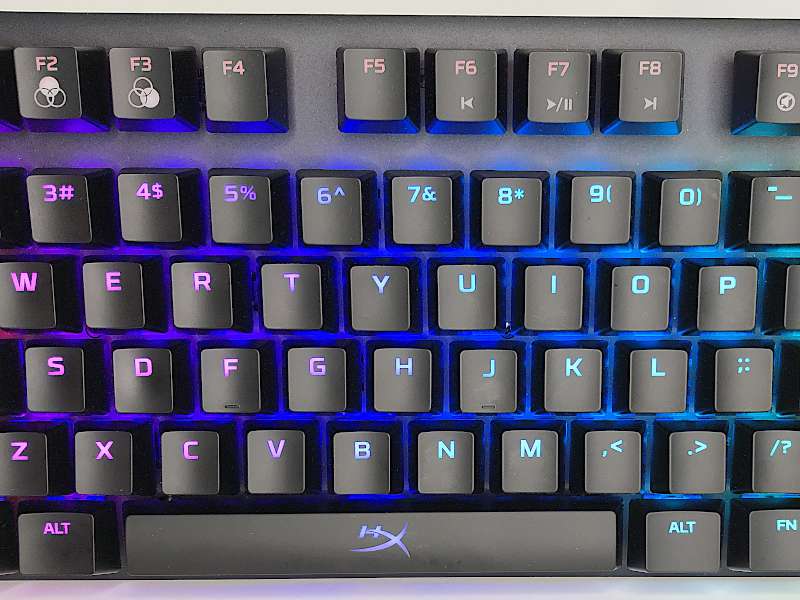 Third, the AOC has some beautiful colors.  Every key is individually lit and supports over 16 million colors.  The light shines through the characters on the keys as well as from underneath each key, promulgating color everywhere.
The AOC has a variety of other features as well.  The braided USB is detachable, which is nice.  If it is ever damaged, I can easily replace it with another cable.  The AOC does not, however, have pass-through ports for a mouse or for headphones, which is unfortunate, nor does it have any sort of wrist rest.  Presumably, HyperX chose to focus on keeping the size smaller.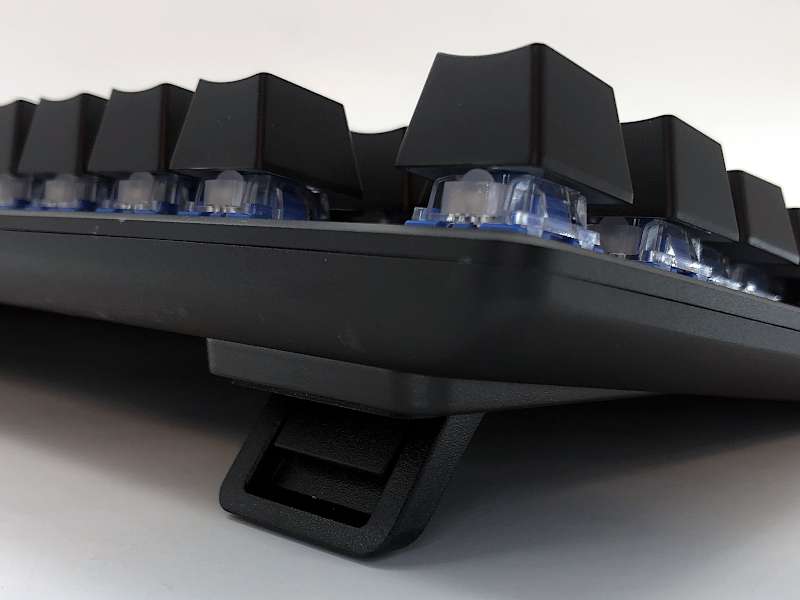 The adjustable legs on the bottom allow the keyboard to have three angles at 3, 7, or 11 degrees.  These legs seem very sturdy to me, and they are tipped with a small strip of rubber to keep them from moving.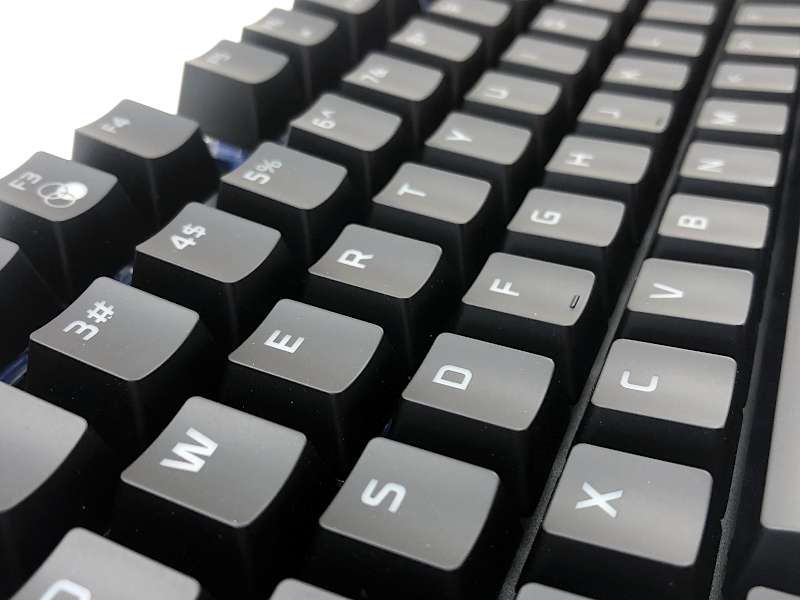 The AOC features N-key rollover and 100% anti-ghosting.  N-key rollover refers to how many keys can be pressed at once.  In an FPS game, for example, it's not uncommon for to be performing multiple actions simultaneously, such moving while crouching while reloading.  Cheaper keyboards can only register a certain number of keys, like 2 or 6, but an N-key keyboard will register every key, even if they are all pressed simultaneously.  Ghosting is a problem often found on cheaper membrane keyboards, where the user presses a key that doesn't register. Typically, this is a problem due to low-budget wiring.  The solution, 100% anti-ghosting, is to ensure that every key has the circuitry necessary to register it.  N-key rollover requires anti-ghosting, so these features are related though different.
Extra Features
The AOC can be customized using HyperX's proprietary Ngenuity software.  It's useful, though strictly speaking it's not required.  This software is for Windows only, so Mac gamers are left hanging.  The software can only be downloaded from the Microsoft Store, so you'll need to create an account if you don't already have one.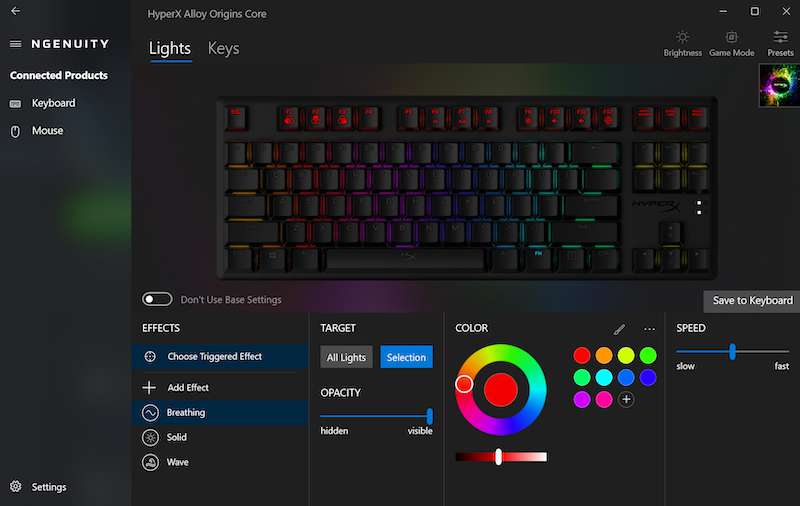 Ngenuity allows me to customize the lighting and the keys.  The first customization is the light.  Ngenuity supports seven different lighting effects:  breathing, confetti, swipe, solid, twilight, wave, and sun.  What's really cool is that each effect can be assigned to one or more groups of keys and customized with specific colors and speeds.  You can really go wild, setting up effects for everything.  I set my function keys to breathing, so they fade in and out from red to black.  I set the arrow and home keys to a solid yellow.  The remainder of the keys I set to wave using a rainbow of colors flowing from left to right.
The second customization is for the keys.  I can remap any of the keys to something else, but as I have no need or desire to do this, I didn't experiment with this feature.  Ngenuity can also be used to set the brightness and activate the game mode.
What's really cool is that the AOC has a bit of onboard memory, allowing three different profiles to be stored.  I can save different color patterns for different games, and I can rotate among them without having to fire up Ngenuity.
I must say that the bling factor on the AOC is off the charts; it's the best I've seen in a keyboard.  While it doesn't actually make me a better gamer, I really like it nonetheless.
What I like
Sturdy body
Compact design
Great switches
Amazing lighting
What I'd change
Final thoughts
The Alloy Origins Core is a mechanical gaming keyboard from HyperX that's in the tenkeyless form factor.  Its aluminum frame is hefty and well-made.  The RBG lighting that pours out of the keys is super cool.  Its compact, no-frills design is perfect for gamers without a lot of space on their desk.  I tested this keyboard with HyperX's proprietary Blue clicky switches.  I'm a fan of tactile switches, so I found that these Blue ones worked well for me.  Though there is a discernible click, it's not excessively loud like some switches.  I really enjoyed playing video games with this keyboard, and it will certainly have a place in our family.  (Unfortunately, I don't think that place will be on my desk, as my son has already asked if he can have it.)  If you're a PC gamer looking for a compact keyboard, then you should definitely be looking at the Alloy Origins Core.
Price: $89.90
Where to buy:  HyperX Online Store
Note:  The AOC can be purchased with three different types of switches, so make sure you select the one you want.
Source: The sample for this review was provided by HyperX.