We use affiliate links. If you buy something through the links on this page, we may earn a commission at no cost to you. Learn more.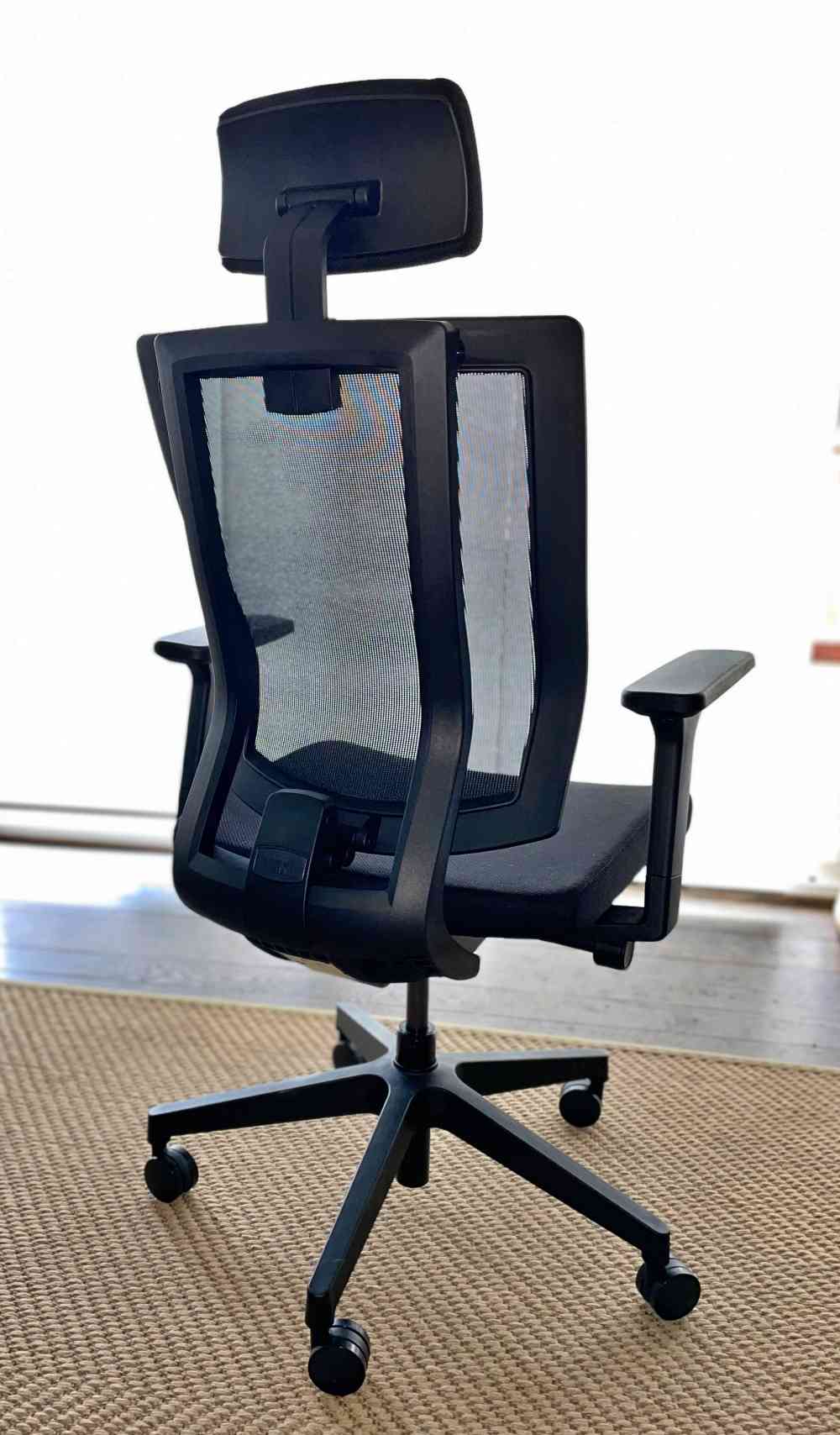 REVIEW – You may have the coolest, most ergonomic or expensive desk in the world, but it won't matter if you don't like the chair you're sitting in. Even quick math on the amount of time spent in a desk chair will make you realize that it's worth the dollars to get one that is supportive and lets you sit comfortably as long as you need to. Today we're going to take a look at Vari's feature-rich Task Chair.
What is it?
Vari's Task Chair is ergonomically designed to support and aid your posture while providing plenty of adjustments to dial in the fit and adapt to your use during the day. It's available with or without a headrest.
What's in the box?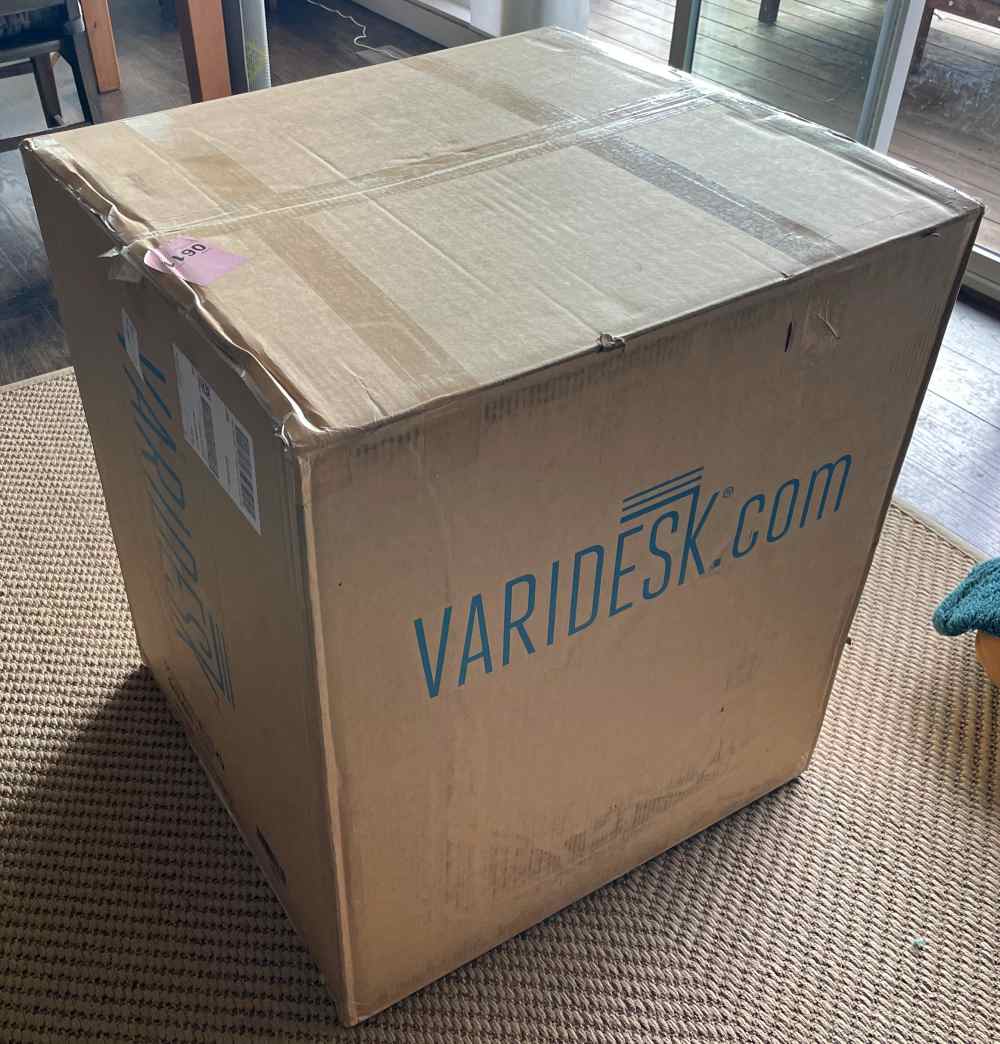 Task Chair
Wheeled base
Hydraulic lift post (in white box)
Headrest (in brown box)
Instruction manual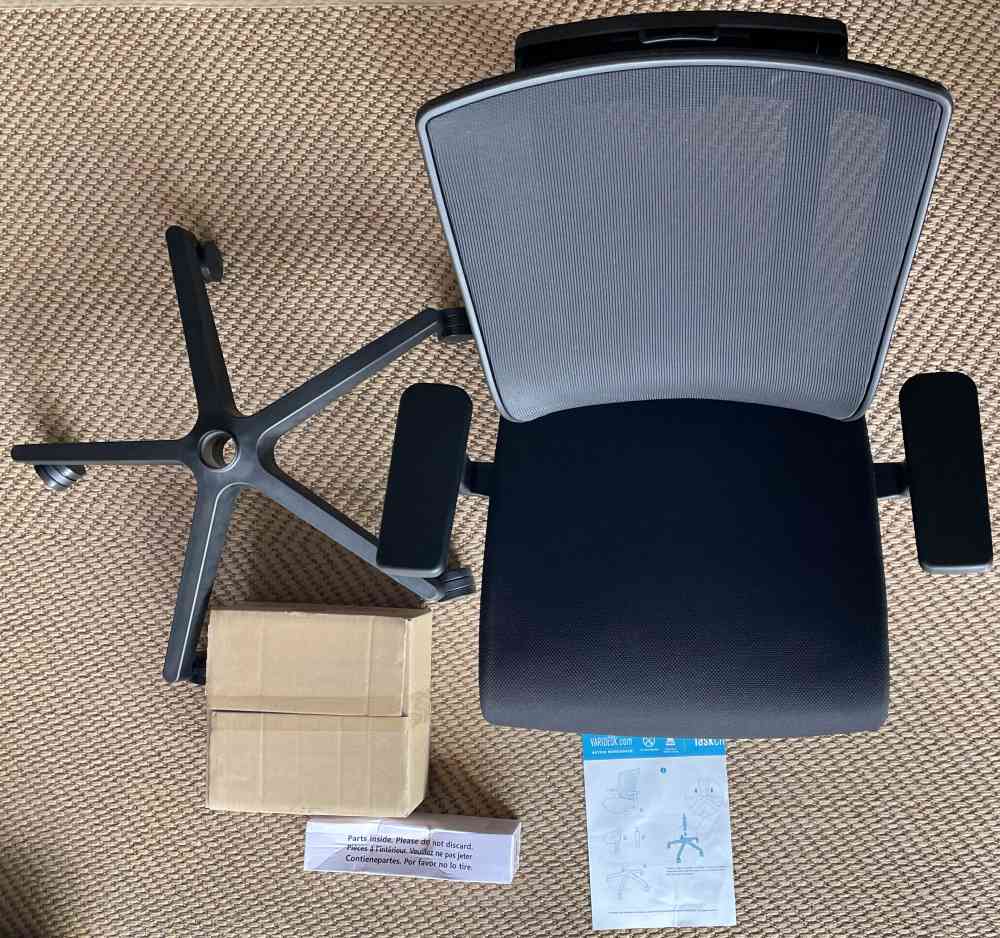 Hardware specs
Adjustable headrest, chair back, seat, armrests, and seat back tilt and tension
Seat is height-adjustable from 17 5/8" to 22"
Assembles in minutes with no tools required
Weight capacity of up to 300 lbs
Casters work on carpeted or wood floors
Tested to BIFMA X5.1 and meets or exceeds BIFMA's durability standards for office furniture.
Design and features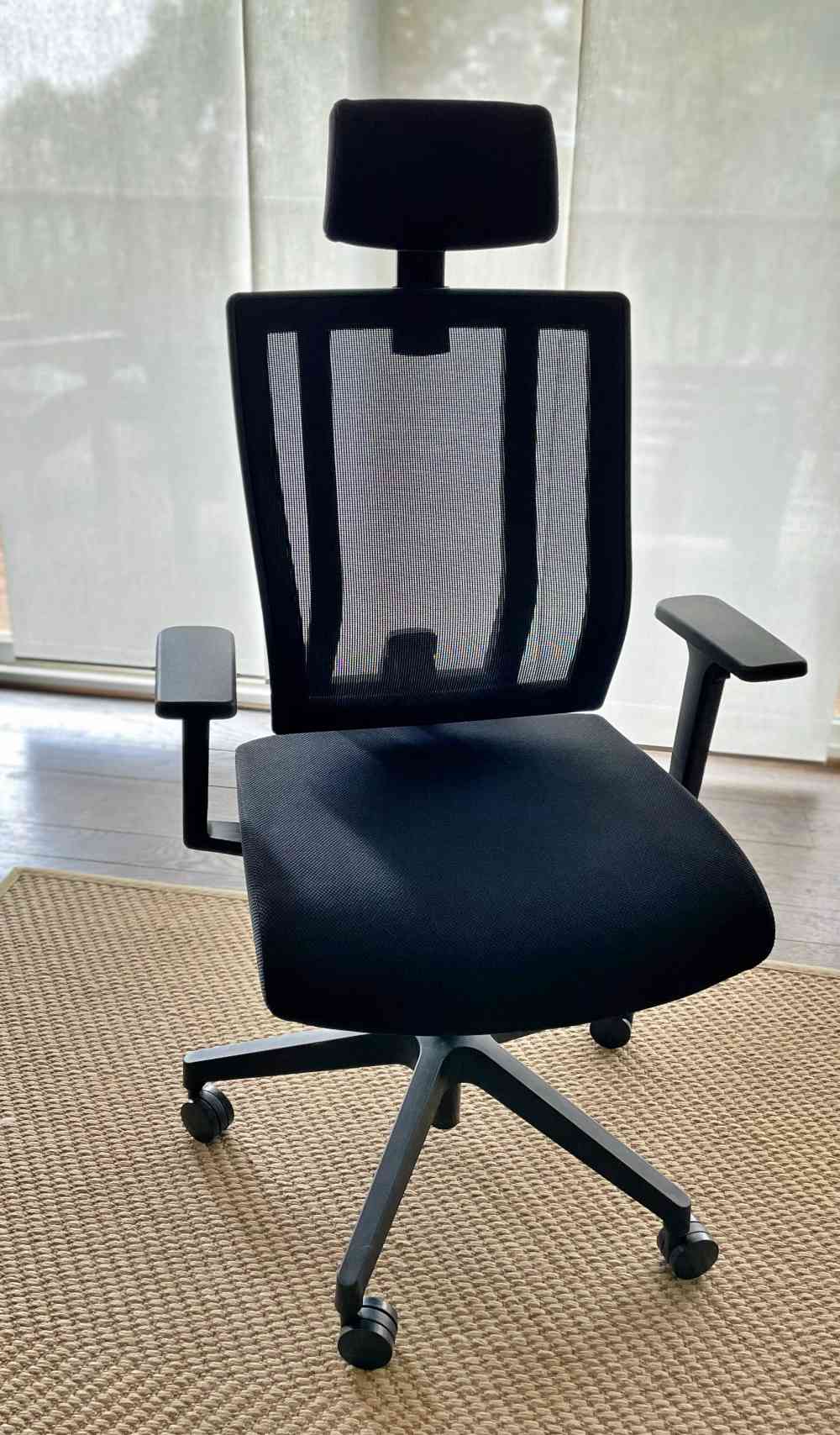 Like most desk chairs, the Vari Task Chair has a seat, back, arm rests, wheels and even a head rest. The controls for adjustments are thoughtfully laid out where each side of the chair has two different controls (a lever and a knob) to help reduce confusion. The back structure is unique in that addition to a recline, it also twists torsionally similar to the way your own back actually moves. The wheels roll easily on carpet or hardwood
Setup
Putting the Task Chair together is quick as it's mostly preassembled, and does not require any tools.
Insert the hydraulic lift post into the hole at the center of the wheeled base to the skinny post faces up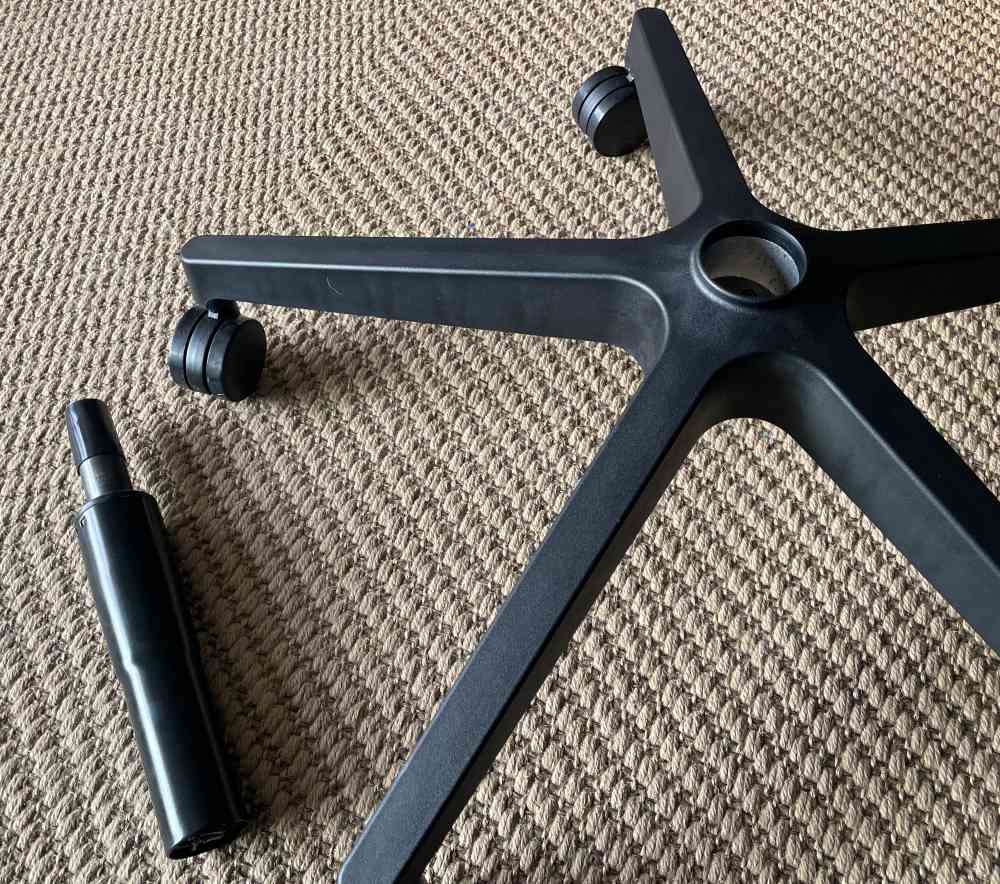 Insert the post into the hole in the center of the underside of the chair. (Make sure to remove the protective plastic cap that's on the post first)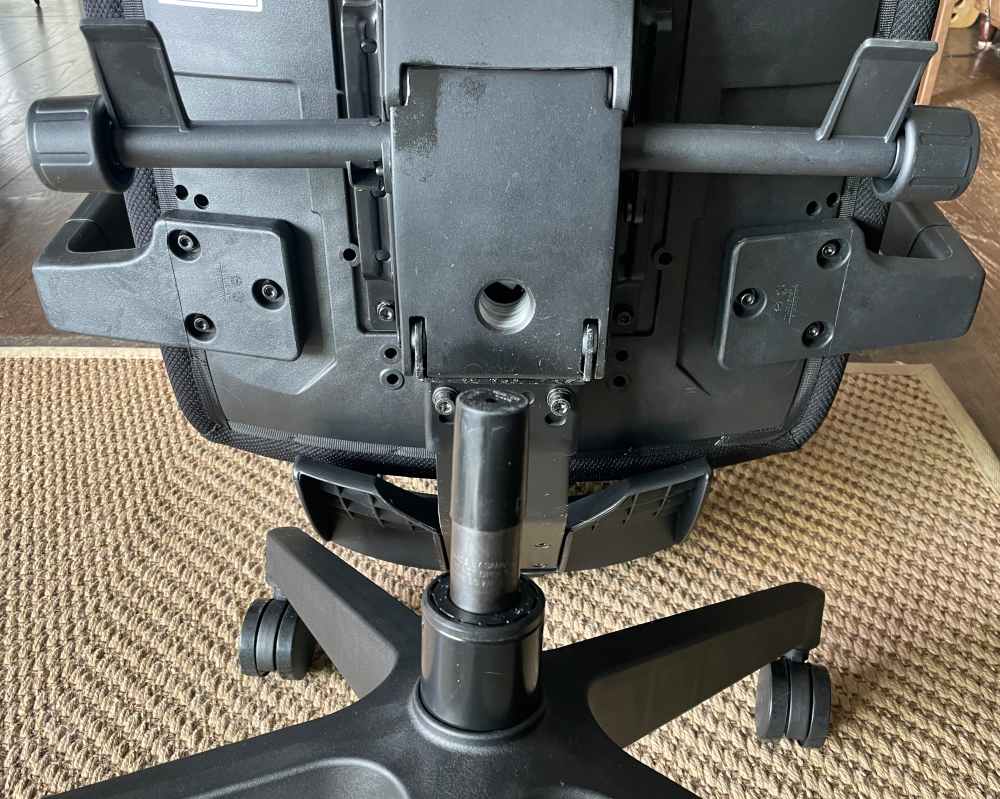 Insert the headrest's stem into the receiver at the top of the chair back (adjust position by pushing/pulling).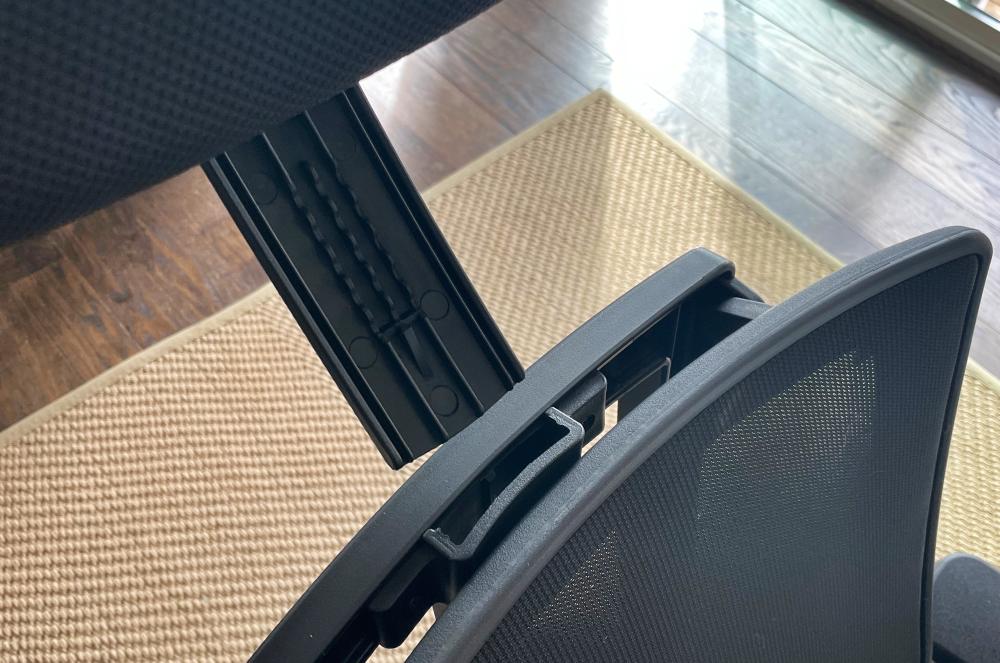 That's it! Everything else uses the controls to adjust positions.
Chair height: Use right side lever (17-22″ from floor to seat top, adjust anywhere within range)
Recline tension: Use right side knob
Seat fore/aft position: Use left side lever
Recline lock: Use left side knob (1/4 turn lock/unlock)
Armrest height: Use trigger on each armrest (7-10″ above seat height, 8 positions)
Armrest fore/aft position: Hold and slide
Armrest left/right pivot: Hold and turn inwards/outwards (3 positions)
Headrest height: Hold and lift/push to desired height (~2″ of range)
Performance
In a lot of ways, this Task Chair is like a brand new pair of your favorite pair of shoes that you already know fit perfectly. As soon as I had it assembled, I was already sitting, adjusting, reclining and commenting to my son (already sitting in the box)how comfortable it was.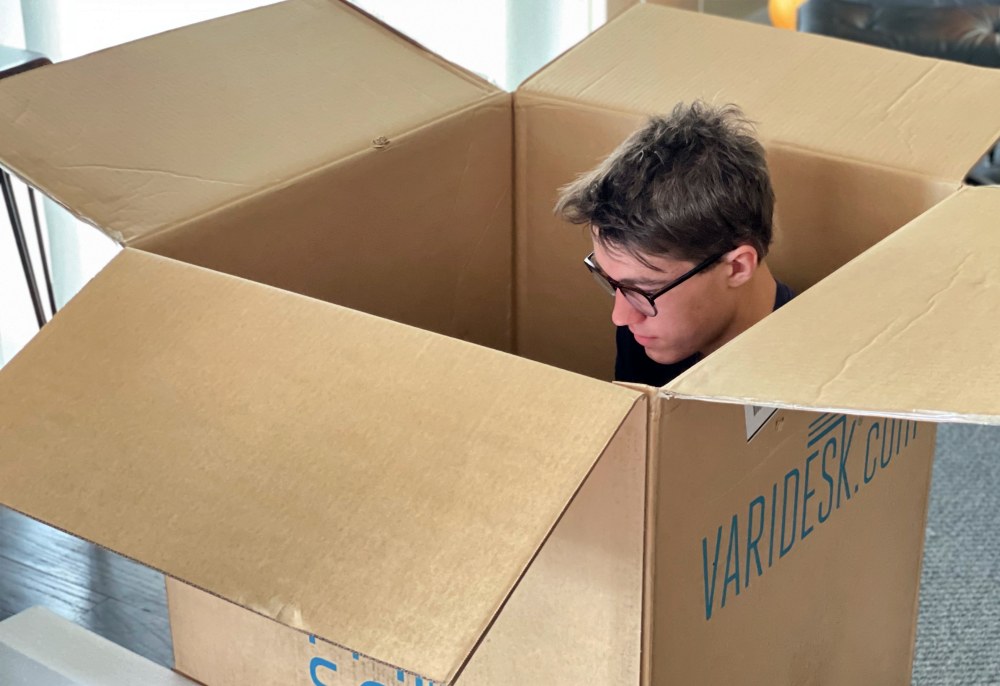 The expected controls like height, recline, recline tension, arm rest and headrest positions all work like they should which just adds to that immediate feeling of familiarity. The under-seat controls on each side have a single tube with a knob at the end and a lever just inside the knob facing forward.

They're easiest to access by leaning to each side and reaching around and under the arm rest. They're well positioned and easy to find by feel.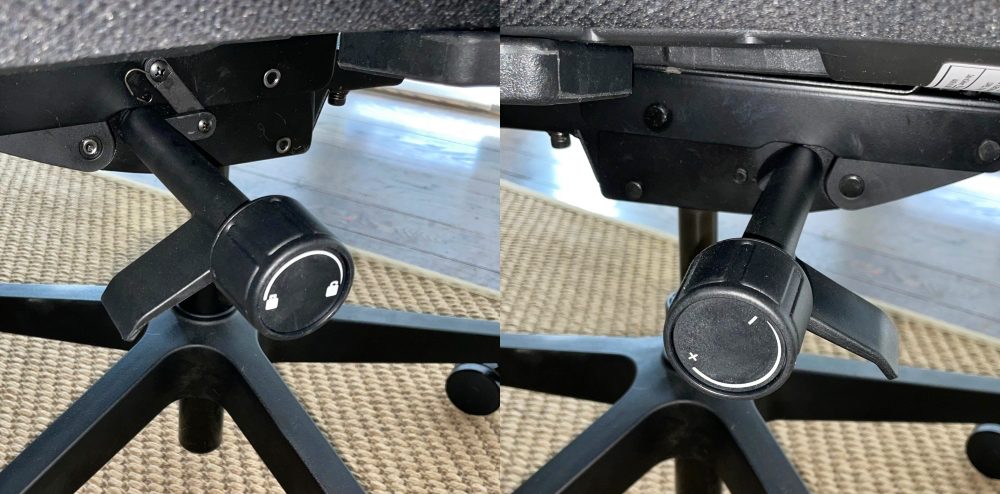 Two things immediately stood out as different from all the different office chairs that I've used over the many, many years.
First is the fore/aft seat adjustment. It's kinda similar to sliding the drivers seat towards the steering wheel, but in reverse. You can use it to adjust the length of the seat for better thigh support. You can also use it to find the sweet spot of driving your back into the sprung fabric of the back to support your lumbar. The front edge of the seat has a nice curve to it protecting the inside of your knees from any harder surfaces.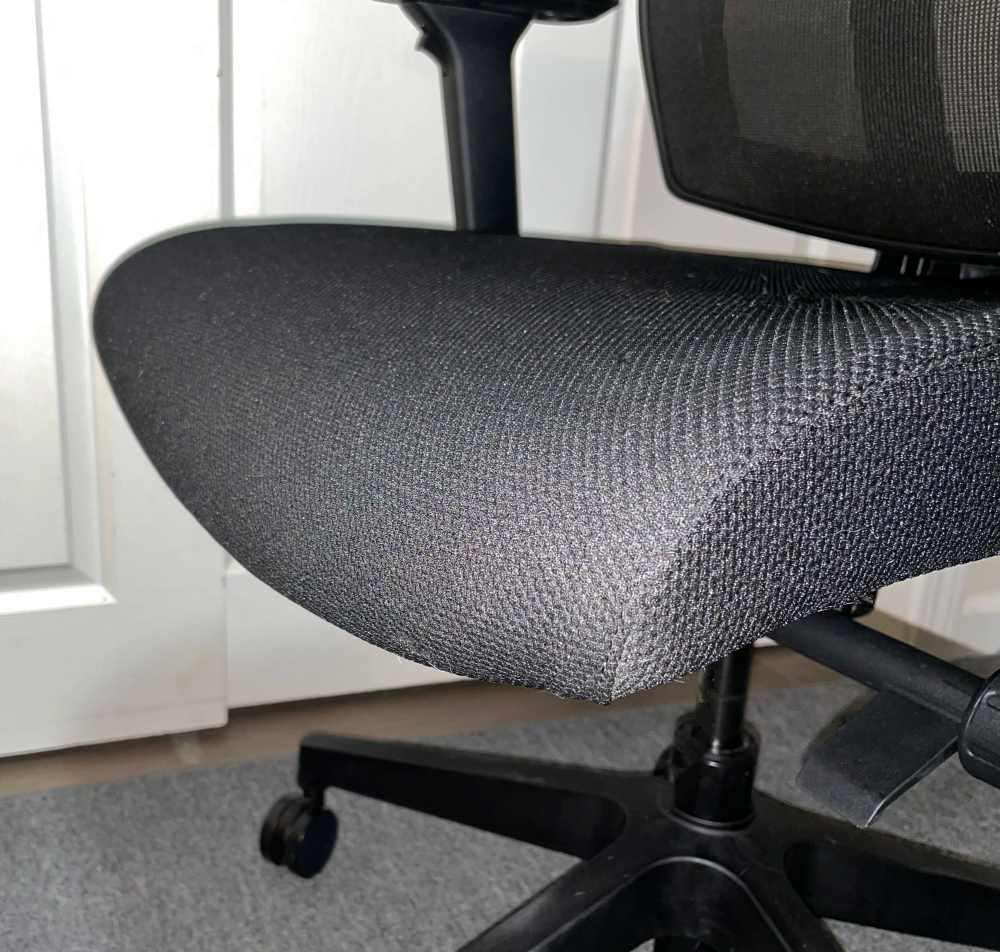 Second is that the back twists. There's the fabric back you lean against and then a spine structure further back separated by a large amount of airspace. The bottom of that spine rotates similar to your own which means if you turn to look over your shoulder or reach for something behind and to the side, the back of the chair tilts and turns with you.
It's momentarily disconcerting, but very quickly feels natural and expected. Those feelings are amplified if you are in a reclined position. Here's a picture of the cool linkage they use to get this function.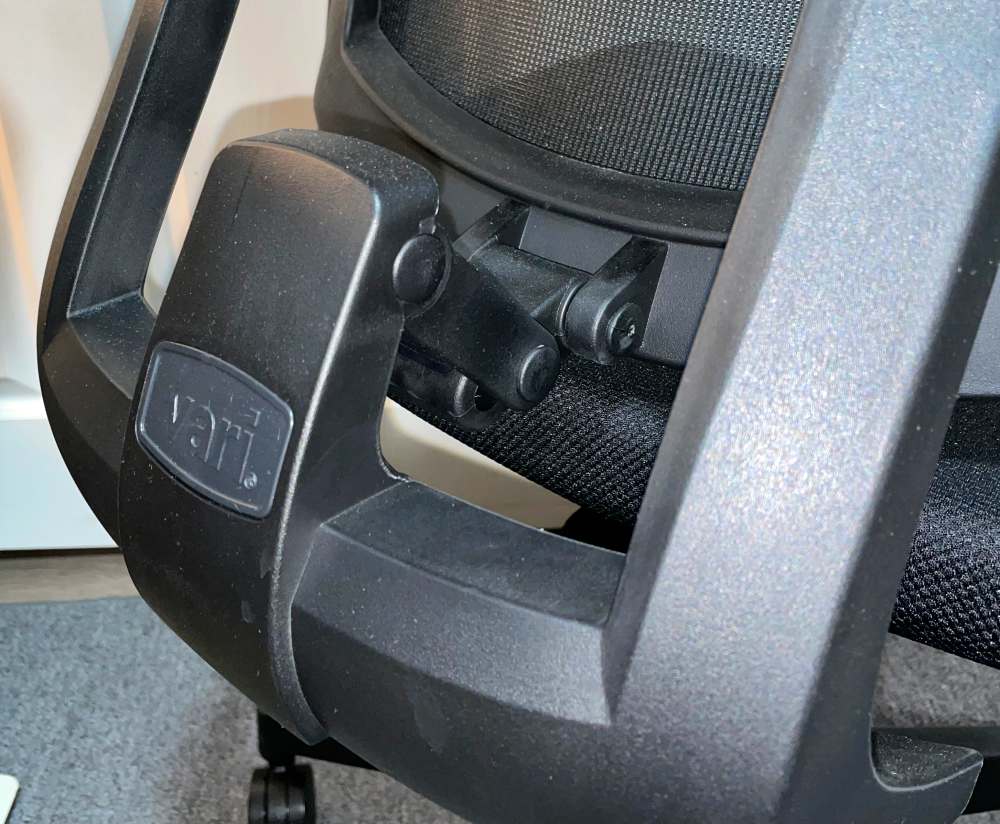 I was pleasantly surprised by the height adjustment. I'm 6'3 and have frequently had to purchase taller wheels for my chairs to get an extra inch or so to get a chair's seat to the height I need. With the Task Chair it actually goes slightly higher than I need, so a quick adjustment on the right lever and I'm at the right height.
I can't quite say the same for the back and headrest. As you can see in the below left photo, my shoulders sit a good bit above the chair back. The headrest (even in its highest position as shown) simply does not sit where I need it to. I ended up removing the headrest as a result and the rest of the chair back felt great.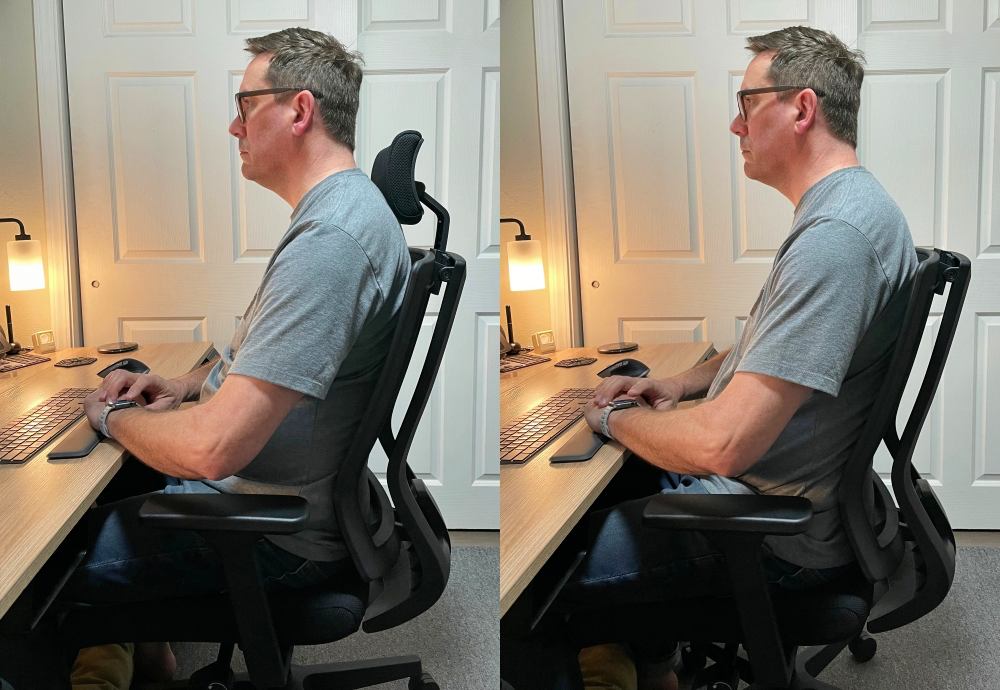 There's a couple things worth mentioning. One is that with the unique back design, when you recline, the relationship between the seat and the back changes. The back reclines, but the seat just slightly angles. For me, that ends up putting pressure on my tailbone unless I adjust my position after reclining which seems counterintuitive. The back and headrest however gain some height due to that seat/back geometry change. The second is that the fore/aft slide feature on the arm rests doesn't lock so they can slide if you put your weight on them as you go to get out of your chair.
What I like
Really comfortable, even for extended work sessions
Controls are easy to use
Range of adjustability
Ability of chair back to twist with you
Tool-free assembly
What I'd change
Offer some height guidance as the one size fits all approach may not be best for taller users over 6′
Increase headrest adjustment by 2″+
Lock geometry between back and seat when reclining
Final thoughts
The Vari Task Chair is easily one of the most comfortable chairs I've used when sitting upright, working at my desk. If I'm in the zone and getting stuff done, this chair helps keep me there. If I'm beginning to recline and ponder things it has a few drawbacks, but it is called a Task Chair after all. If you're shorter than I am, this is a great chair for the money that should last you for years.
Price: $295 Task Chair | $350 Task Chair with Headrest
Where to buy: Vari.com
Source: The sample of this product was provided by Vari.com