We use affiliate links. If you buy something through the links on this page, we may earn a commission at no cost to you. Learn more.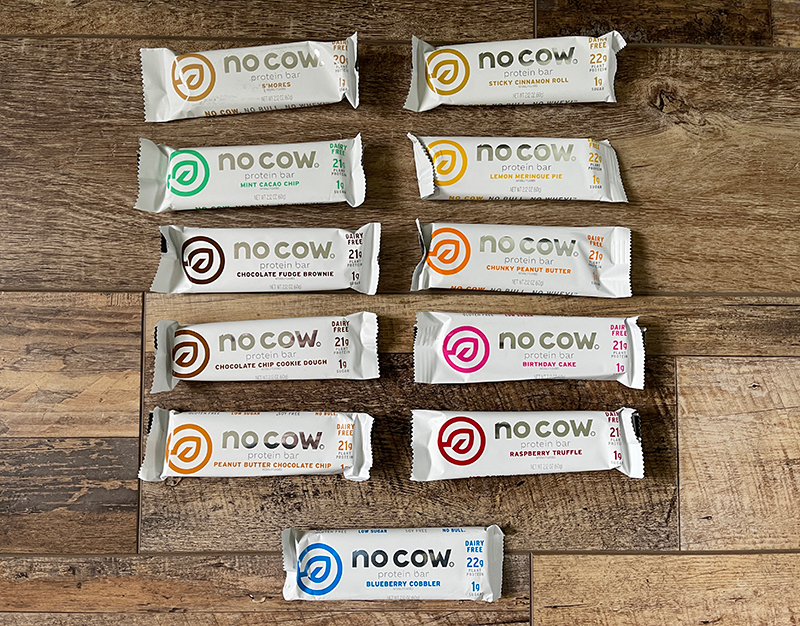 REVIEW – I'm all about convenience, whether it's about how I get work done or how I eat. When it comes to eating, I am currently on a keto friendly, low carb type of eating style. I'm not full-on keto, but I make sure that what I eat is low on carbs due to the fact that I'm pre-diabetic. So the latest meal replacement bar that I've had the opportunity to taste test are the protein bars from No Cow. Yum or ick? Let's find out.
What is it?
No Cow protein bars are meal replacement bars that feature 20+ grams of plant-based protein. These bars fit in with Keto, Vegan, Paleo, and Kosher diets because they use pea and rice protein instead of whey and soy. They are also gluten-free and dairy-free.
Nutrition and taste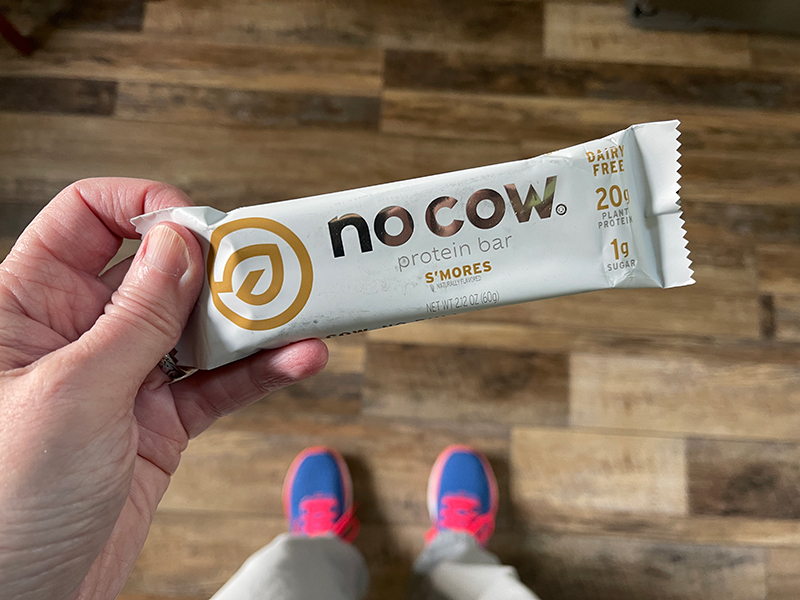 The No Cow protein bars are available in 17 different flavors that include: S'mores, Cookies n' Cream, Birthday Cake, Chocolate Chip Cookie Dough, Peanut Butter Chocolate Chip, Chocolate Fudge Brownie, Sticky Cinnamon Roll, Chocolate Glazed Donut, Chunky Peanut Butter, Lemon Meringue Pie, Mint Cacao Chip, Blueberry Cobbler, Vanilla Carmel, Raspberry Truffle, Chocolate Coconut, Carrot Cake, and soon they will be adding a brand new flavor: Peanut Butter Cup.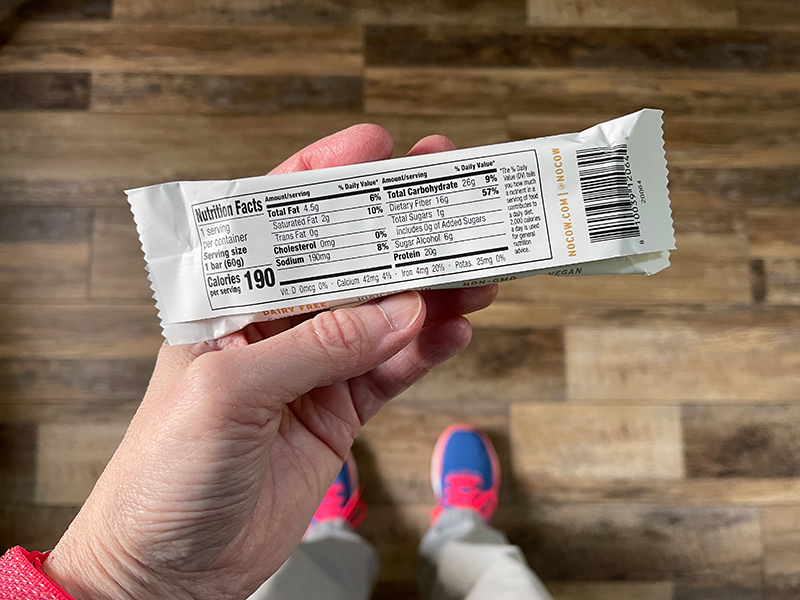 No Cow sent me a sampler pack of 12 of their flavors. I was immediately impressed by the fact that each bar has at least 20-22g of protein and only 190 – 210 calories and 4-5g of carbs.
The only questionable ingredient in my mind is the soluble corn fiber and I say that as someone who is sensitive to that ingredient when it comes to blood sugar spikes.
Flavors and texture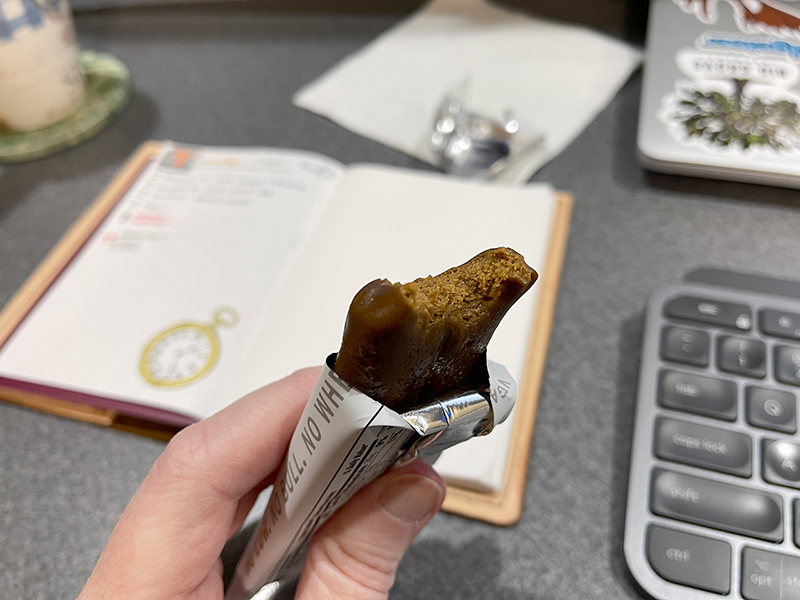 So far, I've tried all but 2 of the 12 sample pack bars that were sent to me. I've found 8 of the ten bars that I have tried were a little sticky and almost taffy-like. The stickiness can make it a little harder to slide the bars out of the wrapper.
The other 2 bars (Peanut Butter Cup and… another one of the chocolate flavors – I forget the exact flavor name) have a drier center with a chocolate covering. But all of the bars I've tried so far have one major thing in common – they have a fine sandy texture from the pea protein that's left on your tongue after eating a bite.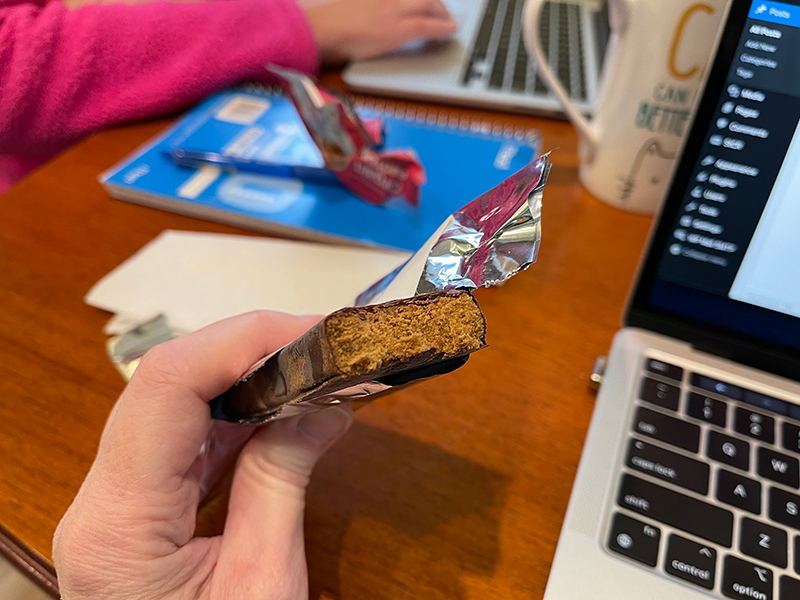 As far as flavor, I've enjoyed all the No Cow flavors that I've tried so far, but I have noticed 2 issues from eating these bars that may or may not affect you as well. First of all, the No Cow bars give me more of a glucose spike than other keto-friendly bars. How do I know this? I wear a FreeStyle Libre 14-day continuous glucose monitor and test my blood glucose before and after meals so that I can see how foods affect my blood sugar. I found that No Cow bars give me a 30-50 point spike which isn't horrible, but it is higher than other low carb bars that I usually eat.
The other issue I've noticed is that for me, pea protein can cause gastric issues. And by that, I mean that after eating one each day for consecutive days in a row, people might not want to be around me due to toxic emissions. TMI? Sorry, just being honest. I know this isn't exclusive to No Cow bars, I have the same issue with other products that use pea protein.
What I like
Lower carbs than most protein bars
Amount of protein
Variety of flavors
What I'd change
Remove the soluble corn fiber
Final thoughts
I don't want to spend a lot of time cooking breakfast each day, so meal replacement bars are my go-to breakfast food of choice for most days of the week. There are so many protein bars on the market that are basically glorified candy bars with more carbs in one bar than I would eat in a whole day (or even 2 days sometimes)! No Cow bars are more in line with the way I eat. They taste good and keep me full and as long as I don't eat too many in a row they are great.
Update 4/19/22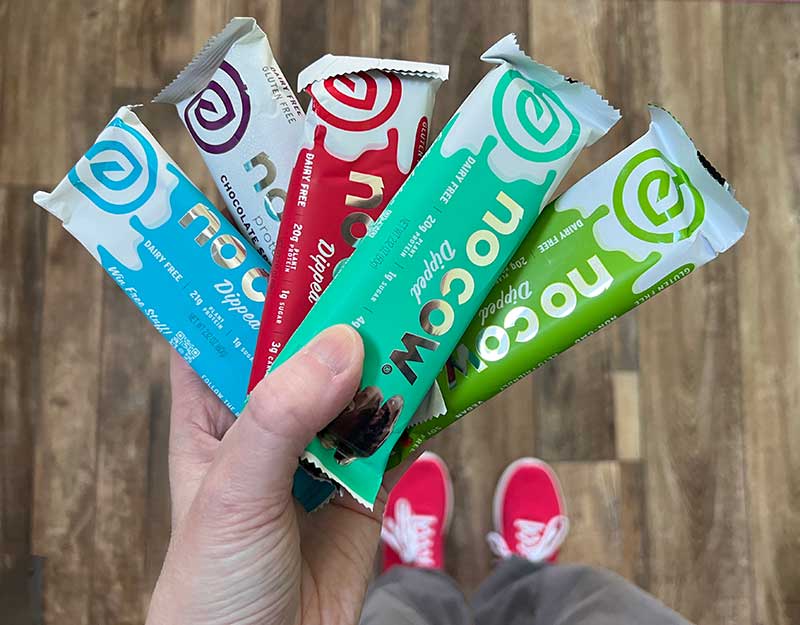 No Cow send me samples of their newest VEGAN Chocolate Dipped Protein Bar flavors to try. These new flavors are:
Peanut Butter Cup – Smooth peanut butter dipped in a rich, crunchy, chocolatey layer. (They didn't send me samples of this flavor)
Chocolate Sprinkled Donut – The same taste as No Cow's original donut flavor, but now dipped in chocolate and strewn with sprinkles. I don't get any donut flavor. To me, it's a chocolate protein bar with sprinkles.
Chocolate Salted Caramel – Sweet buttery caramel blended with salt. To my taste buds, it had a slight mocha flavor.
Chocolate Mint Cookie – Mint + chocolate = yum
Chocolate Sea Salt – A perfect combination of salty and sweet. I especially like the salt flakes on top of the bar.
Unlike the bars that I reviewed last year, these new bars have a drier texture instead of being sticky and taffy-like. I really enjoyed these new bars. I still get a slight glucose spike after I eat them, but that doesn't bother me that much because it's not a huge spike and as someone who is insulin resistant, this might not be an issue for you.
Price: $29.99 one time purchase / $26.99 subscribe and save box of 12 bars
Where to buy: No Cow and Amazon
Source: The sample for this review was provided by No Cow.