We use affiliate links. If you buy something through the links on this page, we may earn a commission at no cost to you. Learn more.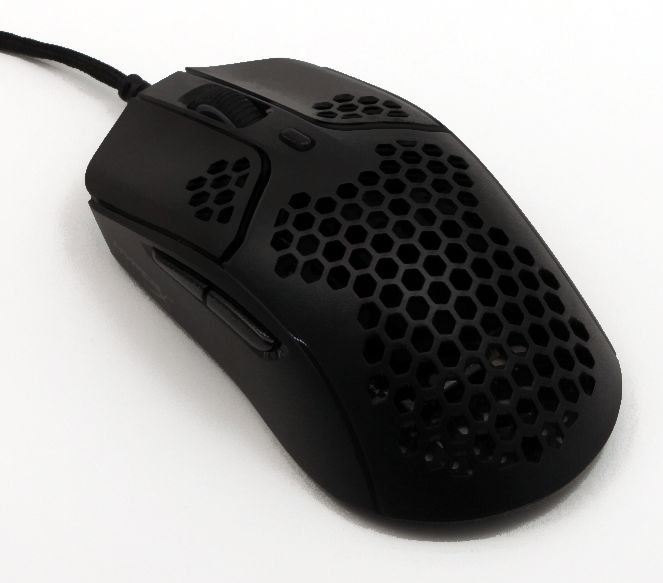 REVIEW – HyperX makes quality gaming gear for every type of video gamer, from professional to streamer to weekend warrior.  Their gaming mice, for example, span the gamut from 11-button programmable to the wireless Pulsefire Dart to RGB lighting.  HyperX recently announced the newest member of their gaming mice lineup, the lightweight Pulsefire Haste.
What is it?
The Haste is an ultra-light, ambidextrous, gaming mouse that weighs 59 grams, has six buttons, features TTC Golden micro switches, and can be customized with HyperX's NGENUITY software.  It's targeted at FPS gamers who are looking to gain every fraction of a second advantage possible.  The Haste is made by HyperX, the high-performance product division of Kingston Memory.  Kingston is the world's largest manufacturer of memory products, and its headquarters are in California.
What's in the box?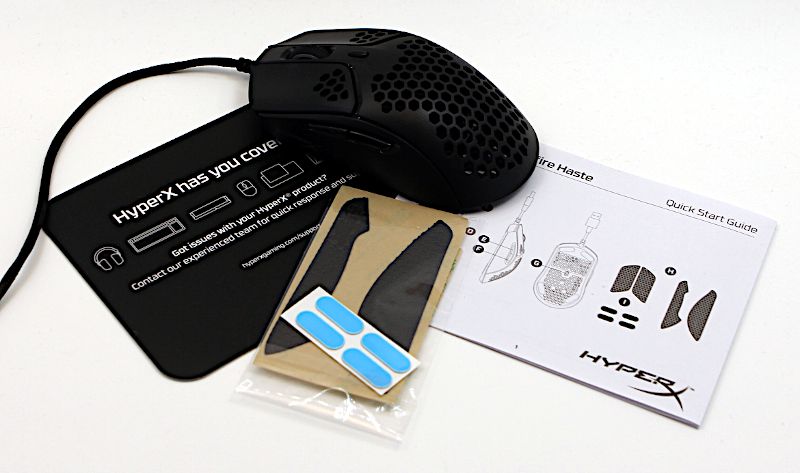 1 x mouse
4 x spare skates
4 x pieces of grip tape
1 x quick start guide
1 x customer support guide
Hardware specs
DPI:  16,000 max
DPI Presets:  400, 800, 1600, 3200
Buttons:  6
Left/Right Buttons:  TTC Golden micro dustproof switches
Lighting:  RGB in the mouse wheel
Polling rate:  1000 Hz
Cable port:  USB-A
Weight:  59g (excluding cable)
Dimensions:  4.9 x 1.5 x 2.6 inches
Cable Length:  71 inches
Design and features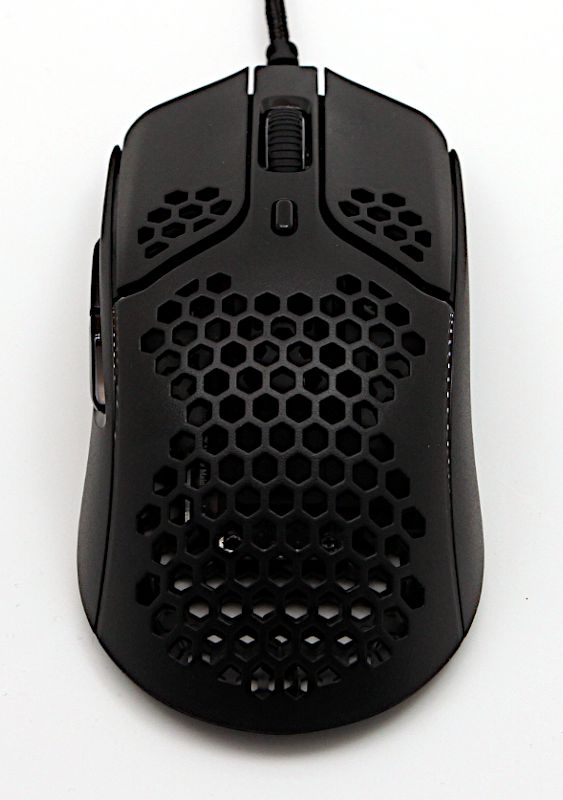 Ultra-light mice typically have honeycomb- or circle-shaped holes cut into them in order to shave off as many grams of weight as possible.  Once the domain of lightweight specialists, like Glorious, they've now become more mainstream.  HyperX's Haste is a matte-black mouse with hex-shaped holes cut into the palm rest, the buttons, and the bottom.  It's ambidextrous, so it will work equally well for left- or right-handed players.  It has the standard set of buttons:  left, right, DPI, and mouse wheel on top and two more on the left side.  The only RGB lighting is in the mouse wheel, so it has a rather subdued vibe compared to some gaming peripherals.  The Haste is a standard, medium-sized mouse, neither small (like Logitech's Anywhere 3) nor large (like Kensington's Orbit Fusion); it's perfect for my average-sized hands.  Overall, this mouse looks like a very practical entry into the world of ultra-light mice.
Installation and setup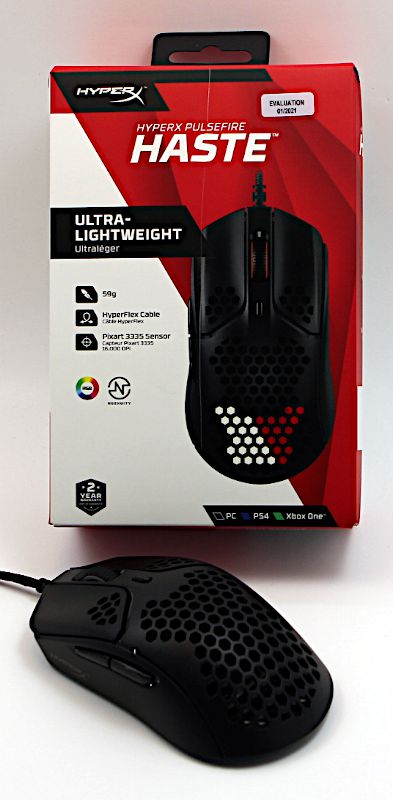 Installation is easy.  I took a quick look at the Quick Start guide, but it's so sparse that it's almost not worth having.  Perhaps the most important part was the URL for the software.  I removed the Haste from the box and plugged it in.  All three of the computers that I tested it with (a MacBookPro laptop, a Mac mini, a Windows gaming computer) immediately recognized it; it just worked.  No drivers or software are required (but more on the software later).
I clicked the small DPI button on top and tested each of the four defaults.  Each press of the button changes the color of the light on the scroll wheel, giving me some feedback on the changes.  The third value, which was yellow, was 1600 DPI and felt very comfortable for me, even on my ultrawide (3440×1440) Samsung monitor.  The first time I used an ultra-light mouse, I found that it was actually too fast for me.  I had been using Corsair's MM400, a high-speed mouse pad made from a hard polymer that had very low friction, and I just couldn't control the mouse precisely while playing games.  When I switched to using a cloth mouse pad, Corsair's MM300 with a textile weave, that slowed things down to the point where I could control it well.  The Haste feels very natural and comfortable on a cloth pad.  If you want to keep it all in the house, HyperX sells both hard surface and cloth mouse pads.
Performance
I've used several different gaming mice over the years, and it usually takes me a few days to get used to a new feel, especially for mice with a different design.  I adapted to the HyperX Haste without any problems, probably because I've been using my Glorious D for gaming lately, and these two mice are very similar.  I absolutely love it when I can play a game and never even notice my mouse, which means that there's nothing odd about it to get used to.  The Haste feels very normal and natural.  It is, of course, very light at only 59 grams and thus, as its name suggests, it's also very responsive in my hand.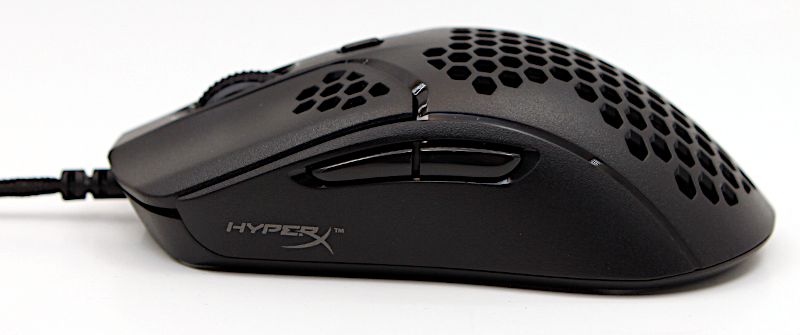 The two buttons on the left side of the mouse are programmable, and I had previously programmed them in as my "quick buy" and "courier summon" in Dota 2, my favorite game.  The Haste picked up these settings without any problems.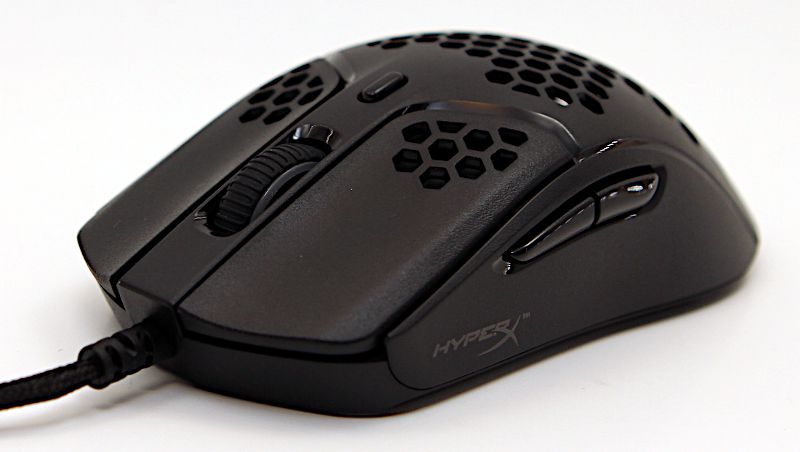 The scroll wheel feels very natural; it has a slight, rubbery ribbing around it, making it easy to grip, and it has a tactile clicking sensation when I use it, which helps it to feel more precise.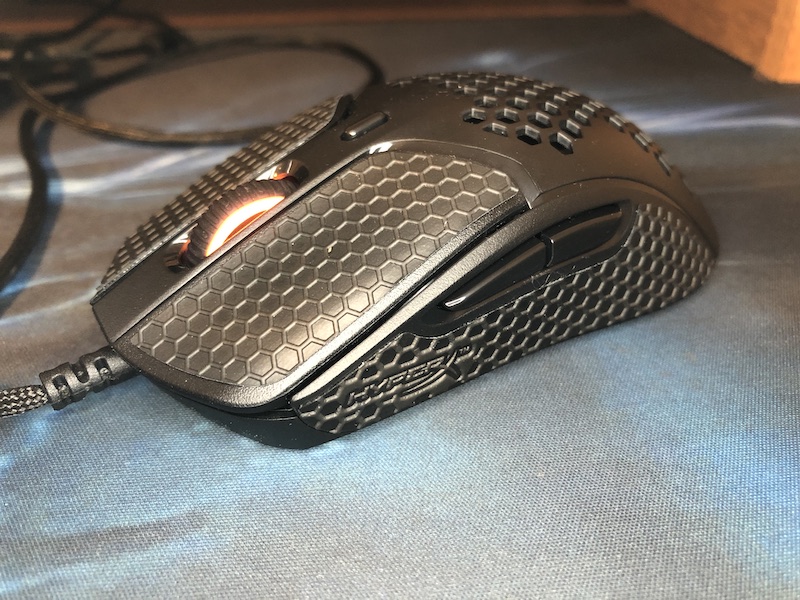 The sides of the Haste do not come with any grips, which is rather different from most gaming mice.  Although it seems like this would make it slippery and hard to hold, I haven't had any problems gripping it, even when playing long games.  For those who prefer more grip, HyperX has thoughtfully included four pieces of grip tape, one for the left and right buttons and one for each side of the mouse.  After a couple of weeks, I stuck the perfect-fitting, custom-cut grips on each side of the mouse and on both mouse buttons, and I found to my surprise that I liked the Haste even better with them on.  The improved grip was helpful in precisely controlling the mouse while playing Dota 2 but was especially noticeable with Risk of Rain 2.  I'm definitely going to keep them on.  (And no, they don't turn the Haste to a silver color; that's just bad lighting in my photo above.)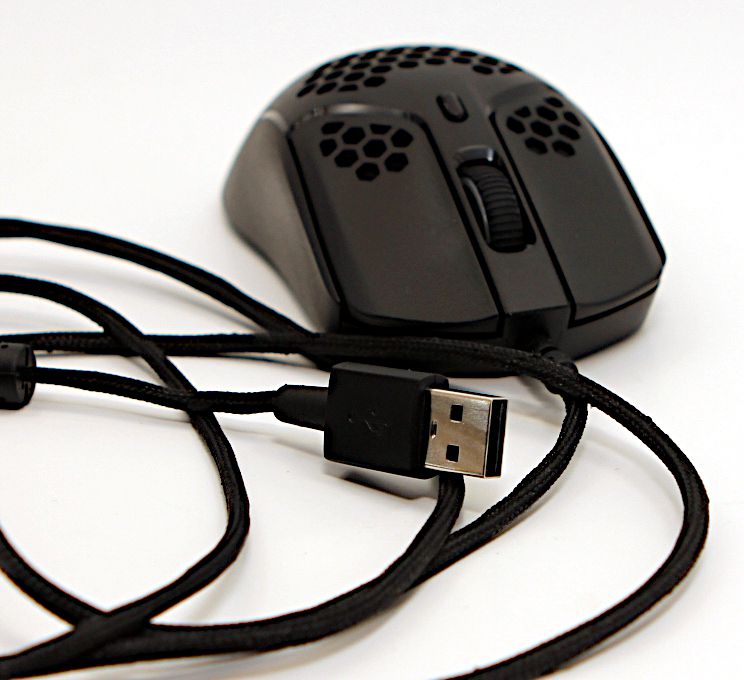 HyperX calls its cable a HyperFlex USB cable.  It's made from a paracord material, which makes it both light and flexible.  HyperX absolutely nailed this one.  The biggest disadvantage of a wired mouse over a wireless one is obviously the cable.  They tend to be heavy and bulky and want to pop back into a certain shape, all of which causes extra drag.  I didn't find any of this with the HyperFlex cable; in fact, I never noticed it at all while playing, which is high praise for a cable.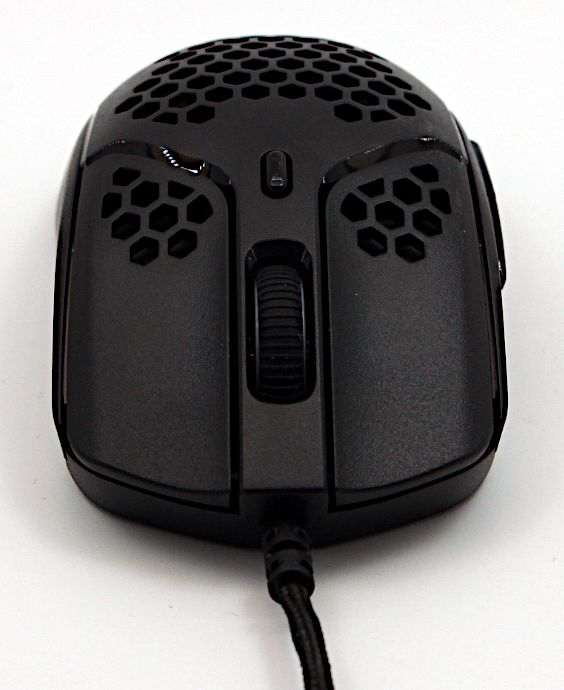 The Haste features a pair of TTC golden micro switches.  HyperX says that they are dustproof, which is probably pretty important for a mouse with holes in it, and that they are rated for 60 million clicks.  In order to achieve such a light weight, I would think HyperX might have been tempted to use a cheaper switch, but these buttons feel solid to me and have a distinct, tactile click.  I haven't had any problems with them so far.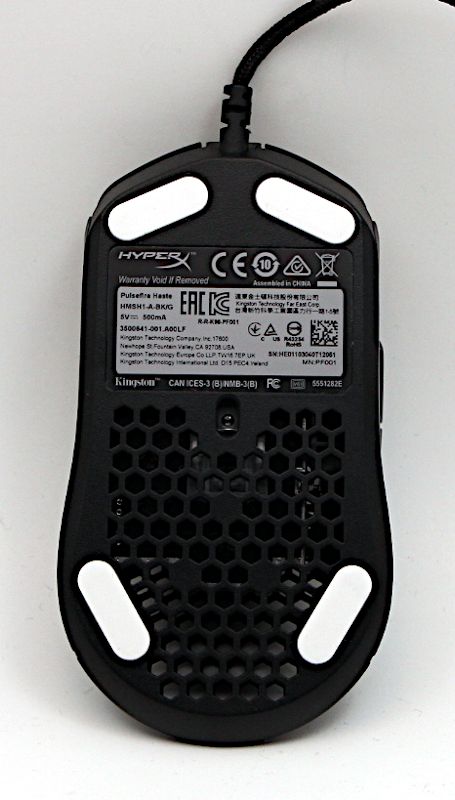 The bottom of the mouse has four white skates.  They are made from PTFE (polytetrafluoroethylene), a soft polymer that has a low coefficient of friction, that's used for gaskets, valves, and tubes.  These skates, along with the light weight, help the mouse to move so quickly.  Over time, the skates tend to either wear out or lose their adhesion, and so HyperX has kindly included a set of four extra skates.
Extra Features
HyperX's NGENUITY software is not required for using the mouse, especially for anyone who doesn't plan to do anything out of the ordinary, but it does offer some features that one might find handy.  This software is for Windows only, so Mac gamers are left hanging.  The software can only be downloaded from the Microsoft Store, so you'll need to create an account if you don't already have one.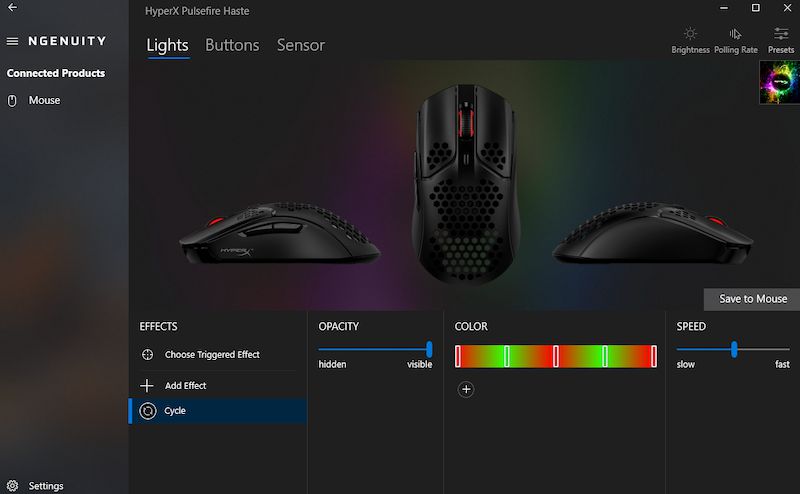 The Lights tab allows me to choose lighting effects and colors.  As I mentioned previously, the only RGB lighting on the Haste is around the scroll wheel.  I set mine to cycle between red and bright green.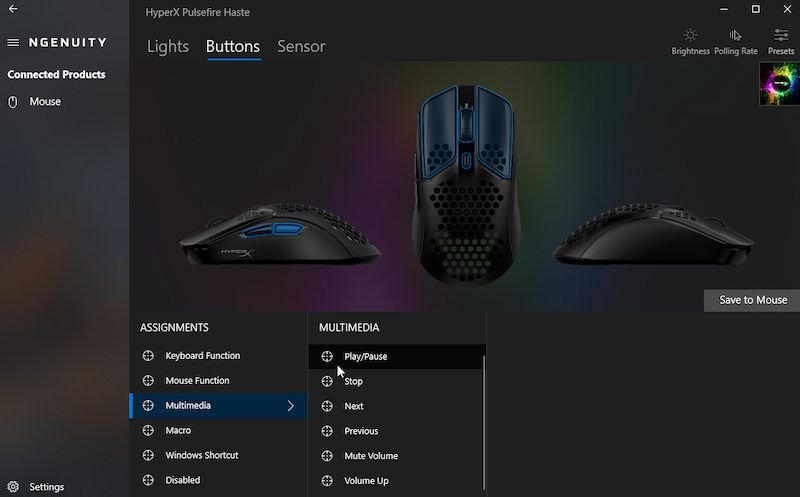 The Buttons tab allows me to remap the functionality of any of the six buttons.  For example, I could change one of the side buttons to be the Play button for multimedia apps.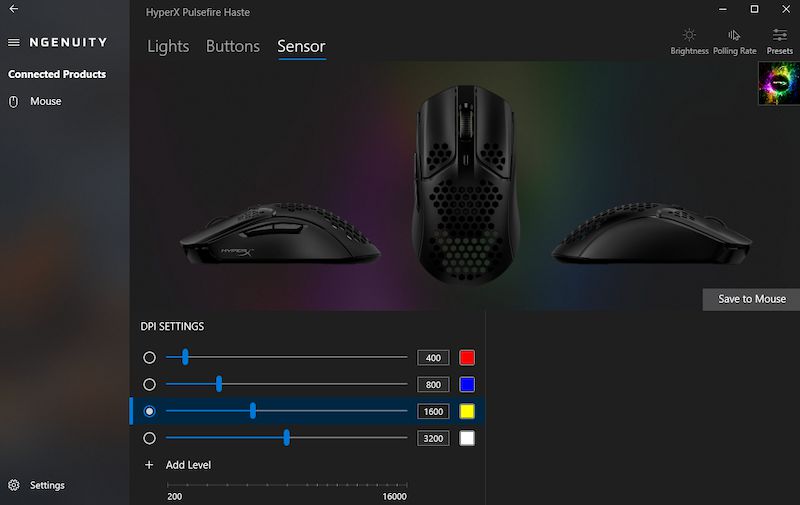 The Sensor tab allows me to alter the built-in DPI settings, such as changing the default values and colors or adding more levels.  For me, I'm happy with the defaults, because I like 1600 DPI.  NGENUITY also allows me to adjust the brightness and the polling rate as well as save groups of settings as presets.  Overall the software looks sharp and is easy for any gamer to use.
What I like
Light weight
Fast and precise gaming control
Superb cable
Good software
What I'd change
Final thoughts
The Pulsefire Haste is another excellent gaming mouse from HyperX.  The hex shell design makes it very light and together with the PFTE skates make it very fast, and the grip tape makes it extra-easy to control.  The buttons and scroll wheel are durable and responsive, and the HyperFlex cable never gets in the way.  I really, really like this mouse for gaming and plan to use it for a long time.  If you're looking for an ultralight mouse for competitive gaming, put the Pulsefire Haste at the top of your list and see if anything else can beat it.
Price: $49.99
Where to buy:  Amazon or HyperX's online store
Source: The sample for this review was provided by HyperX.