We use affiliate links. If you buy something through the links on this page, we may earn a commission at no cost to you. Learn more.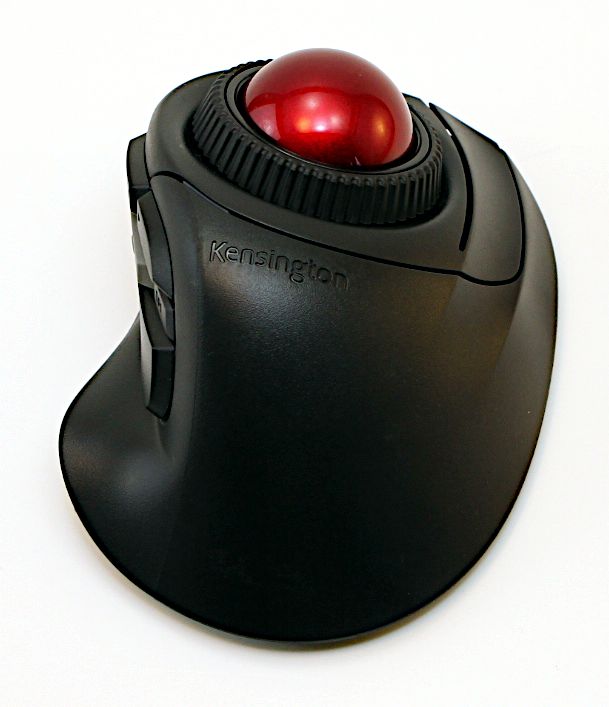 REVIEW – Many years ago I had a Kensington Orbit trackball, like this one.  At the time, I thought it amazing.  It was more precise than the mice of the day, it was comfortable to use, and it took up a lot less space than a mousepad.  Then someone invented the scroll wheel, and it was so convenient to move up and down long Word documents and web pages.  Suddenly, the trackball felt like something from the dark ages, and that's why I haven't used one for years.  Then I saw the Kensington Orbit Fusion with its finger-operate scroll ring, and I've decided to give the trackball another try.
What is it?
The Orbit Fusion by Kensington is a wireless, ergonomic, highly configurable trackball with a scroll ring that is operated with your finger.  Kensington is a division of ACCO Brands, an American company that manufactures office products.
What's in the box?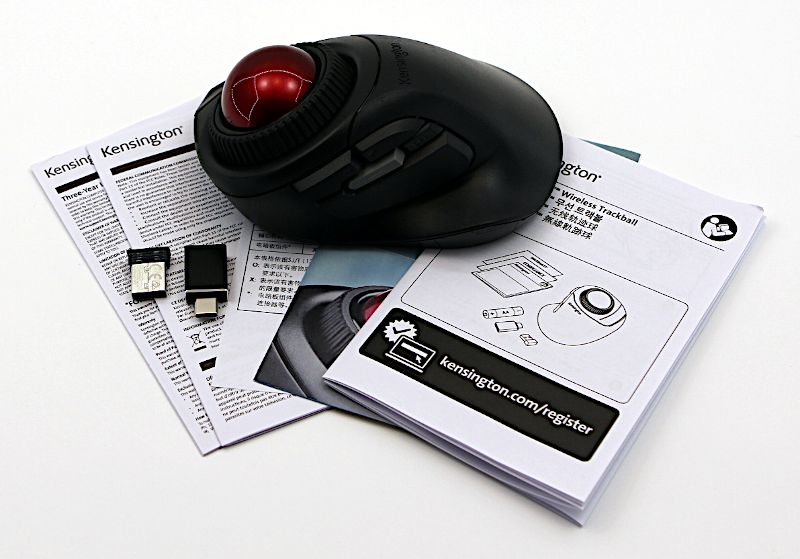 1 x Orbit Fusion
1 x wireless adapter (USB-A)
1 x USB-A to USB-C converter
1 x battery (AA)
1 x support guide
1 x manual (with four pages of pictures)
Hardware specs
Operating Systems:  macOS and Windows
Trackball Diameter: 40 mm (1.5 inches)
Wireless: 2.4 GHz
Buttons: 5
DPI: 400 to 1550
Design and features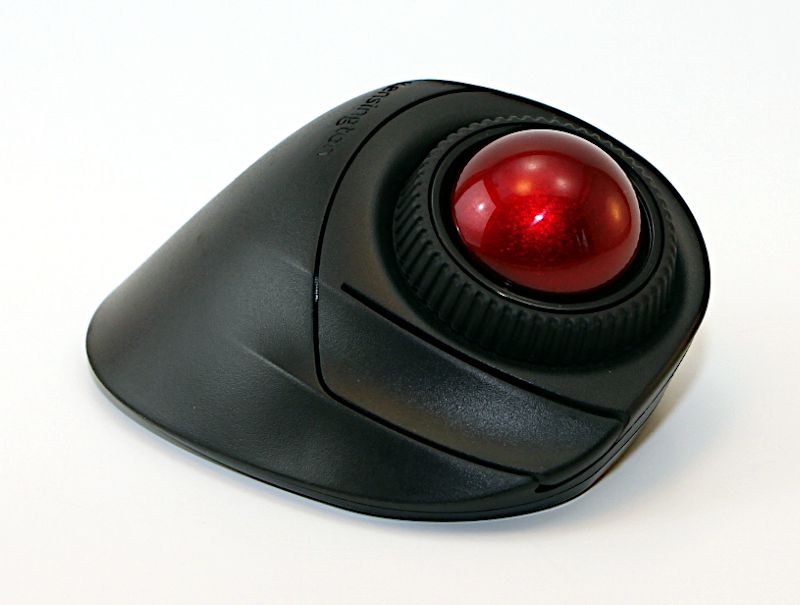 The Orbit Fusion is entirely made of a matte black plastic except for the deep red trackball that sits up top.  Surrounding the trackball is the scroll ring, a circular, cog-looking mechanism.  On the left are five buttons and on the right is another, far more than the two buttons that the old Orbit had.  The majority of the Orbit is the base for resting the palm.  It's an ergonomic design, so the entire surface is tilted somewhat to the right, which in turn rotates your wrist when using it.  As a whole, this trackball feels very solid and sturdy, like it's built to last for a while.
H3 Installation and setup
I began by reading over the manual, which isn't really much of a manual.  It's merely some pictures and a few words to point out what's where.  This is where the battery goes, this button sets the DPI, and so on.  As it intermingles multiple languages and uses an excruciatingly small font, it's not a lot of fun to read.  Kensington could definitely make improvements here.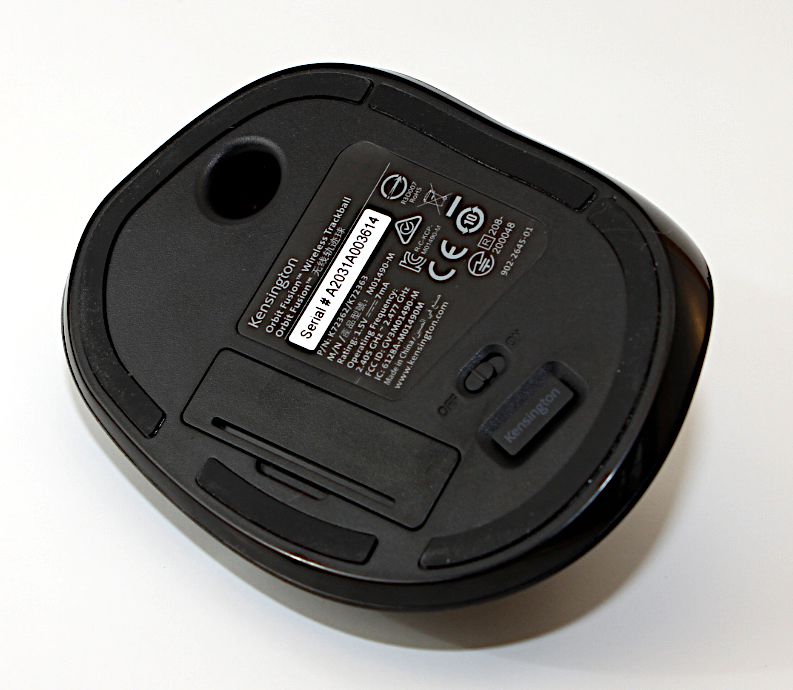 Despite the manual, the Orbit is not difficult to setup.  The first step is to deal with everything underneath.  I flipped over the Orbit, popped in the included AA battery, and slid the little button next to it from off to on.
The second step is to plug the wireless adapter, which is USB-A, into my computer.  As soon as I plugged it in, it began working; the Orbit is a plug-and-play gadget.  As I moved the trackball around, the cursor moved on my monitor.
The third step is to set the DPI.  One of the buttons on the left is labeled DPI, and pressing it rotates through three different settings.  The manual is rather confusing here, as two of the three settings are not listed as a DPI value but as a range of values:
400 DPI
400-800 DPI
800-1500 DPI
Normally when you use a DPI button on a mouse, it switches between exact values.  Perhaps there's something different about the way a trackball works, or perhaps its sensors are not able to measure DPI precisely.  Kensington provides no explanation of this phenomenon.  Each time I press the DPI button, a small red LED on top blinks either one, two, or three times to indicate the setting that was chosen.  I found that the middle setting worked best for me.  The lower setting was too slow for my large super large monitor, and the higher setting was too fast to control precisely.
Performance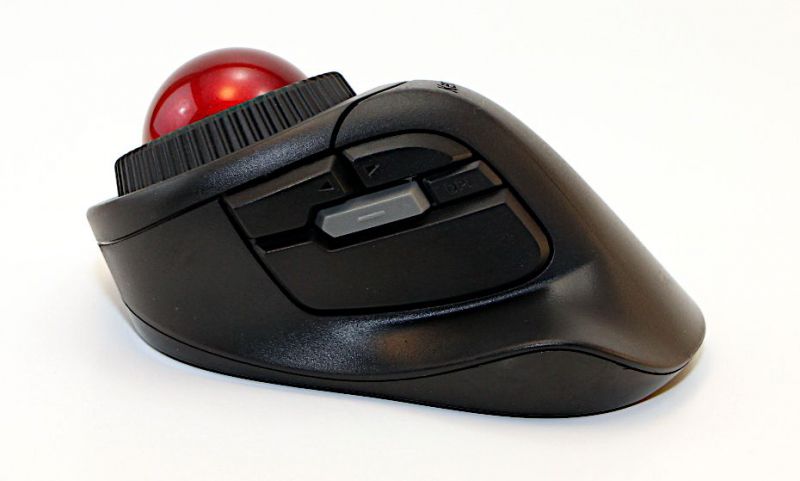 I believe there are two primary advantages to using this trackball.  The first is space.  Because the trackball is stationary, I don't need a lot of space on my desk or a large mousepad.  It only uses a small little area, and this can be very helpful for anyone with a small desk or who works in a "hotel" office or in coffee shops.  The second advantage is ergonomics.  Because the Orbit is rotated somewhat to the right, it rotates my wrist and arm accordingly to a more ergonomic position.  Anyone having problems with CTS should find this position to be more comfortable.
There are, however, two challenges with the Orbit.  One, there's a learning curve.  With a normal mouse, I use my index and middle fingers for the left and right mouse buttons and my index finger for the scroll wheel.  With the Orbit, I use my thumb and ring fingers for the buttons and either my index or ring finger for the scroll ring.  Additionally, I move the trackball around instead of moving the mouse around.  None of this bad, but it does it take some time to get used to it.  If you switch to this trackball, expect to spend a couple weeks being slower at everything you do.  Two, this is a big trackball.  It is substantially bigger than my Glorious D mouse, both 50% wider and 50% taller.  People with big hands will appreciate its size, people with normal-sized hands will struggle, and people with little hands should not bother buying this.  As someone with average-size hands, I find that I have to extend my thumb and my ring fingers out to rest on the buttons, a position that is slightly uncomfortable.  My concern is that whatever ergonomic gain I have made from the rotated wrist I have immediately lost from keeping my fingers spread out.  I wish that Kensington had made this gadget closer in size to the original Orbit; perhaps in the future they could offer multiple sizes.
Personally, I have found that using a trackball does not work very well for my setup.  I have a Samsung C34J79, a 34-inch ultrawide monitor.  It's wide enough to fit two windows side-by-side, like a Word document next to a web browser; this extra space is so helpful when programming.  I find that it is difficult to use the trackball with precision when covering such large distances (even after tweaking the configuration with KensingtonWorks, see below); I suspect that if I had a normal-sized monitor this would not be such a problem.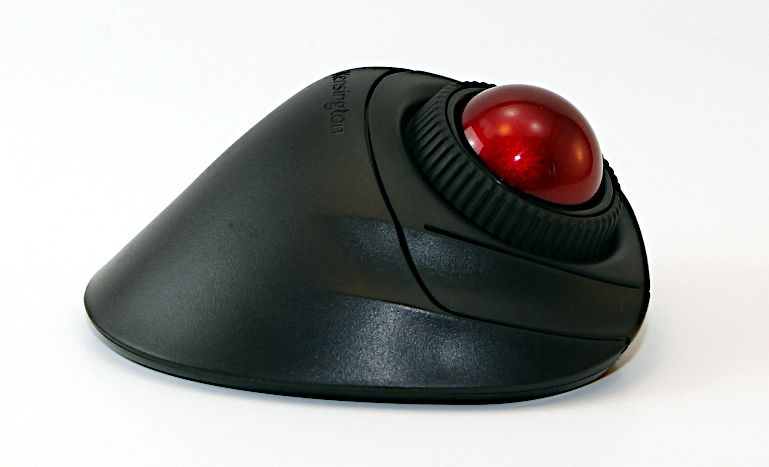 The most interesting feature about the Orbit Fusion is the scroll ring.  It completely encircles the trackball on the horizontal plane, allowing me to use whatever finger I want for scrolling.  I found using my ring finger to be the most natural.  Unfortunately, the scroll ring on this Orbit is broken.  From the moment I first used the ring, it felt weird.  It didn't scroll freely and smoothly like I would expect.  It has a gritty, grindy sort of feel to it.  When I try and scroll on a page, sometimes it doesn't scroll at all, sometimes it scrolls just right, and sometimes it scrolls too much.  There doesn't seem to be any rhyme or reason to it.  Honestly, I thought it had been damaged in the mail or something, but as I read through the comments on Amazon, I found a lot of people who had experienced something similar.  They described the scroll ring with words like gritty, sticky, scratchy, jumpy, and erratic; one noted that it seems to catch on something on the inside.  The problem is clearly not unique to my trackball.  One person claims that he found the solution to the scroll ring's problem:  He opened the trackball up and "applied silicone grease to the wheel's and frame's plastic bearing surfaces."  After putting it back together, he said, "The difference is night and day, with the lubricated wheel moving very smoothly and no longer catching itself randomly."  While I'm unable to verify the accuracy of this person's story, it makes a lot of sense given my experience and the comments from others.  My guess is that Kensington had a batch of trackballs where they either didn't add enough lubrication, or the lubrication that they used dried out.  Perhaps one day I'll give this a try and see if I can get it working, but whether this fixes it or not, the problem with this scroll ring is a deal breaker for me.  Kensington's quality control team should be catching problems like this.
Software
The Orbit is plug-and-play, thus no software is required to use it; however, Kensington has provided KensingtonWorks, software that can be used to configure the Orbit for extra functionality.  It's compatible with both Windows and macOS.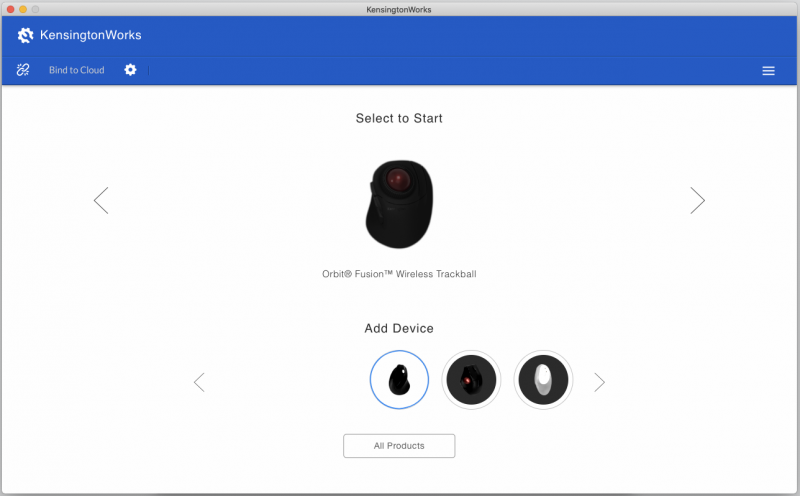 From the Home screen, I can select the Kensington product that I have.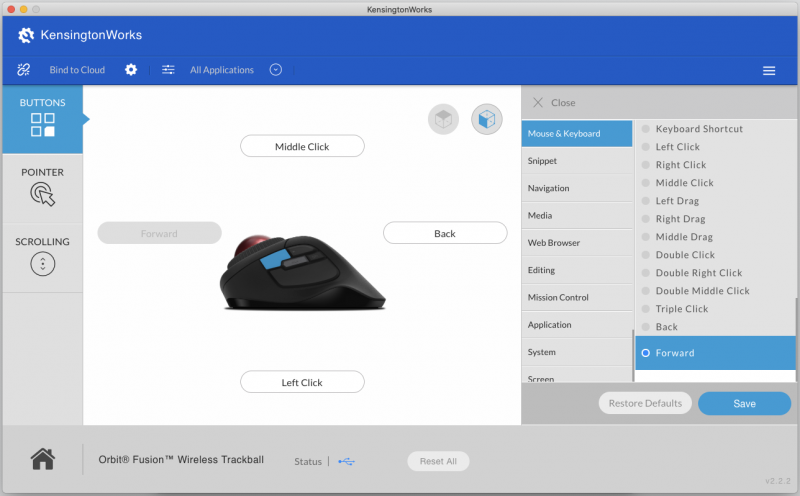 From the Buttons screen, I can configure what the various buttons do.  There's a lot of capability hiding in here because there are so many options to choose from.  I remapped the back and forward buttons to hide this application and capture to file, which are two functions within macOS that I use often.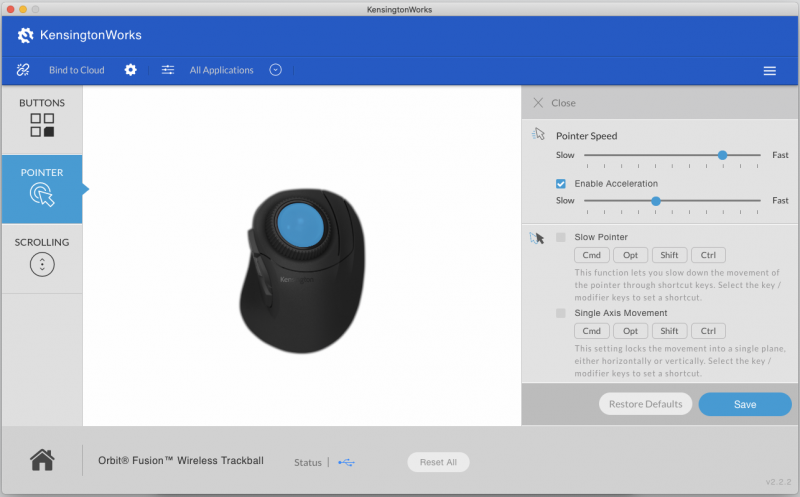 From the Pointer screen, I can configure the speed of the pointer.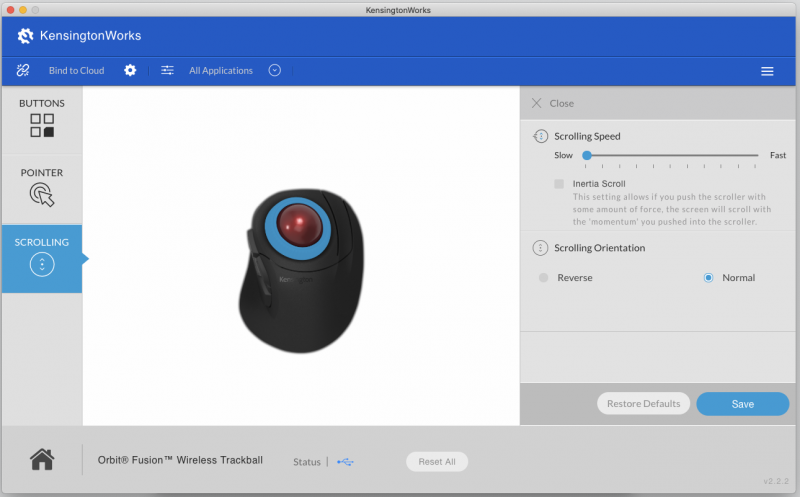 From the Scrolling screen, I can configure the speed and direction of the scroll ring.
All of these features can be saved to the cloud, either Google Drive or Microsoft OneDrive.  Additionally, the settings can be changed on a per application basis.  For example, in Word I could have the buttons do one thing, while in Excel I could have them do something else.
KensingstonWorks is a very capable piece of software.  Although it's not required, I think anyone who uses their products should give it a try.
Extra Features
Over time, the trackball and its sensors tend to accumulate a bit of dirt and grime.  Kensington has made this easy to clean:  Flip the Orbit over, use a pen to pop out the trackball, and then clean it and the area in which it rests.  When finished, the trackball pops back in.
The small red LED on top, the one used to indicate the DPI setting, also has another purpose:  When the battery gets low, the LED will begin blinking.  I appreciate the fact that Kensington uses a normal AA battery to power the Orbit.  This makes it easy to have spare batteries ready to go and prevents the Orbit from being a disposable gadget, one that I have to pitch when the battery no longer holds a charge.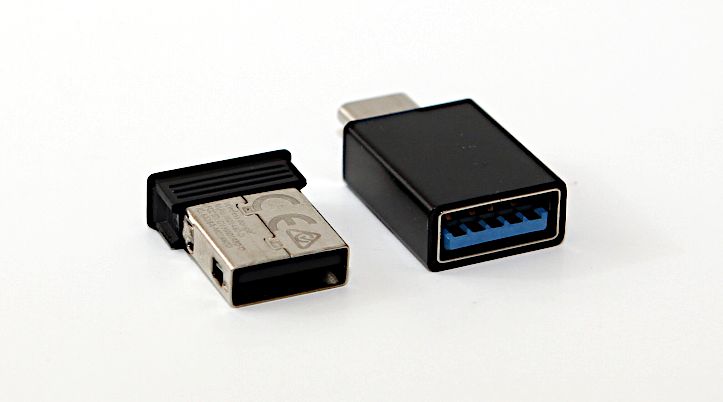 If you have a new computer that doesn't have any USB-A ports, Kensington has thoughtfully included a USB-A to USB-C adapter.  Unlike the wireless adapter, which has its own cubbyhole underneath the Orbit, there's nowhere to put this adapter when it's not in use.  I foresee a lot of these little guys getting lost.
What I like
Solid build
Lots of buttons
AA battery
The power and flexibility of KensingtonWorks
What I'd change
Write a better manual
Fix the scroll ring and make it easy for users to lubricate
Final thoughts
Trackballs are nowhere near as popular as mice, but Kensington has put a lot of work into designing this one.  It's very solid, has a lot of buttons that can be configured with its software, and is ergonomic as well.  It's a very large trackball, limiting its audience to people with larger hands, but the real Achilles heel of this gadget is the very thing that should make it a delight to use, the scroll ring.  The scroll ring on my Orbit Fusion is defective, and based upon the reviews I have read, this is true for a lot of people.  Because of this, I won't be using it myself, and I can't recommend that you purchase this product.  If, however, you want to take the risk, make sure you purchase it from somewhere that accepts returns with no questions asked.  And if you're really brave, perhaps you can take it apart and add the lubricant if necessary (though this will probably void your warranty).
Price: $69.99
Where to buy:  Amazon or Kensington's online store
Source: The sample for this review was provided by Kensington.