We use affiliate links. If you buy something through the links on this page, we may earn a commission at no cost to you. Learn more.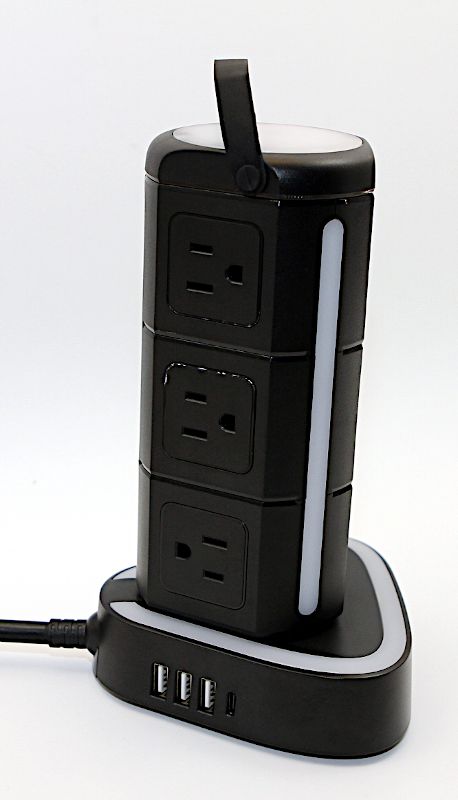 CROWDFUNDING REVIEW – Power strips are just power strips, right?  There's nothing interesting or amazing about them.  Some are wide, some are tall, some are round, some are square, but they are still all basically the same.  Along comes ESHLDTY, and they put some modifiers on a power strip that are not expected, words like RGB and waterproof.  What's this gadget like?  Is it really different?  Only one way to find out:  Read on!
What is it?
ESHLDTY advertises their newest power strip as "the world's 1st RGB IPX6 waterproof power strip tower."  It's a nine-outlet power strip in a tower configuration with three USB-A ports and one USB-C port.  It also has RGB lighting, an IPX6 water rating, and a V-0 flammability rating.  ESHLDTY makes waterproof power strips; their core design ideas are safety, practicability, and aesthetics.  ESHLDTY is a brand of Yihong Technology (Shenzhen), a Chinese company.
What's in the box?
The power strip tower
User manual (with seven pages of English instruction in a font so small that it requires a magnifying glass)
Safety information card
Hardware specs
Options: 9 outlets with a 6-foot cable or 12 outlets with a 9-foot cable
Colors: Black or white
Max power:  2000 watts
Surge rating:  2000 joules
Special effect:  Nine color effects including music rhythm
Ports: 3 x USB-A, 1 x USB-C with 20W power deliver
Material:  Polycarbonate and ABS
Flammability:  V-0
Design and features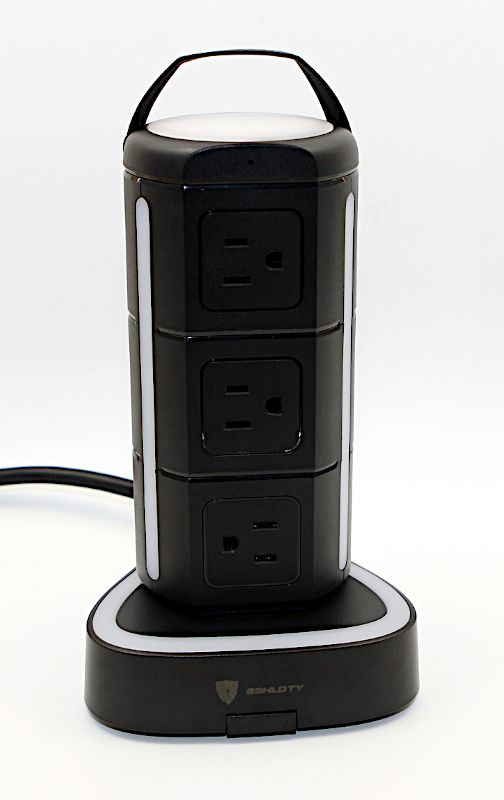 The T1 has nine electrical outlets on a vertical tower that rises up from the triangular base.  Although most of the strip is black, there's a white circle on top and white stripes along the sides and base that hide the RBG lighting.  The rubbery handle on top feels flimsy, but the rest of the T1 seems quite sturdy.  The USB ports are on the back left side, keeping them out of view but making them a bit harder to get to, and the on/off switch is on the back right and is protected with a plastic cover.  The non-detachable, heavy-duty power cable comes out out the back, and it can rotate somewhat, making it more flexible.  The outlets are spaced two inches apart, with plenty of room for putting multiple DC power adapters side-by-side.  Overall, it has a utilitarian design with a hint of the beauty that will come with the color effects.
Installation and setup
The T1 arrived in a thin box without adequate interior padding, thus the box had caved in multiple places.  Thankfully, the power strip did not appear to be damaged in any way, but I would not be surprised if some people find theirs to be damaged upon arrival.  I removed the T1 from the box and pulled it out of a bag.  The only setup required is to plug it in.
Performance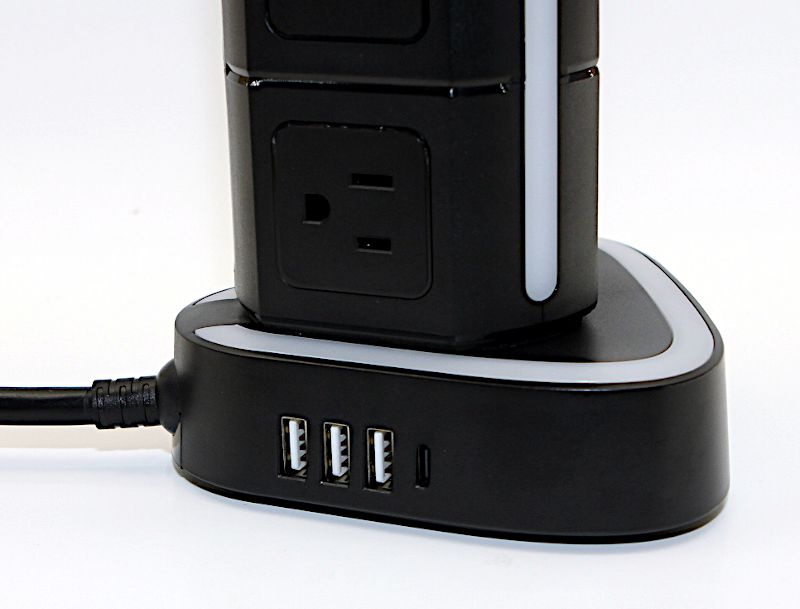 The base of the T1 is shaped like a triangle and is fairly small.  This means that it's not as stable as other towers, like these ones from Aukey or BESTEK, both of which I have.  The unit I am reviewing is the 9-outlet version, and I imagine that the taller 12-outlet version is even worse.  If you plan to load the strip up with adapters and plugs, you'll want to be careful where you place it.  I've placed mine on the base of a small light stand and only have four things plugged into it, so this won't be an issue for me.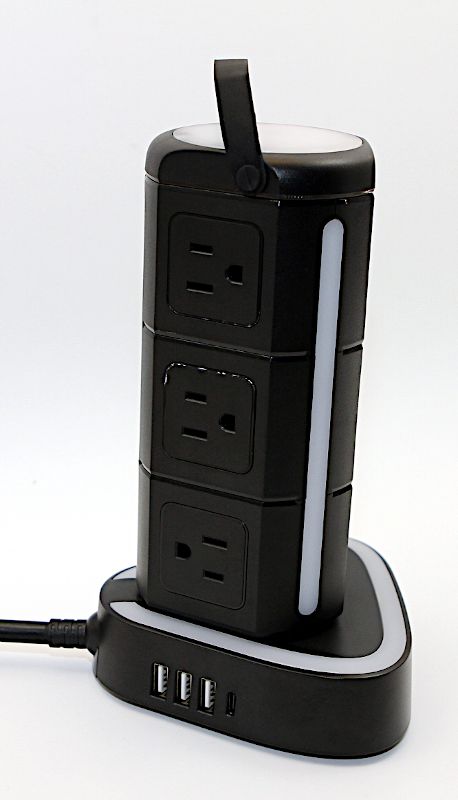 Never miss one of our posts again. Sent MON, WED, and FRI with the latest gadget reviews and news!
The outlets are spaced a full two inches apart, which is fabulous, as this allows fat DC adapters to be used without blocking the outlets next to them.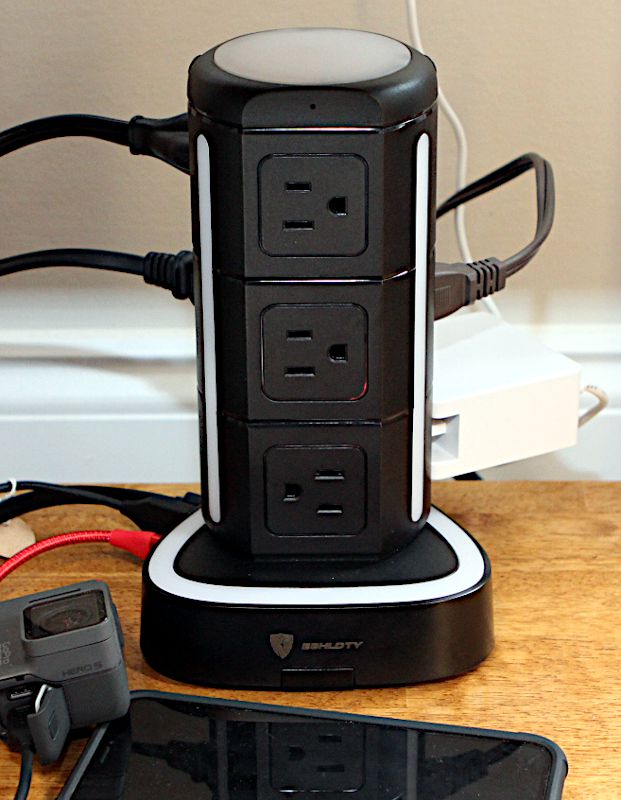 I have been using the T1 in my office to power a small lamp, my Soundcore Wakey, a Dell WD19 dock (that in turn powers my 16" MacBookPro), and my Edifier powered bookshelf speakers.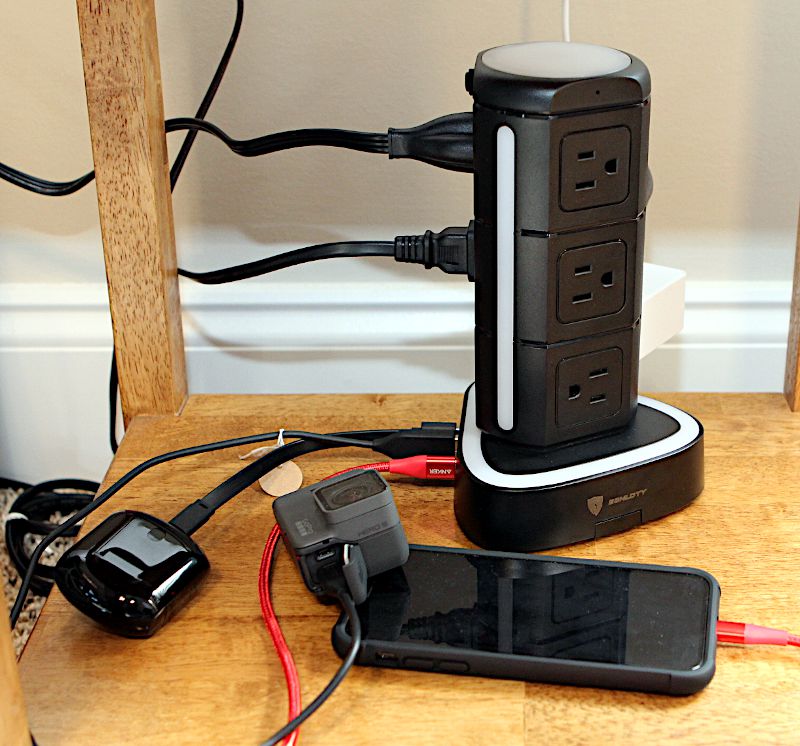 The T1 has four ports for powering gadgets; three are USB-A and one is USB-C with power delivery (PD).  These are on the back left side of the base.  On the one hand, this keeps them out of sight when not used; on the other hand, they are bit harder to get to than if they were located on the front.  I charged my iPhone, a GoPro, and a pair of TaoTronics earbuds all at the same time without any problems.
One of ESHLDTY's core design ideas is safety, and this evident in a few ways.  One, the T1 is fire resistant.  It's made in part from polycarbonate, which is flame retardant; this should reduce the likelihood of it catching on fire and burning, should there be an electrical problem.  It's rated as V-0, the highest level of Underwater Laboratory's UL94 flammability standard for vertical positioning.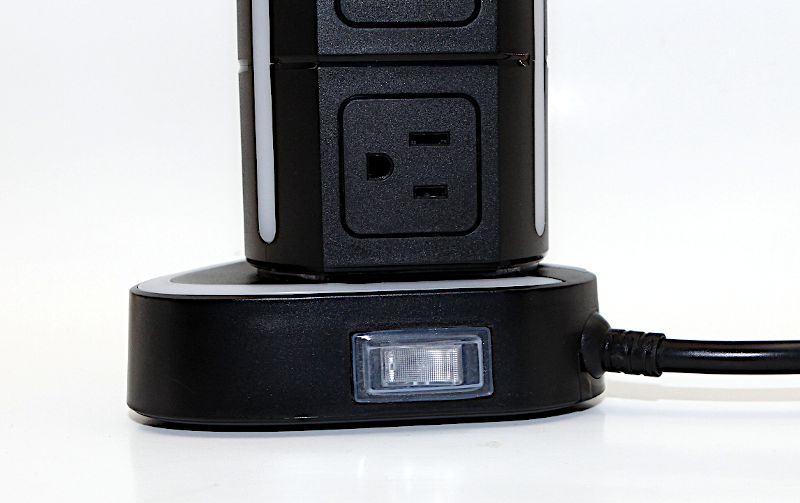 Two, it's splashproof.  ESHLDTY's web page markets the T1 as being waterproof, but that's not true.  The T1 has an IPX6 rating, which means that it's only splashproof not waterproof.  It's "protected against powerful water jets" but it's not "protected against the effects of temporary submersion."  This means I should be able to use the T1 on my covered back porch where it occasionally gets wet when strong winds blow rain into it, but I wouldn't expect it to work if it got knocked into my hot tub.  (To be honest, if this gets knocked into my hot tub, I'll probably have much bigger problems than a failed power strip.  Keep all power strips away from your hot tubs, pools, showers, etc., no matter what their marketing says or what kind of rating it has.)
A quick search on Amazon did not reveal any other power strips claiming to have an IPX6 rating, so this is certainly one of those features that distinguish the T1 from other products.  It also demands a test.  Yes, I intentionally splashed water onto this power strip while my WORX fan was plugged and pulling current. You can see the results in this video:
Three, the outlets only work when used with US plugs.  Most of the outlets are very stiff and require a fair amount of force to use; in fact, two of the nine are so stiff that I was unable to use them.  This stiffness is due to a protection mechanism that ESHLDTY has added to their outlets; basically, they won't work unless you plug in a standard US plug.  This would prevent a child, for example, from poking something small into the outlet and getting electrocuted.  In fact, ESHLDTY has a promo video where someone poked a pair of tweezers into an outlet and was not electrocuted.  (For the record, I did not attempt to duplicate this test, and I don't recommend that you do so either.  Just in case.)  While I appreciate their attempt to add this protection, they need to fine tune it a bit so that it's not so stiff.  Unusable outlets are, well, unusable.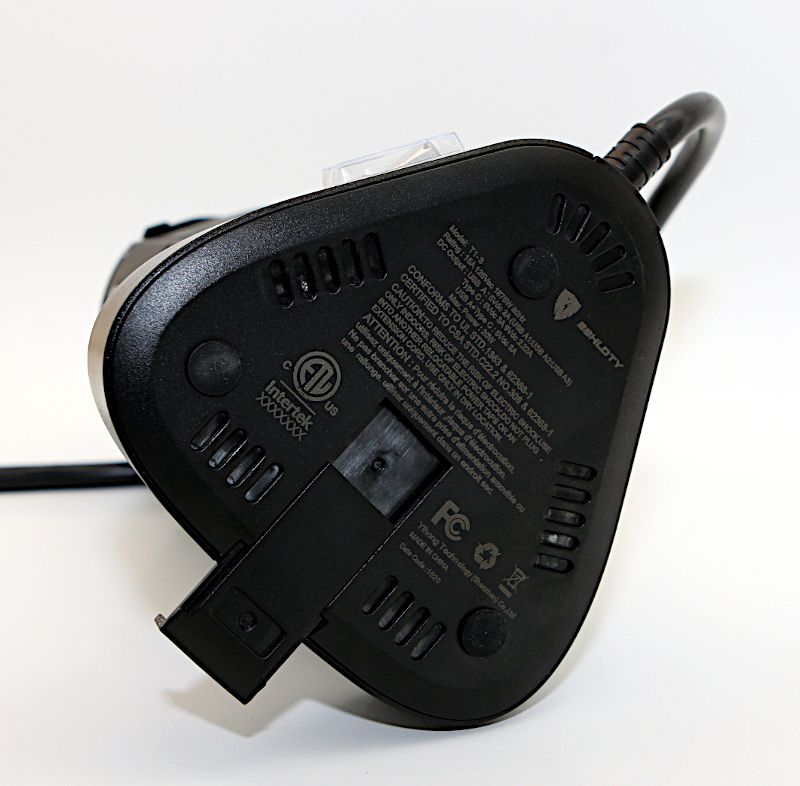 Four, the T1 has been certified by ETL (for compliance to North American safety standards) and the FCC (for compliance to electromagnetic interference standards).  This is really nice, as not all products that come from China have been certified to meet American standards.
Another distinguishing feature of the ESHLDTY's power strip is the built-in lighting.  When I tap the circle on top of the T1, it lights up.  If I then press and hold the circle, the strips along the sides and base also light up.  Each time I tap the circle, it moves to the next color effect.  If I press and hold the circle again, the strips will turn off, and if I do that one more time, the top light will turn off.  The colors effects in order are:
Solid white
Solid red
Solid green
Solid blue
Solid orange
Solid pink
Solid yellow
Alternating red to blue
Alternating all colors
Sound-activated lighting
ESHLDTY calls its sound-activated color effect "music rhythm light."  The LEDs light up in a pre-defined pattern, and the louder the sound the more lights that light up.  It's easy to see whenever I shout or clap my hands, but it's a bit trickier with music.  The T1 does respond to music, especially bass, but the threshold is set very high.  In other words, when I play music in my office at what I would consider an average level, one that is pleasant for listening while working, the lights don't come on.  I either need to place the T1 right in front of my Edifier speakers, or I need to really crank the volume up.  The T1 responds best to dance/electronica and rap, genres that often have a driving bass, but less well to rock, pop, or contemporary.  Playing music at high volumes is fine for times when I need to stand up, stretch, and take a break, but I wouldn't really want to keep it at this level for long periods of time.  The lights are sufficiently bright for a small bedroom or office that is dim or dark; they are not bright enough to light up a larger room.  I plugged in the T1 in my living room and put it behind my LG C9 TV, hoping for a TV backlight type of vibe.  I cranked my Yamaha receiver, and the T1 certainly heard it and lit up, but the brightness was rather underwhelming.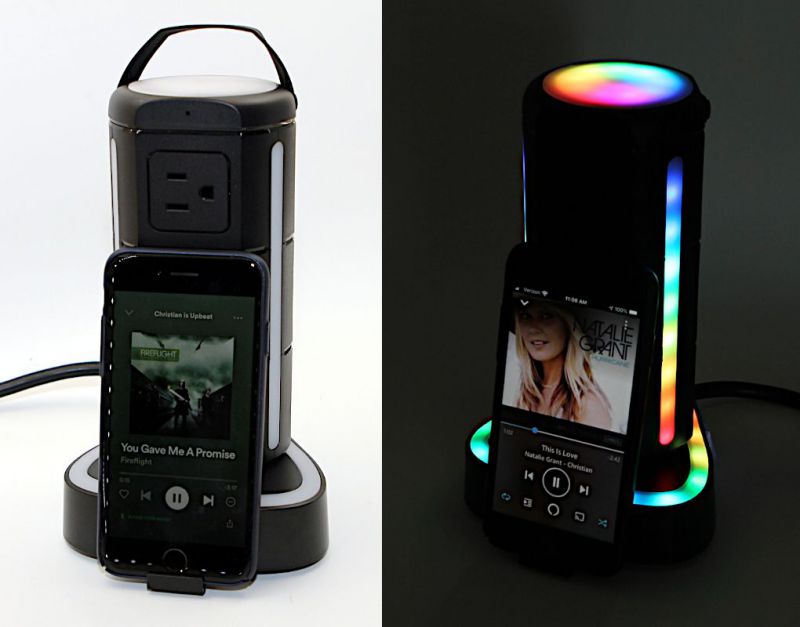 On the front side of the base is a small tab, which when slid out provides a place to prop up my iPhone or iPad.  When I played music at a reasonable volume, it did a surprisingly good job of activating the lights.  This, however, is not really all that impressive.  Why not?  Because I really don't want to listen to music from my iPhone's speakers.  In a day where there are inexpensive smart speakers that sound so much better (like Apple's new HomePod mini) and Bluetooth speakers that provide a thumping base (like the Soundcast V5), why would I ever listen to music directly from my phone?  I just wouldn't, unless I was desperate.
If you want to see the T1 in action, here's a video that shows the different color effects:
I like the color effects, and I like having lights as an option.  I'm just not all that impressed with them.  The solid and alternating effects do work, and in the right place they could be a welcome improvement to a room's ambiance, but the T1 only supports a handful of colors, and it's not very bright for anything other than a smaller room.  The music rhythm feature is ok, but because the threshold is so high (and not adjustable), it doesn't work very well for listening to music in those same smaller rooms.  I think if you really want this feature, you're better off buying an adjustable LED light strip that integrates with a smart home system like HomeKit or Alexa.  If you consider the lighting to be a bonus feature rather than the primary reason for buying this power strip, you won't be disappointed.
Extra Features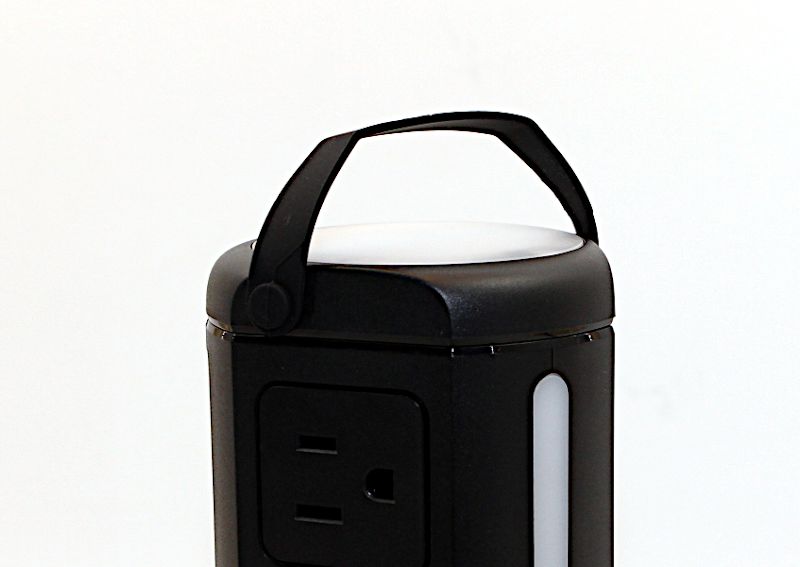 The T1 has a small handle on top.  It has a flexible, rubbery texture to it that doesn't seem like it's very strong.  To me, it seems out of place when compared to the rest of this well-made power strip.  Honestly, I'm not sure why it's here at all; power strips are not the kind of things that I pick up and move around a lot.  Thankfully, it can be tucked away to the back of the tower and ignored.
If you need any help or support with your T1, ESHLDTY does not offer a phone number for you to call.  You can, however, send them an email at [email protected].
If you're intrigued by ESHLDTY and their commitment to safe power strips, and if you're looking for something just a bit unusual for the coming Christmas season, you might take a look at their orange and watermelon-themed power strips.  Yes, they have power strips that look like orange and watermelon slices.
What I like
Plenty of outlets and ports
Lots of room between the outlets
Safety features
Lights
What I'd change
Make the manual easier to read
Make the outlets less stiff
Make the sound threshold for the lights adjustable
Final thoughts
The ESHLDTY T1 is a power strip in a tower configuration.  There's plenty of space between the outlets, and there are four USB ports, including one with power delivery.  It uses fire retardant material, is definitely splashproof, and has child safety features.  To top it off, it has built-in RGB lighting.  ESHLDTY has done a nice job adding new features to an industry that's otherwise fairly static.  I like the design and functionality of the T1, so if you're in the market for a power strip that's safe and just a bit different, I recommend taking a look.
Price:  $65.00
Where to buy:  Indigogo
Source: The sample for this review was provided by ESHLDTY.