We use affiliate links. If you buy something through the links on this page, we may earn a commission at no cost to you. Learn more.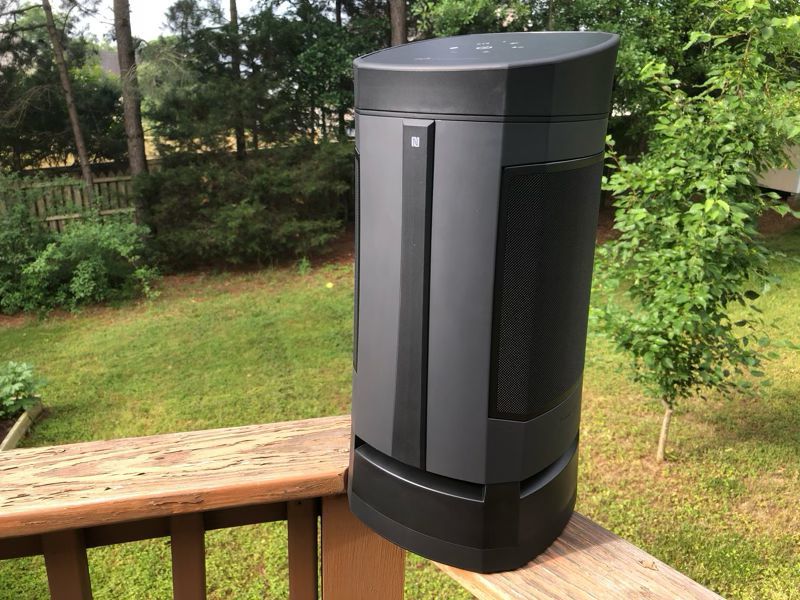 REVIEW – Recently I reviewed the Bunktrunk footlocker for my daughter.  It came with a cute, little Bluetooth speaker about which I wrote, "It may not be loud enough to fill my house with sound, but it will be plenty loud in a dorm room."  Looking back, I think this is how I thought about all Bluetooth speakers.  They are nice, and they are cute, but there's nothing earth-shattering about their sound.  And then a box from Soundcast arrived, and my perspective has changed.
What is it?
The VG5 is a large, portable Bluetooth speaker intended for outdoor use.  It's very little about quiet, introspective moments alone, but very much about thumping, rocking parties with your friends!
What's in the box?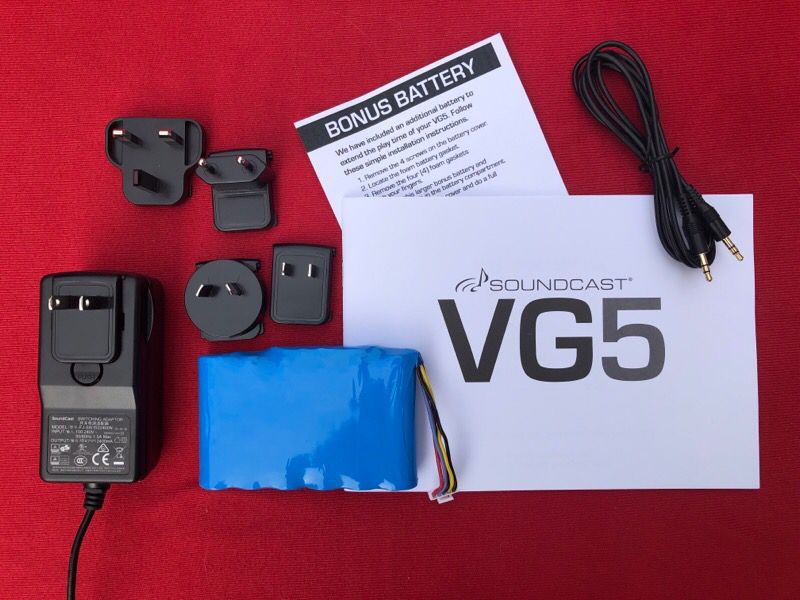 The speaker
A wall charger with 5 outlet adapters
Two battery packs, one smaller and one larger
3.5 mm audio cable
An instruction manual with 3 pages of English instructions
Hardware specs
One 6″ long-throw woofer, two 3″ full-range drivers
50-watt bi-amp amplifier
Rechargeable internal battery pack
Bluetooth 4.2 and Qualcomm® TrueWireless™ Stereo
Capacitive touch keypad
Design and features
When the box first arrived, I didn't know what it was.  It was so huge!  It took me a second to realize that this was a Bluetooth speaker.  Pulling it out of the box did nothing to diminish its massive size.  The VG5 is 17 inches tall and weighs over 11 pounds; it even comes with a built-in handle for carrying, a feature that is very much needed.
Installation and setup
The first step in the setup process was to install a battery.  I unscrewed a panel on the base—this requires a medium-sized Philips screwdriver, which is not included—plugged in one of the battery packs, and then tucked in the wires.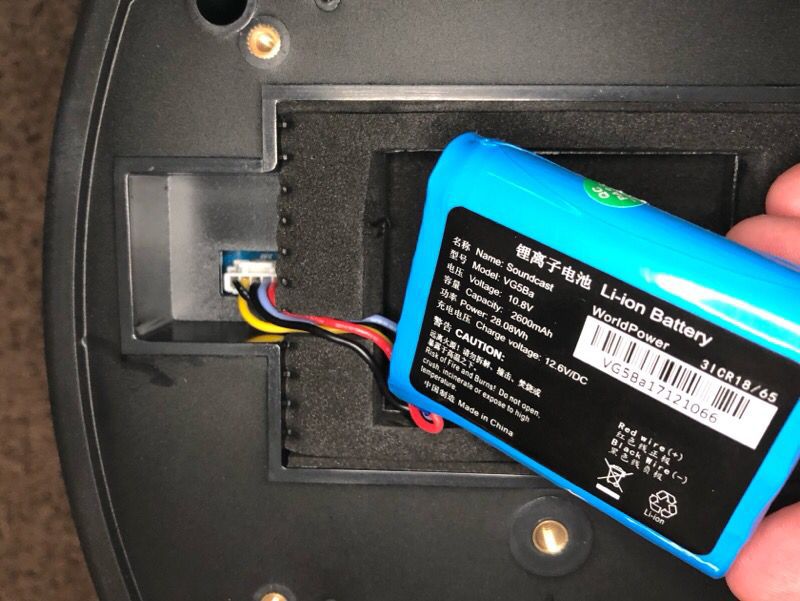 The second step was to select the appropriate wall adapter and put in into the wall charger.  I used the typical North America adapter, but it's pretty cool that the VG5 is ready for wherever you want to take it, whether nationally or internationally.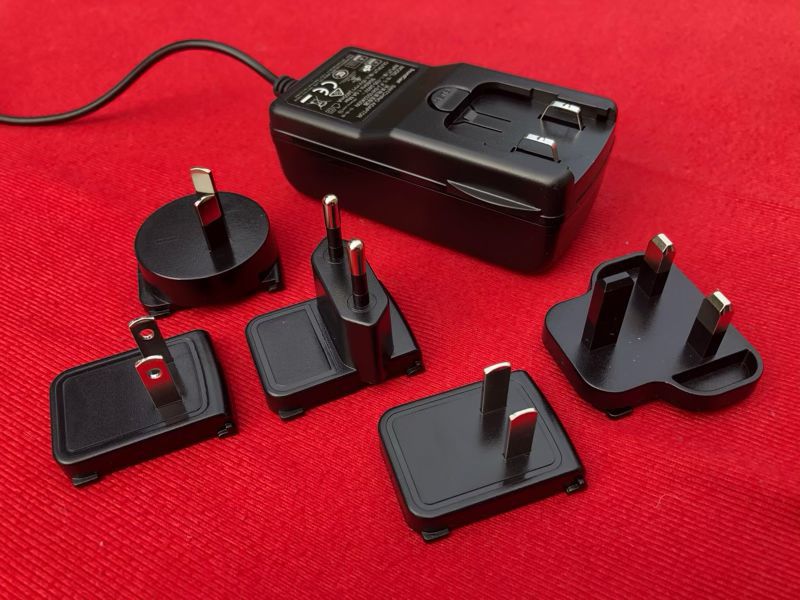 The third step was to plug it into the wall and just let it charge.  The manual recommends that you give it 5 hours, so I let it charge for the full duration.
One interesting item of note is this threaded hole in the bottom of the speaker.  I couldn't find any explanation for it on the manual or Soundcast's website.  It looks a lot like the mount point on the bottom of my DSLR camera, so I'm going to assume that this is for mounting the speaker onto a tripod.  If you plan to do this, make sure you get a hefty tripod.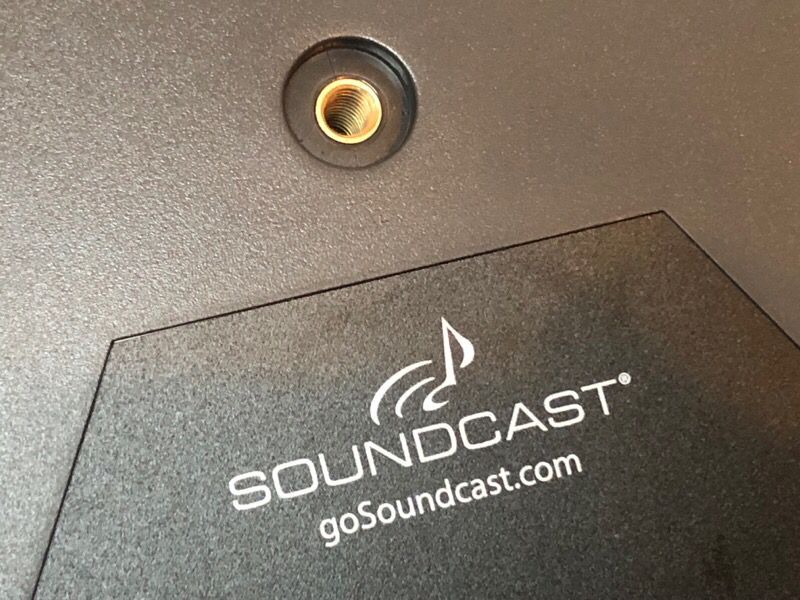 The final setup step was to connect the VG5 to a music source.  Although it comes with an audio cable for a wired connection, I chose to use Bluetooth and pair it to my iPhone, which was easy to do.  I simply turned the speaker on, pressed the Bluetooth icon, enabled Bluetooth on my phone, and then selected "VG5 by SoundCast" from the menu.
Performance
The main question is certainly, "How does it sound?"  Unsurprisingly, it sounds loud!  The VG5 can put out a lot of volume.  When I first turned it on and played a rocking song, it shook the kitchen table!  When I took it outside, it shook the porch!  When I put it out in the garage, I could still hear the bass thumping from my living room.  Much of this can be attributed to its 6″ long-throw woofer that can really move some air.  When I put my hands in front of the 4 openings along the bottom, I can feel the air it's pushing.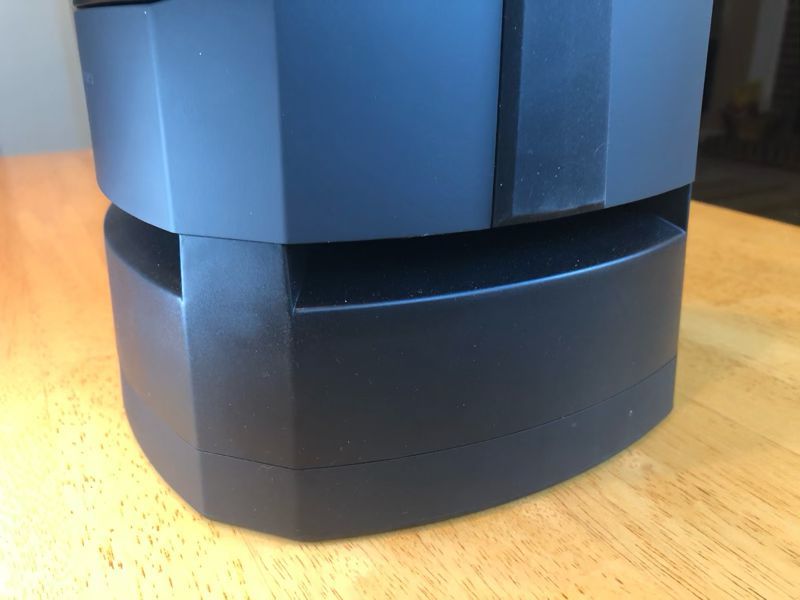 As this is an outdoor speaker, I took it outside every chance I got, washing the car, grilling steaks for dinner, woodworking in the garage, and enjoying homemade ice cream on the back porch.  I was never disappointed by the amount of sound.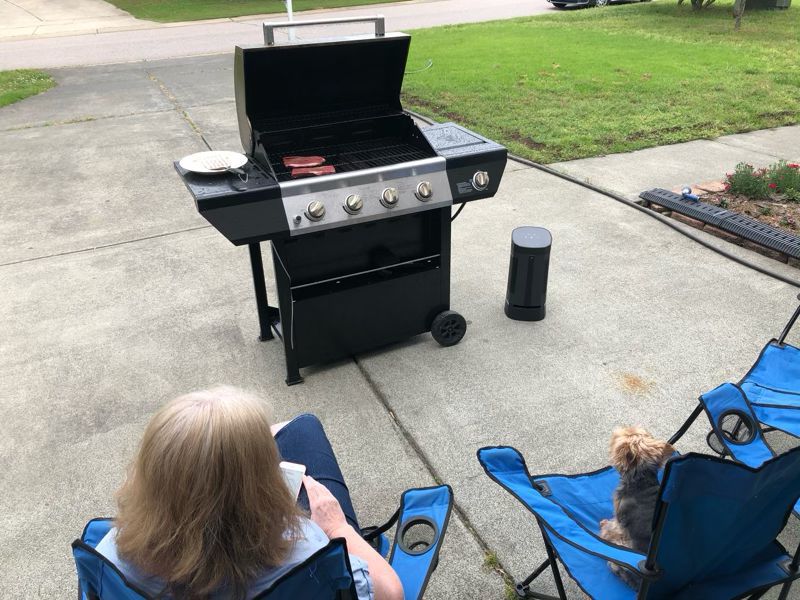 The quality of the sound is, perhaps, a little bit of a different story.  Overall, the sound is very good.  The mids are solid, and the highs are clear; however, as one might expect for an outdoor, party speaker, Soundcast has cranked the bass on the VG5 way up.  This results in a sound that "thumps you good" but tends to be muddy and distorted.  I listened to a variety of music genres, and the distortion is most noticeable with techno/electronica, pop, rock, or anything with a pulsing beat and a heavy bass.  Just to make sure that I wasn't imagining the excessive bass, I listened to the same music in my Mustang, cranked up to ear-splitting levels.  It sounded very different; the bass was present, but not overpowering.  There's no doubt that the VG5 significantly alters the sound of your music.  Whether or not you consider this to be a good thing is largely dependent upon your personal tastes.  If you're an audiophile or a musical purist, you probably won't care for this speaker.  If, however, you just want to party, I think you will absolutely love this design choice.  Go ahead and drop the beat!  Personally, I wish that Soundcast had added an equalizer or a few presets for various music genres; this would make it more flexible by accommodating a variety of musical tastes.
The VG5 comes with a pair of rechargeable, lithium-ion battery packs.  At first glance, it's not obvious why there are two packs.  The manual only mentions the smaller one, and the larger one comes with a slip of paper saying that it's a bonus battery.  The Gadgeteer did confirm that everyone gets two batteries; it's not a perk for reviewers.  The manual says that the play time varies depending upon the volume, so I ran a couple of tests to see how long the battery packs last.  On one-fourth volume, the smaller pack lasted 5.5 hours with continuous play over Bluetooth and the larger pack lasted 10 hours.  The Amazon website says it should last 10 hours, so my guess is that Soundcast added the larger pack because the smaller one wasn't lasting long enough.  Whatever the reason, hey, it's a free battery and a welcome addition!  If you're going to spend all day at the beach, start with the larger battery and bring the smaller one (and a screwdriver) for a spare.
I'm really glad that Soundcast designed the VG5's battery pack to be replaced; however, this feature is only helpful if you can procure another pack once you wear out the ones that come with it.  Unfortunately, Soundcast does not appear to sell spare packs for the VG5; there's no mention of them on the Soundcast website (though they do sell them for the VG7) or on Amazon.  I sent a request to Soundcast via their contact page, asking where I could purchase a spare battery pack.  The replies that I got were prompt and courteous but didn't actually answer my question.  Unless Soundcast clarifies, I can only assume that there's no way to purchase a replacement battery pack; that's a tough pill to swallow for a speaker that costs $400.  Hopefully, Soundcast will fix this soon by offering the larger size battery packs on their website.
Extra Features
Soundcast's website notes that the VG5 has a "weather-resistant exterior."  Looking on the bottom of the speaker, I found that it has an IP64 rating.  This means that it provides complete protection against dust and is protected from water that is splashed against it.  Feel free to take this speaker to the beach, onto your boat, or to the pool; just don't throw it in!
The VG5 doesn't really have any buttons in the traditional sense; instead, it has what Soundcast calls a "capacitive touch interface."  This means that I simply have to touch the surface in order to activate a feature.  It's a slick-looking interface and undoubtedly contributes to its IP64 rating.  It does take a bit of getting used to, as you have touch and hold the interface for a couple of seconds in order to activate each feature.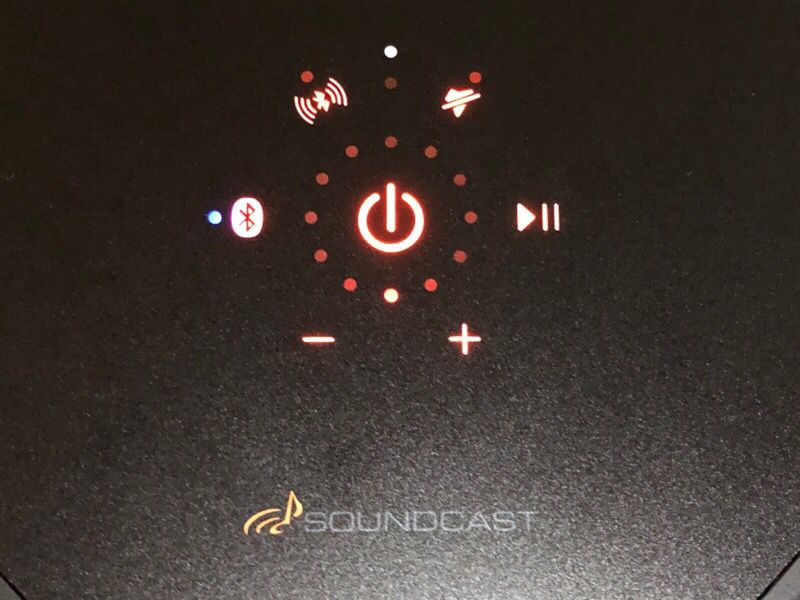 The VG5 supports NFC, so if your mobile device also supports it, you can just put it near the top of the speaker and it should instantly sync.  The good news is that NFC takes less power than Bluetooth; the bad news is that it has a very short range (about 4 inches), so you'll need to leave your mobile device on top of the VG5.
If you want even more volume, you can buy a second VG5 and pair them together using Qualcomm's TrueWireless Stereo (TWS) pairing.  This allows one VG5 to connect to a mobile source and to another VG5, effectively doubling the sound.  Additionally, you can configure them so that one VG5 acts as a left speaker and the other as a right, thus giving you true stereo sound.
The VG5 also has a couple of lock features that prevent "un-intended or accidental operation."  I suppose if your party is getting a bit too crazy, or if you have mischievous friends (or little kids), this might help keep the music going without interruptions.
What I like
Booming sound
Easy Bluetooth connectivity
What needs to be improved
An equalizer or some presets
The option to purchase additional battery packs
Final thoughts
I like this speaker.  I really like it.  I listen to it all the time.  It has completely opened my eyes (or my ears?) to what is possible with a portable, Bluetooth speaker.  Summer is here; it's the right time of year for pool parties, grilling burgers, and picnicking at the park.  Whatever your plans are, the Soundcast VG5 is a great choice for filling your event with loud, thumping music.
Price: $399.97
Where to buy: Amazon
Source: The sample for this review was provided by Soundcast.