We use affiliate links. If you buy something through the links on this page, we may earn a commission at no cost to you. Learn more.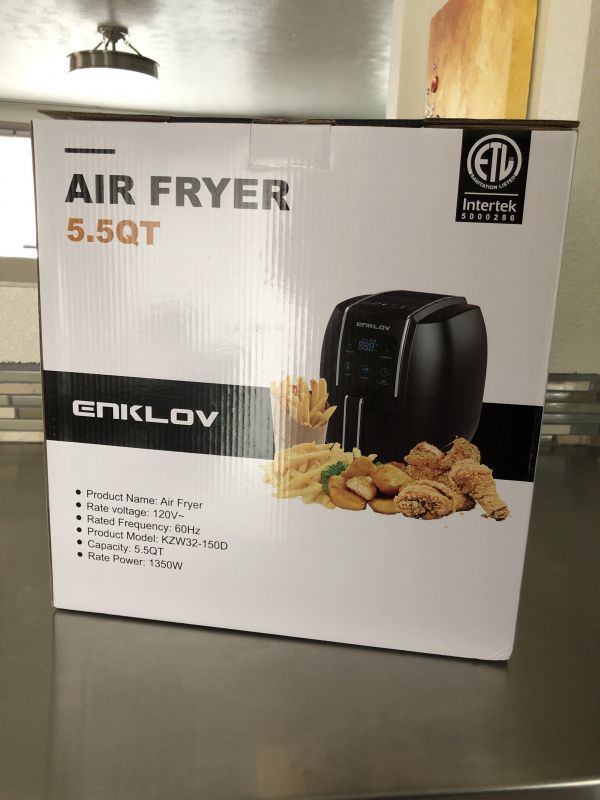 REVIEW – You're not going to find a bigger fan of fried food than this writer. Growing up, I regularly attended the Houston Livestock Show and Rodeo, which is famous for having booths of fried food including twinkies, snickers and oreos. Needless to say I've consumed my fair share of fried goods. I've been intrigued about air fryers for a while, as I get older and my cholesterol levels require me to cut back on the deep fried goodies. So I got the chance to review the Enklov 5.5 quart XL Air Fryer and let me tell you: this one might be a life saver!
What is it?
The Enklov air fryer is a cooking device that allows you to "fry" food by using heated air instead of submersion in grease.
What's in the box?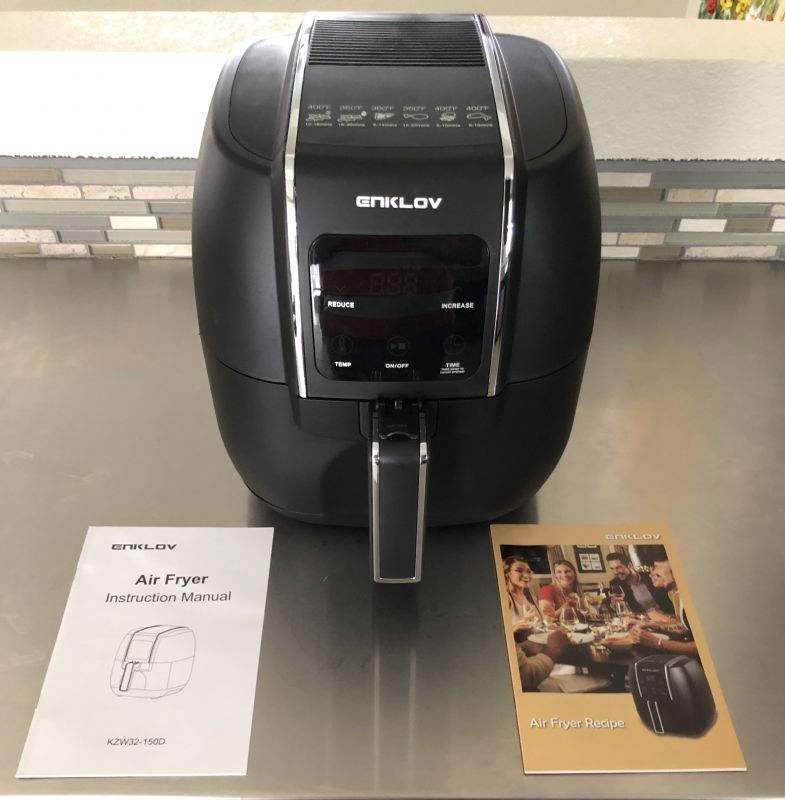 Air Fryer with removable basket
Instruction Book
Recipe Book
Design and features
The Enklov air fryer has a sleek black matte design, with a pull out basket that further disassembles for cleaning. Touch controls on the front panel allow you to adjust the temperature, set a timer and turn it on and off. The actual operation is fairly simple, set the temp to allow it to preheat, then put the food in the basket and set the timer. Many of the recipes and food types require you to either shake the basket, turn the food over or adjust it within the basket half way through cooking to ensure it doesn't stick to the basket and that it cooks evenly.
Setup
Setting up the air fryer couldn't be easier, it's ready to go out of the box – simply plug it in, set it and start cooking.
Performance
We have tried multiple recipes and cooked a variety of types of food in the fryer. Here is a before and after of your standard fare tater tots: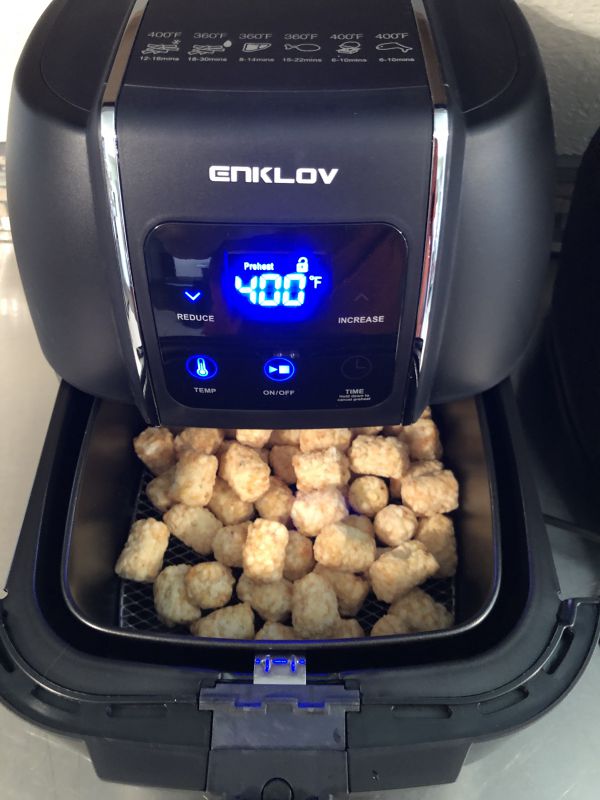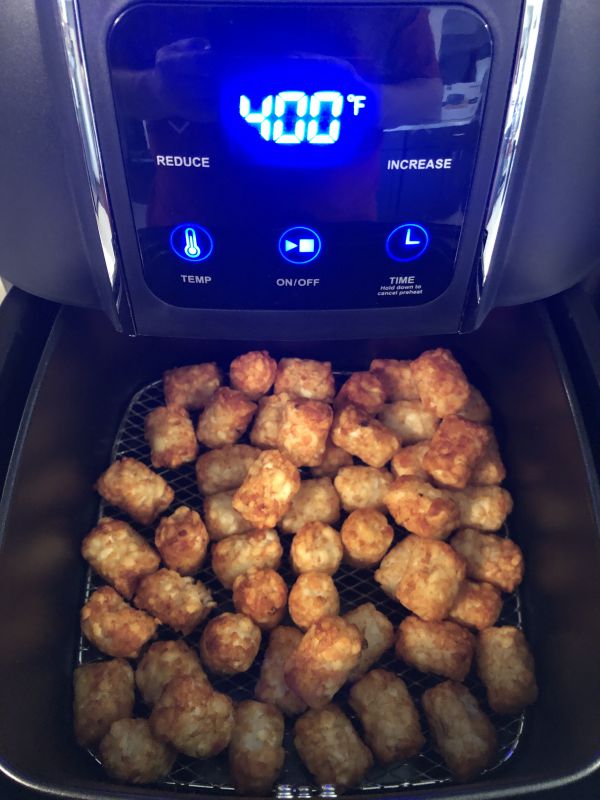 Never miss one of our posts again. Sent MON, WED, and FRI with the latest gadget reviews and news!
The tots went in frozen at 400 degrees and after a shake half way through they came out perfectly brown and crispy. In fact, we absolutely loved the way they came out. Unlike when baked, they were not mushy on the inside and they kept the crispness until eaten. Definitely our new favorite way to cook tater tots, fries, and sweet potato fries.
Next, we tried a recipe for apple pie egg rolls: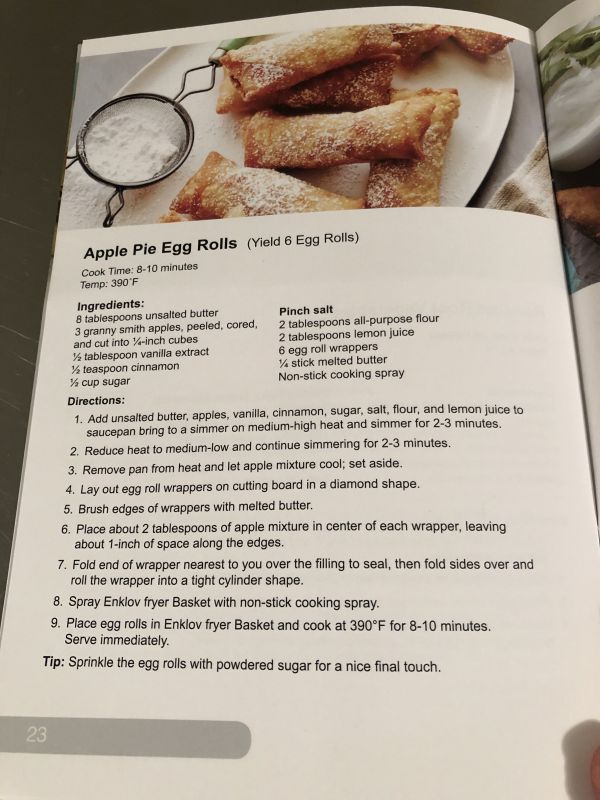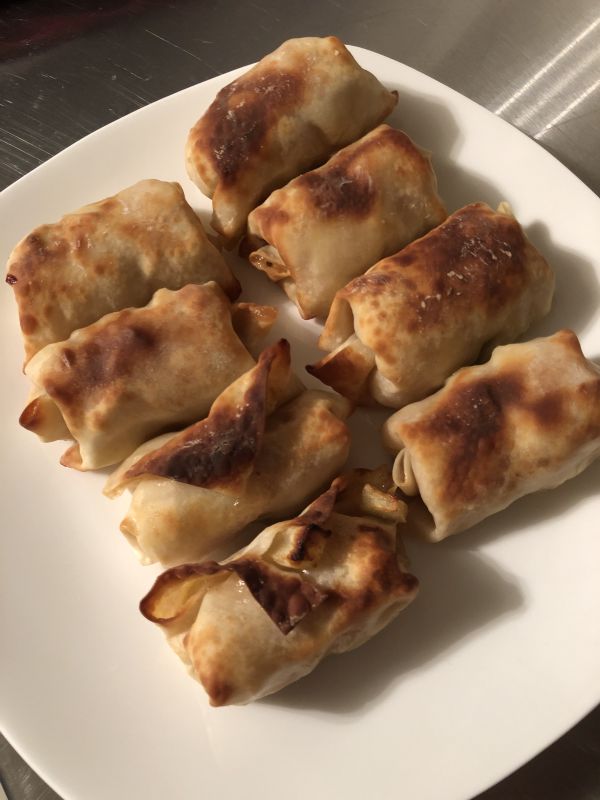 You may be able to tell, they didn't quite come out as pretty as the picture in the recipe guide, however they were still very tasty and definitely a healthier option than a deep fried apple pie. In the few weeks we've had the fryer, we have tried the fries mentioned above, the pies, as well as fried apricot glazed chicken, fried tofu, fish sticks and surprisingly we used the fryer to reheat pizza. The pizza came out especially well and using the fryer will be the only way I reheat pizza ever again. The cheese is reheated to a perfect gooey texture while also keeping the crust with some crispness. I always hated putting pizza in the microwave to reheat and now I won't do it again.
What I like
Great crispness and texture on cooking frozen food compared to other cooking methods
Easy to set timer and temp, cook food and prep
Faster to preheat than an oven or cooking oil
Less greasy and oily food – healthier cooking overall.
What needs to be improved
When the drawer is open after preheating or when adjusting the food, there is a VERY loud repetitive beeping – this could be toned down a bit.
In cleaning the basket the bottom grill is rather difficult to get clean during hand washing, this can be rather labor intensive depending on how messy the food is that was being cooked. For most basic frozen foods, it's not bad but the apple pie egg rolls for instance took quite a bit of time to clean with all the gooey overrun.
Final thoughts
Overall, this unit has me wishing I had invested in an air fryer a long time ago! It's a great cooker, easy to use and fast to cook our meals. It has a wide variety of uses, recipes and will be a highly used item in our kitchen. I think it's a quality device at a great price. I love that it gives us a healthier option for cooking foods like french fries and tater tots as well. I definitely recommend the Enklov Air Fryer.
Price: $89.98
Where to buy: Amazon
Source: The sample of this product was provided by Enklov.