We use affiliate links. If you buy something through the links on this page, we may earn a commission at no cost to you. Learn more.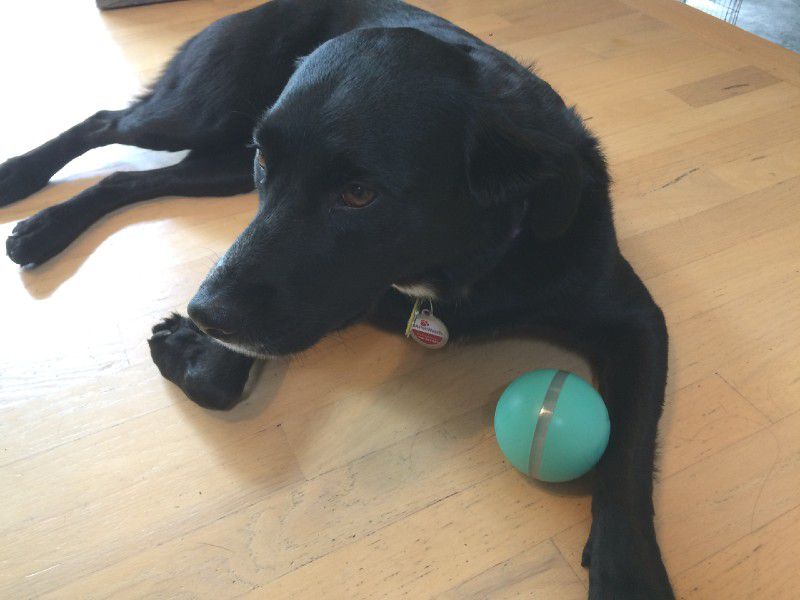 REVIEW – Cheerble Wicked Ball is a "smart toy" aimed at keeping your pet active and engaged, especially when you're not home.
What is it?
With three different activity level settings and a spot to stash treats, this pet toy alternates between play and rest mode to entertain your dog or cat for hours with built-in breaks.
What's in the box?
Mine arrived only with the ball itself in heavy-duty bubble wrap. However, the web site says it should have come with:
The ball
An instruction manual
USB charger
My instruction manual and charger may have been missing because I received a review sample. However, it wasn't a problem because the Wicked Ball Web site has extensive instructions, including videos.
And I was able to easily charge it with my Kindle charger.
Hardware specs
Sensor: 6-axis MEMS
Processor: ARM Cortex-MO
Material: Polycarbonate and TPU
Motor: High-Torque DC
Charging time: 1 hour
Battery Life: Up to 8 hours, depending on mode/activity level
Model: C1801
Weight: 200 grams
Dimensions: 77mm/3 inches across
Battery: 3.7v 300mAh
Operating Temperature: 0-40 C / 32-104 F
Design and features
First, you need to unscrew the outer shell in order to reach the power center that controls the toy. This is also where you find the charging port.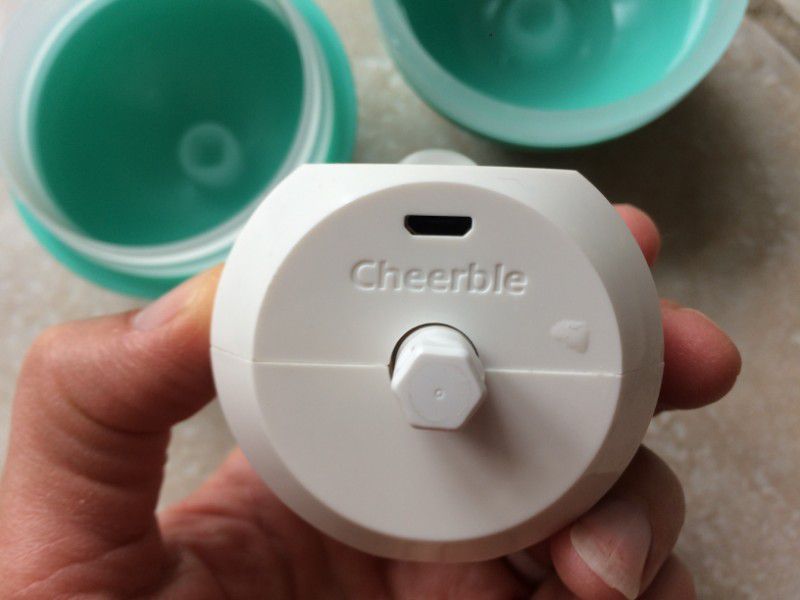 Setup
It's pretty simple to set up. To turn it on, you press the little dog-bone button for 3 seconds. Then you hold down the button to select your mode. As you press it, it will switch from green (gentle) to blue (normal) to purple (active). Just leave it on your preferred color/mode selection.
Also, rest assured that it won't start twitching and vibrating until you've safely screwed the outer shell back together.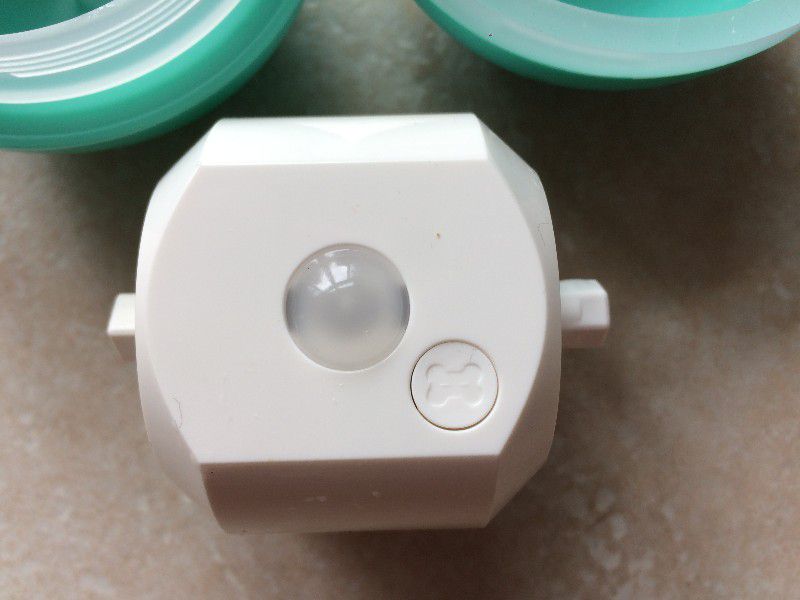 Performance
I was surprised at how turbulent even the most gentle mode was. Because of this, I'd suggest starting on green and then deciding if your dog wants more. With its wild movements, I wasn't comfortable with the Wicked Ball gyrating across my new bamboo floors or around my antique furniture. I know it has sensors, but even so, I'm very protective of our family heirlooms, and it just wasn't worth the risk. For my own piece of mind, I kept it in our carpeted lower-level.
The sensors did a good job of preventing the ball from getting wedged in tight spaces. My dog has a different (non-motorized) ball that releases treats but it's forever getting jammed in awkward corners and under the couch.
I love the concept of entertaining a lonely dog, but in all honesty, my own canine companion didn't much care for it as a toy. (We found another valuable use for it, but more on that later). My dog isn't afraid of the ball. She just has no interest. Maybe my house full of boys and their friends has desensitized her to lights and motion. Maybe it's her robot-vacuum pal, Rosie. But sadly, the Wicked Ball simply didn't engage my own pup. Chasing chipmunks and bunnies in the backyard is more her jam.
The Web site claims "lazy dogs" could be lured by sticking treats in the inner-shell. My dog isn't lazy, in fact, she's very active. Regardless, even stuffing it with her favorite goodies wasn't enough to entice her.
Since my dog wasn't cooperating, I had a friend test the Wicked Ball on her Jack Russell Terrier. He had the same reaction: Not interested.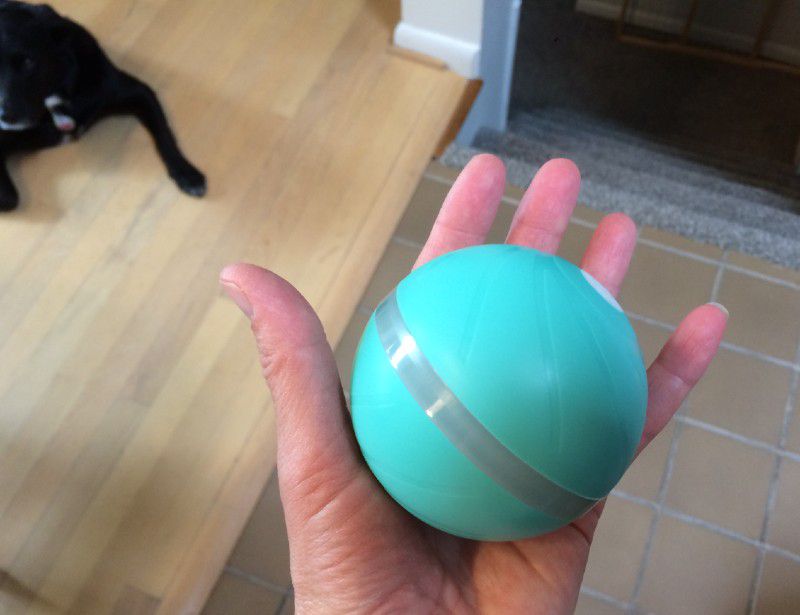 As I mentioned earlier, we did find another important use for the Wicked Ball that turned out to be just as valuable to us as entertaining our puppy girl. It helped distract her when she was having an episode of separation anxiety. We're working through her anxiety with several treatments and vet supervision. However, at her worst moments, my pup fixates on our backdoor, where she's scratched the heck out of the doorframe, hurt her teeth by repeatedly biting the door handle, and has even dug up the carpet and metal doorframe. And that's where the Wicked Ball saved us! We keep it by the backdoor when we leave, and we've seen on our security camera that when puppy starts to approach the door (where we now keep the Wicked Ball), the toy's jerking motion is just enough to break her focus, which prevents total panic mode from taking over.
What I like
Easy to us
Keeps my dog distracted
What needs to be improved
Suggest a lower setting option
Perhaps a treat-release feature or something similar to entice uninterested pets
Final thoughts
The Wicked Ball is easy to use and a sound concept. How your pet will react and engage with it is very much dependent on your individual dog or cat.
Price: $34 for one Wicked Ball/ $89 for a three-ball set (Cat-specific version and cat/dog combo packs are also available)
Where to buy: Indiegogo Indemand
Source: The sample of this product was provided by Cheerble.