The Gadgeteer is supported by readers like you! If you buy something through links on our site, we may earn an affiliate commission at no cost to you. Thank you! Learn more.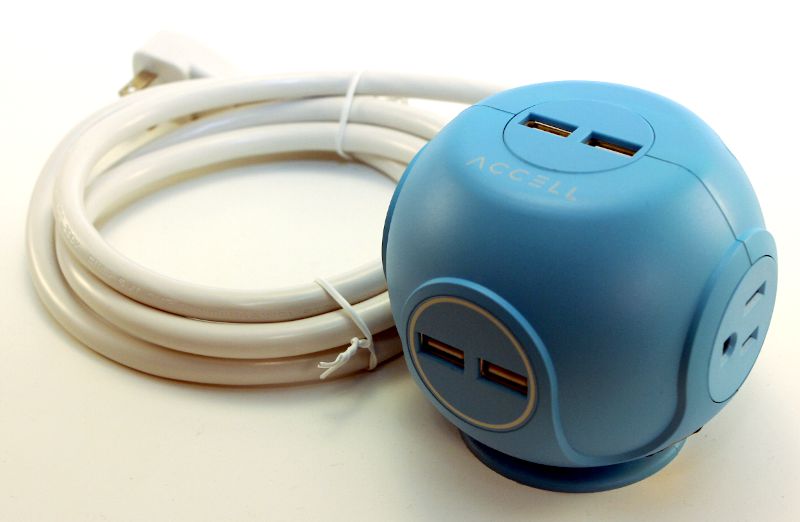 REVIEW – The nightstand beside my bed has a lamp, a reading light, and a clock, and I often have an iPad that needs charging as well.  As there is only one wall outlet nearby, it's the perfect place for a surge protector, and that's why I have been testing a Cutie from Accell Power.
What is it?
The Cutie is a mini desktop surge protector that has three surge-protected outlets and four USB ports for charging. It comes in three colors, bright red, light blue, and white.
What's in the box?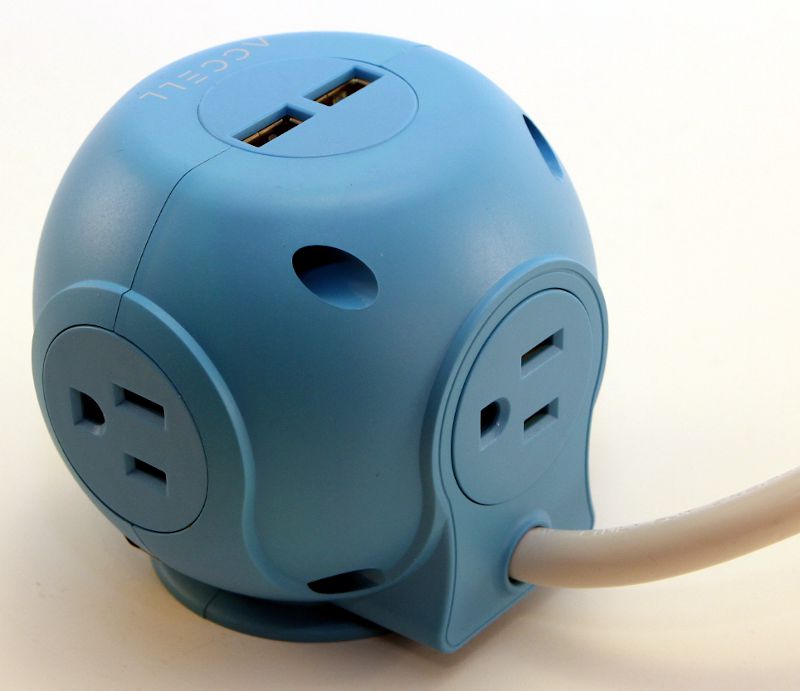 Hardware specs
Power:  Three standard type B outlets
Surge Suppression:  540 Joules via X3 MOV technology
Ports:  Four USB type A charging ports
Size:  3.6 x 3.6 x 3.3 inches
Cord:  6 foot
Certification:  UL
Design and features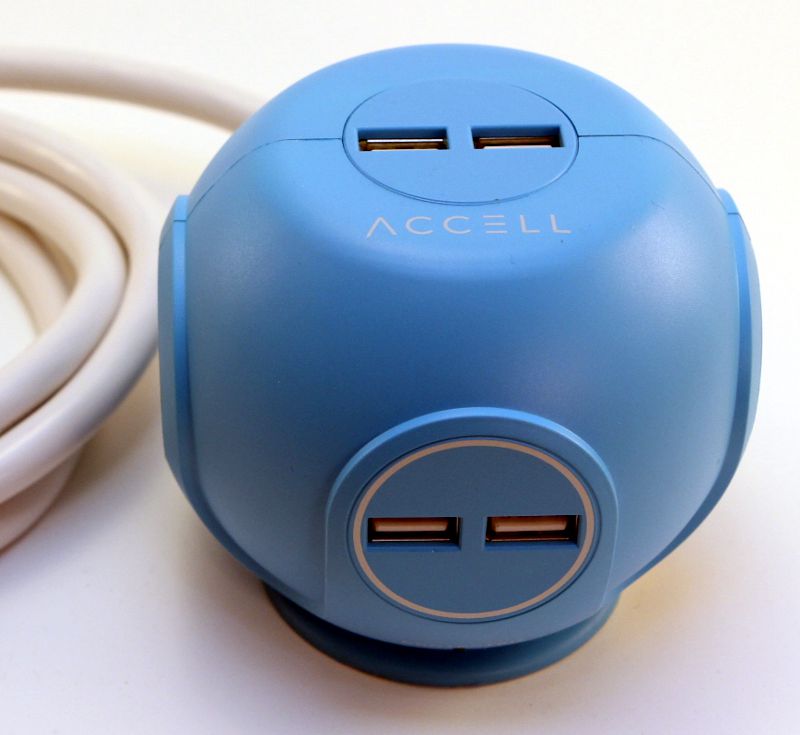 Accell sent me a light blue Cutie.  It's roughly the size of a baseball, has rounded edges, outlets on the sides and back, and USB ports on the top and front.  It's a soft, aesthetically-pleasing look that is very different from the typical, utilitarian white or black power strips that are so common.  It's perfect for use in visible places, such as on a desk or in a crafting workspace.  I must say that it's aptly named, as the Cutie is indeed cute.
Installation and setup
There's nothing to install.  Just undo the twisty ties and plug it in.  The bottom of the Cutie as a pair of slots that could be used for mounting on a wall or the side of a desk.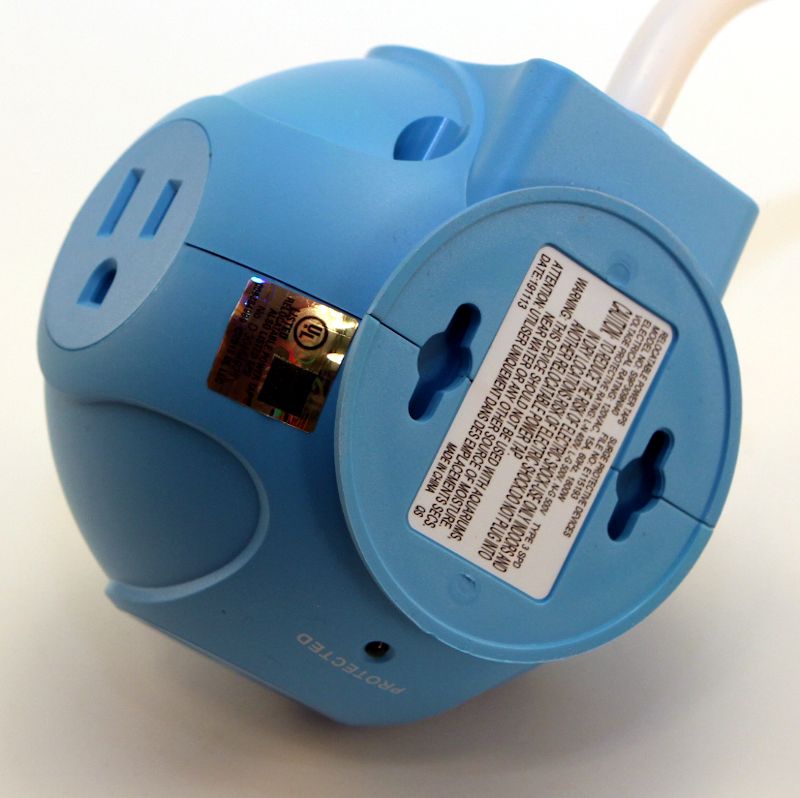 Performance
The Cutie works perfectly, just as I would expect.  It had no problems powering both of my lights and my clock while charging my iPad as I slept.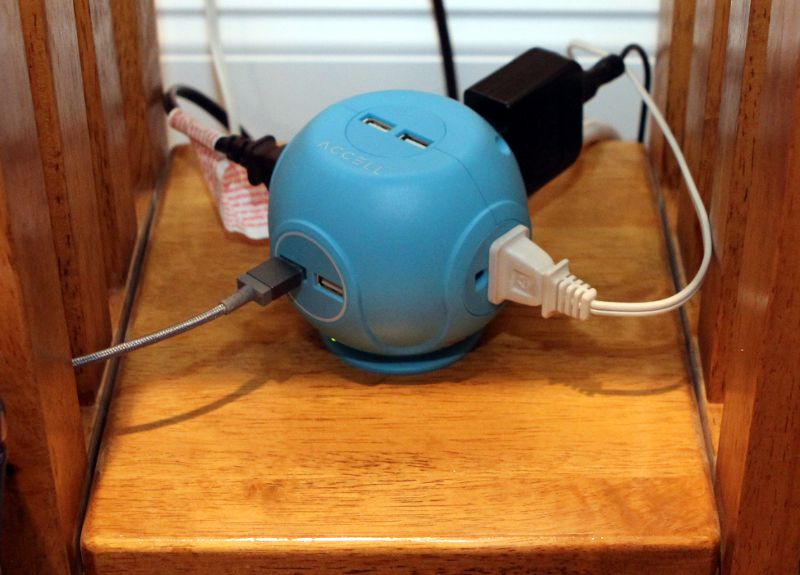 I like the way it looks; it's a bright spot of color.  Unlike most surge protectors, it doesn't have to be hidden away out of sight.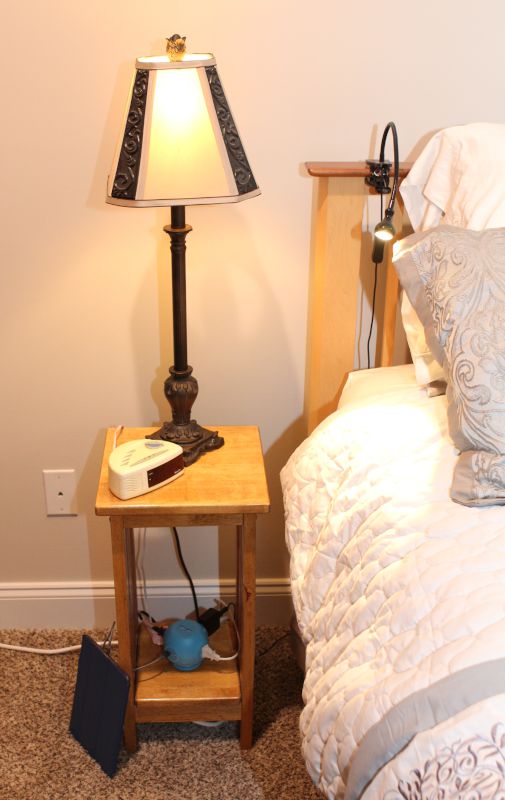 Extra Features
The Cutie has a small LED that lights up green to let you know that the surge protector is working.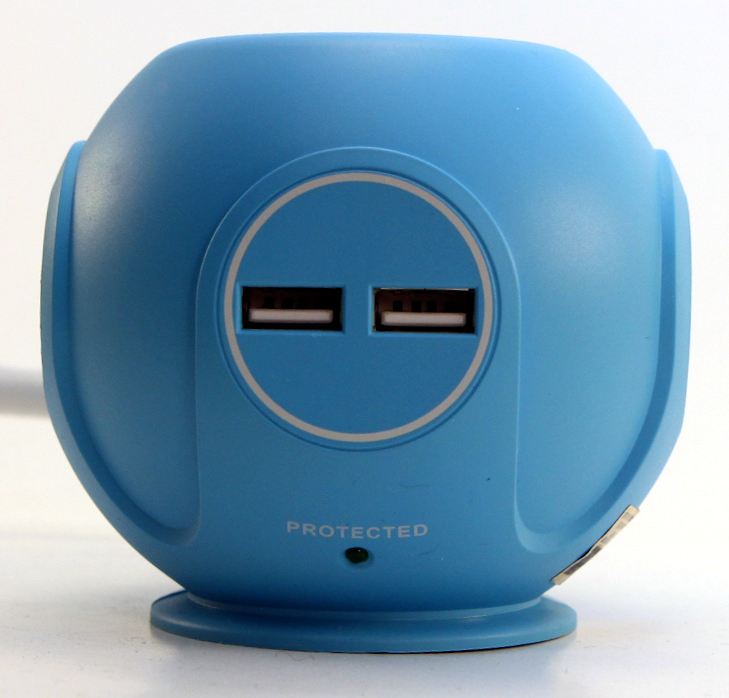 It also uses a flat plug, which is a nice touch that makes it easy to plug in behind a desk, bookcase, or another piece of furniture.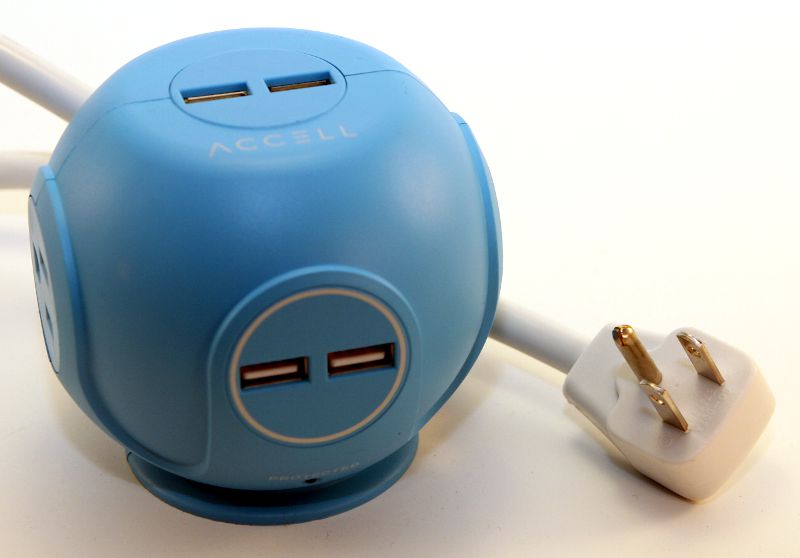 The Cutie uses Metal Oxide Varistor (MOV) technology for its surge protection.  It's a commonly-used capability that can recognize a surge condition and shunt the excess energy to the grounding system.  As there is a risk of fire, the MOVs are encased in a fireproof material, thus reducing the risk.
What I like
Cute design
Plenty of outlets and ports
What I'd change
Final thoughts
If you need a surge protector, there are an endless number of options to choose from.  If you need one that's going to be visible, then Accell's product is an excellent choice.  After all, it's a Cutie.
Price: $35.99
Where to buy:  Accell's online store or Amazon
Source: The sample for this review was provided by Accell.