We use affiliate links. If you buy something through the links on this page, we may earn a commission at no cost to you. Learn more.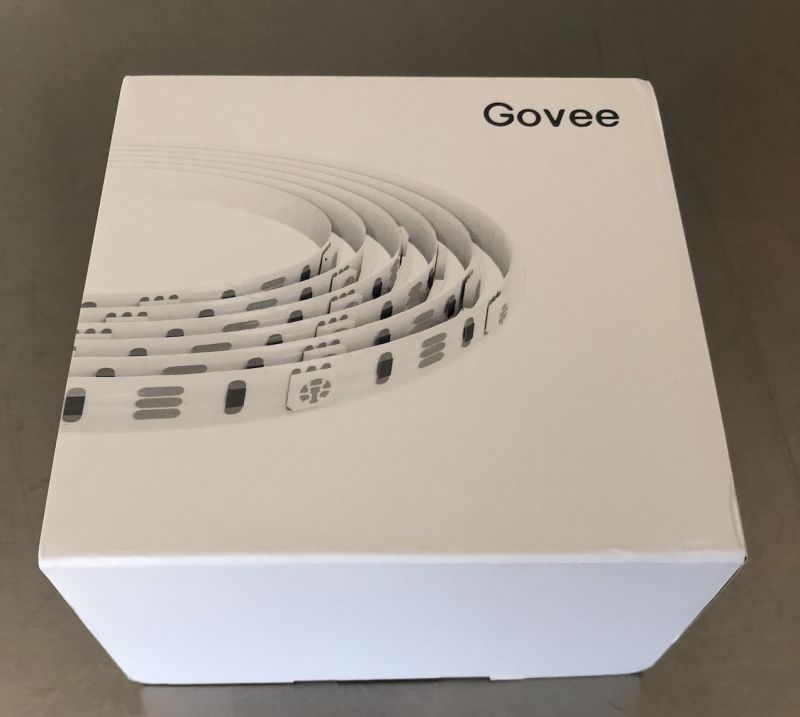 REVIEW – My wife and I love our basement theater room and especially enjoy turning out all the lights and watching our movies like we're actually in a theater. We had read over and over how LED back lighting made the viewing experience even better. A couple of years ago, we bought a strip light that stuck to the back of the TV and was USB powered, however, it frequently fell completely off the television, the stickers were just not strong enough and it also would not turn off with the TV and had to be plugged in every time. I definitely wanted an upgrade and then the Govee TV LED Backlights popped up for review.
What is it?
These are multi-color LED lights powered by either USB or power adapter – that connects to Alexa or Google applications for home control. It has a wired remote with push button controls as well. It uses 3M stickers on the backing to apply to the desired surface.
What's in the box?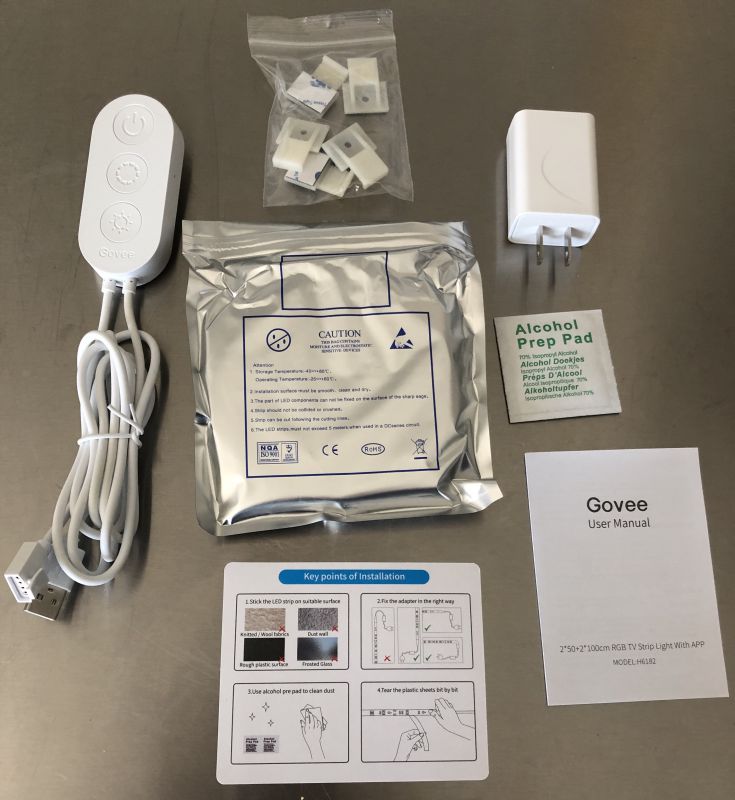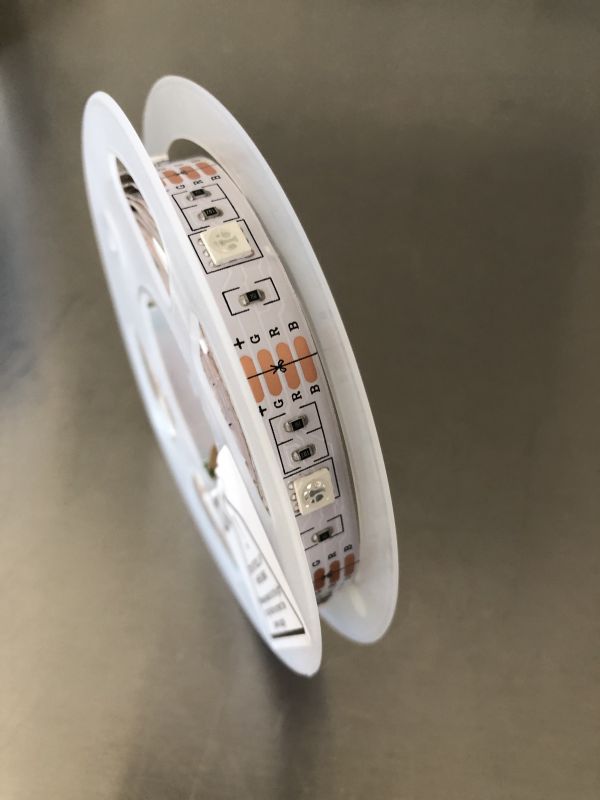 Power cord with controls
Adhesive Clips
Power adapter
Cleaning swap
User manual and install instructions
Reel of LED back lights
Design and features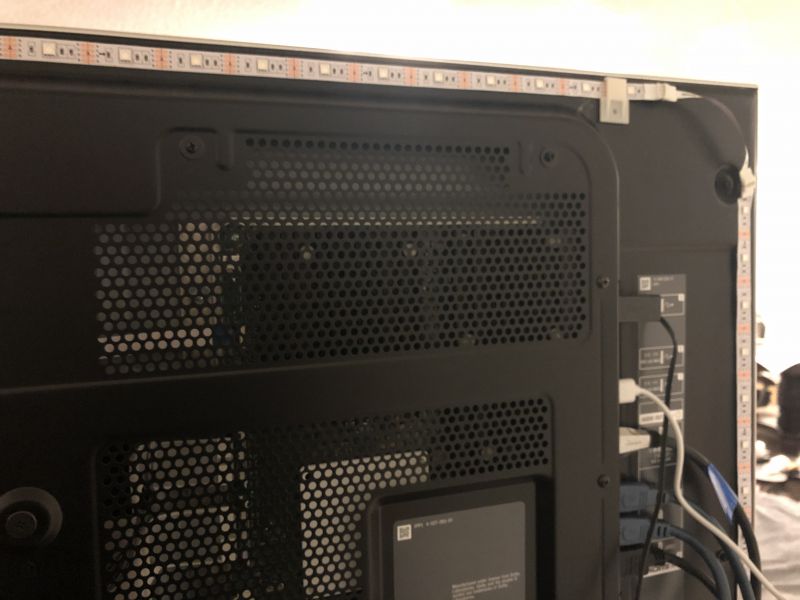 It is a fairly simple design with the reel of LED lights designed to be taken off incrementally, the pull off tape removed and then applied to the desired surface. As I worked my way around the back of the TV, I also applied clips along the top of the screen to lessen the effect of gravity on the strips sticking, which was the downfall of our original lighting. Simply plug the lights into the USB adapter and then into the TV USB slot and you're ready to go.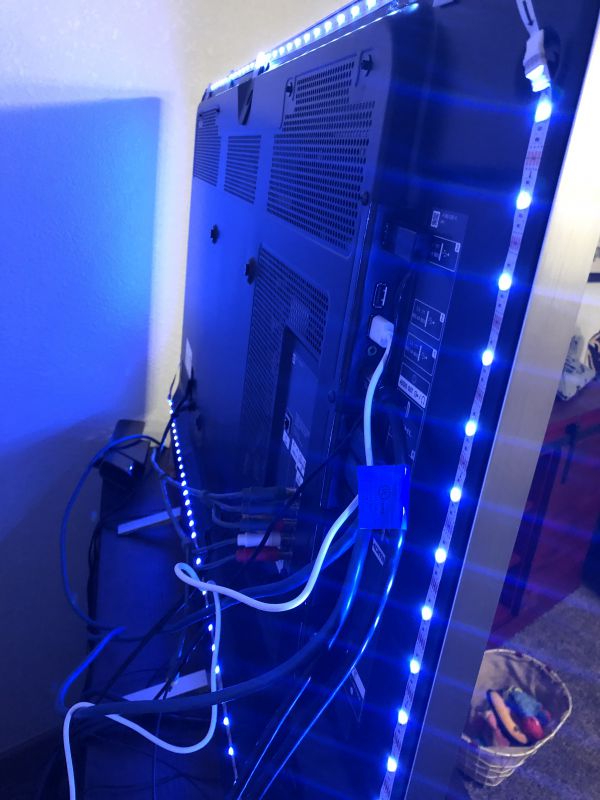 After downloading the app, you're able to connect your phone to the corded remote, although the app is not required to use as all features can be accessed via the wired controller. There are three basic settings: Music, Color and Scenes. Music will change the color based on the ambient music in the room, color allows you to select the specific color, and Scenes is preloaded with 7 different colors for Movies, Dating, Candlelight, Romantic, Breathe, Blinking and Energetic settings. Brightness can be adjusted from 0 to 100%, however if using the USB port on the TV we have found you can only go up to 20% so you will need the included wall power adapter if you want to get the full 100% – however we actually enjoyed the quality at 20% and left it plugged into the TV USB port.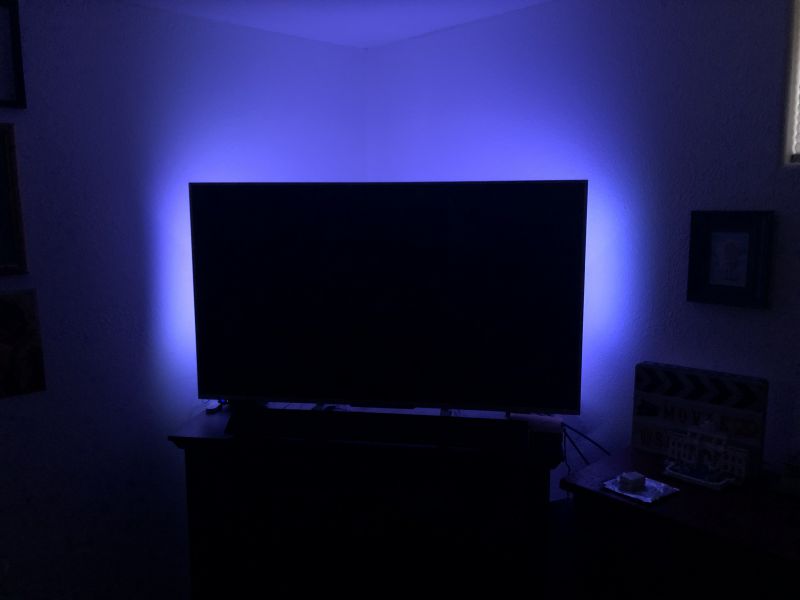 Never miss one of our posts again. Sent MON, WED, and FRI with the latest gadget reviews and news!
So here you can see the halo it provides behind the television. At first I thought this would be a distraction, however we both found over time that it lessens strain on the eyes and also makes it much easier to transition back to regular lighting once you're done watching television. As you can see below, it doesn't have a negative effect on viewing either, as we purposefully picked a rather dark scene from a recent show that we remembered being difficult to see during the first viewing: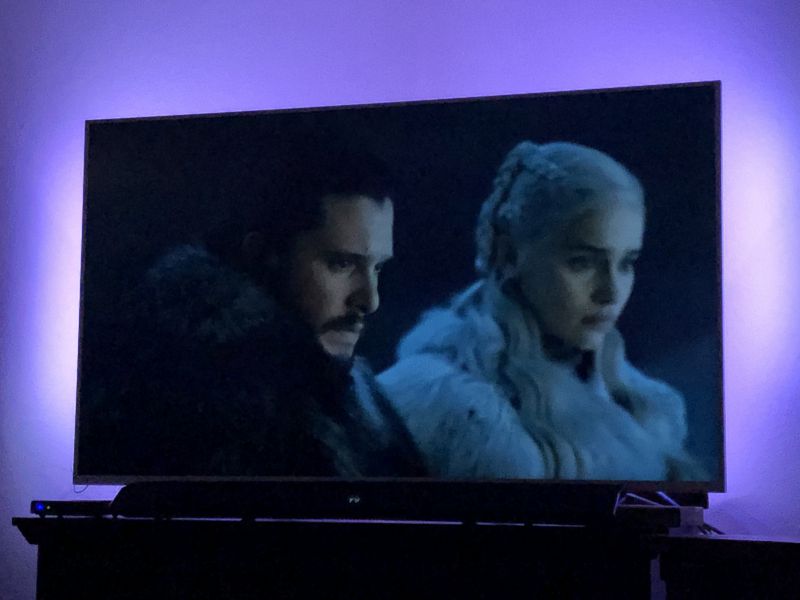 Performance
Overall, the performance of the lighting was great. We were able to customize the color to best suit our viewing experience and should we ever have a party, we have built in lighting that will change with the music! Our previous lighting had one color and nothing more than an on/off setting. The strips have stayed adhered to the back of the television without a problem and the controls on the phone or the physical controller both work ideally. It is a bit frustrating that we can't use it at full power via the USB port on the TV but it is easily remedied by the plug power adapter that is included with the unit. Finally, you can connect it to your smart phone via the company's app and then also connect it to Google and/or Alexa for voice controls. It integrated nicely into our collection of smartphone controlled devices.
What I like
Strong adhesive – stays in place once installed
Customizable colors
Easy smartphone integration and controls – straight forward product with simple controls
What I would change
Honestly, this is the first product I've reviewed where I can't really think of much to improve on. It does what I expect of it and I wouldn't change a thing.
Final thoughts
I'm thoroughly impressed and delighted with the Govee TV Backlight, it has performed very well and met every expectation. Additionally, it comes at a very reasonable price at $21.99 via Amazon but keep an eye out as I believe they run promotions as well for even more value. I'm glad I was able to pick this item up, it has definitely made our theater room viewing experience better overall.
Price: $21.99
Where to buy: Amazon
Source: The sample of this product was provided by Govee.