We use affiliate links. If you buy something through the links on this page, we may earn a commission at no cost to you. Learn more.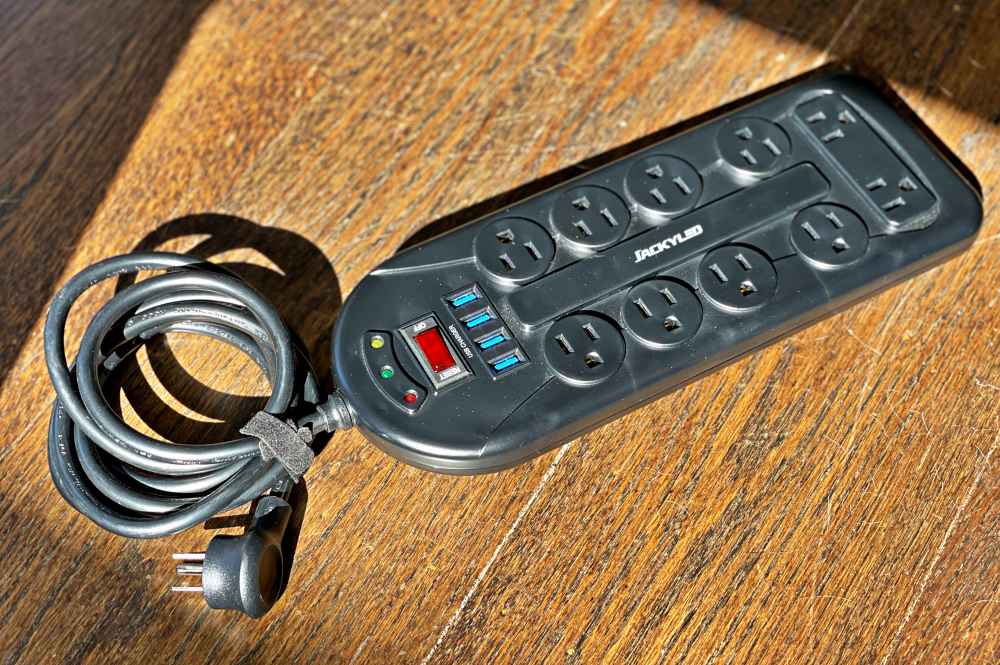 REVIEW – Do you have enough power strips? I'm almost always going to say no. There are just so many things to connect, and charge, and extend for the right placement. Over here in the Bay Area we've been dealing with PG&E's rolling, planned power outages due to the overwhelming wildfires this year. The Wide-Spaced Power Strip from Jackled showed up about a week before we got notice we had an outage coming. It was a perfect opportunity to stress test. Let's get to it.
What is it?
This Wide-Spaced Power Strip from Jackyled is a surge protector with a 6 foot cord, angled wall plug, 10 AC outlets and a bonus 4 USB-A ports.
What's in the box?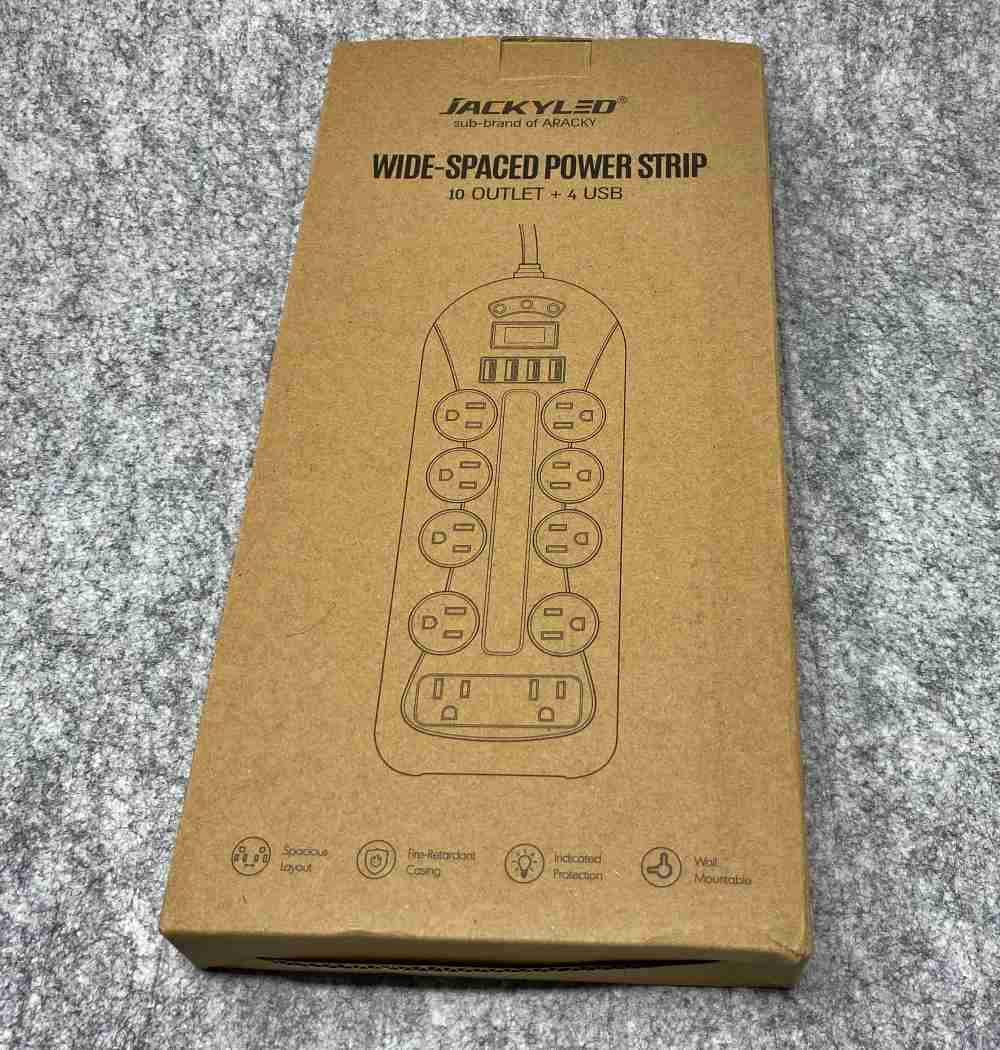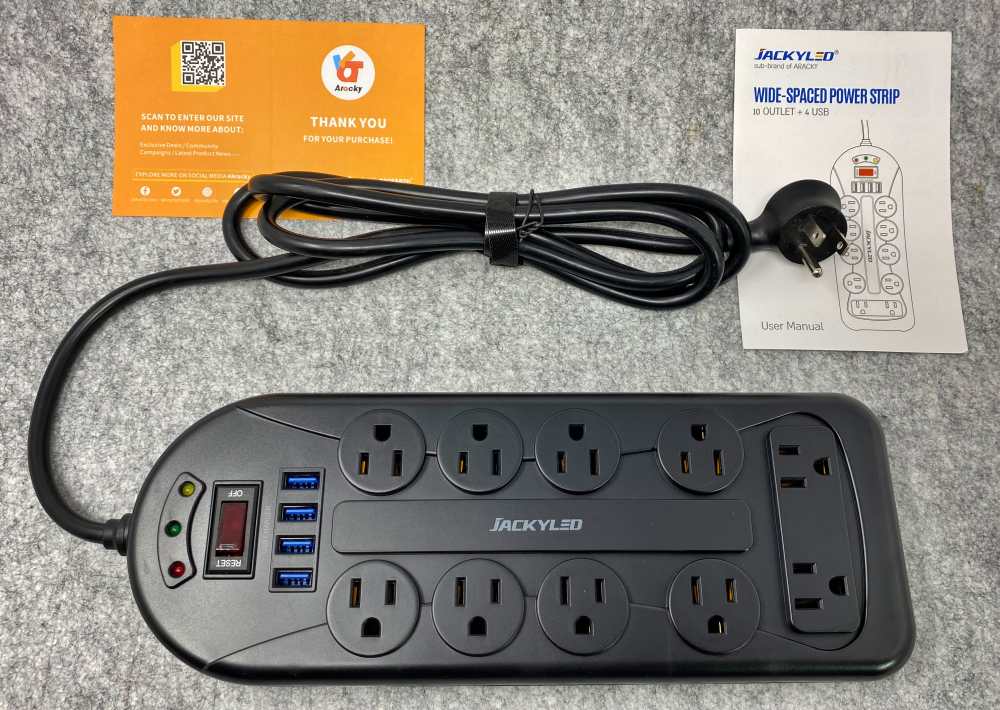 Power Strip
User Manual
Thank You Card
Hardware specs
AC Input/Output: 100-125v, 50/60 Hz, Max 13A
Rated Power: 1625 W
USB Output: Max 3.4A / 17W Shared, 5V / 0-2.4A Each
Joule Rating: 1050J
Cable: 5.9ft, 16 AWG w/ 3-Prong grounded plug
Enclosure: Polycarbonate (PC)
Fire-Retardant Rating: UL94 V-0
Certifications: CE, FCC, RoHS (Complete Unit) / UL (Plug and cord)
Colors: Available in either White or Black
Design and features
The main challenge for power strip design is the many different shapes and sizes of wall adapters you may try to connect.

Above you can see that Jackyled included 10 outlets on this model. 8 are grouped together in two rows of four opposing each other with the last in each allowing for some additional width. At the bottom are two additional outlets turned 90 degrees to the first eight helping with awkward charger shapes.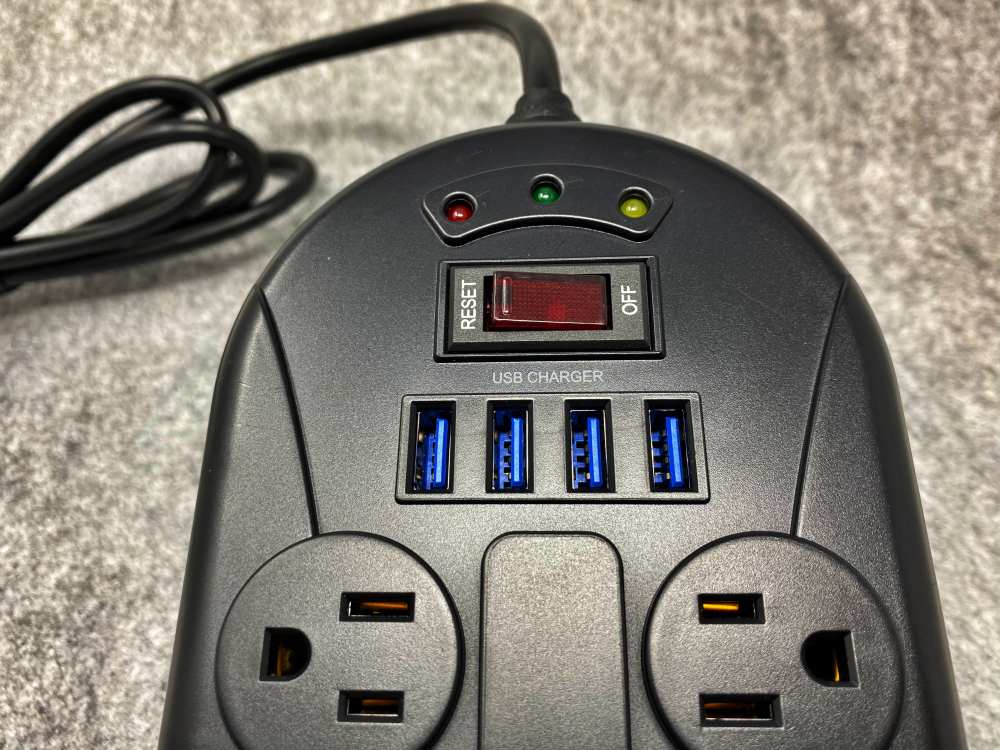 Jackyled has wisely added USB-A ports to enable charging without needing adapters. They are positioned near the reset/on switch in an easily accessible area.
There are 3 LED lights for communicating status and potential dangerous situations.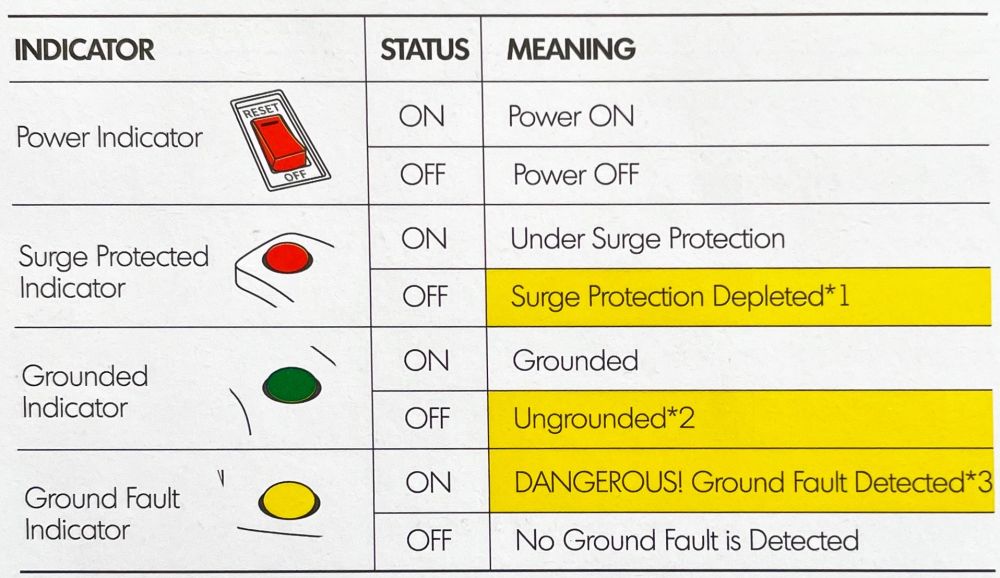 On the back is the certification info, 4 silicone feet as well as two keyholes allowing for horizontal or vertical wall mounting.

Lastly, the 6 foot cable ends in an angled wall adapter that aligns the cable flat to the wall and offsets 45º to help get around an occupied lower outlet.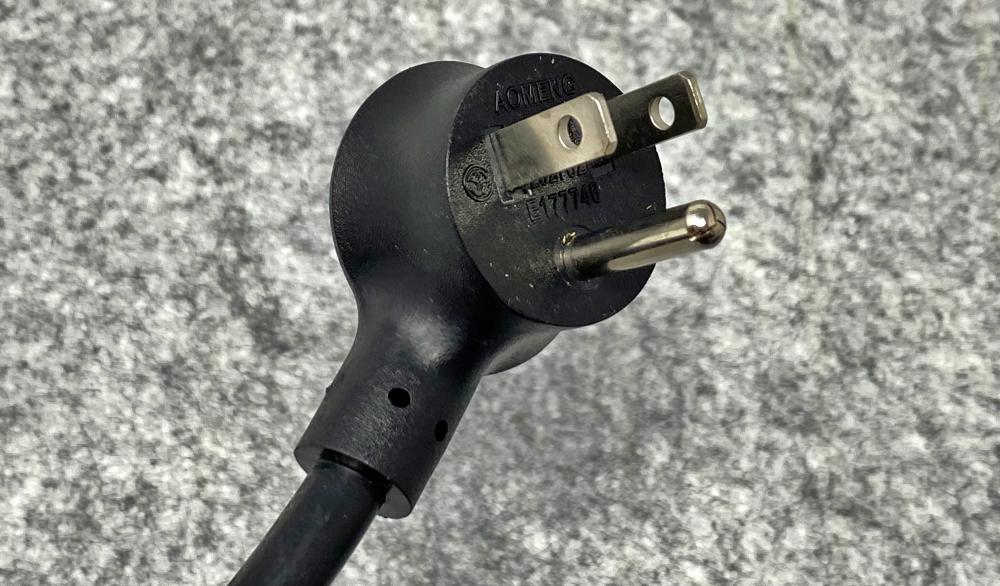 Setup
It doesn't get much simpler. Connect the power strip to the wall outlet near where you need all these additional power outlets. Flip the power switch from the off to the on position/reset position and you're ready to go.
Now you can plug in what you need to.
Performance
The Jackyled Wide-Spaced Power Strip is set up well to be used where you constantly change what's getting plugged in, or at a desk environment where you are plugging everything in once and then leaving it alone.
As I mentioned at the start of this, we got a notice that PG&E was shutting off power and that it would be out for a minimum of a full weekday. Always fun to add extra challenges to working from home. Needless to say it was time to get multiple power banks and rechargeable lights topped off in preparation.
I connected the Jackled Power Strip to an outlet in the living room where I have a small shelf between the sectional sofa and the wall. I pulled out all our batteries including larger units from Anker and RavPower that both have AC outlets on them and connected pretty much all of them. Here's what that looked like.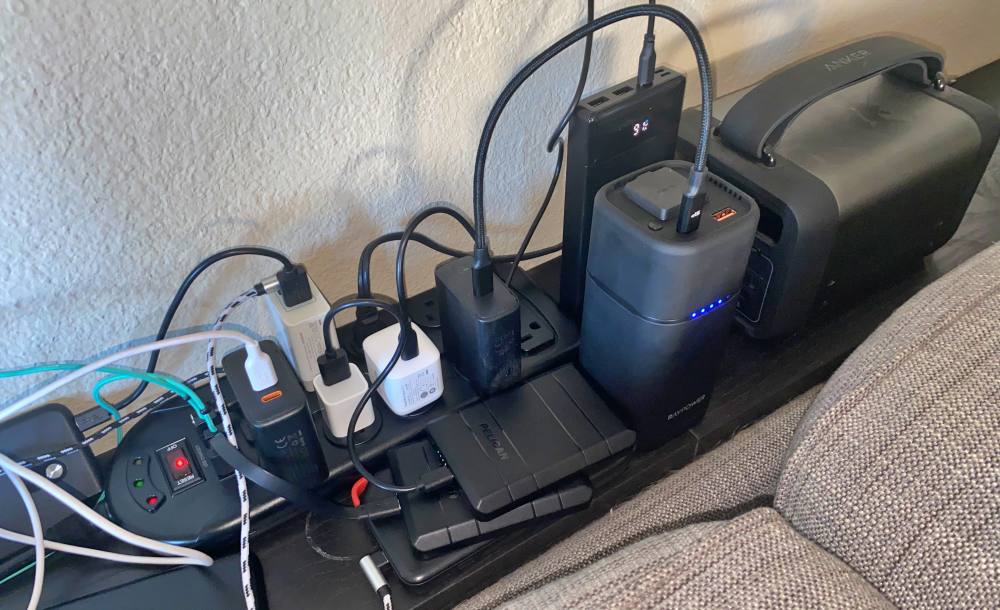 As you can see it's a mess of cables and adapters. I had no issue fitting the different plugs into the outlets. I also used all 4 of the USB ports which is something we should focus on for a moment. All four of these ports can be used at the same time, but there are limitations. Each port can support up to 2.4A, but if using more than one, the maximum output is limited to 3.4A.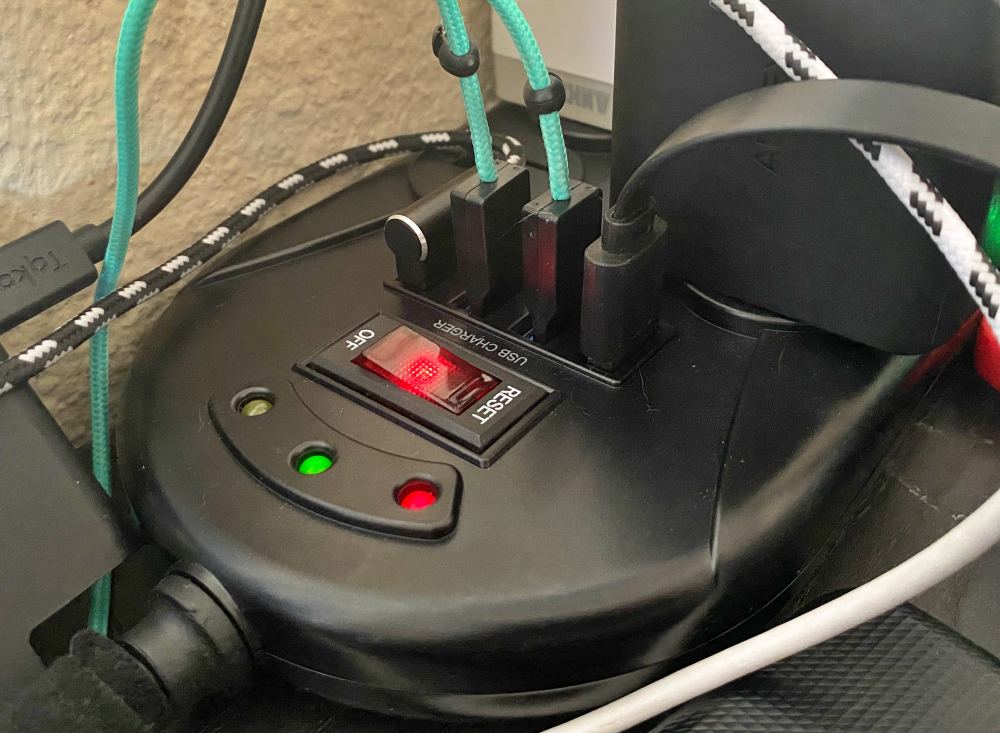 In this photo I'm using all four and slightly over on demand, charging two power banks and two rechargeable string light units, all of which pull up to 1A. I did not run into an issue. You'll want to use wall adapters for any higher power devices or if you want to connect more than two if combined they'll exceed that 3.4A limit.
There's also a total limit on power draw from the main AC outlets of 1625W. For most applications you won't run into an issue here and if you do, the internal protection will trip. Just let it cool down for a bit before hitting the reset switch, remembering to unplug the last connected device that took it over the limit.
What I like
10 well spaced AC outlets and 4 USB-A ports
Surge protection and status LEDs
6ft cord and angled plug
Price
What I'd change
Raise the combined limit on USB ports to 9.6A allowing all ports to reach 2.4A simultaneously
Final thoughts
The Jackyled Wide-Spaced Power Strip is a great 6 foot, 10 outlet product. The outlets are well spaced and will let you tetris in your different shaped wall adapters. The USB-A outlets are a nice addition, but underpowered for a lot of current devices, especially if you're trying to use more than one a time. Last note is that I'm no longer seeing the black version l I received.
Price: $23.99
Where to buy: Amazon
Source: The sample of this product was provided by Jackyled