We use affiliate links. If you buy something through the links on this page, we may earn a commission at no cost to you. Learn more.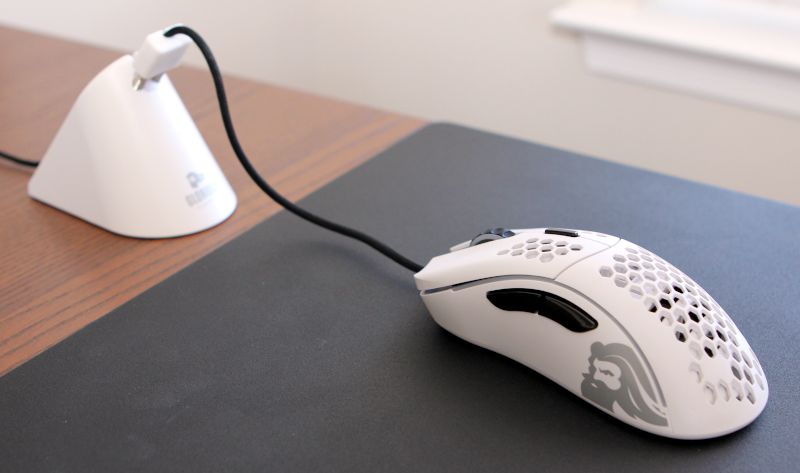 REVIEW – In the world of competitive video gaming, even small things can mean the difference between winning and losing, and one way to get an edge on the competition is to be faster with your mouse.  With this goal in mind, Glorious has built a reputation for designing lightweight mice that are "built for speed, control, and comfort."  Their flagship mice are the Model O, which weighs only 67 grams, and the Model O-, which weighs even less at 58 grams.  Glorious recently added a new mouse to their lineup, the Model D, an ergonomic version that comes in at a very svelte 68 grams.  It's light, but how well does it perform, especially when paired with Glorious' mouse bungee?  That's what I aim to find out in this review.
What is it?
The Model D is a lightweight, ergonomic, 6-button mouse designed for competitive video gaming.  The mouse bungee is a cable management solution for the Model D that reduces cable drag.
What's in the box?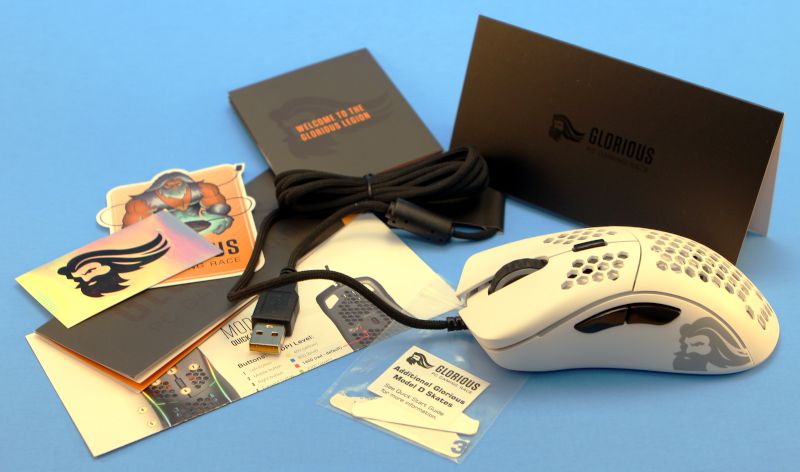 The mouse box contains:
The mouse with a braided cable
Quick start guide with support information
Additional skates
A pair of stickers (of which I highly approve)
A welcome card, marketing brochure, and social media reference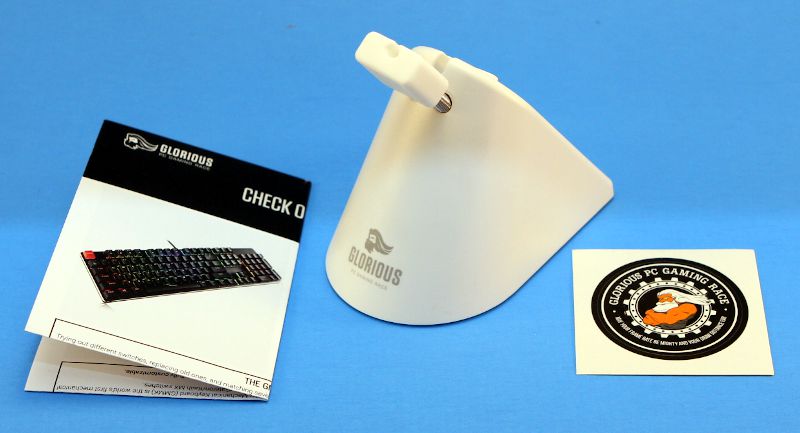 The mouse bungee box contains:
The mouse bungee
A marketing brochure
Another sticker
Hardware specs
The specs of the mouse:
Omrom mechanical switches
68 grams (for matte), 69 grams (for glossy)
12,000 max DPI, 4 default settings (400, 800, 1600, 3200)
1000 hz polling rate
USB 2.0 connector
6.5 ft braided cable
16.8 million color RGB LED colors with eight different effects
The specs of the bungee:
Extendable arm
3.5" x 6" x 2.5"
Design and features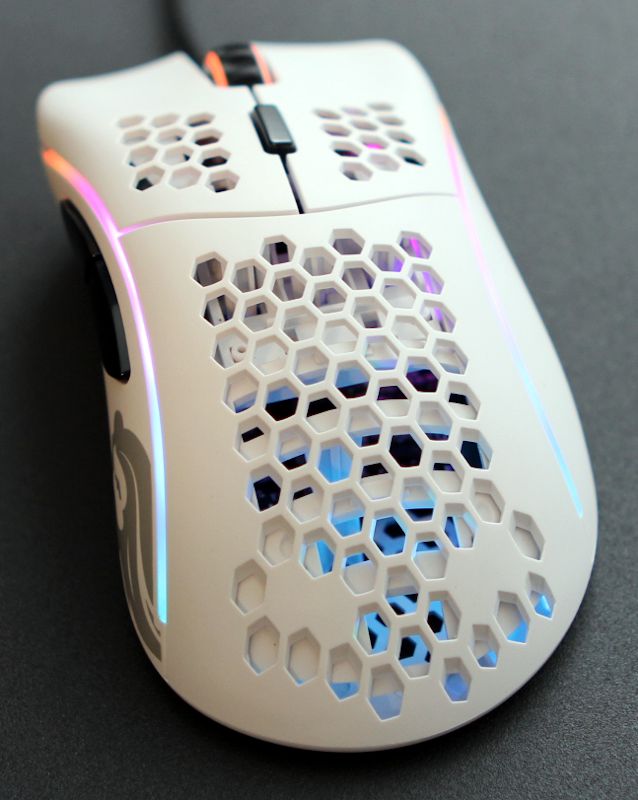 When I pulled the Model D from its box, I immediately noticed the honeycomb pattern that is cut into its top and bottom.  It's a unique design that simultaneously enables it to be very light and allows the colorful LED lights to shine through.  There are four color options for this mouse, white or black, matte or glossy.  Glorious sent me a white, matte mouse and matching bungee, and I confess that I was a bit skeptical when I first saw them, as black or dark grey is typically my color of choice for gaming accessories.
Installation and setup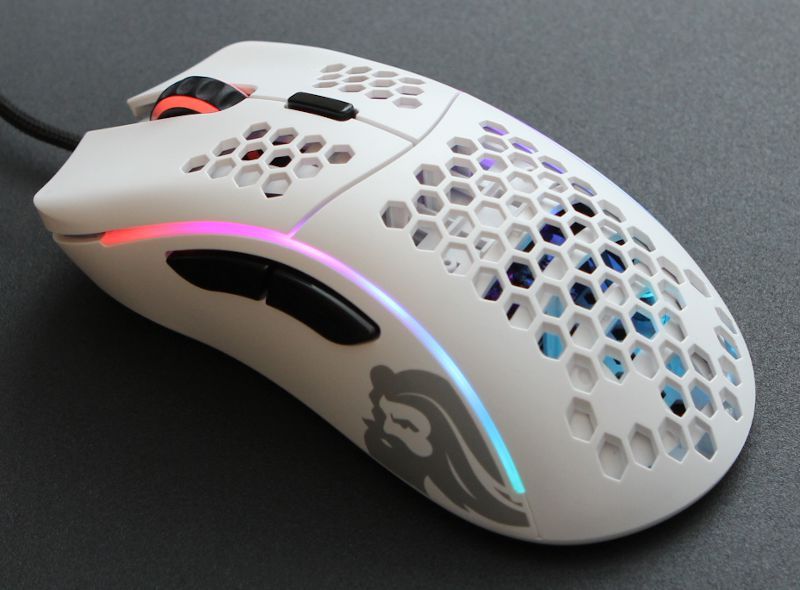 Setup could not be any simpler.  The Model D is a driver-free mouse, which means the only thing I needed to do was pull out my old mouse and plug in the new one.  There are four default DPI values that can be set using the small button on top, and I found that 1600 works best for me.  The DPI indicator is a small LED on the bottom of the mouse, and the quick start guide let me know that red is the color that matches 1600.
The Model D has eight different lighting effects and the guide has instructions for pressing different button combinations to set each one and adjust its brightness, speed, and colors.  The Model D software adds additional features, but it's not required, and I must say that setting the effects directly on the mouse is a handy feature that I wish all mouse makers would implement.  The Model D has lights on the scroll wheel, it but also has two long bars of light running along each side.  This allows for a variety of multi-colored effects, and the picture above doesn't do it justice, particularly in a setting where the lighting is dim.  As I worked my way through each of the effects I found it difficult to settle on just one, as I really like four of them.  Additionally, I came to appreciate the white color, as it amplified the lighting effects, whereas I think a black mouse would absorb them.  Although the Glorious software offers additional options, I never felt the need to install it.  The built-in options do everything I need.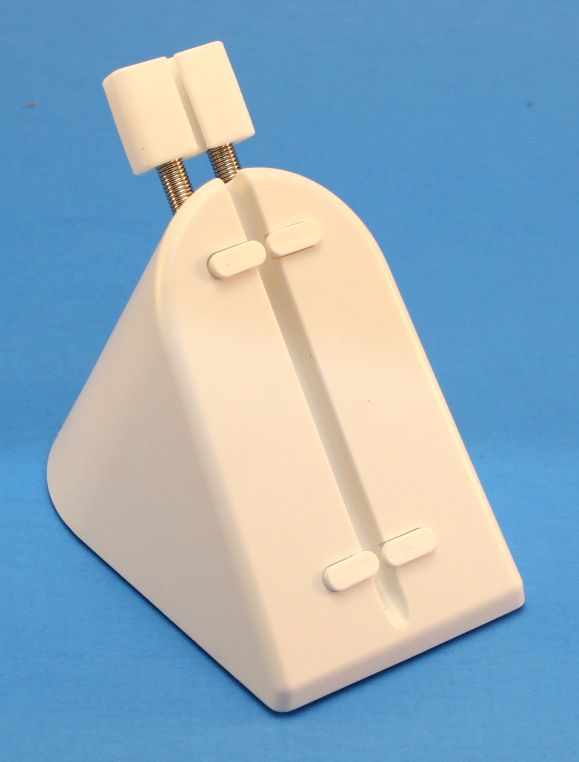 Connecting the bungee was equally simple.  I placed it above my mouse pad and threaded it the cable through the slots on the back.
Performance
Normally when I try out a new mouse it takes me a couple days to get used to the way it feels.  Within two games of Dota I was already comfortable.  This mouse feels very natural—dare I say ergonomic?—in my hand.  It's a medium-sized mouse, neither too large nor too small.  The lighter weight makes it easy to quickly move quickly across the screen.  I absolutely loved playing games with this mouse.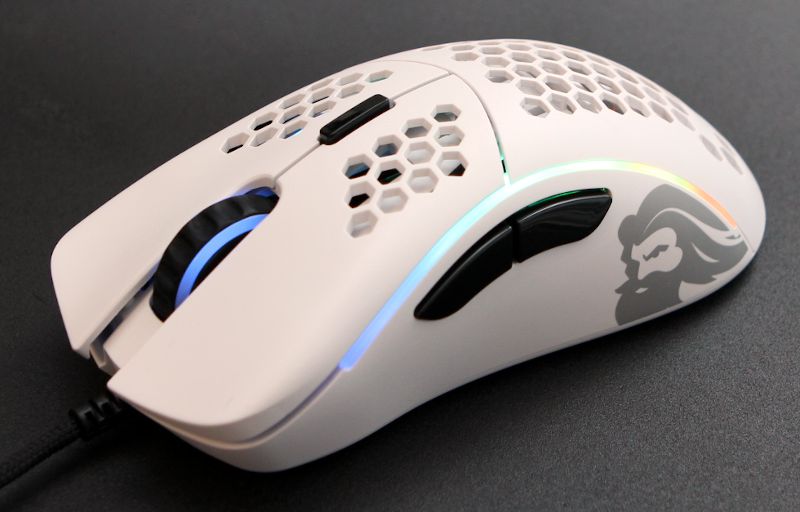 There are two programmable buttons on the left side that work perfectly as my "quick buy" and "courier summon" in Dota.  The scroll wheel feels very smooth; it's slightly ribbed so I can tell that I'm moving in increments.  On the sides of most gaming mice there are rubber grips that make it easier to hold during intense game play.  The Model D does not have any grips, and I was concerned that it would be too slippery without them.  Surprisingly, I have not missed them at all.  Glorious says that the honeycomb pattern helps to keep the hand cooler, so maybe that's the difference.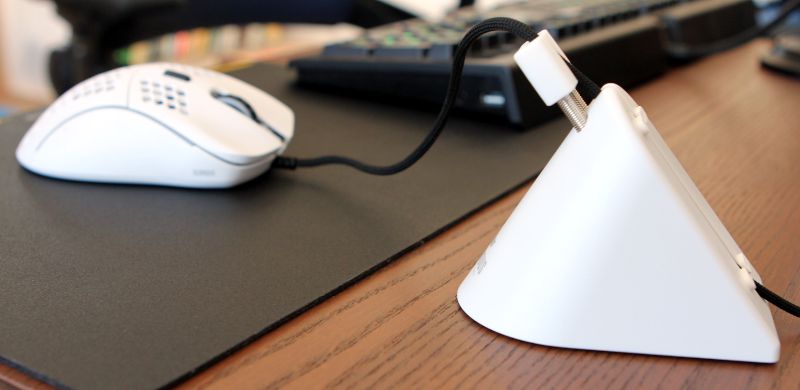 In many ways the mouse bungee is a contrast to the mouse.  Where the mouse is light, the bungee is heavy.  Where the mouse slides around on its skates, the bungee has 4 rubber feet that keep it from moving at all.  Where the mouse has fixed dimensions, the bungee has an extendable arm that can be raised nearly 2 inches.  Although a contrast, it's actually a perfect complement.  The bungee holds the cable up in the air making it feel like I have a wireless mouse; it also prevents the cable that falls down the back of my desk from pulling and dragging on the mouse itself.  These are small, quality-of-life improvements that remove some distractions in order to make it that much easier to use the Model D and play my games.  I played 20 games with the Model D before I added the bungee.  After connecting it, and adjusting the cable and the extension, I found that I no longer noticed the cable at all.  It's as if it ceased to exist.  I've never used a mouse bungee before, but I really like the way it feels.
Extra Features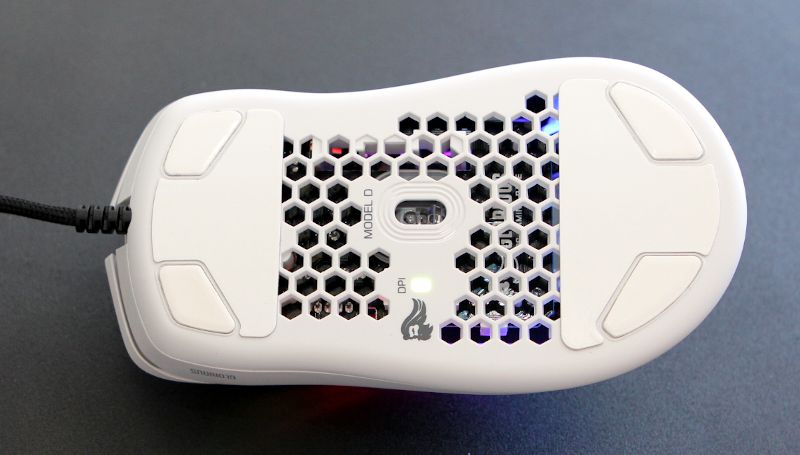 The Model D cable is braided, which I prefer, as braided cables tend to be more durable and get tangled less often.  The bottom of the mouse has 4 built-in small skates, and Glorious has thoughtfully included two additional large skates that can be added between the others to reduce friction even further.  When I tried them, I found that they worked too well for me; in other words, they made the mouse so fast that I struggled to accurately control it.  Still, I'm not complaining; it's nice to have options.
What I like
Unique design
Light weight
LED lighting
Good cable management
Stickers!
What I'd change
Final thoughts
I love this Model D.  It has replaced my trusty Steelseries as my everyday gaming mouse.  It's light, fast, accurate, and has plenty of bling, everything I could want.  The mouse bungee is a welcome addition; I appreciate the way it keeps my cables out of the way.  If you're looking for a lightweight, ergonomic mouse for competitive video gaming, I doubt you'll find anything better than the Glorious Model D.
Price:  $49.99 for matte mouse ($59.99 for glossy mouse); $14.99 for the bungee
Where to buy:  Glorious' web site (mouse and bungee) and Amazon
Source: The sample for this review was provided by Glorious PC Gaming Glorious PC Gaming Race.