We use affiliate links. If you buy something through the links on this page, we may earn a commission at no cost to you. Learn more.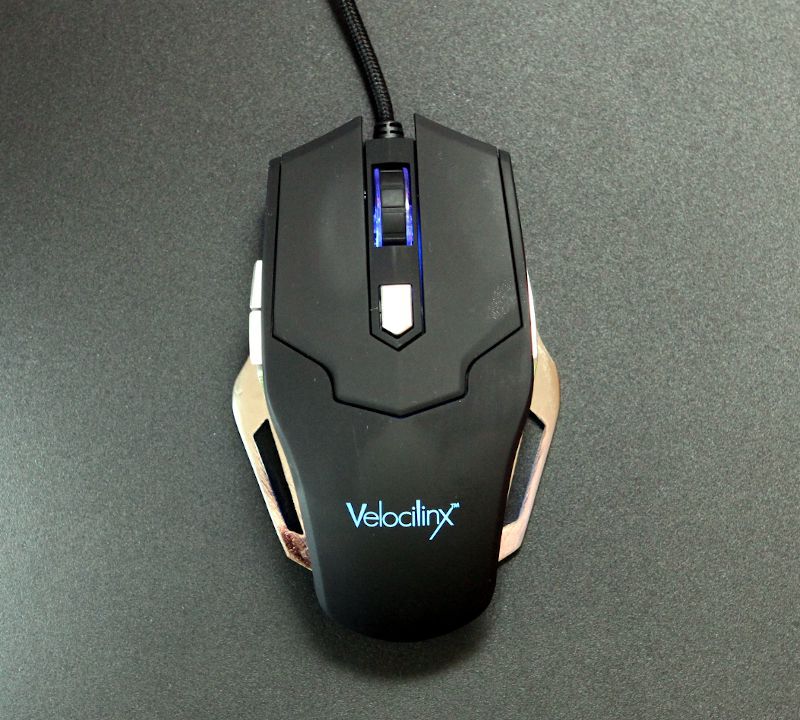 REVIEW – One of the key components of any computer system is obviously the mouse, which is used to select items on the screen.  For a gaming computer, a good mouse is extra important, as a gamer must be able to quickly and accurately click to move, shoot, collect items, and so on.  In this article, I'm going to be reviewing the Brennus, a new gaming mouse by Velocilinx.
What is it?
The Velocilinx Brennus is a wired, USB gaming mouse.  It's programmable and has multiple DPI settings and various lighting effects.
What's in the box?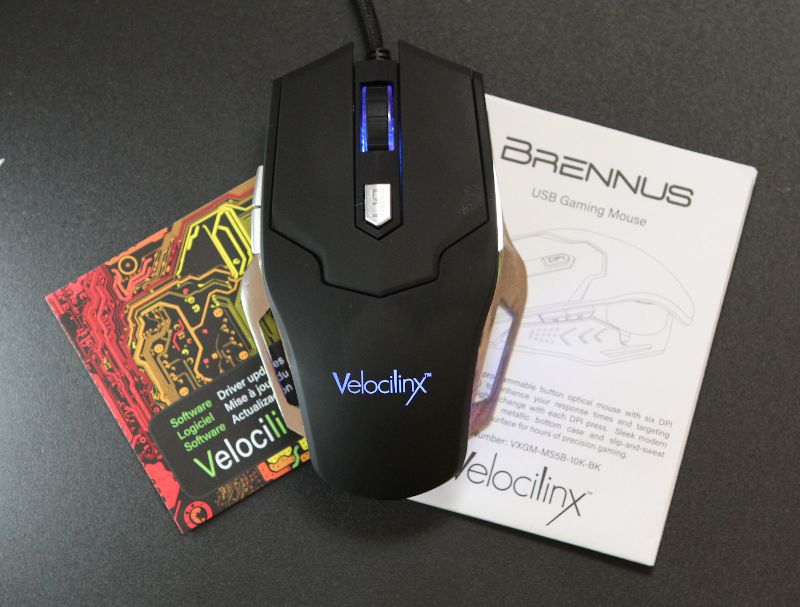 The mouse
A manual with 2 pages of English instructions
A colorful card with a URL for downloading drivers
Hardware specs
Lighting:  6-color RGB
DPI:  1k, 2k, 3k, 5k, 7k, 10k
Buttons:  6, all programmable
Cable: 4.9 feet
Dimensions:  5 x 3 x 1.5 inches
Design and features
The Brennus is a sharp-looking mouse that is dominated by an angular, rubber-textured black body and accented by a metallic base and glowing lights.
Installation and setup
On the one hand, the Brennus is just a USB mouse, so there's not much setup that's required.  I plugged it into my computer, and it just started working.  The Brennus has 6 different DPI settings that are selected with the DPI button on top, so I cycled through each of the options and settled on 3k.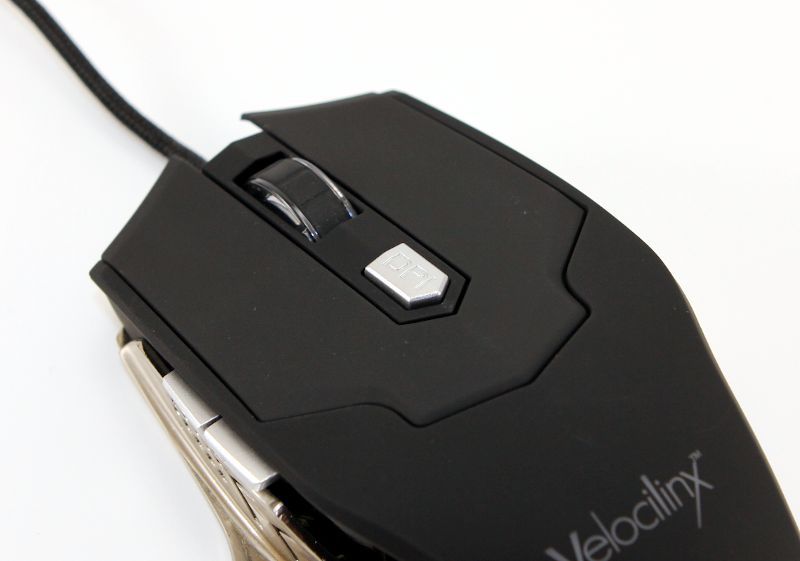 On the other hand, there are a lot more settings that are available, if you want to test them out.  I went to the Brennus home page looking for drivers and found a ZIP file that contains 4 EXEs.  (If you're a Mac gamer, you're out of luck; there's nothing here for you.)  Unfortunately, there's no explanation of what these 4 files contain or what they do.  Two of the files are for Velocilinx's Tyr line, so I don't know why they are in this ZIP file.  The other two files are for the Brennus; one is for "4K-UHD" and the other "1080_HD," but my monitor is neither.  What should I install?  It would be helpful if Velocilinx added some additional information on its support page, in this ZIP file, or preferably both.

In the end, I chose the 4k one, which installed a program entitled VX Mouse.  This program gives access to all the programmable elements of this mouse.  The DPI Setting allows you set the number of options, the DPI value for each option, and the color of the mouse wheel lighting associated with each.  As 3k was about right for me, I changed these to be 2.5k, 3k, 3.5k, 4k, and 5k.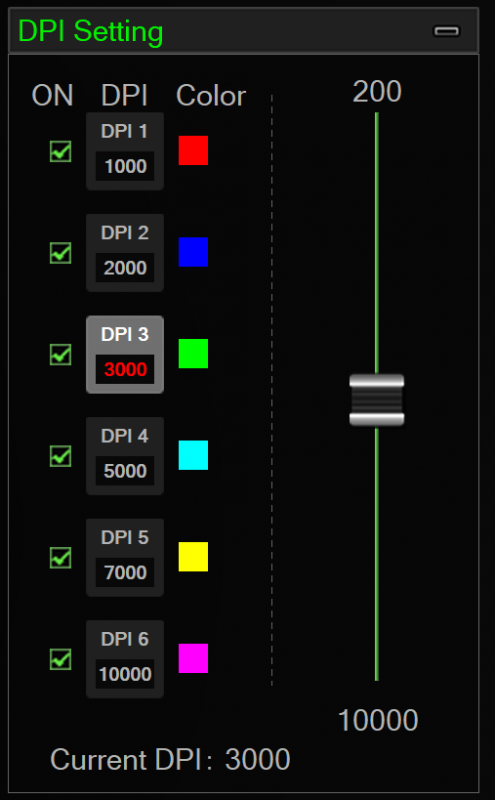 Lighting allows you to set the pattern and color of the lighting in the main body of the mouse, which shines through the Velocinx logo.  These were fairly similar, and I choose Neon as my favorite.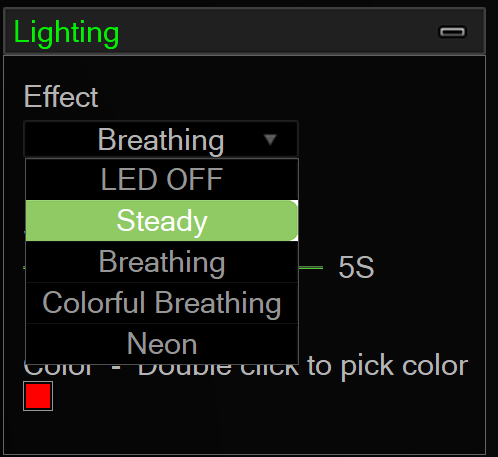 When you tilt the mouse on its side, you can see the rounded bulb that is the source for this lighting, which is fairly bright.  This also shows that there's literally a hole that passes through the base of the mouse.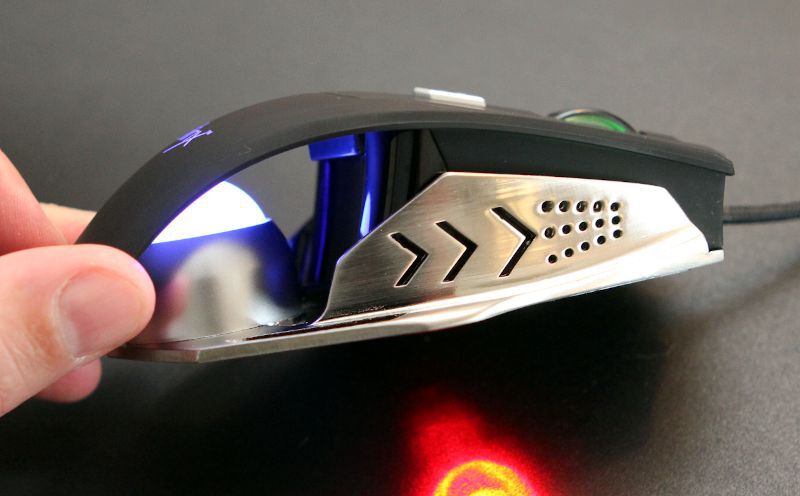 The mouse parameter is the most practical setting in VX Mouse.  Personally, I found that the default sensitivity of the Brennus to be very high, so high that I couldn't really control it.  When I lowered the Mouse Sensitivity setting from 10 down to 6, it became a lot easier to control.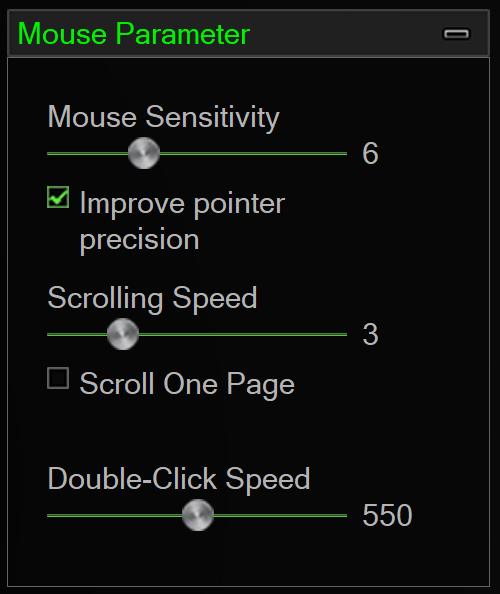 The final setting was the polling rate, a measure of how fast the laser sensor on the bottom samples.  Faster is better, so I set this to 1000 Hz.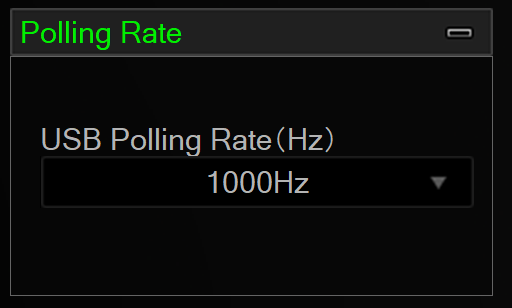 The VX Mouse also allows you to program each of the 6 buttons, including resetting each button as something else.  I didn't change any of these settings.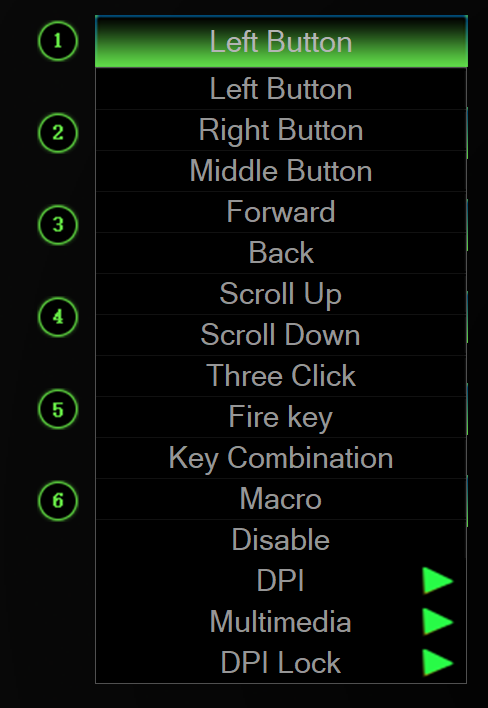 As the VX Mouse software is not available for a Mac, I don't think I would recommend this mouse for Mac gamers.
Gaming
After making these adjustments, I settled down to play some video games.  I started rather simply by playing some Minecraft with my wife.  The Brennus worked just fine for this game, giving solid control of little Steve, even when things went sideways when we were trapped between a lava waterfall and spider spawner.
I then shifted over to playing my favorite game, Dota 2.  I struggled more with this game, as this MOBA requires a lot of very precise clicking.  I got to the point where it worked pretty well, but I think I need to do a little more adjusting to get the sensitivity just right.  In Dota, I have the 2 side buttons mapped to my quick buy and the courier.  I discovered that the buttons on the Brennus are smaller than what I'm used to, about half the size of my trusty SteelSeries Rival 310.  I tend to rest my hand so that my palm is on the mousepad, and in this position I couldn't quite reach the forward button easily, which made it a little harder to control the courier.  Of course, your experience will vary from mine, depending upon how you like to hold your mouse.
I then installed and played two games that were new to me.  Maelstrom is a battle royale game where I control a ship instead of a soldier.  It's a simpler and slower game compared to something like PUBG.  The Brennus worked great for this game, and I enjoyed sailing around and sinking other ships.  Destiny 2 is multiplayer FPS that was recently released on Steam.  I again found the mouse sensitivity to be too high, but Destiny includes in-game controls to adjust this, and I quickly settled on a value that worked well for me.
Performance
To help test this mouse, I asked my son, Jacen, who is the President of Liberty University's Gaming Club, Director of Liberty Esports, and an avid gamer of FPS games like Apex Legends and Overwatch to give it a try.
The body of the mouse is covered with a rubbery coating.  It's good because it makes it easy to grip and hold the mouse.  It's bad because it attracts oil, fingerprints, dust, and lint.  From time to time I have to get a microfiber cloth and wipe the surface down.  I consider this to be a medium-sized mouse, and both Jacen and I found it to be a perfect fit and comfortable to use.
The sides and base of the mouse are made of some metal, though I couldn't find out exactly what type.  At first, I thought I wouldn't like metal sides, because I was afraid that they would get slippery while playing intense games.  Most gaming mice that I've used have some sort of rubberish grip to prevent this.  To my surprise, I actually like these metal sides, and keeping a good grip has not been an issue.  Jacen, however, had a different response.  Because of the way that he holds the mouse while gaming, a claw grip, the "missing" sides of the mouse gave him a lot less onto which he can grip; this makes the mouse awkward to hold and use.  Additionally, it's colder where he lives, and he found that the metal sides tended to be cold, which made his hands cold.  He prefers mice that are plastic with rubbery grips.  If you live in a colder environment, you might want to keep this in mind.  All-in-all, however, I think the Brennus is a very solidly constructed mouse that's likely to last a long time.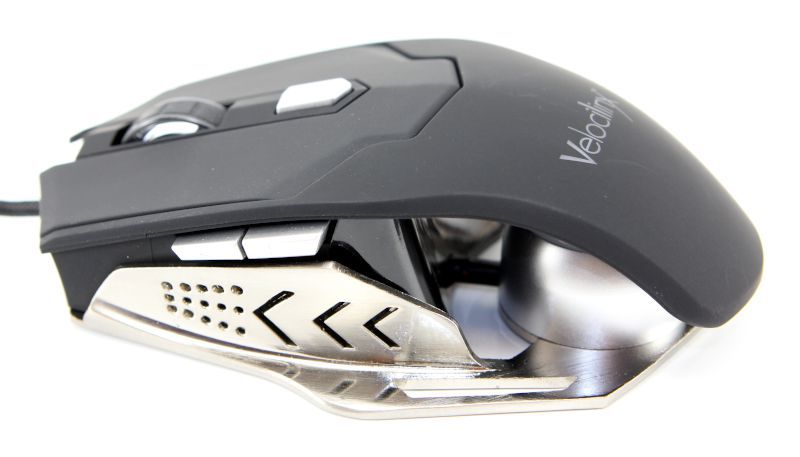 The only difficulty that I've had with Velocilinx's mouse is trying to get the sensitivity where I'm comfortable with it.  The metal base and the no-slip pads give it a very slick surface.  This mouse is the fastest mouse I've ever used, which along with the default high sensitivity makes it difficult to control.  It's not an unsolvable problem—using a cloth mousepad, for example, can help—but you should plan to spend a little time adjusting the options before you get it straight.  Jacen, however, didn't have any problems with the higher sensitivity.  As he plays more FPS games than I do, he's probably more used to this.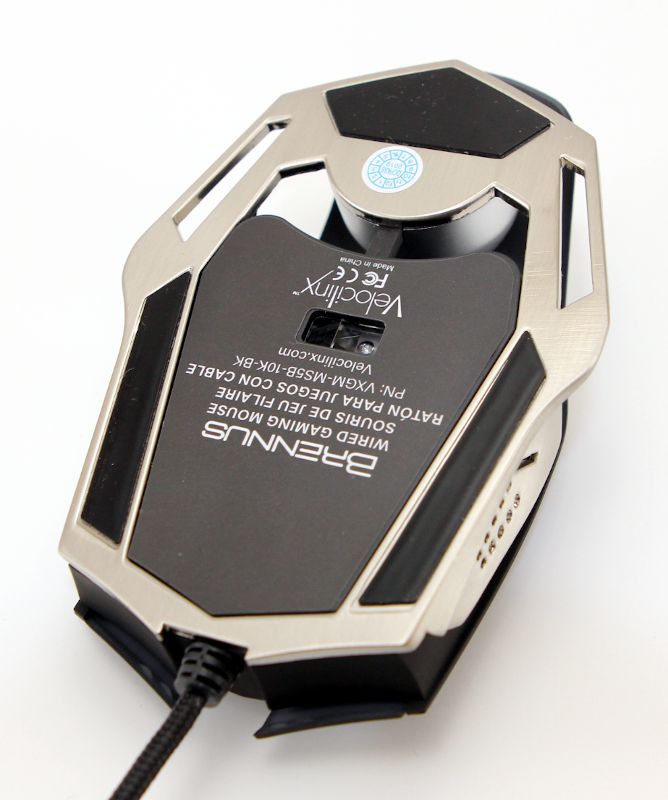 The wheel on top scrolls very smoothly, as it should.  The left and right mouse buttons have a short but decisive click.  The cable is braided, something I very much appreciate.  Finally, using install the VX Mouse gained me access to all the color bling options, which I appreciate, even though they doesn't help me game better.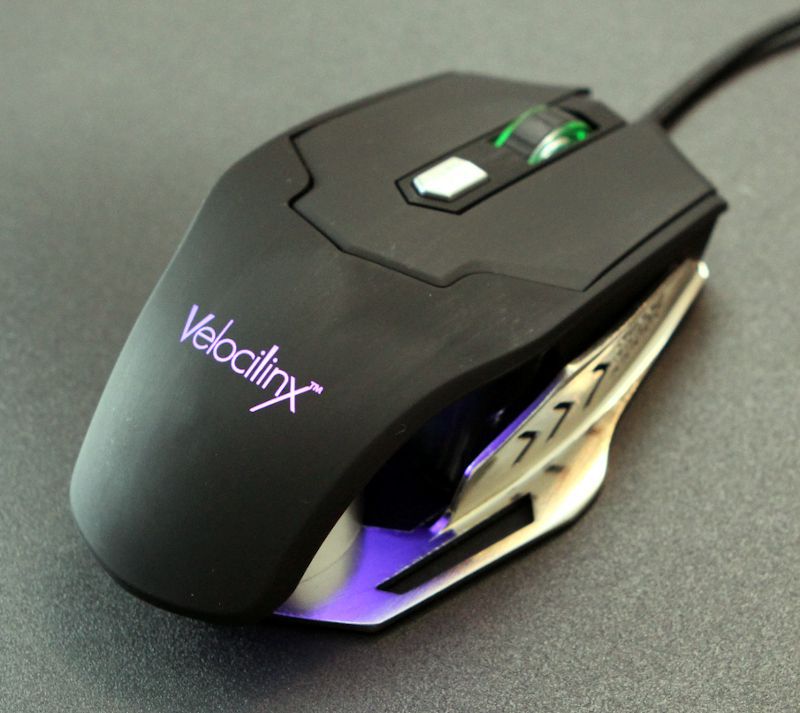 What I like
Solid construction, especially the metallic sides and base
Lots of configurable options with the VX Mouse software
Lights!
What I'd change
Lower the default sensitivity just a bit
Improve the quality of the documentation for VX Mouse software
Final thoughts
The Velocinlinx Brennus is a good, mid-ranged gaming mouse that comes with a nice set of adjustable features.  It's has a solid, sturdy construction, due in part to its metal base and sides.  Before buying, take another look at the side of the mouse in the pictures above.  Depending upon your grip and the temperature of your gaming room, you might be bothered by the hole in the base and the metallic side grips.  If those are not a big deal for you, then the Brennus is definitely a mouse you should check out.
Price:  $52.99
Where to buy:  Staples
Source: The sample for this review was provided by Velocilinx.