We use affiliate links. If you buy something through the links on this page, we may earn a commission at no cost to you. Learn more.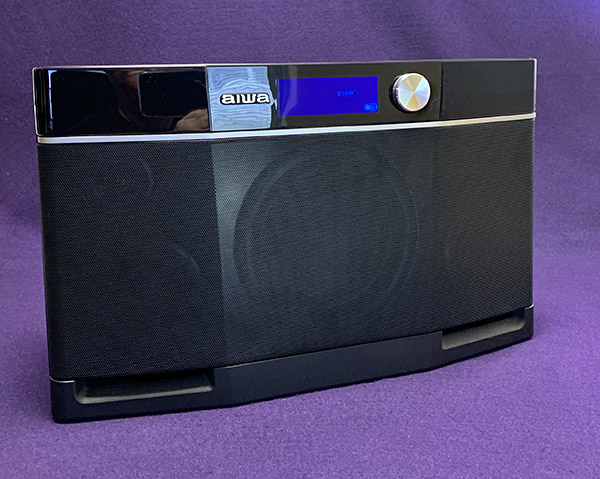 REVIEW – Last year, I reviewed the Aiwa Arc-1 headphones and liked them. They're comfortable and easy to listen to for hours. However, before the Arc-1, Aiwa made a wireless speaker that helped raise them from the ashes of forgotten electronic companies. Since its release, the powerful Aiwa Exos-9 Portable Bluetooth Speaker has garnered a lot of positive press and reviews. The wonderful thing about reviews is that reviewers can disagree completely, which is why you should always read many reviews before spending hard-earned money on a product. Am I going to agree or disagree with the overwhelmingly positive reviews of the Aiwa Exos-9 speaker?

What is it?
The Aiwa Exos-9 is a large and loud 200-watt portable wireless Bluetooth speaker known for its ability to play loudly, both indoors and out. 

Specs
Onboard Volume
EQ control: 5-band with 4 equalizer presets
Bluetooth with a radius of 50ftA2DP support, aptX,

 

AAC, SBC codec support

Wireless NFC pairing
Two-speaker pairing for wireless left/right stereo
2600 mAH lithium-ion rechargeable battery with 9+ hours play time 

before recharging

USB charging
Frequency response: 40Hz-20KHz
Power: 200W

 

2 x 1 in. silk dome tweeter
2 x 3 in. neodymium midrange speaker driver
1 x 6.5 in. dual voice coil subwoofer
Class-D bi-amplification
Active and passive crossovers
Bass reflex port
3.5mm aux. input

In the box
Exos-9
Mini plug cable
power cable

Design and features
To start, the Exos-9 is big, heavy and loud, which makes it perfect for kid's basement parties and both indoor and outdoor get-togethers. Even though the Exos-9 can be used outdoors, it is neither waterproof nor water resistant. Aiwa does offer an optional carrying case which gives the speaker an IPX4 splash and dustproof rating.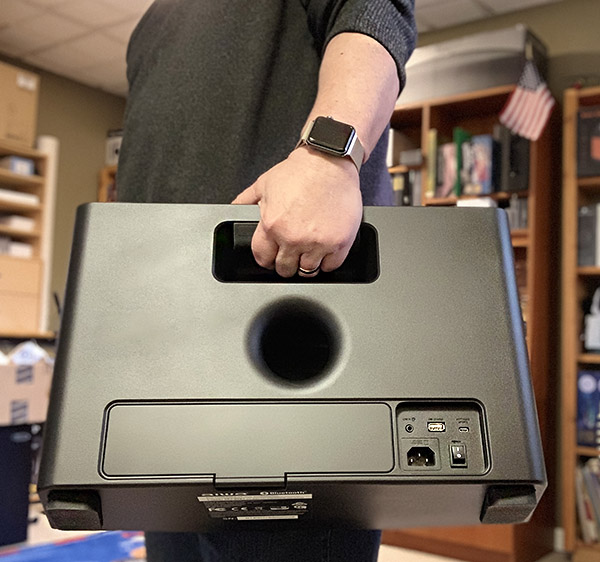 The design (like Aiwa's excellent Arc-1 headphones) is rather bland and generic-looking. The Exos-9 speaker housing is made of plastic, which doesn't instill much confidence if accidentally dropped—and I didn't want to test it. However, the speaker does come with a built-in carrying handle—a good thing since it weighs 13 lbs. Moving it to the backyard is easy but if the speaker needs to be carried over a longer distance, the handle's design may cause you to have to grip tighter, putting undo strain on hand muscles.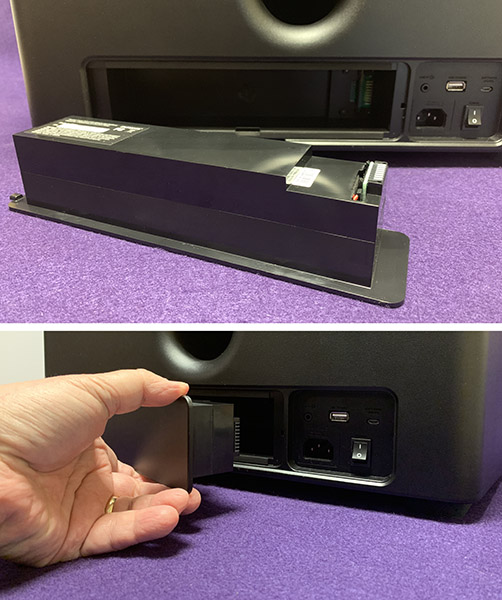 A rechargeable battery pack is included with the Exos-9. It's large but installs easily into the bottom of the speaker at the back. The battery is rated at 10 hours. I haven't tested it for that long, but I was able to use the Exos-9 for 8 hours at moderate volume with no issues. If that's not enough battery life for you, Aiwa offers an optional extended battery for longer play time. Note that battery life shortens as volume increases. To deal with this, Aiwa has incorporated what they call "Battery Save Mode EQ (equalizer) Setting." This determines which frequencies use the most power and adjusts them increasing the life of the battery by up to 100%. Note that this will affect the audio as certain frequencies are reduced. Speaking of EQ …

The top of the Exos-9 speaker has a control panel that looks removable but isn't. The touch-sensitive buttons handle Play/Pause and equalizer (EQ) controls. The EQ uses directional arrows for adjusting frequencies. The left/right arrows let you choose between four non-adjustable EQ presets and one customizable EQ setting. The up/down arrows allow you to increase or decrease gain across five EQ bands. You have to use the Left/Right arrows to move among the customized bands in order to press the Up/Down arrows for gain control. Even though the manual shows how the EQ arrows work, it's still complicated so I just leave the EQ set to off.
The remaining control button is LINK. This allows two Exos-9 speakers to be wirelessly connected for audio mirroring or true L/R stereo—with the added benefit of even more volume.
Pairing Bluetooth was easy. Once powered on, the Exos-9 showed up in my iPhone's Bluetooth settings. Why can't all Bluetooth speakers be this simple? If you have NFC (meaning almost everybody except Apple), there is a labeled touch spot on the top of the speaker.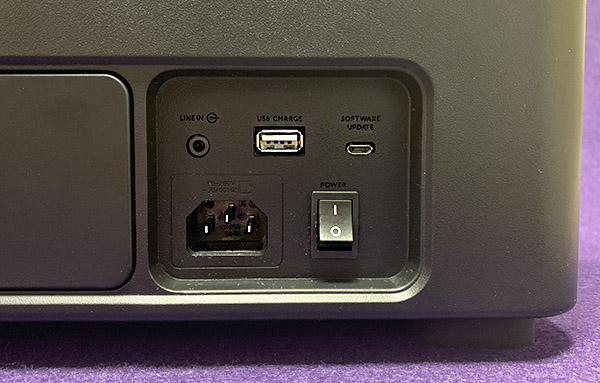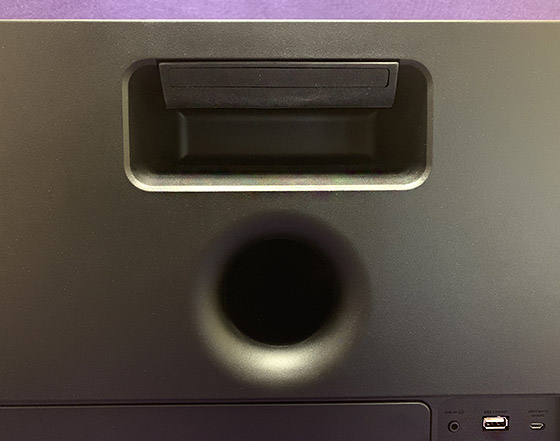 Audio connections are limited to one mini plug AUX Line-In port at the back of the speaker. This port will accept headphones, digital audio players (DAP), laptops and anything that uses a mini plug for audio. Once any device is plugged into the AUX port, it automatically takes over. There are two USB ports: One is dedicated to charging mobile devices. This means that a smartphone can be charged while streaming music to the Exos-9. Unfortunately, it is not a USB digital-in port. The other is a micro-USB port that's for firmware updates only. A mini plug cable is included. USB cables are not. There is also a large, circular bass port that allows significant air movement for increased bass.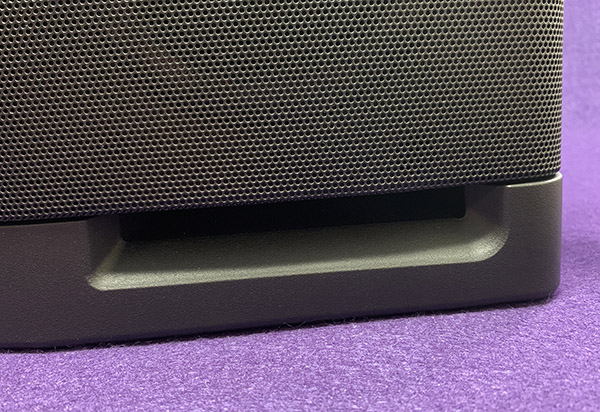 The front of the Exos-9 has two slots at the bottom that look like more bass ports but are decorative only. Near the top is a monochrome LED panel that shows EQ settings that are controlled from the top panel mentioned earlier.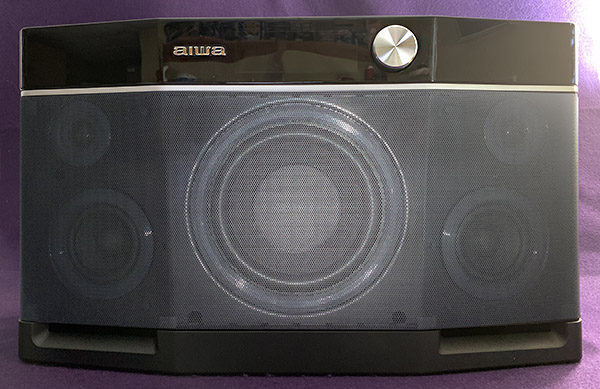 The Exos-9 comes with 5 speakers: Two 1 in. tweeters, two 3 in. mid-range drivers and one 6.5 in. subwoofer. They are powered by a 200 watt amplifier. This combination packs a wallop when volume is cranked up. It's immediately clear that the Exos-9 can match many speakers—some costing much more—in volume.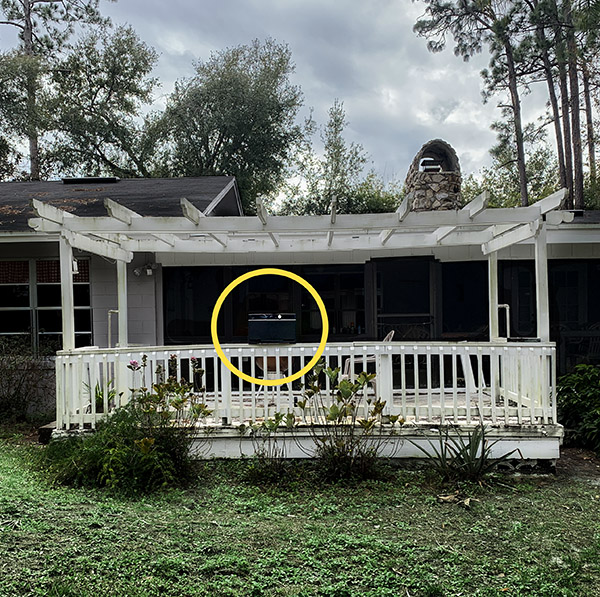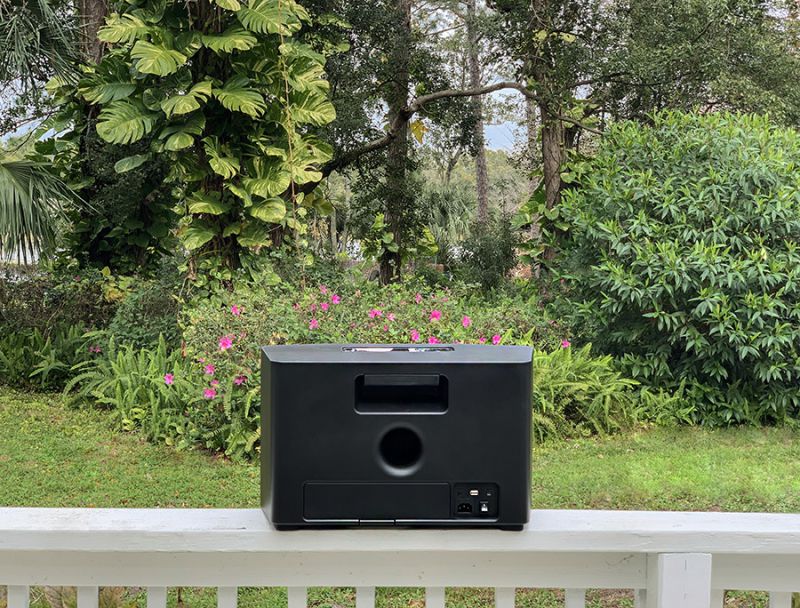 However, volume alone does not a good speaker make. Aiwa has done an excellent job of matching the amp to the speakers producing excellent audio at all volumes. Example: I set the speaker on my back yard deck railing and walked 50-60 feet away from the speaker. I then cranked the volume to max on my iPhone. Not only did the Bluetooth signal hold with zero dropouts, but the sound quality was also excellent and distortion free. I was shocked by how much bass it produced because bass tends to dissipate when outdoors. This is definitely a potent party speaker.
One thing missing from the Exos-9 is a dedicated app. I would have loved an app that could control the EQ without having to go to the speaker and fiddle with those non-intuitive EQ arrows. Smart speaker technology would also be welcome. Yet, even though it's missing some of these extras, you can't argue about the Exos-9's audio quality. There is an optional remote available, but at the Exos-9's price, should have been included in the box.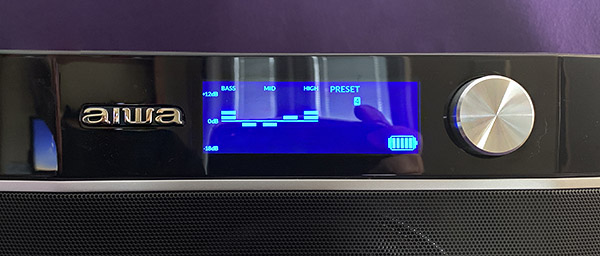 I played different genre's of music on the Exos-9, from 80s new wave, 60s psychedelia and modern over-processed music to bass-monster songs (for testing bass of course), folk and classical. The speaker handled it all with ease but rock and party music is what makes the Exos-9 shine. The louder the music, the happier the Exos-9 appears to be.
What I like
Loud, distortion-free audio, perfect for outdoor parties
Decent battery life (at moderate volume)
Great bass—even outdoors
Extended Bluetooth distance
Built-in carrying handle
What needs to be improved
A smartphone app would be welcome
No water resistance if played outdoors
Bland design

Final Thoughts
Since the Exos-9 is the product that pulled Aiwa from the ashes, maybe they should have named it "The Phoenix" instead. Either way, the Exos-9 is a dynamite speaker that sounds great, especially outdoors. If Aiwa can add some built-in water protection and some additional smart connection options like Alexa, AirPlay or Google Play, the Exos-9 could come close to that perfect all-in-one speaker.
Price: $329.99 US
Where to buy: Amazon
Source: The sample for this product was provided by Aiwa.