We use affiliate links. If you buy something through the links on this page, we may earn a commission at no cost to you. Learn more.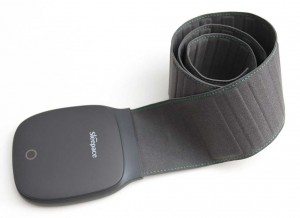 A lot of high end fitness trackers that are designed to keep track of your steps and physical activity can also give you insight on your sleeping habits with the hope of improving them. Everyone could use a better night's sleep right? The only problem with most of these trackers is that you have to wear them on your wrist while you're sleeping, which can actually make it harder for you to fall asleep. The RestOn Sleepace smart sleep monitor doesn't strap to your wrist or anywhere else on your body, instead it fits between your mattress and bed sheet so you barely know it's there. The Sleepace is an Indiegogo project that is currently seeking funding. They sent me one to try. Let's see if it's worth buying.
Note: Images can be clicked to view a larger size.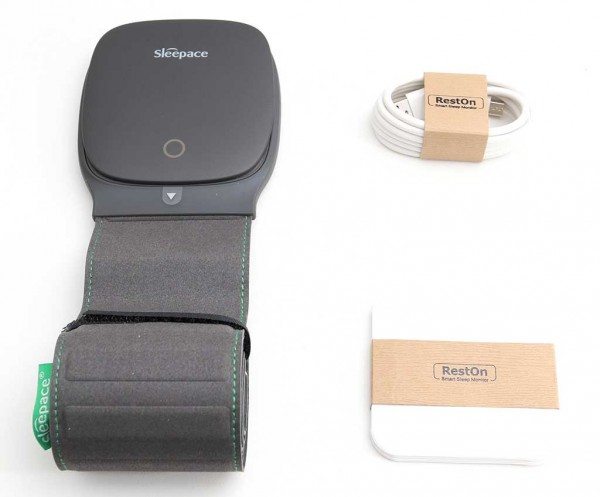 Package contents
Sleepace sleep monitor
Micro USB charging cable
Manual

As mentioned at the beginning of this review, the Sleepace sleep monitor isn't a wearable device. It's a 35 x 3 inch strip that has professional medical-grade sensors attached to a controller / battery module.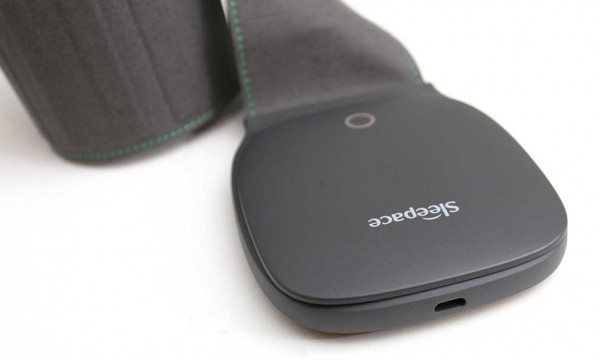 The monitor has a micro USB port that is used to charge the built in 1500 mAh lithium polymer battery.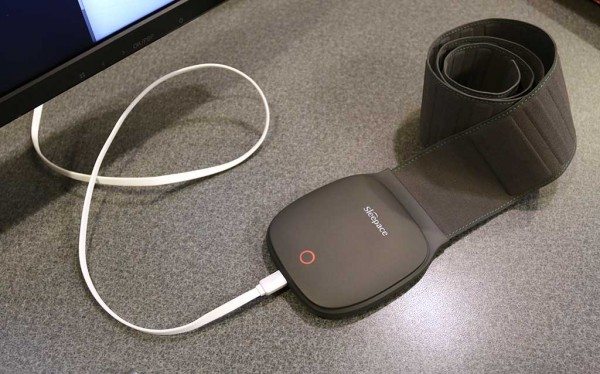 A full charge will power the Sleepace monitor for up to one month. An LED on the module glows red while charging.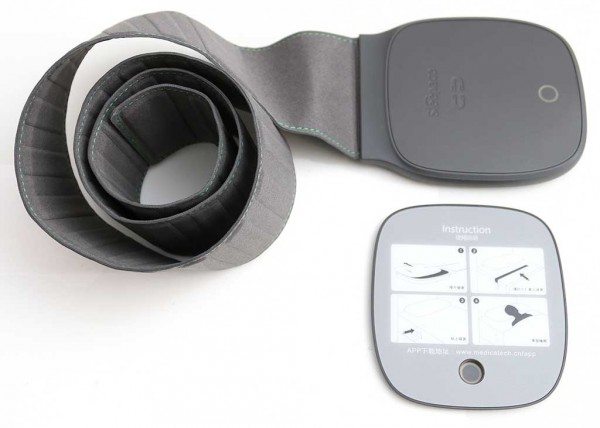 To use the monitor you remove the magnetic cover plate from the top of the battery / controller.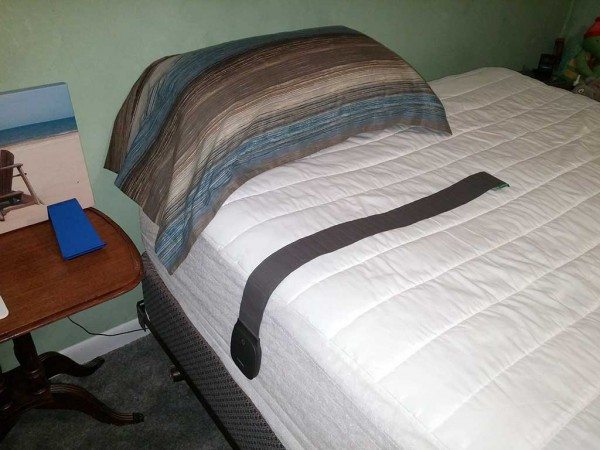 You then place the fabric sensor band on top of your mattress in the area that would be under your chest, with the battery module dangling over the side of the bed. I tested the Sleepace with a queen size bed.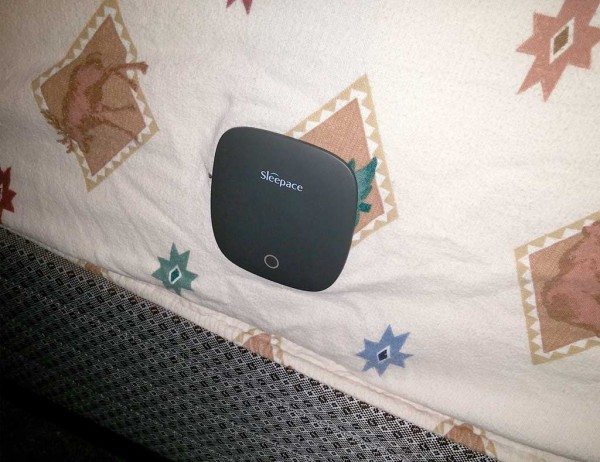 Next you place your bed sheet over the mattress like you normally do and then place the magnetic cover over the battery module which holds the Sleepace in place. As soon as you place the magnetic cover over the controller in the correct orientation, the LED will glow green for a few seconds to let you know that the monitor is powered on and ready for use.
Before the monitor can start tracking your sleep, you have to install the Sleepace app on your iOS or Android device.
Once the app is installed, you enter your name, age and gender, make sure Bluetooth is turned on and the app will pair with the Sleepace sensor. From there all you need to do to start recording sleep data is to press the start/stop button. If you're laying on the sensor band you'll be able to see a real-time view of your heart beat and respiratory rate. You can then turn off the phone and the monitor will continue recording sleep info until you go into the app to stop recording. You don't even need your phone to be in the same room as the Sleepace.
In the morning you press the stop button in the app and view the previous night's recorded sleep data. The Sleepace scores your sleep and shows the length of your sleep cycle as a combination of awake, light, mid and deep sleep times. The sensor is also supposed to detect how many times you got out of bed, how many times you turned over during the night, if your heart beat paused and if your breathing stopped which is an indication of a dangerous condition called sleep apnea.
As you continue to use Sleepace, the app will keep track of your sleep scores so that you can go back and view trends. I used the Sleepace for a week and found it to be much more comfortable to use than other sleep trackers that I've tried. I hate wearing things on my wrist and always found them to be annoying. The Sleepace is thin enough that I barely noticed it was under my fitted flannel sheets.
The monitor showed that I slept well each night. My heart rate and breathing were in the normal range and I didn't have any apnea episodes. If the app detects sleeping problems, it will provide suggestions in the app on how to improve sleep to get your nightly scores to a higher level. For example, for my perceived restlessness it suggested that I adjust the room temperature to make it cooler and not to eat or exercise before bedtime.
After using the Sleepace for several nights, I have to say that I'm not sure about the accuracy of some of the data that it collects. One night I got out of bed 2 times and it didn't detect either time. And each night it said I turned over a LOT. It said I turned over many more times that I know I did. One night it said I had turned over 61 times! If I turned over that many times how could I have a good sleep score? I'm not sure how it detects when a person turns over. Maybe having a sleeping partner in the same bed can effect the collected data.  Apparently I'm not the only person experiencing some inaccuracy issues. The Indiegogo comments for this project include people complaining about some of the same problems. I'm guessing that the software needs to be tweaked.
I think the RestOn Sleepace smart sleep monitor is easy to use and provides good info on your sleep cycles. When it is able to provide better accuracy for the times you leave the bed or turn over during the night, I think it will be a valuable tool for people who are seeking out a better night's sleep.
Source: The sample for this review was provided by RestOn. Please visit their site for more info or pre-order at Indiegogo.
Product Information
Price:
$149.99
Manufacturer:
RestOn
Retailer:
Indiegogo
Requirements:

iPhone 4S or newer (running iOS7 and later), iPod Touch 5 or newer, or a modern Android such as the Samsung Galaxy S4 and S5 (running Android 4.3 and later)

Pros:

Non-wearable
Easy to setup
Gives advice for improving sleep

Cons:

Seems to have accuracy problems with leaving the bed and turning over