We use affiliate links. If you buy something through the links on this page, we may earn a commission at no cost to you. Learn more.
Sharing video content from your Android phone or tablet isn't difficult when it's just with one other person. But trying to share something with a group of friends all crowded around a small screen can be a little tough. The Belkin Miracast Video Adapter makes it simple to mirror your display on a big screen TV so that everyone can see (and hear) it. Just plug it in, connect and share. Is it really that easy? Let's find out.
Note: Images can be clicked to view a larger size.
Package contents
Belkin Miracast Video Adapter
HDMI extender cable
microUSB cable
Quick start guide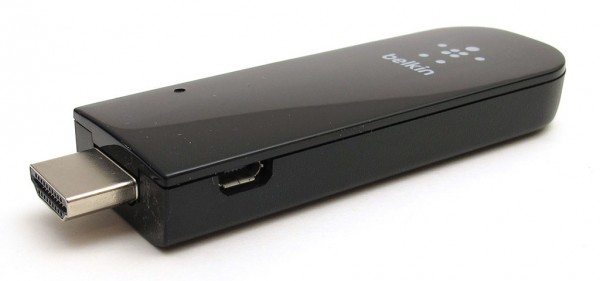 The Miracast Video Adapter looks like an oversized flash drive. The difference being that it has an HDMI connector on one end instead of a USB connector. There's also a microUSB connector on one side for power. The location of the microUSB connector can interfere with other connections, but luckily Belkin includes an HDMI extension cable.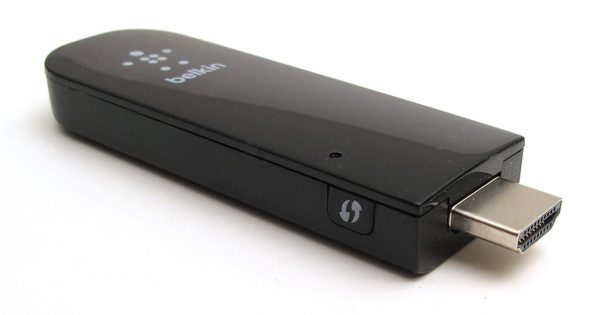 On the other side of the stick is a power status LED and reset switch.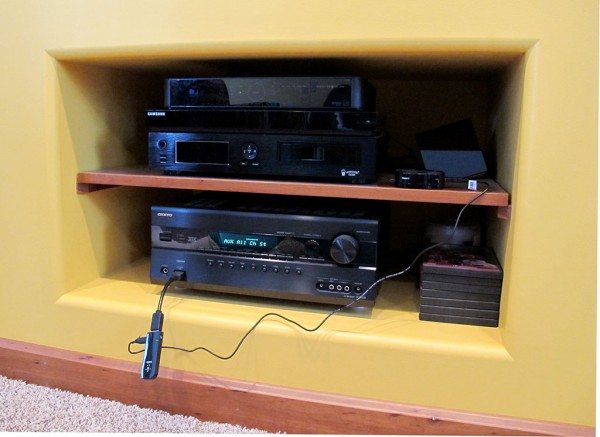 Hooking it up
Hook up is easy. Plug the Miracast into an open HDMI port on your TV or A/V receiver and the microUSB cable from the Miracast to a USB port on your TV. If you can't easily get to the USB port on your TV or if your TV doesn't even have a USB port, all is not lost. It just needs power, so you can connect it to a USB AC adapter or do like I did and connect it to the USB port on my Roku.
Due to the width of the Miracast stick, I had to use the included HDMI extender cable so I could plug it into the AUX HDMI port on the front of my A/V Receiver.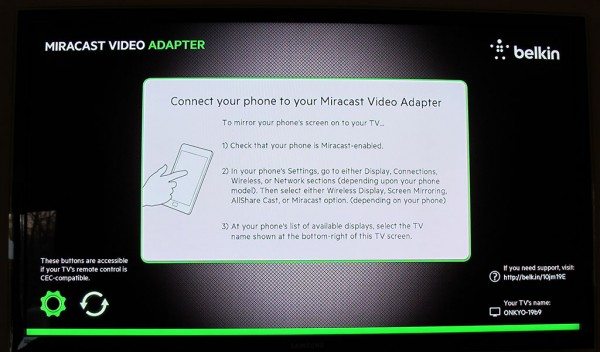 Once everything is connected, turn on your TV, switch to the HDMI input with the Miracast and then grab your Android smartphone or tablet.
Miracast is natively supported on Android 4.2 and up, although support can vary per device. You can view a list of verified compatible devices here: http://belk.in/mira1234.
I preformed my testing with a Samsung Galaxy Note 2 smartphone and a Google Nexus 7 2013 tablet. To connect the device to the Miracast, you have to find the screen mirroring setting on the device. It can be called something different on each device. On the Note 2 (shown above), it's called Screen Mirroring. On the Nexus 7, it's called Screen Cast. Once turned on, it will show a list of the devices that you can connect to. In the image above, you can see that it has found my Onkyo A/V receiver that has the Miracast connected to an HDMI port.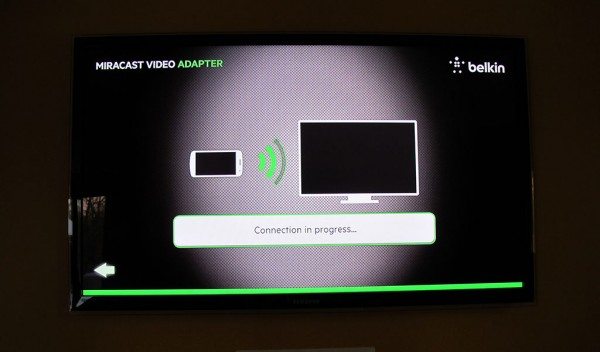 Tap the device and after a few seconds the connection will be established.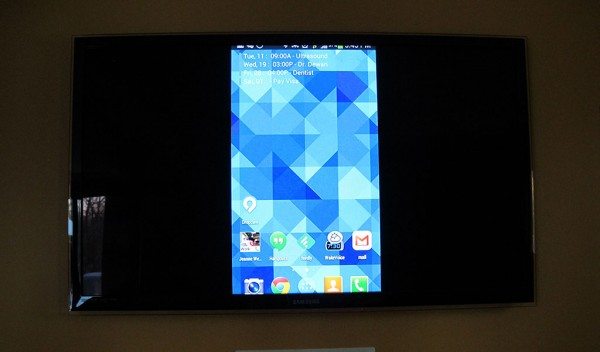 Connection successful, now what?
Your device's display will be mirrored on your TV. Everything you see on your device will be shown in 1080p resolution (1920 x 1080 pixels) on your TV.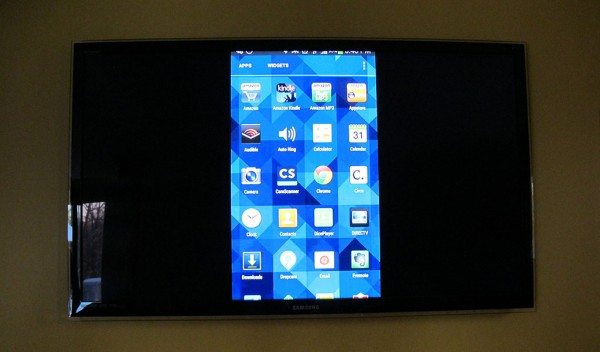 The first thing I noticed was that the top and bottom edges of the Note 2 and Nexus 7 displays were slightly cut off when viewed on my 55 inch Samsung TV. Not enough to really matter, but enough to point out.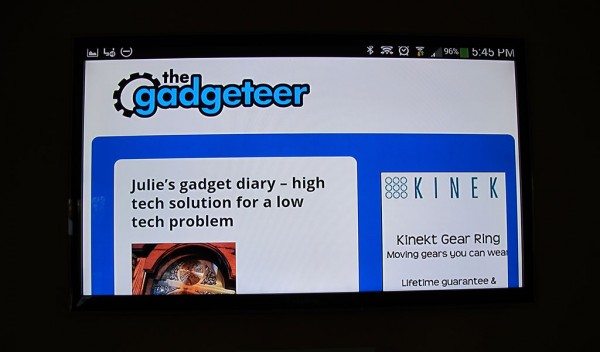 Why would you want to mirror your phone or tablet's screen to a larger display? You can show any app, websites,  presentations and more.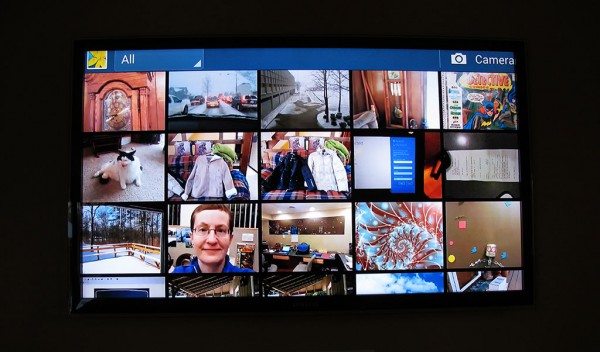 Share images at a party.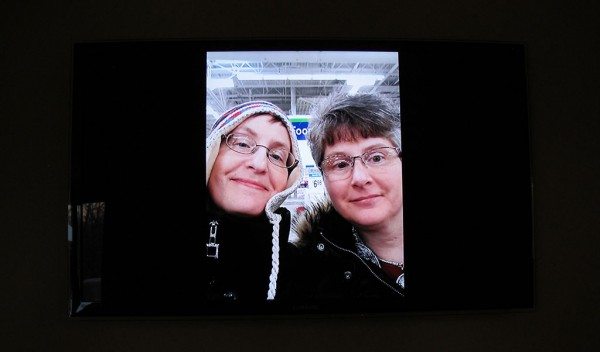 Have an image slide show, video call or skype with family and friends.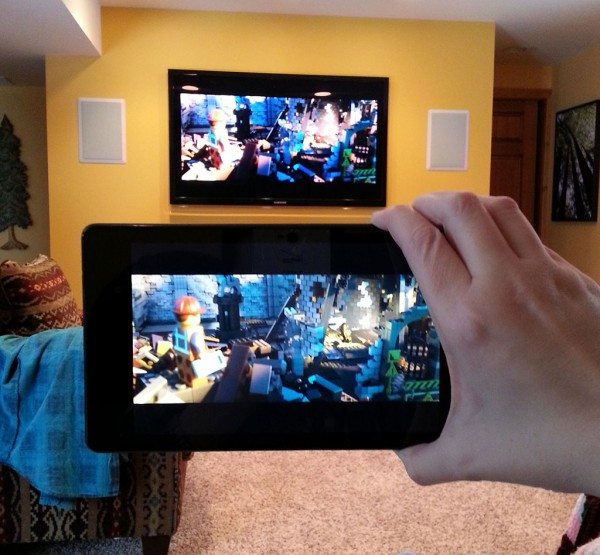 You can watch YouTube videos, Hulu, Netflix or demonstrate games. Note: there's a very slight lag between what you see on the device and the mirrored display, so you don't want to watch the big screen instead of your device's screen while playing games.
During my testing, I found that mirroring worked more reliably with the Nexus 7 2013 vs. the Samsung Galaxy Note 2. I had a few instances were the Note 2 would lose connection, show lines or blocky images. This never happened with the Nexus 7.
I was trying to think of ways I would use the Miracast and the only thing I came up with was using it while traveling. The Miracast would be an easy way to "project" Hulu or Netflix shows from my phone or tablet to larger TV in my hotel room for more comfortable viewing.
Belkin's Miracast vs. Google's Chromecast
You might be wondering how the Miracast differs from Google's Chromecast device which is less than half the price of the Miracast. The Miracast just mirrors video and audio. That's it. Nothing more. You must have the device turned on and anything you are doing on the device, you'll see and hear on your TV.
To use the Chromecast, you have to use an app that supports it like YouTube, Netflix or Hulu. From the app on your phone, tablet or computer, you start streaming the desired media and tap the Chromecast icon to tell it which video it should stream from the cloud. From there you can use your device to control playback, you also can use the device to do other things or even turn it off.
The Miracast is compatible with more devices than the Chromecast, but for what it does, I think it's overpriced. That said, it's very easy to setup and use. So if all you care about doing is mirroring your Android smartphone or tablet to a big screen, the Belkin Miracast Video Adapter has you covered.
Update from Belkin:
I know you had an issue with cut-off edges and wanted to let you know that you can easily adjust that by pressing the aspect ratio option on the TV. We display in absolute resolution and most TV sources don't. We are working on getting a Q&A up on our support pages for that as well.

Additionally, the better performance you saw with the Nexus 7 is largely due to it being a more recent and powerful device – its Miracast just functions better. However, we are issuing a firmware update that will improve performance and connection on all devices. It should be out this week.
Product Information
Price:
$79.99
Manufacturer:
Belkin
Requirements:

Miracast is natively supported from Android 4.2.X and up, although support can vary per device. List of verified compatible devices here: http://belk.in/mira1234.

Pros:

Simple to setup
Easy to connect mobile device
Mirrors everything you see on mobile device

Cons:

Expensive
Size of stick and location of microUSB connector can cause issues connecting to a TV or AV receiver
Mobile device has to remain on to mirror