We use affiliate links. If you buy something through the links on this page, we may earn a commission at no cost to you. Learn more.

REVIEW – Breathing.  We all do it.  Pretty much all the time.  But, what are you breathing?  Nice, clean, healthy air, or, air contaminated with yucky things?
What kind of yuck can you find in your household air? Well, a lot! Microscopic particles smaller than 2.5 microns, including smoke, bacteria, and allergens lurk. Particles smaller than 10 microns, including pollen, dust, and pet dander run rampant. Formaldehyde (HCHO), a potentially harmful gas that can emit for years from common household items such as flooring, furniture, and fabrics linger. Volatile organic compounds (VOCs) are gases released from a wide range of sources, such as aerosol sprays and air fresheners. They include benzene, household fumes, and odors. Oxidizing gases such as nitrogen dioxide (NO₂) are released by combustion. These include gasses emitted from cigarette smoke, car emissions, candles, and gas stoves. Eww, right?
Dyson, maker of all things that suck and blow, doesn't think you should have to inhale all that crud, and backs that up with their new TP09 Dyson Purifier Cool Formaldehyde.  While that name is a mouthful, that mouthful is designed so you don't get your lungs full of the aforementioned junk.
What is it?
The Dyson Purifier Cool Formaldehyde is a combination cooling fan and air purifier. It can continuously monitor your air quality, automatically cleanse the air, and eliminate all the contaminants, producing nice, clean, cool air for you to breathe. The filtration system is a sealed system certified to HEPA H13 (pass up 0.05% of 0.1-micron particles per liter of air). It is available in two colors, nickel/gold (tested), and white/gold.
Julie recently reviewed a smaller model that also can heat the air, the Dyson HP04 Pure Hot+Cool, and Bill Henderson reviewed the even more similar Dyson Pure Cool TP04. The TP09's differentiator is its ability to also clean formaldehyde from the air. Well that, and a $120 price premium over the TP04.
What's in the box?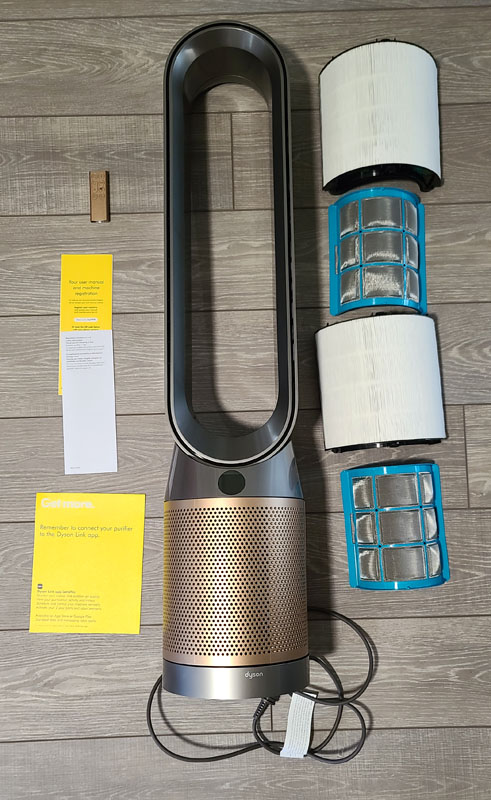 Dyson TP09 Purifier Cool Formaldehyde
Dyson HEPA/

carbon 

filter (x2)
Dyson permanent catalytic filter screen (x2)
Remote control
Quick start manual
Regulatory and safety information
Product registration and app information
Hardware specs
Dimensions: 41″ h x 8.7″ w
Weight: 10.7 pounds
Oscillation angle: 45/90/180/350 degrees
Cord length: 6 feet
Fan speeds: 10
Airflow volume: 77 gallons per second maximum
Airflow modes: Cooling (front flow); backward for purifying without cooling
Control: onboard button, remote control, app, and voice assistant (Alexa, Siri, Google Assistant)
Filtration: HEPA H13 captures 99.97% of particles 0.3 microns in size
Design and features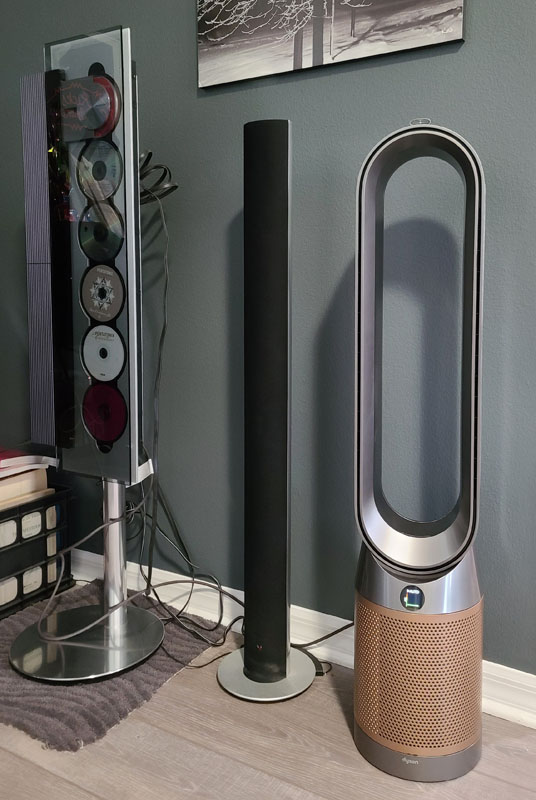 This is one big unit!  At 41″ high, it casts an impressive shadow.  Also, yes, I know that CD players are out of vogue in the age of digital players, but I still like it.   Don't hate me.
The base – the gray part on the bottom – sits in place.  The rest of the unit oscillates on top of that. The air inlet screen sits above that, with the HEPA/carbon filter and catalytic filter screen behind it.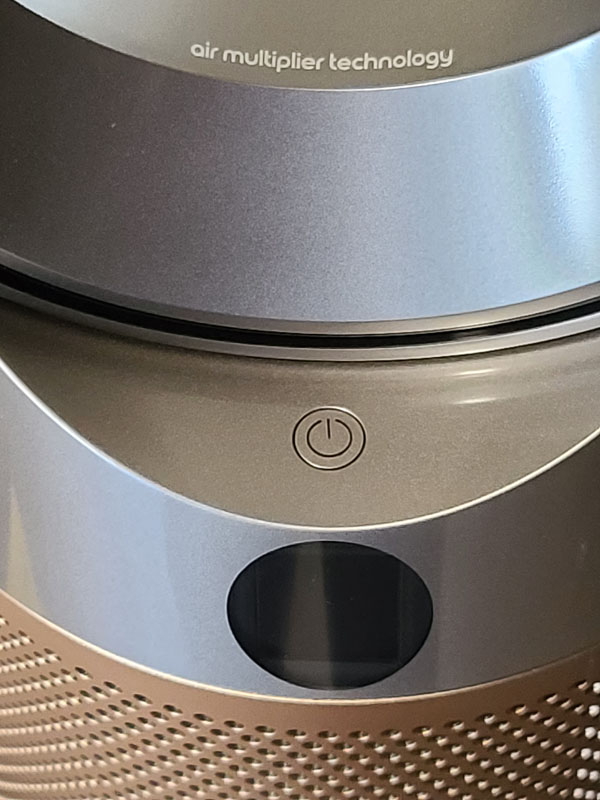 Just above the screen, we see the display, power button, and the base of the air multiplier.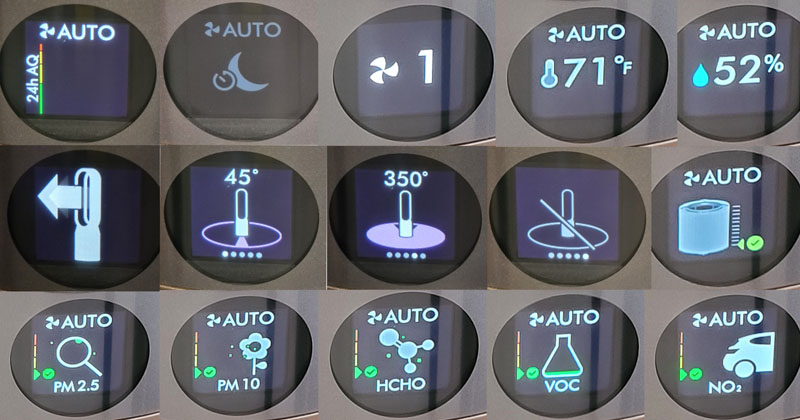 The display shows all aspects of the devices' modes and status. From top left to bottom right:
Air quality, night mode, fan speed, temp, humidity
Air direction, three oscillation mode samples, filter status
PM2.5 quality, PM10 quality, HCHO quality, VOC quality, NO2 quality
The fan can oscillate 45, 90, 180, & 350 degrees as well as no oscillation at all. If you don't want the fan to produce a cooling breeze, you can put the fan in rear exhaust mode and the cleansed air is ejected out the back of the air multiplier at a very low rate.
As a cooling fan, the unit can run at ten different speeds. Like their other air multiplier units, it is loud at high speed, but it does move a good volume of air.
There is a timer mode for times you want it to run and then shut down.  You can also schedule operations.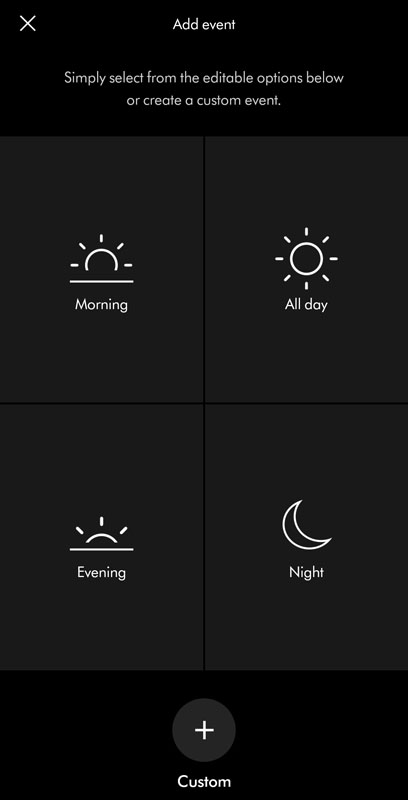 The remote is typical Dyson.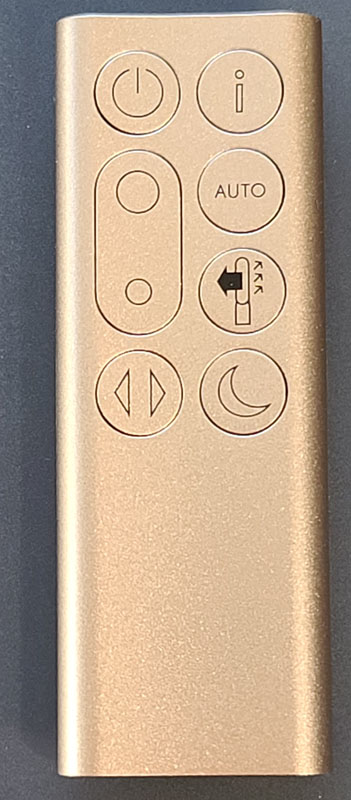 The buttons control power, info display, air volume, auto mode, front/back airflow, oscillation, and night mode.  It stores magnetically on top of the unit.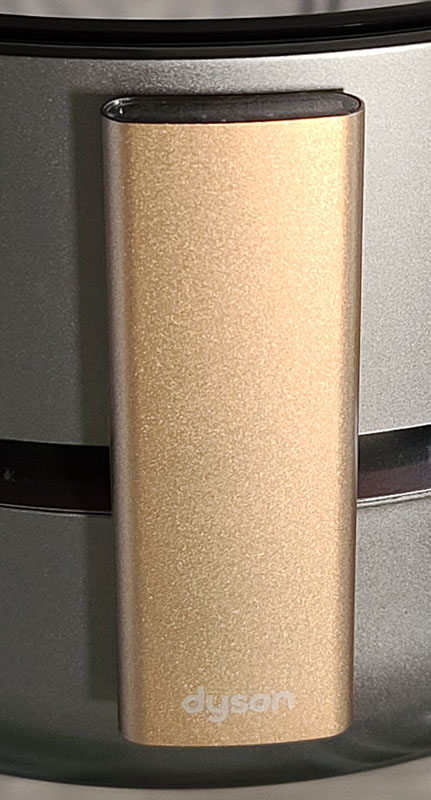 The filter system has two parts.  The first is the catalytic screen.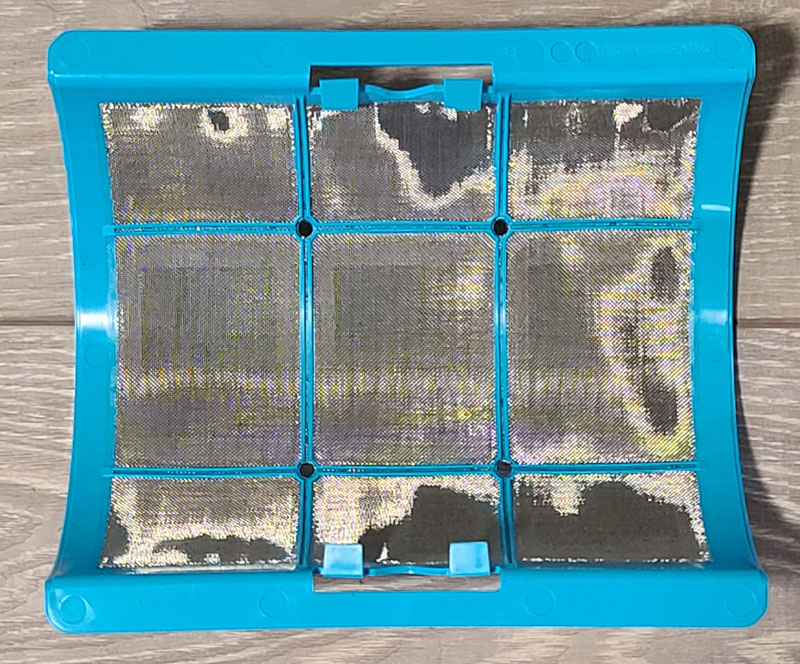 There are two of these that get installed at the bottom of the unit. There are also two HEPA/carbon filters.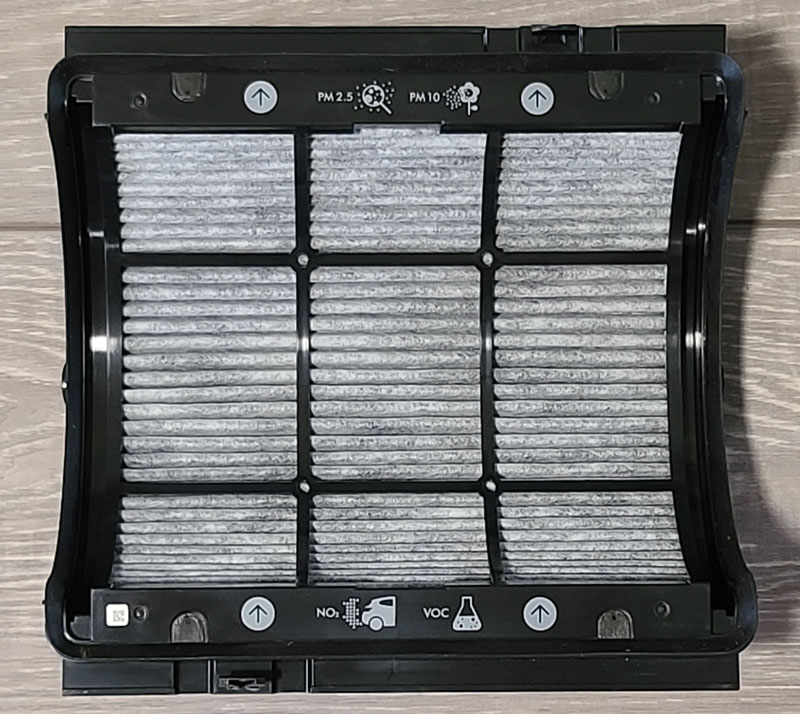 Setup
Set up involves two processes – installing the filters and installing and setting up the app.
To install the filters, you remove the outer screen.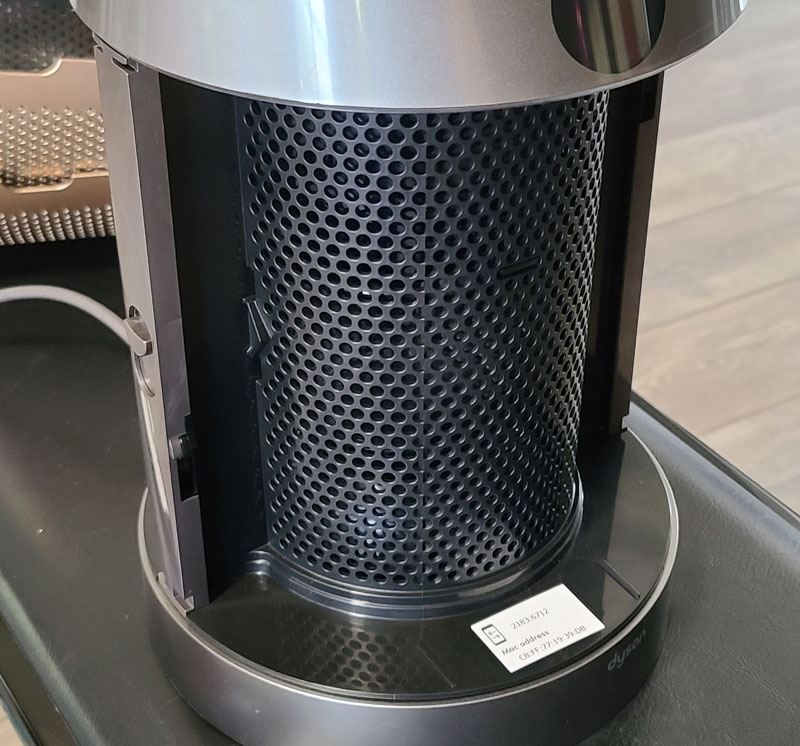 Then, you install the two catalytic filter screens.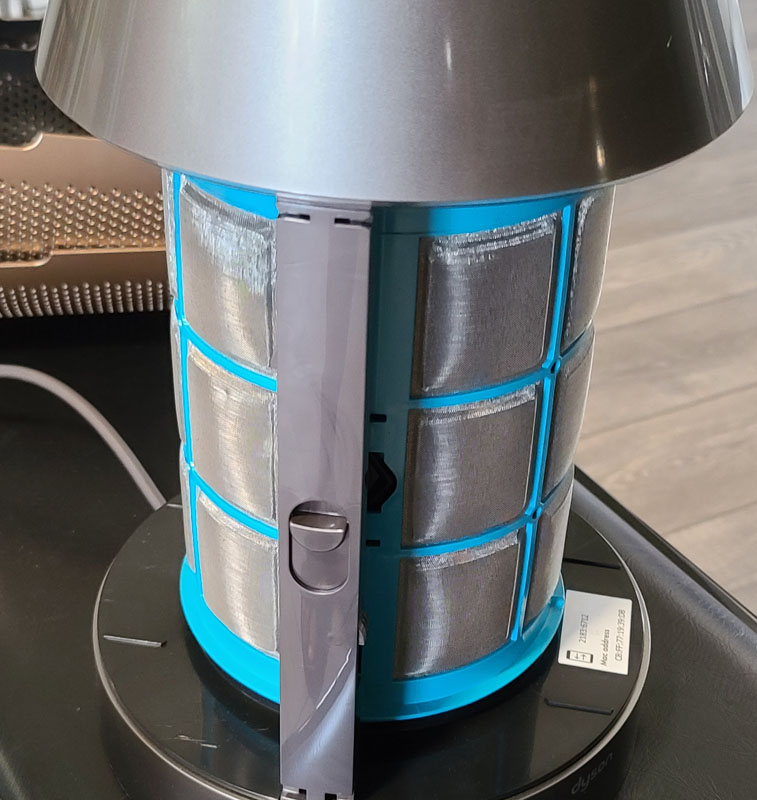 They install with the familiar Dyson click.  Once the screens are in place, you snap in the HEPA/carbon filters.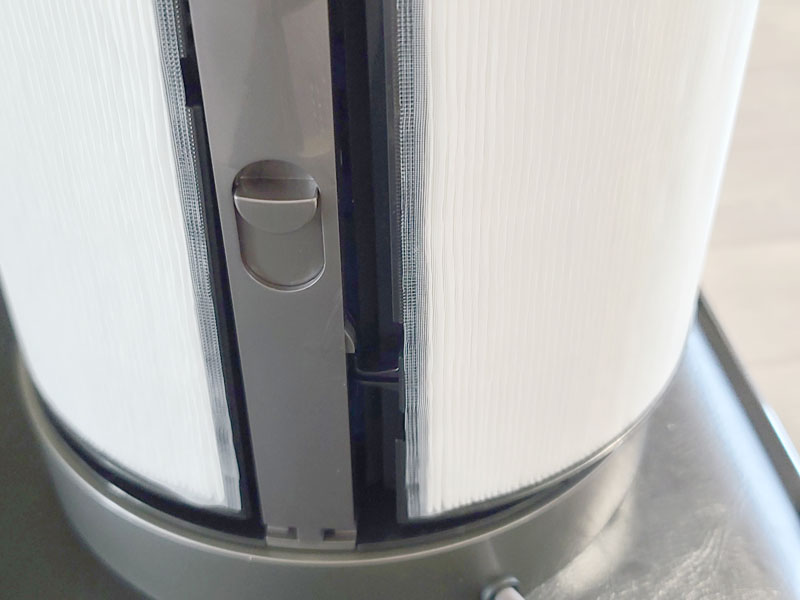 Once these are in place, you replace the outer decorative screens and away you go. According to Dyson, using genuine Dyson filters ensures that your machine continues to work effectively, capturing 99.97% of particles as small as 0.3 microns from your home.
Next, install the Dyson app from your app store and set up a Dyson account.  Once installed, you add your machine.  The Dyson process works quite well.  The purifier puts out its own WiFI signal.  The app finds it and adds the device.  Then you put your phone near the purifier and the pairing process completes, easy-peasy.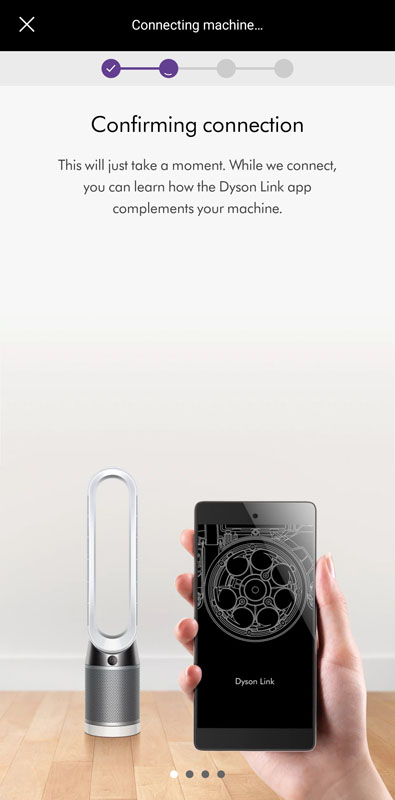 Once paired, you have full access to the purifier and all its settings and captured air quality data.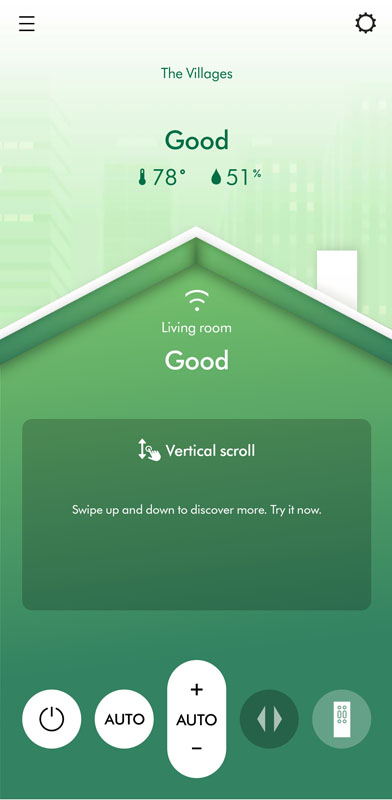 The app accesses outside air quality data so it has a basis for determining what it might need to do for your indoor air quality.
Performance
After getting it all put together and registered in the app, I was ready to scrub some air.  I set it for 180-degree oscillation and automatic mode. I also set it for automatic air quality monitoring, so if the air went south, the purifier should respond.
The fan started up on speed 4 and it started oscillating.  It ran for a while and then, sometime after that, it shut down and went into standby mode.  The air quality and all the different parameters, PM2.5, PM10, VOC, NO2, and HCHO all reported in the acceptable low (green) range. So far, so good.
The next morning, we made some morning chow.  That involved an air fryer, a frying pan, and a gas stove.  Hmm…all of those things seemingly put out some pollutants into the air, right?  The purifier is right around the corner from the kitchen.  Let's see what happens!
The purifier was just sitting there, doing nothing but supposedly monitoring the air quality.  We ate breakfast, with the purifier behind us out of view.  When we got up to clear the dishes, the purifier was awake and on duty, fan on low, and oscillating.  I looked in the app and saw this: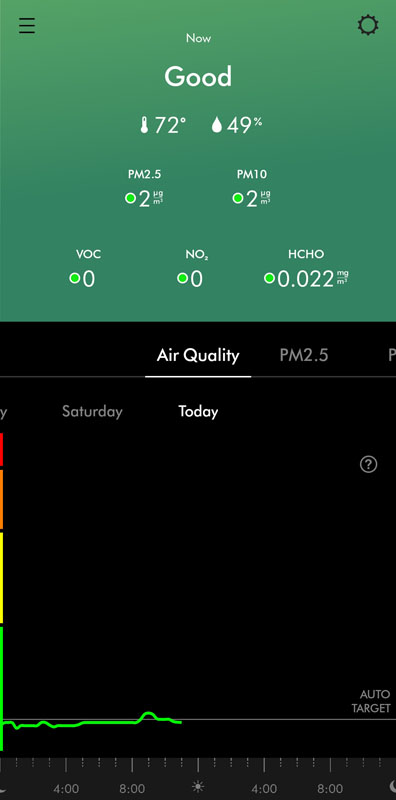 See that uptick in the air quality?  The purifier detected a worsening of the air quality.  I checked the app and saw a rise in PM2.5, PM10, No2, & VOCs.  Pretty cool!  The fan ran for around 90 minutes and then went back into standby mode. As you can see, the air quality dropped back below the target threshold.
The next morning, we cook breakfast again – this time with a couple of burners going on the gas stove, frying up eggs in one pan, and mashed potatoes with cheese and bacon bits in the other.  We cooked for about ten minutes and the grease in the pan spattered and must have been producing some level of smoke, even if it wasn't visible.  We sat down to breakfast and watch the morning news.  A few minutes later, there was an unfamiliar noise behind me.  Perhaps since it was still morning, I didn't figure it out until my wife turned her head and saw the fan, working away.  The fan speed was much higher than the day before, and that was the noise I was hearing.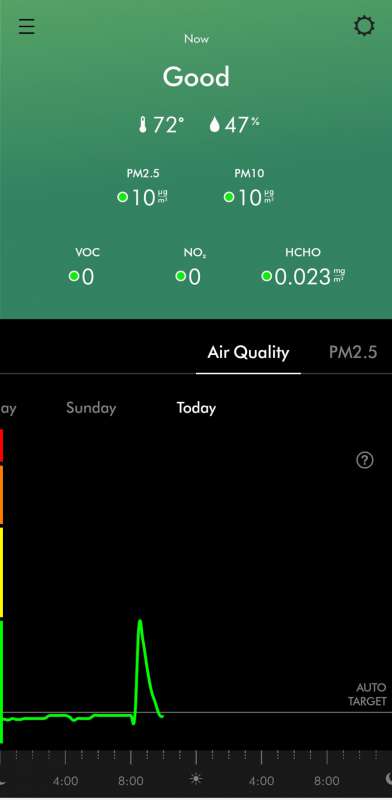 Sure enough, there was a big increase in PM2.5 and PM10 particulate in the air – up to a reading of 44. The fan had kicked up to speed 6 and was quickly clearing the gook. As the air quality improved, the fan speed lowered back to a barely audible level.
The next day was even more interesting.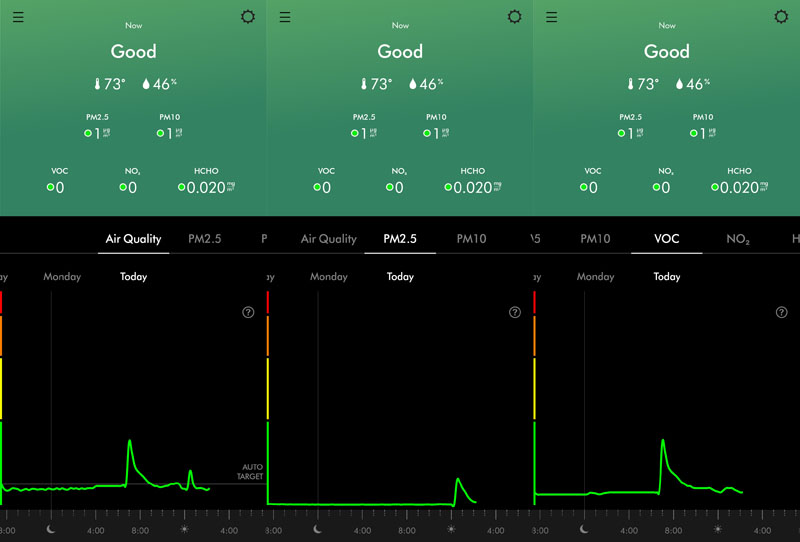 First – sorry I didn't get the timelines lined up – but you can see when the spikes happened if you look at the times.  This morning, we used the toaster for breakfast.  There was a spike in air quality, and that spike came from volatile organic compounds (VOCs).  We only used the toaster this morning.  The next spike came at lunch and I used the stove.  The spike was due to PM2.5 and PM10 (not pictured) particulates.  So we see a different degradation in air quality depending on the cooking method used.
If you don't want to check the app, clicking the info button on the remote and pausing on the individual contaminates displays the level of each one.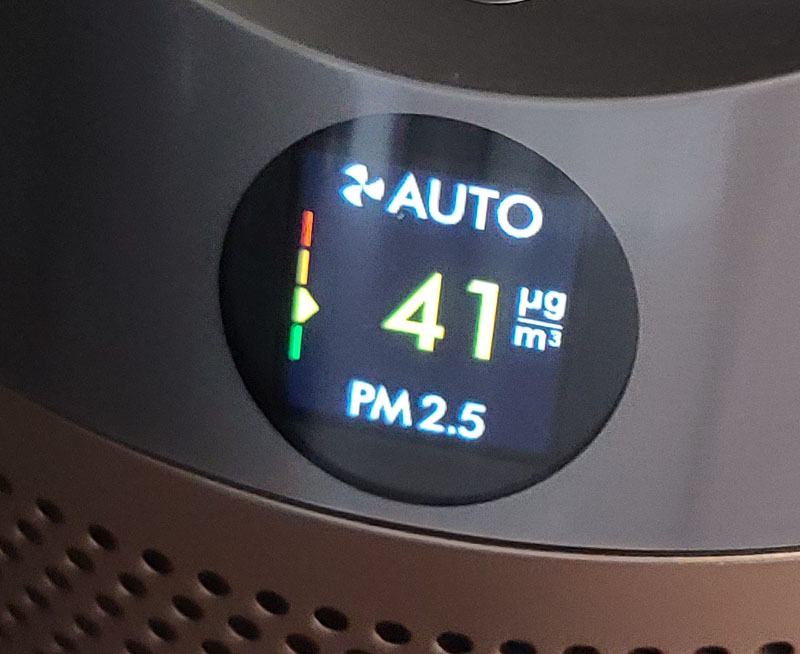 Here, we see that PM2.5 was in the yellow range, causing the purifier to start cleansing the air.  For what it's worth, this was from popping some tasty popcorn on the stove.
This can also be used as a cooling fan. With its ten speeds, it can move a serious amount of air in a large area, albeit with a fair amount of noise.  Dyson's air multiplier technology is quite interesting and while the air is moving, it doesn't feel drafty.  I can't claim to understand it, but it is a pleasant experience when compared to a traditional bladed fan.
The replaceable HEPA/carbon filters have an expected life of one year.  The purifier notifies you when the filters need to be replaced.  They are available from Dyson for $79.99 or an equivalent monthly cost of $6.67. That's a small price compared with the acquisition cost of the purifier itself.  We are all used to paying a premium for Dyson products and this one is no exception.  This model comes in at $669.99.  You can save a couple of bucks for opting for the white/gold model at $649.99. If you use one of these for ten years, you'll be dropping nearly $1,400 for cleaner air.  Is it worth it?  That's up to you.  If you live in a high-pollen area and suffer from allergies, this looks like it could make a positive difference in your indoor experience. The same holds true if you cook a lot, burn candles, or do any other indoor activities that can pollute your indoor air.
Dyson also has a home assistant skill available for Google Assistant, Alexa, and Siri.  I enabled it for Alexa, but the commands are quite wordy, like, "Alexa, enable auto mode on air purifier", and, "Alexa, turn off oscillation on air purifier."  While it's nice they included voice control, for me, that's too much to remember, especially when it's pretty simple to use the remote control or app.
Speaking of the app, while you can control all aspects of the purifier in the app, you cannot see its current status when it is in auto mode.  All it shows is "auto".  I'd like to know whether is it currently oscillating and what the actual fan speed is at any given moment, but all I can see is "auto".
The purifier has a dedicated where the machine monitors and purifies using the quietest settings, with a dimmed display. There is also a built-in sleep timer, where you can schedule when your machine turns itself off.
What I like
The automatic operation works very well
Dyson build quality is top-notch
It's really quiet most of the time
What I'd change
Holy wow, it's nearly $700!
When the fan ramps up, it can get noisy
I would like to be able to see what the purifier is actually doing (oscillating, fan speed) in the app – when in auto mode, it just shows "auto"
Voice control is a little wordy
Final thoughts
This is a typical Dyson device – superior quality at a superior price.  It is highly effective at cleaning up dirty air as well as being a more-than-adequate cooling fan. Couple that with Dyson's high-tech good looks and you have a really nice, multi-use device. If you're in the market for an air purifier and the price doesn't scare you away, then this should be on your shortlist of solutions. If formaldehyde isn't a concern for you, you can get all the same functionality at a lower price point with the TP04 model.
Price: $669.99 (Nickel/Gold – tested); $649.99 (White/Gold)
Where to buy: Dyson
Source: The sample of this product was provided by Dyson.