We use affiliate links. If you buy something through the links on this page, we may earn a commission at no cost to you. Learn more.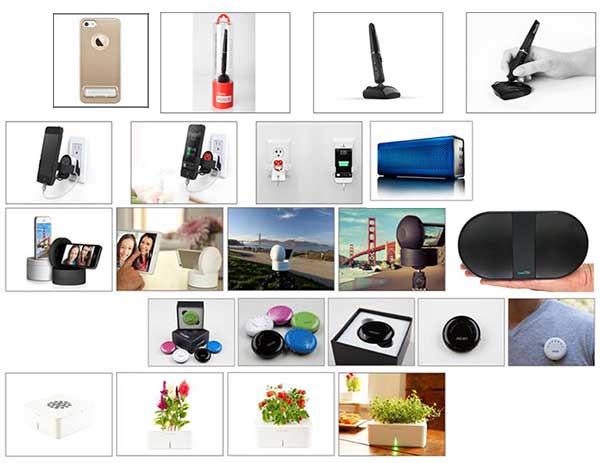 How do gadgeteer's celebrate Valentine's Day? With flowers and a box of chocolates? Heck no, we celebrate with gadgets! This year we're spreading the love with a giveaway of prizes that is sure to please almost anyone. It's easy to enter, so what are you waiting for?
Prizes:
1 winner will win 1 each of the following prizes – 8 prizes in total: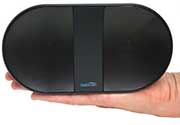 CoolStream Portable Bluetooth Speaker
Offers more than just Bluetooth; it also features music playback from SD cards and USB flash drives.
Available at: CoolStream.com
Price: $49.95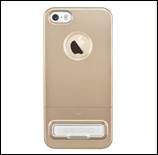 Seidio: SURFACE Reveal with Kickstand for iPhone 5/5S
Seidio's signature SURFACE cases offer variety of protection, available with kickstands for easy multimedia viewing
Kickstand for easy, comfortable multimedia viewing
Surface case is the thinnest of the line but with high end protective qualities
Available at: SeidioOnline.com
Price: Surface with Kickstand $39.95


Penclic: Penclic Mouse (R2, Wireless)
Precision-focused computer mouse acts as an extension of your body creating a healthy and natural working position
Penclic Mouse looks, feels and acts like a pen, placing superior navigation at your fingertips, allowing for laser-focused precision, thus leading to better results and quicker movements
Penclic Mouse's  ergonomics create a relaxed working position,  enhancing user experience and allowing forearm to relax on work surface
Sleek, Scandinavian design counteracts static tensions in arms, shoulders and neck, reducing Repetitive Strain Injury (RSI) associated with typical mouse products
Features 5 buttons, scroll wheel and laser sensor which operates on almost any surface without pad or tablet
Rechargeable battery lasts 2 months before additional charging is needed. Includes micro-USB charging cable and Nano USB receiver
Wireless range up to 16 feet; compatible with Mac and PC products
Available:  www.penclic.se
Price: $89.95

Felix: MonkeyOh
A versatile dock, stand and cord wrap for your iPhone, iPod Touch and most other smartphones
Features a novel monkey design with "arms" that hold on tight to your smartphone, and sturdy feet with a rubber non-skid bottom to make sure your phone won't move around when propped up on a desk or counter
Serves as a stand to prop the smartphone into landscape or portrait viewing angles which is ideal for watching movies, FaceTime and more
Plugs into nearest electrical outlet to charge your device
Compatible with all iPhone and iPod Touch devices as well as most other smartphones including the Samsung Galaxy S4 and Samsung Galaxy S3
Available in four color combinations: red-on-black, black-on-black, white-on-white, and red-on-white
Available at: www.felixbrand.com
Price: $14.99

BRAVEN: 570
Colorful line of Bluetooth speakers offer big sound in a small, stylish package with BRAVEN's signature device charging ability
Aimed at the cost-conscious music lover, the 570 rocks BRAVEN's awesome high-fidelity sound
With a durable, impact-resistant polymer exterior, the tiny speaker offers 10 hours of playtime and a 1200mAh power bank to charge devices
2x custom HD audio drivers provide stereo audio amplified by left and right channel passive sub woofers
Built-in noise-cancelling mic can make and take calls
Available in Lunar Black, Arctic White, Fiji Green, Rio Purple, Monaco Blue, and Sahara Red
Available at: braven.com
Price: $119.99

Motrr: Galileo
A revolutionary, robotic platform that allows you to rotate your iPhone/iPod 360° with seamless precision, transforming the way we communicate with each other & the world around us
Wide variety of uses: video calling & conferencing, baby monitoring, remote learning in classrooms, time-lapse photography, cinematography, real estate photography, social networking, etc
Monitor your home with 1-way video or enjoy immersive 2-way video calling
Continuous 360° pan and 360° tilt rotation
Rotation is controlled remotely by swiping finger on a second smartphone, tablet or web browser
Features standard 1/4" tripod mount for iPhone, doubling as a charging station
Rechargeable integrated lithium polymer battery
FAQ: http://motrr.com/faq
Available at: motrr.com
Price: $149.95

MeCam: MeCam Wearable Hands-Free Video Camera
Inconspicuous and lightweight body-worn camera lets you capture the world as you see it from your point of view
Camera shoots 720p HD quality video and doubles as a 5 megapixel point and shoot camera
Built-in LED infrared technology works in picture or video mode, for nighttime or lowlight conditions
Weighs less than ¼ pound. equipped with pin clip to attach to shirt or can be worn as a necklace (cord provided)
Removable SD card and micro-USB port lets you charge, upload, and share footage/pictures
Control buttons on upper-side let you power on and alternate between video and camera mode
80 minutes of continuous battery life
Available at: MeCam.me
Price: $49.99 (4GB), $59.99 (8GB), $69.99 (16GB)


Click & Grow: Smart Flower Pot
Electronic smartpot that grows herbs and flowers without watering and fertilizing – a hassle-free gardening dream come true
Easy-to-Use: No gardening knowledge is necessary, Click & Grow measures all the necessary parameters and doses an exact amount of water, fertilizer and air, according to the plant's needs
Smart Technology: The smartpot is made of ABS plastic and includes a processor, microchip, battery vault, pump, water reservoir and sensor that specifies if plant needs water or batteries
Elegant Design:  Innovative, simple and modern design that looks great with any décor
Plant Assortment: mini tomato, cockscomb, basil, painted nettle, chili pepper, thyme, busy Lizzy, lemon balm, parsley, China pink, garden sage, lamb's ear and sugar leaf; Click & Grow is always testing plants to expand their selection
Accessories: An optional Grow Light can be purchased to help plants germinate and grow quicker, especially in winter months when there's less natural light available
Available at: clickandgrow.com
Price: $79.99 (starter kit)
How to enter (please read carefully – any missed steps and your entry will be disqualified):
1. Between now and 02/08/2014 11:59PM EST leave a comment on this page listing one thing you really like about The Gadgeteer and one thing that you wish you could change about The Gadgeteer.
2. At some point on 02/09/2014, I'll pick 1 random winner using random.org. The winner will be contacted by email and will have 48 hrs to claim their prizes. If I do not receive an answer to my emails in that time period, I'll do other random.org drawings till the prizes are gone.
Rules:
1. Only one entry per person (warning: I check IP addresses).
2. Gadgeteer writers, family members and close friends may not enter this contest.
3. the-gadgeteer.com is not responsible for any lost packages or incorrect shipping addresses.
4. Winner must have a US shipping address.
Update:
The winner is #28: Rich
Congrats to Rich and thank you to everyone who entered and the sponsors.