We use affiliate links. If you buy something through the links on this page, we may earn a commission at no cost to you. Learn more.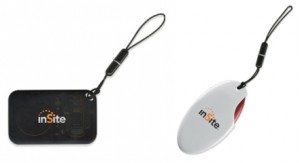 If you have an unfortunate habit of leaving your keys, purse, wallet, phone, or other personal items behind, you've probably wished you had some magic way to find whatever you've lost before someone else does.   With the inSite Anti-Loss Bluetooth Smart Proximity Alarm and free iOS app, you'll save time and effort searching.  Attach the wallet card version or the key fob version of the inSite proximity alarm to your bag or keys, and the iPhone and the inSite device start constantly monitoring their proximity to each other.  They'll each give a brief chirp to warn you that you are forgetting something when they are about 100 feet apart.  If you can't see where your tagged item is, use the app to start the inSite tag beeping to help you locate the lost item.  If your phone is missing, press a key on the inSite device to cause the phone to ring – even when it's set to silent.  The app also has a hot/cold indicator to help you hone in on the lost device, and it will even record a GPS location of where the item was located when you lost connection.  These inSite devices use low-energy Bluetooth v4.0, so the battery on your iPhone (4S/5) or iPad (3rd-4th gen or mini) doesn't take too much of a hit.
The inSite wallet card (left) and key chain fob are available at Amazon for $39.99 each.  Check the inSite page for other retailers.