We use affiliate links. If you buy something through the links on this page, we may earn a commission at no cost to you. Learn more.
REVIEW – Greetings, Human. I come from the future, and I bring the bass! The Gravastar Venus is a funky little Bluetooth speaker that looks like it came right out of the Matrix. But don't underestimate its power, Earthling. This little guy brings some serious thump. To the review!
What is it?
It's a desktop Bluetooth speaker.
What's in the box?
The Gravastar Venus Bluetooth Speaker comes with the speaker, a nice fabric-wrapped charging cable, and your instruction manual.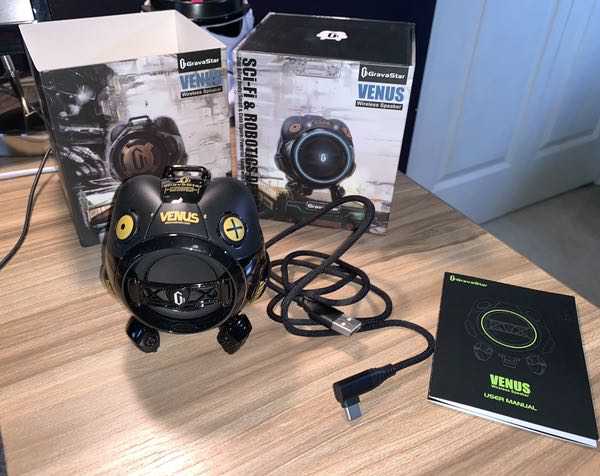 Hardware specs
Zinc Alloy materials
2.8″H x 2.4″L x 3.2″W
1.0 lbs
Full-range subwoofer drivers
Bluetooth v2.1+EDR/5.0
6RGB lights
True Wireless Stereo
Battery life: up to 10 hours
Output Power: 10W
Transmission Range: 10M
Power Supply: 5V/1A
Charging time: 

<

2Hrs
Design and features
We gotta start by talking about the brilliant packaging & design.
Gravastar makes a whole series of these speakers in different robotic designs with different themes. The Mars series, for example, are more streamlined spheres with longer crablike legs. The Venus series (like I have here) are more like bulbous pods with more compact appendages. Each speaker comes in a beautifully executed package that includes a unique printed box with a felt-like cradle for the speaker and a magnetic "door" that opens to a mini comic.
My test model rocks a vaguely HR Giger-esque Alien meets The Matrix package (with a little Anime vibe) that carries through the external slip cover as well. If you have a sci-fi fan on your birthday list, this thing is perfectly packaged for impressive gift giving.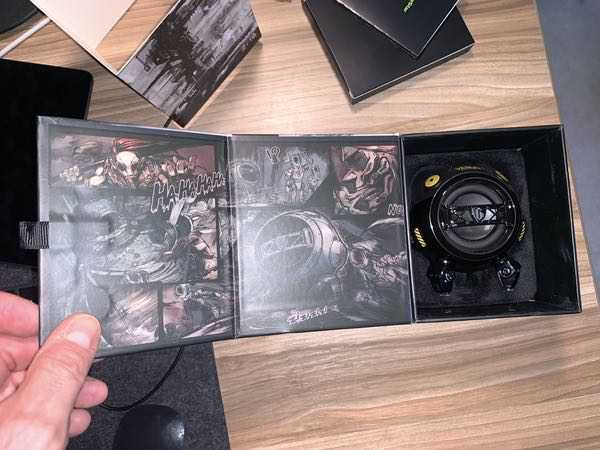 It's a compact little fellow with a ton of personality, and surprisingly hefty for its size. Here's a shot next to some of my collectibles for size reference. It weighs about a pound!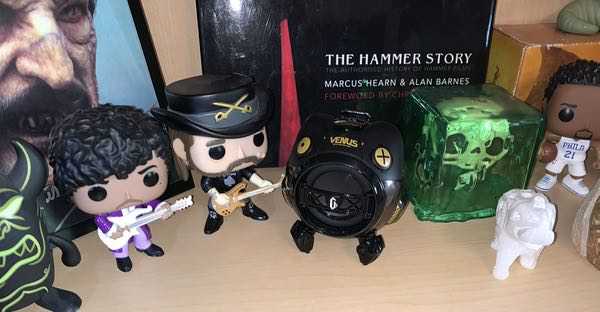 Check out the articulation in the legs and little details in the paint job and controls! It looks like an action figure, dunnit? Those legs have rubber pads on the base so they don't scratch up your desktop.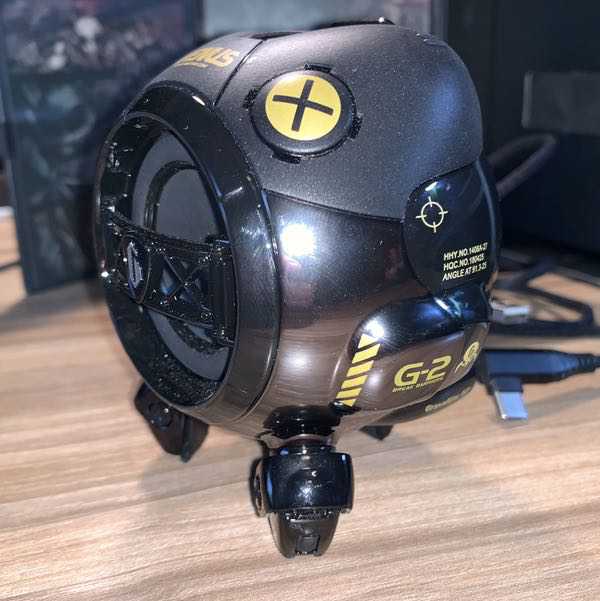 The details carry through to the back side of the unit, with rocket thrusters at the base to propel the little fellow along! (Clarification: it doesn't actually fly.)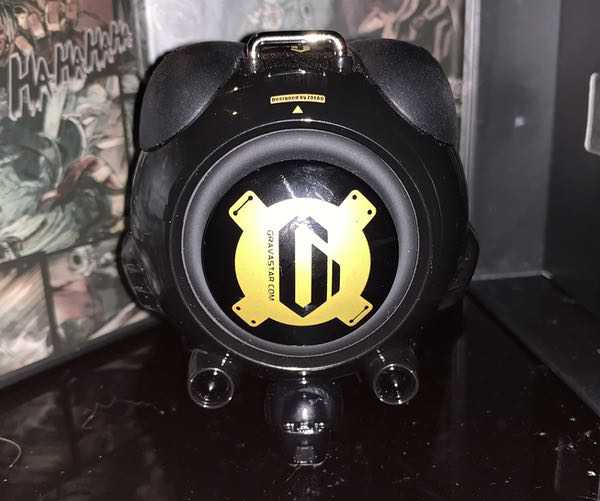 All of your controls are on the top of the unit. The "O" and "X" buttons on the front are for power and Bluetooth pairing, respectively. Those bulbous pods on the back side are to adjust the volume up and down. And see those little icons to the left and right of the "VENUS" logo? Those are the power and Bluetooth connection indicators.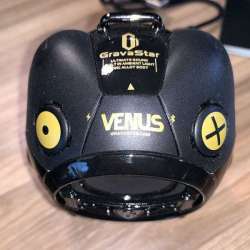 When you power up the unit, it greets you with a mechanical "robot engaging" sound effect, followed by a voice that indicates that it is "Ready to pair." The voice is male and British because this thing is supremely awesome.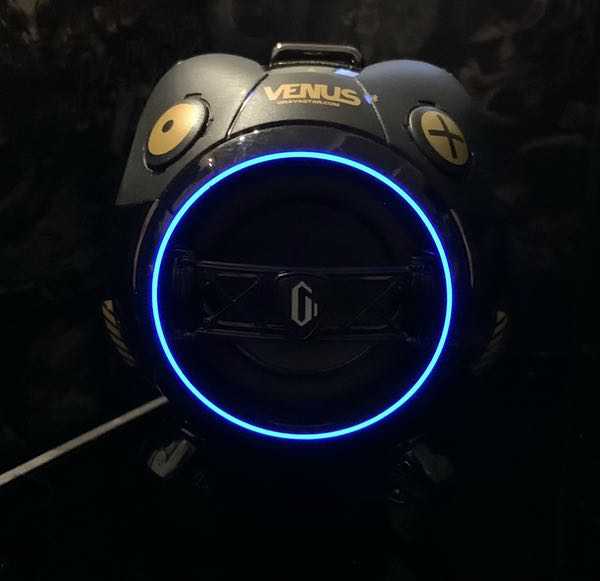 Your little friend tells you when it is pairing as well. And if the battery is low, Mr. British Accent tells you that it is "Low On Energy." That made me giggle.
You can also change your indicator light around the rim from blue to red (apologies for the pic, it's really red), green, or purple.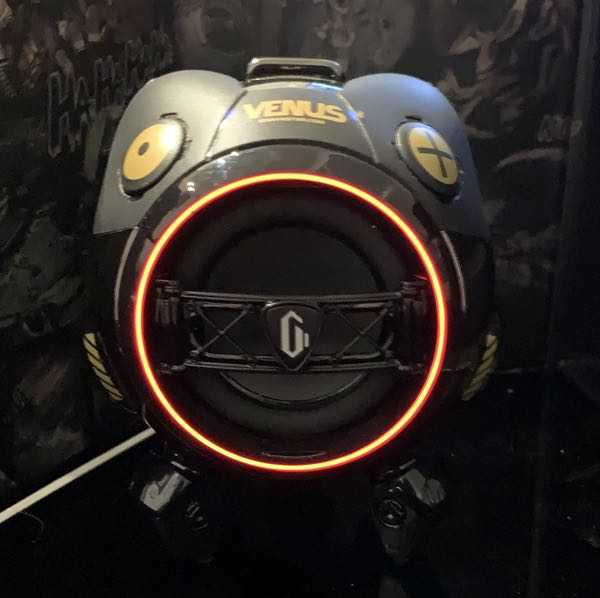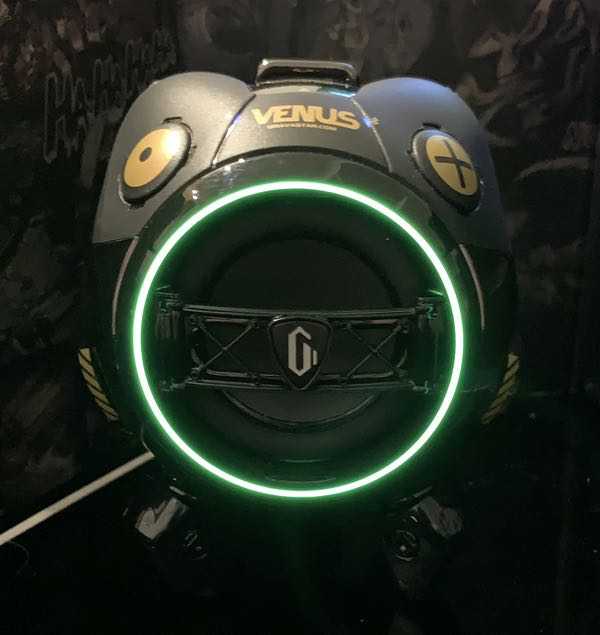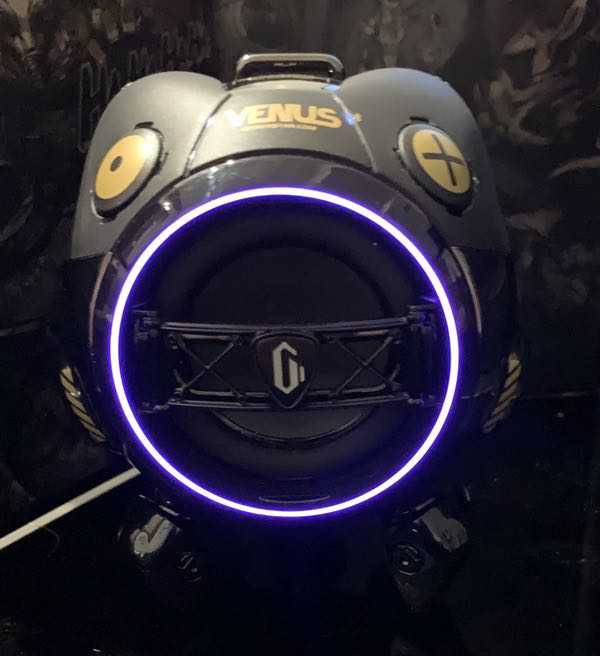 Turn it off and the unit emits a different mechanical sound… kind of like it's docking in a robotic clanky fashion.
The battery is estimated for 10 hours of life between charges, which are accomplished via a USB-to-USB-C cable included with the package. The cable (shown above) has a 90 degree turn in the USB-C plug that you stick in the underside of the unit. This allows you to charge while playing. Nice touch.
But how does it sound? Ridiculously good. Like "I can't believe this little speaker is putting out this sound" good. That rear panel is a movable diaphragm that you can see vibrate when the bass is thumping.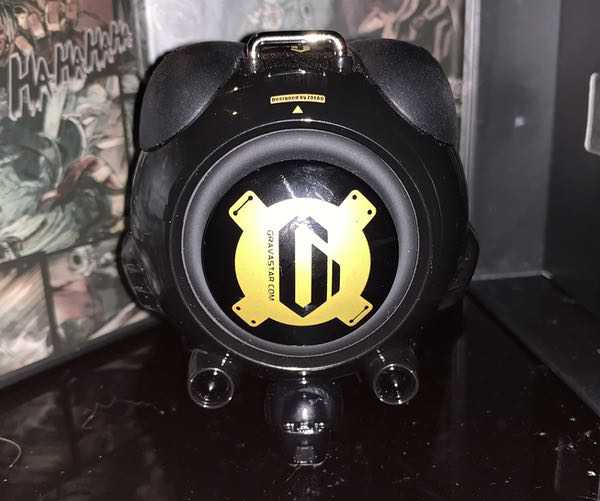 The volume range is really impressive in addition to the bass. A lot of these speakers have trouble holding low volume ranges or start to chatter/fuzz at higher ranges. This little guy remains super clear at both ends of the spectrum. And the high end volume is really surprising for such a small unit.
A couple of music gods hung out with the Gravastar Venus during its test period on my bookshelf and both approved, even when playing each other's music. Who knew Prince was a Motorhead fan?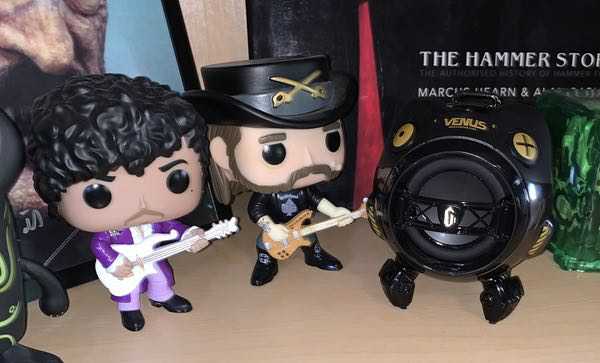 You can visit the Gravastar web site (link below) to see all of the different models they make. They also sell a charging base that's equally styled with a matching LED light ring, and a carrying case if you want to bring your little friend to a party. Apparently, you can also buy two units to produce true Bluetooth stereo sound.
I also want to note that these Bluetooth speakers are not inexpensive. The model I am testing is $99.95, and some of the more elaborate models in the Mars lineup can cost up to $300. That Mars lineup also offers additional features like custom paint jobs (with things like battle damage), upgraded speakers, and 20 hours of play time between charges.
What I like
Novel, detailed design 

Excellent sound quality with surprisingly deep bass
Beefy build
Leans into the whole sci-fi experience with packaging and audio effects that fit the bill perfectly
What needs to be improved
Final thoughts
The Gravastar Venus Bluetooth Speaker is a whole lot of fun. It's a perfect accessory for the science fiction or anime fan that will fit in nicely with the rest of your toys. And it's got seriously good audio quality to boot. It is a bit pricey, but it's also a cool collectible if that's your thing.
Price: $99.95 and up, depending on the model
Where to buy: Go get it at the Gravastar web site.
Source: The sample of this product was provided by Gravastar.