We use affiliate links. If you buy something through the links on this page, we may earn a commission at no cost to you. Learn more.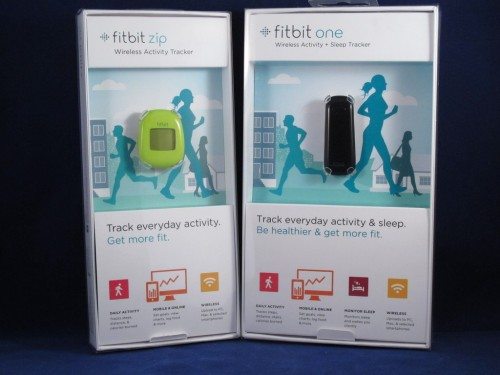 As an adult I realize that it is prudent to take care of your body so that it lasts as long as possible, but intentions are easier than practice.   Motivation is the issue, and that's where two devices from fitbit, the One and Zip,  can help you keep track of your progress and hopefully lead you to a healthier lifestyle.This isn't the first fitbit device I've had.  After reading Julie's review of the original fitbit Ultra, I purchased one for my wife.  (Guys, before you do this make sure she wants it, otherwise you could be sending the wrong message).  It worked great until she sent it through the laundry via the washer and dryer.  It didn't work after that, but this is no reflection on the reliability of the device, because it never suggested it was waterproof.
The two devices, One and Zip, are similar, but differ in their price and features.
Features:
Tracks steps taken
Tracks calories burned
Tracks distance traveled
Tracks stairs climbed fitbit One ONLY
Tracks hours slept fitbit One ONLY
Tracks quality of sleep fitbit One ONLY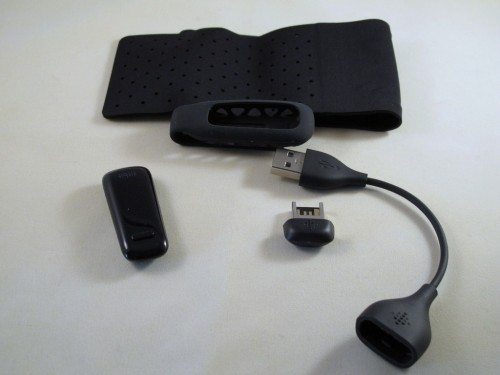 The fitbit One comes packaged with the device, a USB Bluetooth dongle, a USB charging cord, a clip holder and an arm band for wearing at night.  The One is a rechargeable unit whereas the Zip has a user-replaceable battery.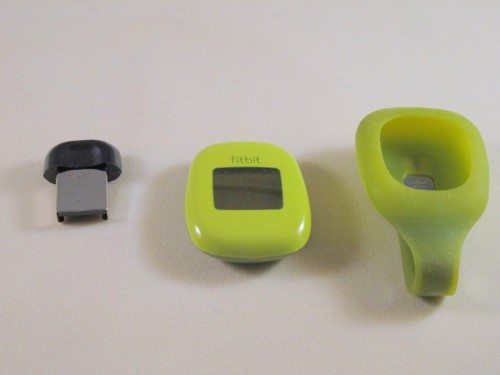 The Zip comes with the USB Bluetooth dongle and a clip to hold the device.
For this review I'll focus on the One.  The Zip is an "entry-level" version that uses the same web-based application to track your progress.
After charging up the One for a couple of hours, the next step was to go online and get a free fitbit account.  Here's where you'll activate your device and keep track of data that's been collected by the One.  Activation is a simple process of plugging the supplied dongle into your computer and waiting for the activate web application to recognize your One.  A number will pop up on the One's small screen, which is entered on the web and you're good to go.  From then on, whenever the device is within about 20 feet of the dongle, the on-board data will be downloaded to the web application.  Not to worry if you're out of range for a while, as up to 7 days of readings can be stored on the device before it must be uploaded.
Now we're ready to go collect some data.  I inserted the One into the clip holder and snapped it into the change pocket of my jeans.  It is suggested that the device be attached close to your body.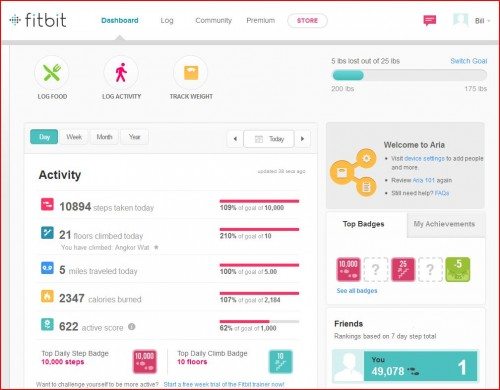 This is a shot of my personal fitbit page after a couple of days of use.  By the way, you don't need to purchase a device from fitbit to subscribe to your own web page.  I had one for a time before I got any hardware and just entered my activity manually, but truthfully, that didn't work well for me.  I don't have the discipline to do it, and having the One upload it automatically is so much easier.
When setting up your account, you'll be asked your age and other details.  From that input several assumptions will be made about how many calories you burn, and goals will be set based upon how much you want to weigh.  All the parameters can be overridden manually, so if you wish to lose weight at a faster rate you could set a lower calorie intake per day.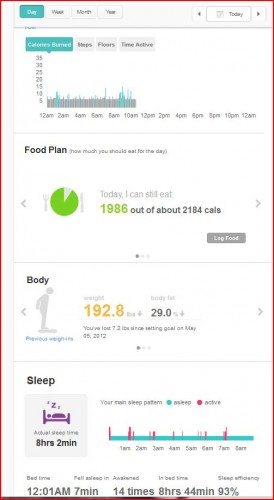 There's a wealth of information provided on the web site.  Of course, it's dependent upon the user to input some of the data.  Obviously if you're going to track your weight, you need to weigh yourself and put the numbers in. Personally, I purchased the Aria WiFi scale from fitbit, which dumps information directly into the web page.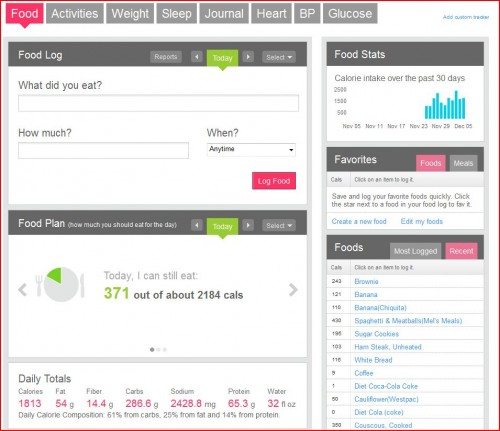 If your goal is to get to a more healthy weight, you'll want to track calories consumed and burned.  The key to losing weight is to burn more than you take in.  The fitbit will help with the burning part, but to get the most  out of it you need to keep track of what you eat.
Yes, it's tedious to keep track of everything you eat, but that's the only way I can ensure that I burn more calories than I take in.  The fitbit web app provides the tools to make it as painless as possible.  There is an extensive database of common food items with their nutrition data, and if you can't find it, you can create your own food item.  I watch my food plan, and if I go over the allocated calories for the day, I head down to the basement and spend some time on the treadmill until I'm calorie-negative for the day.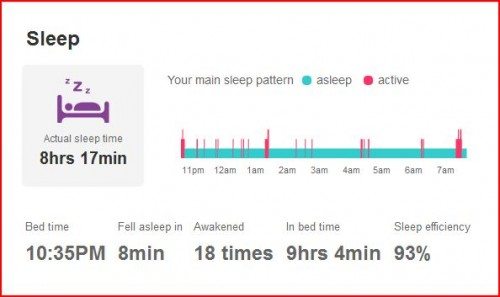 The fitbit One can also keep track of your sleep.  Before going to bed you can insert the device into the supplied arm band and hold the display button for 3 seconds.  When you awake, hit the button again for 3 seconds, and the One will calculate some sleep statistics that will be uploaded to the web.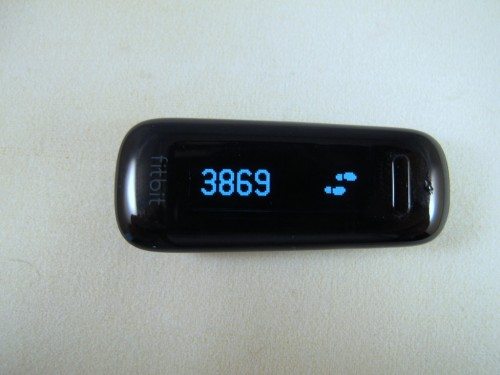 You don't need to be near a computer to monitor your progress.  The One has a display that shows accumulated data for the day.  You can cycle the display be pushing the button on the device.  It will also give you the current time and randomly send out motivation messages.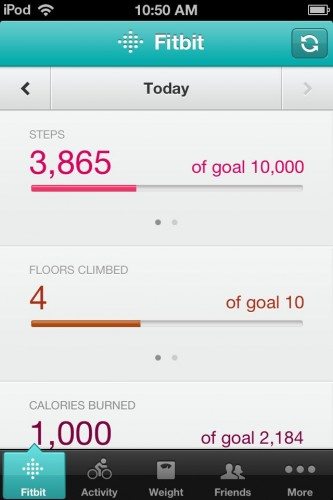 If you're not near your computer, you can monitor your activity with a free smart phone/iPod app.  The app can also be used to log data, such as food eaten, and if you have a device with Bluetooth 4.0, the fitbit will sync with it.
If you're on a budget or don't care about tracking your sleep or how many floors you climb, the fitbit Zip would be the choice.  The device features will still help you to improve your health by keeping track of your activity.
There are a lot more activities that can be input into the web application, and I encourage you to take a look.  I find the web application a great helper for motivation to maintain a healthier lifestyle.  Now, every time I pass the cookie jar, I think twice and check my calorie count before grabbing one.
If you're serious about maintaining a healthy lifestyle or are looking to lose some weight, you can't go wrong getting a fitbit tracker.  Although it can't make you lose weight, it can provide the discipline to do so.  I like the One device because of the sleep tracking, but the Zip can also help you reach your goal.
Product Information
Price:
fitbit One $99.95, fitbit Zip $59.95
Manufacturer:
fitbit
Retailer:
Amazon.com
Requirements:

PC or Mac
USB port
Internet connection

Pros:

Easy to use
Provides comprehensive details of activities
Small and unobtrusive

Cons: