We use affiliate links. If you buy something through the links on this page, we may earn a commission at no cost to you. Learn more.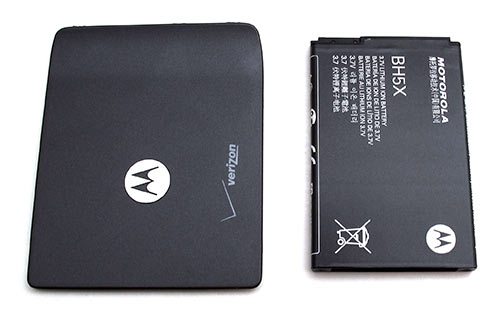 If you have a Motorola Droid X Android Smartphone, you probably love almost everything about it. I say almost because there is one thing that keeps my relationship with this phone from going to the next level. And that one thing is battery life. To say that the battery life of my Droid X is short would be an understatement. It is rare that I can go a full 24hrs without having to recharge it. I keep an AC charger at my day job desk and another at my Gadgeteer HQ desk. In an effort to reduce my dependency on the all powerful wall outlet, Wireless Emporium sent me the Motorola OEM Extended Battery for review.
Note: Some images in this review can be clicked to see a larger size.
Wireless Emporium offers Motorola Cell Phone Batteries for a variety of Motorola phones.

The battery on the Left is the original battery that ships with the Droid X and the battery on the Right is the extended battery that was sent to me. Both are OEM lithium-ion rechargeable batteries. The original battery is rated for 1500 mAh and the extended battery is 1880 mAh. You can see from the image above, that the extended battery is noticeably thicker.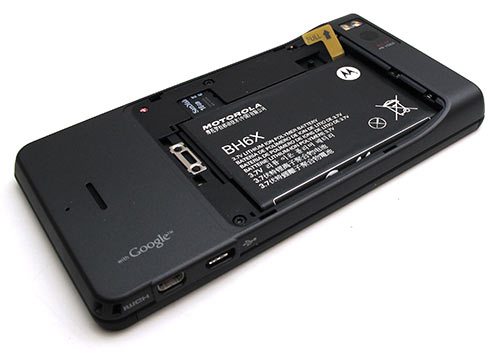 Installing the battery is a simple matter of swapping it out with the battery already in the Droid X.

Never miss one of our posts again. Sent MON, WED, and FRI with the latest gadget reviews and news!
The original battery door can then be replaced with the door that is included with the extended battery. I've read that some people have been able to shoe-horn the original battery door over the extended battery, but I don't mind that the new battery door is slightly thicker.

Original battery + battery door = flush fit.

Extended battery + extended battery door = very slight hump.
The only issue with the added thickness caused by the extended battery door is that some form fitting cases will probably no longer fit… I don't use a case, so it's a non-issue for me.
As I had mentioned previously, with the original battery, I was lucky to get 24hrs of use before needing to recharge. Most days I would plug it in to charge before going to bed, unplug it the next morning and then need to plug it in at my day job desk at some point that afternoon. I guess I wouldn't mind having to do this if I was constantly using the phone for calls, surfing, etc. But this was the case even when only using the phone for a handful of text messages, android app market updates and email checks. Definitely not hard work.
I've only been using the extended battery for 6 days now, but so far I'm noticing a big improvement. Even though it isn't 2 times the capacity of the original battery, I've found that when doing the same tasks as before, it lasts at least 48hrs between recharges. That's just switching out the batteries. I haven't done anything new to try to optimize battery life. The screen brightness is still set at the same setting and the various apps that ping the internet for info are still running as before. I should note that I always leave GPS and WiFi turned off unless I need them.
I'm going to give this battery a big thumbs up. I sure as heck won't go back to using the original battery now that I don't have to remain chained to the AC adapter.
Product Information
| | |
| --- | --- |
| Price: | |
| Manufacturer: | Motorola |
| Retailer: | Wireless Emporium |
| Requirements: | Motorla Droid X Smartphone |
| Pros: | More juice than stock battery |
| Cons: | |