We use affiliate links. If you buy something through the links on this page, we may earn a commission at no cost to you. Learn more.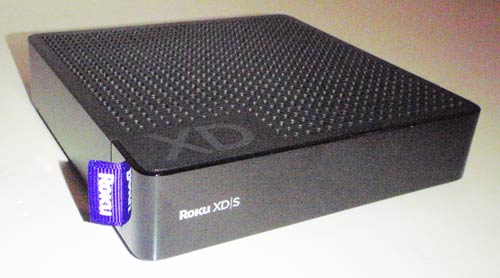 In my never ending quest to divorce myself from Comcast and their overpriced cable service, I have been searching for alternate methods for the family to watch our shows. The Mvix Ultio media device was an effort in frustration, that fell well short of my needs and expectations. Fortunately, there are many other options in the media streaming world these days. The Roku XD|S is one of the most popular media streaming device around the Net. The XD|S is Roku's latest, flagship device. It has been receiving rave commentary across the Net as a cost-effective, well done, easy to use streaming media device/player. The Roku XD|S is very capable; can stream up to full 1080p, built-in ethernet and wireless N dual-band connectivity, plays content from Netflix, Hulu Plus, Amazon Video On Demand (VOD), Pandora, and a multitude of other services that only continues to grow.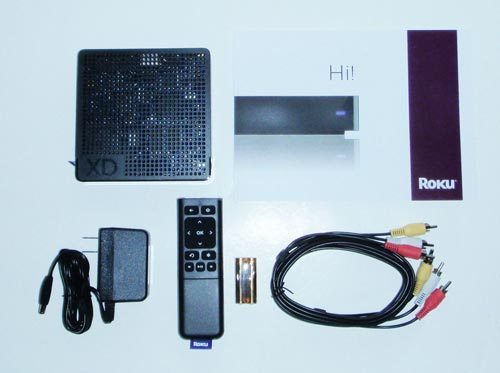 Package Contents:
Roku XD|S streaming media player
Remote control
Two AAA batteries
Composite (red/white/yellow) A/V cable
Power adapter
Getting Started guide
One year warranty
My only negative with the package contents is that Roku did not include a HDMI cable with their flagship player. Anymore, you can find decent HDMI cables for well under $10 (much less, if bought in bulk). A minor detail.

The Roku XD|S is a small, light and very simple to use (everything the Mvix Ultio was not) streaming media player. Basically, its a tiny black plastic box with many output connections/ports/pathways that brings you content from a large multitude of internet sources.

The purple Roku tab on the left hand side is very similar to a tag you would find on a garment, bag, etc. There is a matching purple tab on the remote as well.

Never miss one of our posts again. Sent MON, WED, and FRI with the latest gadget reviews and news!
One of the features the XD|S has the Roku HD and XD players do not is the USB 2.0 port that, as of the writing of this review (early Jan 2011), was not yet enabled. On the Roku website, they promise that it will be 'enabled via free software upgrade expected Dec 2010'….for what that is worth. From the little bit of research I have done, there are free hacks out there to enable this function now. When enabled, it should support the following file formats: Video support: MP4, M4V (H.264), audio support: MP3, AAC, M4A, image support: JPG, PNG.

The Roku XD|S has nearly every video output option possible; enabling you to connect the device to any TV or media receiver. Video outputs include: composite video (480i), component video (720p/480p), requires Roku XDS component cable (sold separately), and HDMI (1080p/720p/480p). Digital 5.1 surround sound pass-through is available via HDMI and optical cables. Analog stereo is available via left/right RCA.
Technical Specifications:
Networking
802.11n Wi-Fi (b/g/n compatible) with WEP, WPA and WPA2 support
Dual-band 802.11n (2.4Ghz and 5Ghz)
10/100 Base-T Ethernet
Video Outputs
Composite video (480i)
Component video (720p/480p). Requires Roku XDS component cable (sold separately)
HDMI (1080p/720p/480p)
Video Modes
1080p High Definition (HD)
720p High Definition (HD)
16:9 anamorphic / 4:3 standard
Audio Output
Analog stereo (left/right RCA)
Optical digital audio (5.1 surround sound pass-through and stereo)
Digital over HDMI (5.1 surround sound pass-through)
Remote Control
Roku enhanced remote (with Instant Replay, Back and Options buttons)
Compatible with various universal remotes
Power Input
External AC adapter (5V, 2.5A)
Other Ports
USB 2.0 port (enabled via free software upgrade expected Dec 2010).
Video support: MP4, M4V (H.264).
Audio support: MP3, AAC, M4A.
Image support: JPG, PNG
Power Consumption
6 watts peak, 4 watts in standby
Size
4.9 x 4.9 x 1.2 inches (125 x 125 x 30 mm)
Weight

Plugging in the power, Ethernet, and HDMI cables was quick and easy….mere seconds.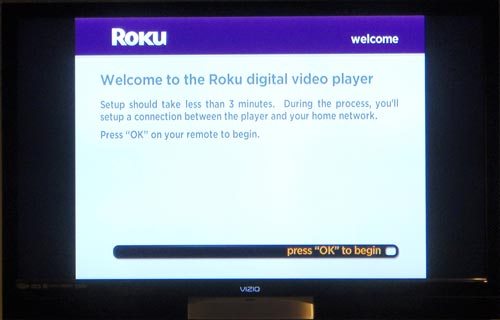 After start up, the device welcomes you and lets you know that connecting should take just a few minutes.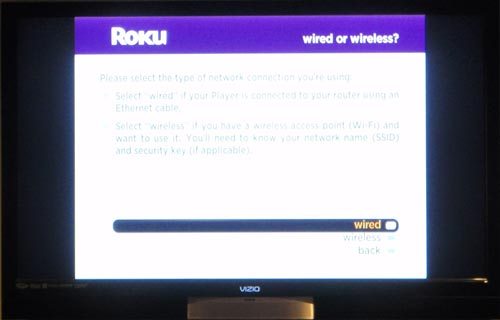 Since I have our media room wired with Ethernet and a cable laying right there to plug into the back, I chose the wired option. For those of you who do not have this option, the XD|S has built-in wireless N dual-band connection for zippy wireless connectivity. The less expensive HD and XD players have G and N wireless connection protocols, respectively.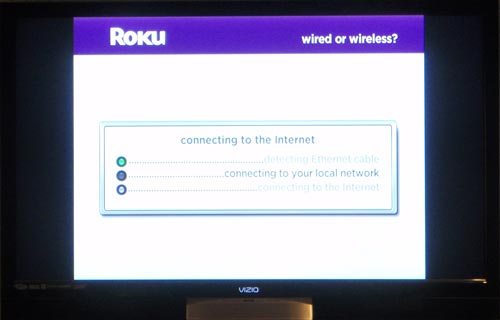 Connecting to the internet was painless….quick and easy.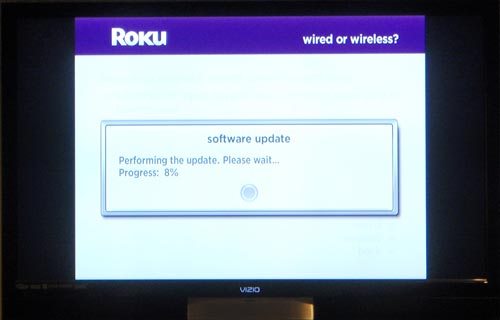 First thing the Roku does is update its software and then resets itself.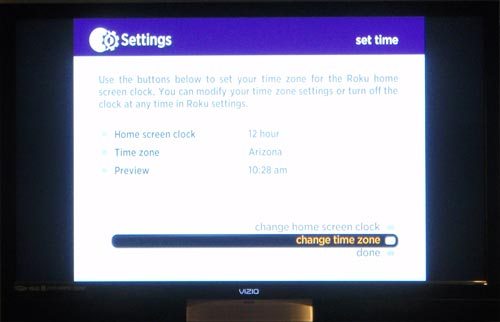 Next it asks you to set the time and time zone.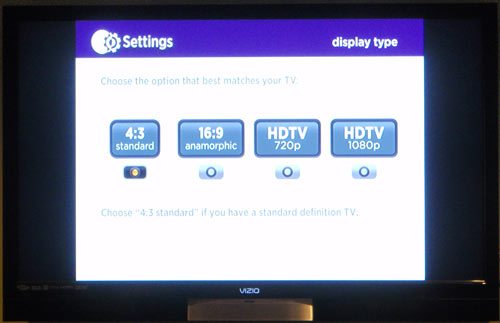 The XD|S' screen resolution initially comes set at 4:3 standard definition. Once I set it's output to HDTV (1080p), the video went from fair to stellar, as you would expect.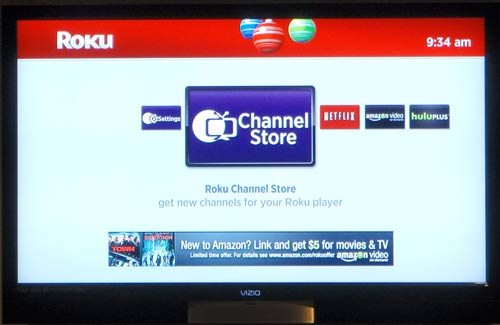 The Roku interface is simple and easy to use. It comes preloaded with their 'Channel Store', NetFlix, Amazon VOD, and Hulu Plus.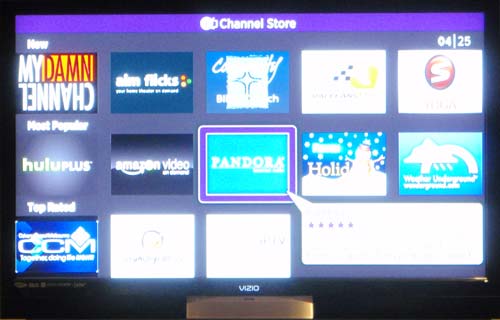 The Channel Store enables you to install other video and music channels to your main Roku interface.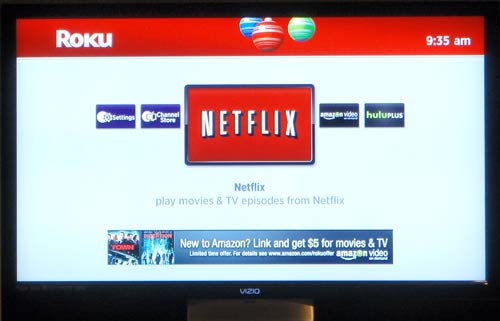 Setting up NetFlix, HuluPlus, and Amazon VOD was quick and easy as well…..literally minutes.
Viewing Experience:
Even though the Roku devices can play 1080p videos, most content providers only stream @ 720p. That may change as throughput and technologies improve. Either way, the video playback is excellent. All three of the major content providers, NetFlix, Amazon, and Hulu+, look great and provide a very pleasant viewing experience. There were little to no bumps or hiccups in the playback.
Wanted Features:
USB and codec support (hopefully very soon 😉 )
Home network streaming from NAS or other computers
Additional network channels (abc/nbc/cbs/bbc)
Without a doubt, I like the Roku XD|S. I find the Roku a pleasure to use and with just a few improvements it could be THE streaming media device to beat. The device excels at pushing Web-based content to your TV without hassle or issues. Its codec support for local media is a bit limited, but since most of my video is h.264 it does not bother me at all. The Roku XD|S retails for $99 but was (occasionally) on sale, here and there on the Net, this holiday season for $80. Considering the competition, the XD|S is a great bang for the buck. When you consider the relatively small capital investment and $16/month for NetFlix and Hulu Plus, the Roku XD|S is a strong contender in my vigilant quest in eliminating cable TV from our monthly Comcast bill.
Product Information
Price:
$99.99
Manufacturer:
Roku
Pros:

- Easy setup
- Intuitive interface
- Excellent video experience
- Large selection of streaming channels
- Many output options

Cons:

- USB not yet enabled
- No network streaming
- Greater codec support