We use affiliate links. If you buy something through the links on this page, we may earn a commission at no cost to you. Learn more.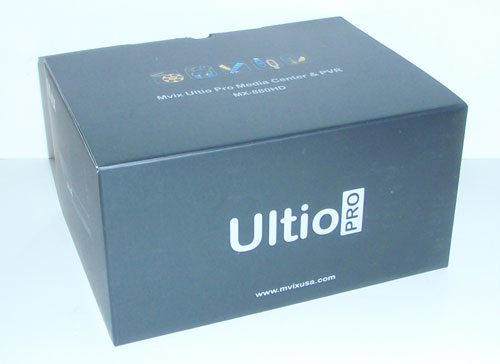 When I first read about the Ultio Pro from Mvix, I was extremely hopeful that it would enable me to stream movies from my network attached storage (NAS), record movies to a hard drive (DVR), and stream NetFlix and Hulu to my TV (plus do a boatload of other things as well) like more and more network enabled devices can. I was looking forward to getting closer to the point where I could cut my ties with Comcast and its costly (overpriced) monthly service.

According to Mvix, this set-top box can do it all; from NetFlix streaming, to being able to play nearly every digital file type known to man, to an embedded torrent client, to DVR capabilities, and the list goes on and on.
Product Features/Specifications:
HDD Compatibility – Supports 3.5 SATA hard disk (capacity up to 2TB), HDD not included
PVR Capabilities – Analog recording from any external analog video source. Supports time-shift and scheduled recording.
HDD Format – FAT32, EXT3 or NTFS format
External Storage – Via USB Host (for external CD ROM / DVD ROM / Portable HDD / USB storage)
Video Resolution – H.264, MKV, WMV9, MOV, RM/RMVB, TS and HD Divx supports up to 1920 x 1080p
TV System Compatibility – PAL, NTSC, Auto
Networking – LAN RJ45 10/100M or Wi-Fi 802.11N (via USB dongle, sold seperately)
Network Protocols – Embedded uPnP Client, Samba Client
Video Playback – Codec: H.264, MKV, WMV9, MPEG 1/2/4, HD Divx , Xvid, FLV, RM/RMVB, Container: mkv, ts, m2ts, mts, tp, trp, wmv, Ifo, iso, vob, dat, avi, mpg, mp4, mov, rm, rmvb, divx, xvid, flv
Audio Playback – Codec: MP3, WMA, WAV, OGG, AAC, LPCM, FLAC, AC3, Container: WAV [.wav, .pcm], ADIF, ADTS [.aac], M4A [.m4a], OGG [.ogg], ASF/WMA [.asf, .wma], FLAC [.flac]
Image Playback – JPG, JPEG, BMP, PNG, GIF
Subtitle Playback – sub, smi, ssa, srt, idx + sub
Audio/Video Out – HDMI1.3 (digital video and audio signals), Component (Y Pb Pr), Composite Video, Optical SPDIF (5.1Ch Dolby Digital), Stereo audio output (Audio R/L),
I / O Ports – USB2.0 Host (for connecting external CD ROM / DVD ROM / Portable HDD / USB storage / USB WIFI), USB2.0 Slave to transfer Media from PC. 10/100Mbps Ethernet port (Media Transfer and Sharing across network
Torrent Client – Embedded Bit torrent Client
File Management – HDD Format, Copy, Delete, Rename, File Transfer via hand-held Remote
Power Input – Universal AC 100 ~ 230V 50Hz ~ 60Hz, DC Power DC 12V 2A, 30-W
Language – English, German, Spanish, Italian, French, Portuguese, Dutch, Hebrew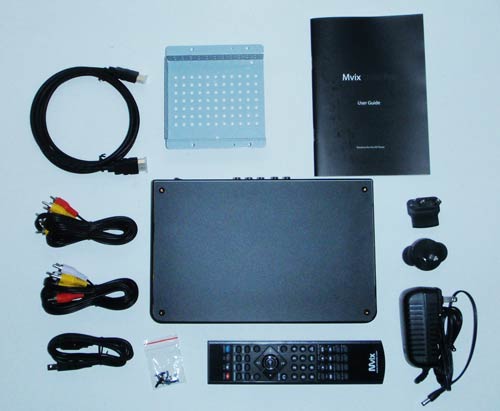 Mvix includes all the A/V cables and pieces to be up and running straight away. Although, they do not include an ethernet cable to get you talking to your network and/or the outside world.
Package Contents:
Mvix Ultio Pro Media Center
HDMI1.3 Cable
AC Adapter
Remote Control
USB 2.0 Cable
AV Cable
User Manual
Batteries
Power Plug Cable

The Ultio Pro is capable of HDMI1.3, Component (Y Pb Pr), Composite (RCA), and 5.1 digital optical audio output. There is an analog composite input for recording to the DVR (aka installed/attached hard drive). I/O data ports include: 2 x USB-Host, 1 x USB2.0,  and SD slot (up to 16GB). As you can see, the two USB slots are located in the back of the device. I would have preferred one of the slots to be positioned on the front-face for easier access. A minor inconvenience, a simple USB extension cable fixes the hassle of having to reach around the back to insert the portable media you want to attach it.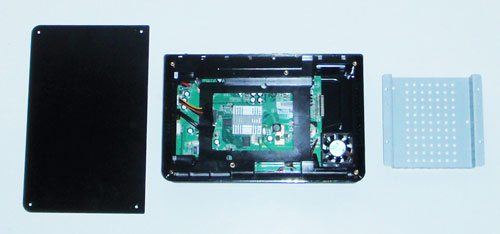 In my tech geek excitement and desire to truly embrace most, if not all, the Ultio Pro had to offer, I ran down to Fry's and picked up a 2tb hard drive to install into the heart of this media device. If you do not want to deal with installing an internal hard drive yourself, Mvix produces the Ultio Pro in several different capacities; without ($179), 1tb ($260), 1.5tb ($300), or 2tb ($330). Or if you had a spare external hard lying around, you could just plug that into the device as well.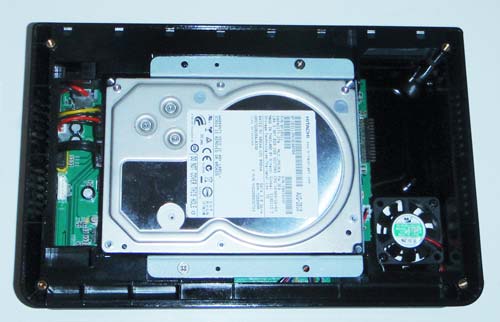 The installation was quick and simple. Just connect the two wires to the SATA HD, place it into the metal bracket, screw the cover back into place and you are good to go.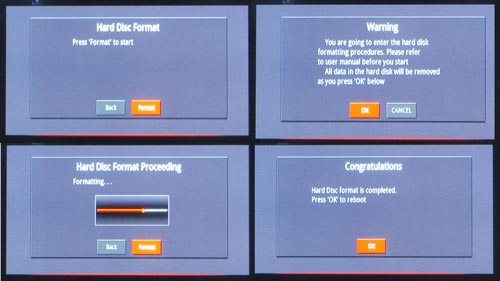 When I first turned the Ultio Pro on, formatting the hard drive was pretty simple. After a few minutes and a reboot, I was ready to use the device.
Connectivity
The Ultio Pro can connect to the internet via ethernet cable or optional WiFi adapter. If you have a hard-wired ethernet port near your device that is the easiest way to get connected. But if that is not an option, you can order either a 802.11G adapter ($20) or 802.11N ($35) adapter to wirelessly connect to your network. The slower, 802.11G adapter allows for non-HD streaming only.
Networking
After plugging in the ethernet cable, the first thing I tried to do was get the device talking to my Time Capsule (NAS). Sadly, I tried to make this happen for HOURS 🙁 Painfully so….. I am pretty good at figuring things like this out and MaGuyver'ing the rest, but I am definitely not a 'network-guy'. This effort was to say the least, frustrating.
So, since I was not able to get my Ultio Pro communicating with my Time Capsule on my own, I asked several of my tech-buddies over for free food and drinks one Friday night to assist me getting the two talking. We had the instructions in our hands and our laptops out searching for some clue as to why we could not access my NAS and see its contents. We worked on it over an hour and after much frustration and swearing we gave up. Let's just say my friend's opinion of the Ultio Pro (at least the network/NAS portion) was less than favorable.
However, I/we did get the media device talking with my unibody MacBook, iMac and the internet. Transferring movie files from my computers was relatively simple. I was also able to stream files from my Macs as well.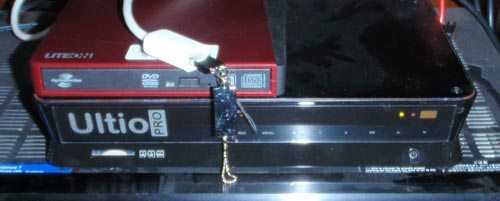 The Ultio Pro can also play media files off of external storage devices as well, like SD cards, thumb drives, portable hard drives, and external USB DVD players. This was also easy to accomplish.
Playback/Streaming
I listened to and viewed a multitude of file types, from aac to mp4. They all sounded and looked very nice. Once I got it functional, watching movies from the Ultio Pro was a great viewing experience. The playback was crisp and vivid, with only the occasional hiccup while we watched. I believe when there was hesitation in the playback, it was due to the bit rate (too high) I encoded the video at.
I then looked into watching internet content via the Ultio Pro. I came to discover the Ultio depends on services like PlayOn and TVersity to access streaming video content from Netflix, Hulu, CBS, Youtube, CNN, ESPN, etc. These services require not only a monthly fee but a Windows computer to make this happen. This seems a bit old-school considering how many devices have this ability/feature built into them, from Blu-Ray/DVD players to the TVs themselves.
File Management
The Ultio Pro allows you to manage files via the screen interface and remote control. It allows for formatting the hard-drive, copying, deleting, renaming of files and even physical transfer of files between USB storage, network shares, PC and its internal HDD (relatively) easily via the hand-held remote.

The device's navigation is done in file folder format; the user interface is very Windows 95. Inputting information and navigating through the Ultio Pro's various screens with the remote (vs keyboard and mouse) while simple, can be tedious. It is not nearly as polished as the AppleTV's interface, but usable none-the-less.
Built-In Torrent Client
I am definitely not much of a bit-torrent user, but can tell you how the Ultio Pro is supposed to be able to help you do this. The Ultio Pro has a built-in torrent client that allows you to share large media files without the need for an active computer running all the time. This in combination the media devices' NAS features provides a worthy setup for digital media acquisition, storage and sharing. 'The Mvix Ultio Pro is capable of connecting to all the popular p2p networks, and users can search, download, archive and play all media files.'
Bottom Line
If you are a tech/computer person, this device is fine and even fun to play with if you have the time. However, the average user will not like this device as an alternative to cable/satellite TV, DVR, AppleTV, etc. Setting up and using this device takes time, skill, and knowledge. It is definitely not for the plug and play kind of crowd. The Ultio Pro costs $180 and if you do not need all of its features/capabilities, there are less costly alternatives. That said, if you want a device that can play just about any file format, store a ton of content (w/attached or installed hard drive), bit-torrent, stream movies and music from any computer in your network, etc, you definitely should consider the Ultio Pro.
MVIX is offering a limited time discount code for Gadgeteer readers:
CODE: KHK3POWS9
Amount: $30 off a Mvix Ultio Pro MX-880HD (bare unit)
Expiry: Nov 30th, 2010
Product Information
Price:
- $170 (w/o hard drive) - $260 (w/1tb HD), - $300 (w/1.5tb HD) - $330 (w/2tb HD)
Manufacturer:
Mvix
Pros:

Supports up to 1080p playback
Plays a huge variety of file formats
Clear, vivid video playback
Built in bit-torrent client
Internal and external expandability
Well built hardware

Cons:

Some of the Ultio Pro's features difficult to setup
Relatively expensive
Definitely not plug & play
Need service & dedicated Windows computer to view Hulu and/or NetFlix
Loud cooling fan