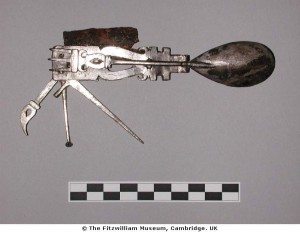 Now this is cool.  I've been to Italy several times and the ingenuity of the ancients is truly remarkable.  Colosseums, aqueducts, and now this.  I dental colleague of mine had a post on his dental blog about this awesome gadget, yes, GADGET, found in the Mediterranean area, dating from the Middle Roman period, that's 200-300AD!
So,  the Roman Army Knife must be the precursor to the hallowed Swiss Army Knife! Look at this folding gadget with three-pronged fork, knife, spoon, pick and spike.  It is housed at the Fitzwilliam Museum in Cambridge, UK.
Some of our links in posts like this one are affiliate links, which means that we may receive a small commission on purchases at no cost to you.