We use affiliate links. If you buy something through the links on this page, we may earn a commission at no cost to you. Learn more.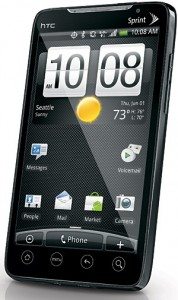 Done! I've pre-ordered what is supposed to be the hottest new phone being offered in the US- Sprint's HC EVO 4G. As far as I can tell, only Radio Shack is doing this.
I stopped at my local Shack and did not see any signs of the phone coming or an in-store ad for this program, but there are a lot of signs there so I may have missed it.
The manager wrote my order up. He had several pages on a clip board that guided him through the process, including checking that I am a Sprint customer and eligible for an upgrade. I had to buy a $50 gift card that I could use for the phone, accessories, or anything else I wanted. It seemed like an interesting way to get me to make a deposit. $50- no tax, that is all I spent so far.
Now, the odd bits…
No mention was made of the $20 accessories card. I'll ask when I pick it up.
The paperwork specifically says that they can hold it for the first 2 days of the launch, which should mean it would be available on Sunday the 6th- but you have  to make an appointment to get the phone (odd in itself, but they must expect crowds in some markets) and the appointment grid is set up for Friday and Saturday, so I have an appointment for both Fri. and Mon.
I am rather amazed by the lack of mock-ups, photos, etc. in the stores- it is a pretty quiet roll-out for a pretty interesting phone.
I did just find out that the much-ballyhooed 4G network is only in a very limited number of cities right now, but as far as I can tell, all EVO owners will be tagged for an extra $10/month for the 4G experience.
Now for some planning… what apps do I want and need? What tests need to be run on this baby? What do YOU want to know from the review when I finally get it?
I'll probably post an initial review, and then a couple of follow-ups in the tradition of some other smartphone reviews. Now to find something to do until the 6th. Grrr!