We use affiliate links. If you buy something through the links on this page, we may earn a commission at no cost to you. Learn more.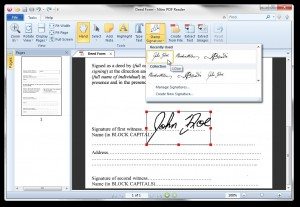 NitroPDF has just introduced an alternative to the Adobe Acrobat PDF reader. NitroPDF is a free reader for Windows operating systems that also allows you to create PDF files from over 300 different formats.  You can even drag-and-drop files onto Nitro Reader's desktop icon, for instant, one-step PDF creation.  Unlike other free products, there are no annoying ads or forced registration.
Full press release after the jump.
Nitro PDF Software Announces Nitro PDF Reader 2.0: Adds Web Browser Integration, Support for OCG Layers, All-New PDF Creation Engine
Officially Concluding Its Beta Phase, the First and Only Free PDF Reader and Creator Introduces Significant New Functionality and Numerous Enhancements; Retains "No BS" User Experience
SAN FRANCISCO, CA–(Marketwire – Jun 21, 2011) – Nitro PDF Software, the company behind the award-winning Nitro PDF Professional, today announced the availability of Nitro PDF Reader 2.0, officially concluding the product's beta phase one year after its initial release. Launched in May 2010 to widespread acclaim, Nitro Reader's class-leading functionality and 'no strings attached' user experience have already seen the product downloaded by more than 8 million users.
"This release is all about user experience," said Nitro CEO and co-founder, Sam Chandler. "Nitro Reader 2 is faster, more intuitive, and — like we promised from the start — completely BS free. The market validated the concept, so we focused on improving what was already there and incorporating what users were asking for. People are tired of working with other PDF viewers that either don't do a whole lot beyond viewing or involve some form of compromise — like annoying ads or forced registration. Nitro Reader is genuinely 'no strings attached' and that's what really sets it apart."
Nitro PDF Reader 2.0 includes the following features and enhancements:
Web Browser Integration — preview PDF files from within Mozilla® Firefox®, Google Chrome®, and Microsoft® Internet Explorer™
Nitro PDF Creator 2 — all-new PDF creation engine enables users to create PDF files up to 4 times faster, with 50% reduction in file size
Optimized Rendering Engine — draw and display PDF files on-screen faster with crisp rendering of text and graphics
QuickSign™— import a scanned image of your handwritten signature to sign and return documents electronically in just seconds
Optional Content Group (OCG) Layers — show and hide content layers within PDF files with support for printing layer views and scripting OCG interaction in form controls
XFA Form Support — fill-in and save static XML Form Architecture (XFA) forms
Hundreds more significant enhancements — updated Ribbon UI, workflow refinements, improved performance, and more
Incorporating a number of feedback-driven improvements, the user interface remains intuitive and instantly familiar for users of Microsoft® Office™ with instinctive, visual representations of tasks and tools. Devoid of onscreen clutter, drop-down menus, or distracting in-product advertising, Nitro Reader delivers a minimal learning curve alongside multiple customization options for more advanced users.
"We've added new functionality, but what this release really represents is a quantum leap in performance, quality, and overall usability," said Nitro CTO, Chris Dahl. "We had no intention of shedding the beta tag until we were genuinely confident in the product — confident it would stand up to the test of deployment at scale and easily handle pretty much anything a user might throw at it. Our biggest priority in the past twelve months has been establishing a real dialog with our user community. We've actively sought their feedback and opinions throughout the process, and it's something we'll always do. In the end, they know better than anyone how we can continue to improve."
Fast and lightweight, the product also offers users customizable security controls, including the option to completely disable JavaScript™ and individually manage PDF files' interactivity with and access to the Internet.
Nitro PDF Reader 2.0 is free, with Dutch, English, French, German, Italian, and Spanish language versions available for immediate download: http://www.nitroreader.com
System Requirements include Windows® XP, Windows® Vista, Windows® 7 (x64 editions supported), 1 gigahertz (GHz) or faster processor, 512 MB system memory (1 GB recommended), 1024×768 screen resolution, Microsoft Office 2003 or newer (required for Microsoft Office integrated features), and Microsoft .NET Framework 2.0 (or above).
Resources
Connect With Nitro
About Nitro PDF Software
Nitro PDF Software is one of the world's leading PDF software vendors and the company behind award-winning products like Nitro PDF Professional and Nitro PDF Reader. Nitro PDF Software's Free Family of PDF products have been downloaded more than 40 million times, and include the world's #1 free PDF creator, PrimoPDF, and the world's #1 free PDF Web browser extension, PDF Download.
Headquartered in San Francisco, Nitro PDF Software has operations spanning North America, Europe, Asia and Australia. Nitro PDF Software products have won multiple "Editors' Choice" and "Product of the Year" awards and are used by millions of people worldwide, including a significant number of Fortune 500 organizations.