We use affiliate links. If you buy something through the links on this page, we may earn a commission at no cost to you. Learn more.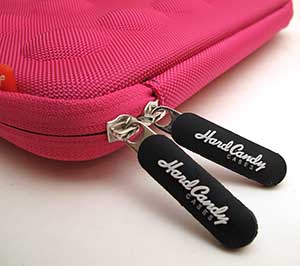 I don't know about the rest of the Gadgeteer team, but I feel like it's raining iPad cases these days. Don't believe me? Well, it's a Saturday afternoon at 4:30pm and just a few minutes ago I heard someone walking on my deck and when I went upstairs to see who it was, a Fedex truck was driving away and a box with another iPad case was left behind. To avoid drowning in iPad cases, we're going to post one review per day until we run out. First up is the Hard Candy Cases iPad Bubble Sleeve.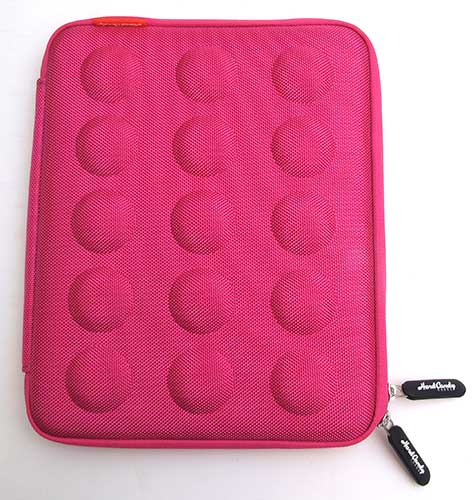 The iPad Bubble Sleeve from Hard Candy Cases is a semi-hard shell zippered case with a tough canvas exterior that reminds me of a LEGO brick. The case is available in Pretty Pink, Black Luster and Gold Green. As you can see, I was sent the Pink version.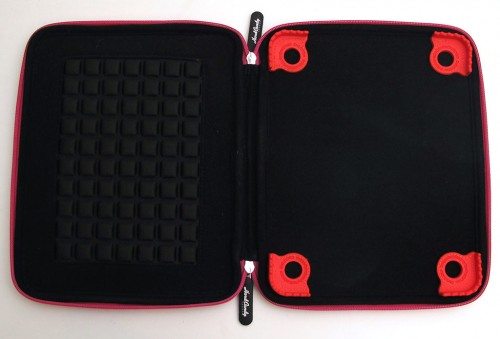 Unzipping the sleeve with the dual zippers reveals a soft Black knit interior with a panel of small EVA-foam padded squares on the screen side. The other side is designed to hold the iPad in place with Red rubber corners.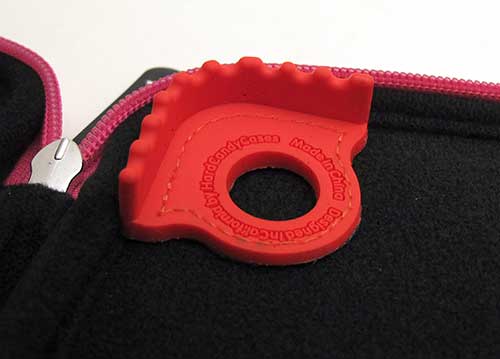 These corners appear to be sewn in…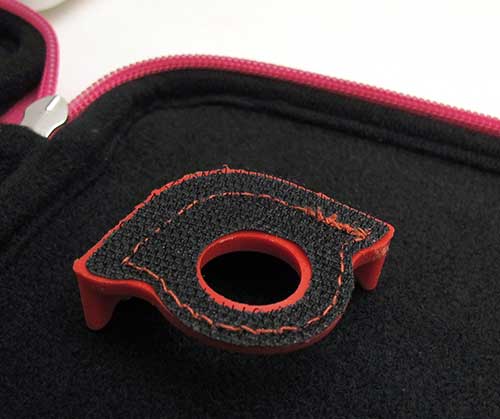 But in reality, they have a Velcro bottom that allows you to adjust their location. I should note that the first sample of the sleeve that I was sent from Hard Candy Cases had these items glued in. One of them had come loose in transit and managed to get sticky residue all over the interior. I contacted them about this problem and am guessing this is their solution.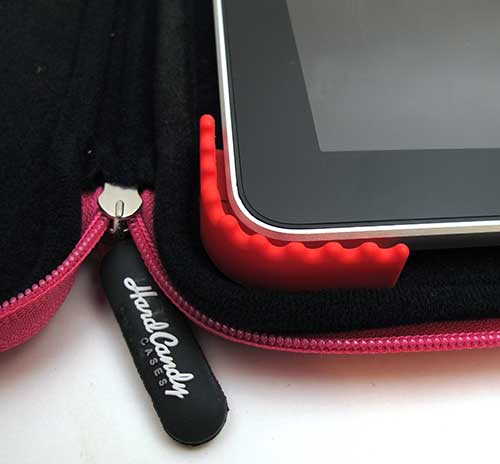 When I first saw the Bubble Sleeve on Hard Candy's site, I thought the corners held the iPad in place so that it wouldn't fall out. This isn't true. The corners really don't do much at all. I even tried moving them around so that they would be as tight around the iPad as possible – this had little effect.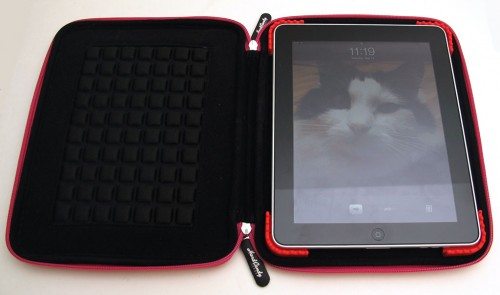 I don't think the Bubble Sleeve works that well as a play through case and in my opinion, the price is about $20 too much. But given the rigidity of the sleeve and its padding, this case performs very well as protective transport type of case (even though there is no room for the AC charger). For example, I would feel comfortable using it to hold my iPad inside my luggage on a trip.
Have you found your perfect everyday iPad case yet? My quest continues.
Product Information
Price:
$49.95
Manufacturer:
Hard Candy Cases
Pros:

Nicely padded
Semi-hard case
Protective

Cons:

Expensive
Red rubber don't hold the iPad in the case